The Canon Pixma G2020 color printer is one of the products developed in the Pixma Ink Efficient G Series, providing users with quality printing experiences at low cost and fast speed. With the ability to reuse the ink system, Pixma G2020 helps save costs for users and avoid wasting ink.With vivid, glossy and sharp prints, Pixma G2020 gives users great printing works. Not only stopping at print quality, Pixma G2020 is also designed to suit many different needs, especially students, families or small offices.

Let's find out with Salenhanh through the Canon PIXMA G2020 color inkjet printer review review below!
Canon PIXMA G2020 printer review review
High printing performance at low cost
The Canon Pixma printer is a hardware device that excels in production value and usability. At a reasonable cost, this printer is easily accessible to users with little or no prior printing experience. Featured among Canon's products is the Pixma G2020 – a three-in-one printer that includes print, copy and scan features.
With a sleek, durable design and user-friendly controls, this printer allows users to easily produce high-quality prints at a much lower cost than professional printers. larger and bulkier. In particular, the Pixma G2020 printer is capable of professional printing, with high resolution and excellent sharpness. It is also equipped with advanced features such as automatic duplex printing and wireless connectivity, providing users with a comprehensive and convenient printing experience.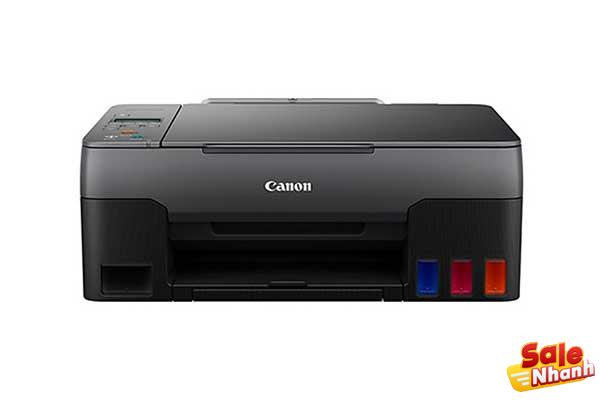 In addition, the Pixma G2020 also features copy and scan, giving users the ability to copy documents or scan images and documents to their computer. This feature is useful in copying important documents or storing user notes.
Printing speed and resolution G2020
The Canon G2020 color printer is a product that integrates many remarkable functions, including printing, copying and scanning. This gives users the convenience and flexibility to handle a variety of tasks with just one device.
Rated as one of Canon's special color printer lines, Canon G2020 offers users many useful features. With print speeds of up to 9.1 ppm in black and white and up to 5.0 ppm in color, this product meets the printing needs of office documents and vibrant images.
The Canon G2020 printer has a resolution of up to 4,800 x 1,200 dpi, giving users vibrant and vivid prints. This is especially useful for documents with visual or graphic content. Besides, this line of inkjet printers also has the ability to save ink, helping to reduce costs for users.
Canon PIXMA G2020 LCD screen makes operation more convenient
The printer comes with a sturdy frame, along with a 5.08 cm wide LCD screen. The location of the screen is at the top of the printer and is combined with many function buttons for easy user interaction with the printer.
With the LCD display, users can easily monitor the printing, copying and scanning processes without having to read the manual. This saves time and increases the usability of the printer.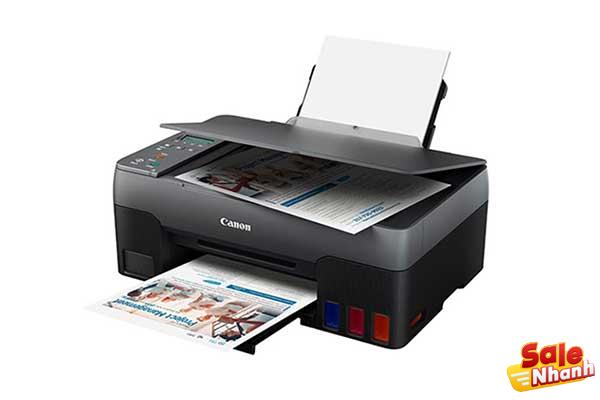 Besides, the control button is also designed to simplify the use process for users. The function of each button is clearly described, making it easy for users to manipulate and adjust the printer's settings easily.
With a sturdy frame design and an ergonomic LCD display, the printer offers users comfort and ease of use. This product is suitable for users who need to use the printer for office work or home printing.
Connectivity of Canon G2020
If you want to talk about the small disadvantage of the Canon Pixma G2020 all-in-one color printer, you can mention its limitation in only supporting USB 2.0 connections. While this is a minor limitation on the printer's connectivity, it's still worth noting.
However, the simplicity of the USB 2.0 connection is also a strong point of this printer. For offices that need to ensure security during printing and control, using a simple connection like USB 2.0 will be a good choice. It makes printing done quickly, easily and simply without having to go through many complicated steps.
At the same time, with the convenience of a USB 2.0 connection, users do not need to worry about connecting the printer to other devices. Instead, they can easily connect the printer to a computer or laptop without spending a lot of time and effort on installation.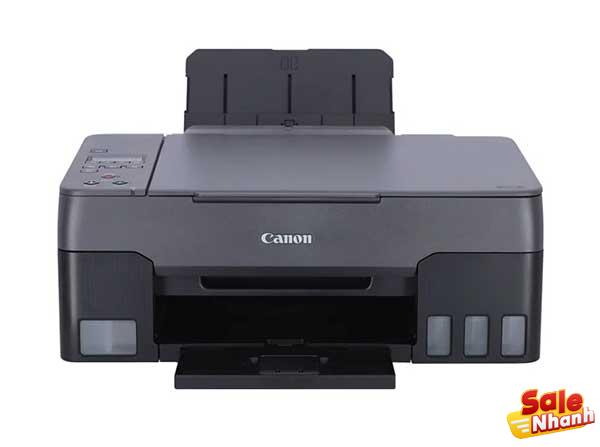 Therefore, even though there is only a small limitation of only supporting USB 2.0 connections, this can still become an advantage for offices that need simplicity, convenience and security when printing. press.
Related printer review review:
Should you choose to buy a Canon G2020 printer?
If you are looking for a versatile printer for regular use for work, study or home use, there are many options on the market. However, if you want a printer with fast print speed, print dozens of color pages per day and save money, then Canon Pixma G2020 will be the ideal choice.
Salenhanh – Product review blog
Address: 115 Nguyen Van Qua, Tan Hung Thuan Ward, District 12, Ho Chi Minh City
Website: https://salenhanh.com/en
Mail: Salenhanh.com@gmail.com
#salenhanh #Reviewsalenhanh