If you are looking for a color printer with the ability to print images and color documents, and don't want to spend too much, then the Canon PIXMA G1020 might be one of the best options for you. This printer possesses stable printing speed and quality, suitable for the printing needs of small offices, households or individuals.
If you are in need of regular printing, the Canon PIXMA G1020 is a worthy choice. With a large monolithic ink tank, this printer will save you a lot of money, because you only need to replace the ink set when it runs out, rather than replacing individual ink cartridges like other printers.
Not only that, the Canon PIXMA G1020 printer is also capable of printing the first page quite quickly, within just 6 seconds, saving you time and increasing work efficiency. This is especially important for small and medium businesses, where time and budget are often critical.
Let's review Salenhanh Review briefly about Canon G1020 color inkjet printer product!
Review of Canon G1020 color inkjet printer
Cheap printing costs
The Canon Pixma G1020 color inkjet printer has a simple and rugged design that easily fits into your space, whether it's the office or the living room. This color printer can print a wide range of documents, from simple prints to high-quality prints.
Ink is one of the important costs when using a printer. Canon Pixma G1020 uses Canon GI-790 ink with 4 colors C/M/Y/K genuine. This product gives you a capacity of up to 8,300 black-and-white and 7,700 color pages, helping you print more and significantly reduce costs. With decent print quality and cost-effectiveness, Canon Pixma G1020 is one of the suitable options for those who have a low budget and are looking for a reliable printing product.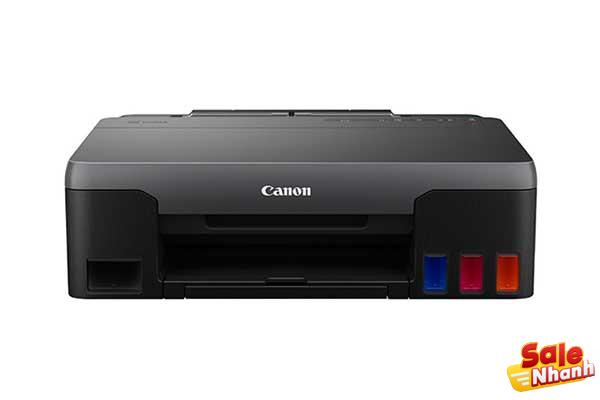 High speed printing
Canon G1020 printer is known as one of the cheap inkjet printer products with stable printing speed. With an estimated black and white print speed of 9.1 pages per minute and an estimated color print speed of 5 pages per minute, this product will be a good choice for basic office printing tasks.
The Canon G1020 printer is also equipped with an input tray and an output tray that can hold up to 100 pages of paper, helping the printing process to be carried out continuously without the need to frequently change paper. This ensures convenience and increases productivity in your printing process.
Sharp print quality
If you are someone who demands quality printing, the Canon PIXMA printer is a good choice. This product has a high resolution of up to 4,800 x 1,200 dpi, delivering quality, clear prints and especially true colors, whether in color or black and white. Especially, if you are in need of color photo printing, then the Canon G1020 printer will be a great choice, helping you to create sharp, high-quality and vivid photos.
Convenient ending
The Canon G1020 color inkjet printer has a USB connection, however, this is an extremely stable connection and ensures the printer's performance. With the ability to print up to 1,500 pages per month while maintaining quality output, it's perfect for small offices and homes with simple printing needs.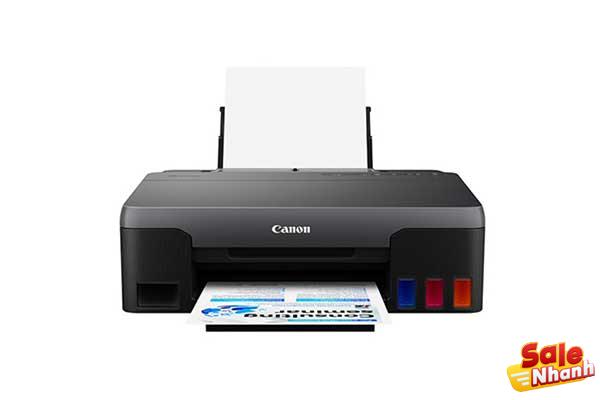 The PIXMA G1020 printer is also designed to be compatible with many operating systems such as Windows 7,8,10,11 and macOS, making it easy for users to use and install the product. If you are not a technology expert, don't worry because this product has simple and easy to understand instructions for use.
Another highlight of the Canon G1020 printer is the smoothness during operation. This product works without annoying noise, ensuring that it does not affect your concentration at work. It is also a great choice for those who live in apartments or places with limited space.
Conclusion about color inkjet printer Canon G1020
The Canon G1020 color inkjet printer is a great choice for those looking for a reliable and cost-effective printing device. Not only has the printing speed fast, meeting the printing needs of individuals, families or small offices, the printer also ensures stable print quality for both black and white and color.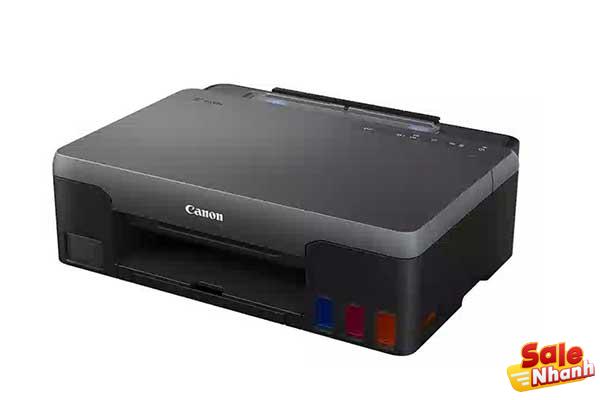 Using the Canon G1020 printer also helps save costs with low power consumption. Plus, with its simple and easy-to-use design, you don't need to be a tech expert to install and use this printer.
If you are interested in this product, please contact us for advice on the features and usage of the Canon G1020 printer. With our extensive experience and expertise in the field of printing, we will help you find the best choice for your printing needs.
Salenhanh – Product review blog
Address: 115 Nguyen Van Qua, Tan Hung Thuan Ward, District 12, Ho Chi Minh City
Website: https://salenhanh.com/en
Mail: Salenhanh.com@gmail.com
#salenhanh #Reviewsalenhanh