Canon MF3010AE is a versatile printer product from Canon. Designed with a compact size, this product is fully integrated with basic functions including Copy, Print and Color Scan. Thanks to this versatile feature, this product helps you handle work easily in small and home offices at the lowest cost.
This product can print black and white documents and gives users the best print quality. In addition, the product is also equipped with energy-saving features to help users save energy costs and protect the environment. If you are looking for a reliable and economical all-in-one printer, then the Canon MF3010AE will definitely be a great choice for you.
Canon MF3010AE printer review review
Modern design
The Canon MF3010AE printer is a versatile device designed with a sleek and modern look. With all black design, this product offers users a 3-in-1 black and white laser printer. Specifically, this product can function as a high-quality monochrome printer, scanner and copier in one space-saving device.
With such a versatile feature, this product is very suitable for individual users or small offices. This product not only saves time and money, but also helps users save storage space.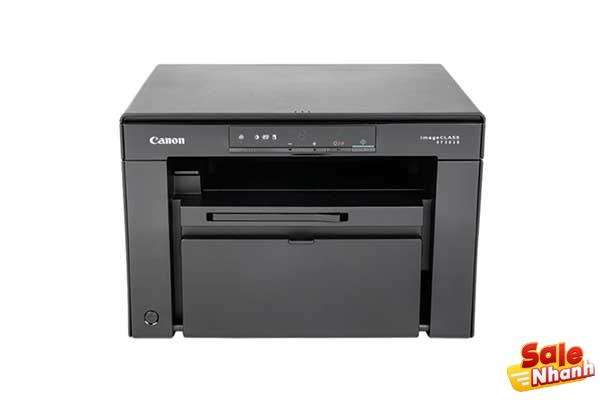 Sharp print
To ensure professional quality laser prints, it is important to use a printer with a print resolution of up to 600 x 600dpi. With this resolution, every detail on the printed page is clearly reproduced, helping to produce highly detailed prints and delicate graphic text.
One of the great options for professional printing is the Canon MF3010AE printer. With monochrome print output speeds of up to 18 ppm, you can finish printed documents in no time. In particular, the fast print technology helps the printer to finish the first page in just 7.8 seconds.
Canon MF3010AE printer is very easy to use
The Canon MF3010AE printer is designed with a simple screen, allowing users to operate and access features easily and conveniently. Without having to stand up and press buttons on the machine, you can control the printer flexibly and save time, making your work faster and more efficient.
The intuitive and intelligent display gives you a way to customize your printing options, such as number of prints, paper format, print quality, and more. All of this is available on the printer's home screen, providing users with convenience and a simple, easy operating experience.
Owning modern drying technology
The printer is equipped with special demand drying technology, a method of transferring heat directly to the ceramic heater. This helps the printer to heat up the machine more quickly, reducing the user's waiting time. Thanks to this technology, you can start printing your first print quickly and efficiently, without having to wait too long for the printer to warm up. This is a very useful feature, especially when you need to print quickly, or have limited time to complete your work. With this special on-demand drying technology, Canon printers will give you a smooth printing experience, save time and increase work productivity.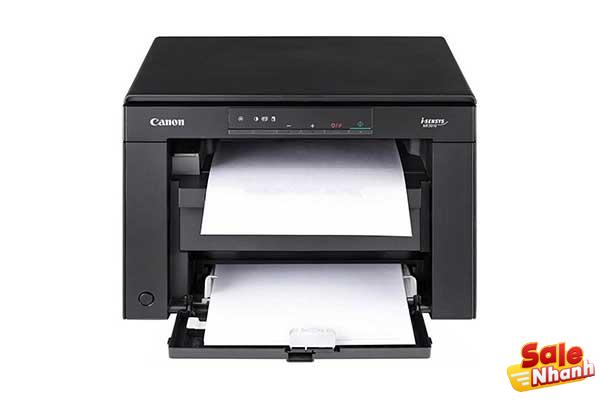 Versatile Scan and Copy function
This Canon black and white laser printer is equipped with a high-quality color scanner that allows you to quickly and easily scan and copy documents, increasing the efficiency and productivity of your work. With first copy time under 12 seconds, you won't have to wait too long to start copying your documents.
In addition, you can also scan directly to email or convert to PDF format, making it easy to share documents and save time in the process of information exchange. MF Toolbox provides you with a quick search tool for documents and photos, helping you to retrieve data in the most convenient and fastest way. With advanced features and technology, Canon black and white laser printers will help you improve your work efficiency and get the job done quickly and efficiently.
Save power consumption
The Canon MF3010AE black and white laser printer is not only a convenient multifunction device, but also the perfect choice for those who care about energy saving and environmental protection. This printer leads the way in saving energy without compromising on performance, helping you to reduce costs and carbon footprint. With an Energy Star medal and a Typical Energy Consumption (TEC) rating of only 0.6 kWh, the Canon MF3010AE is a smart and sustainable energy consumer product.
Sharp ink, good price
The Canon MF3010AE printer uses a specially designed 335 toner cartridge with a photosensitive drum and cleaning element in the ink tank. Thanks to this feature, the printer not only ensures high print quality, but also saves the cost and time of replacing ink cartridges. Replacing ink cartridges is easier and faster than ever, saving you time and improving work efficiency. With advanced features and technology, the Canon MF3010AE is the perfect choice for those who are looking for a durable and multifunctional black and white laser printer.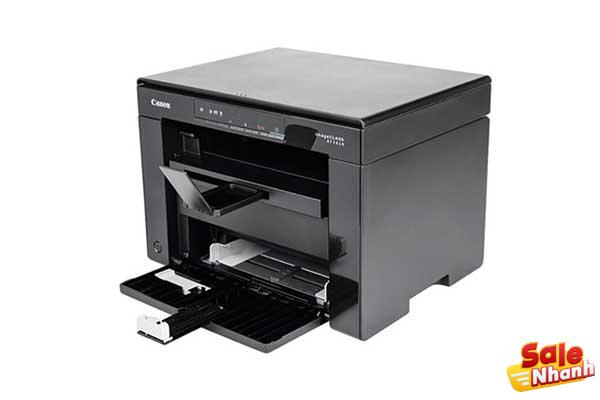 Related printer articles:
Should I buy Canon MF3010AE printer?
The Canon MF3010AE printer is a good choice for those who need a compact and energy-efficient multifunction printer. With the ability to print, copy and scan, this printer offers a range of features suitable for the home or small office. It is also equipped with Energy Star energy-saving technology, which reduces carbon emissions and saves electricity bills.
Moreover, the replacement of the ink cartridge is very easy, helping users save costs. However, if you need high-speed printing or color printing, then this printer may not be the right choice. In short, the Canon MF3010AE printer is a good product with many useful and energy-saving features.
Salenhanh – Product review blog
Address: 115 Nguyen Van Qua, Tan Hung Thuan Ward, District 12, Ho Chi Minh City
Website: https://salenhanh.com/en
Mail: Salenhanh.com@gmail.com
#salenhanh #Reviewsalenhanh