Copiers are an indispensable tool in many offices and businesses today. Among the prestigious brands, Canon has been considered as one of the most reliable partners, with high quality electronic products. Among their copier products, the Canon IR2006N series has been appreciated for its versatility and multi-function.
Compared to the previous IR2004 product line, Canon IR2006N has been improved to meet the printing needs of modern businesses. With the Send Life feature, users can easily connect to many different devices to share information and documents quickly and conveniently. Besides, the machine also has built-in printing feature, helping users save time and money when printing important documents.
Learn about Canon copier 2006N
The Canon 2006N copier from the Canon brand has been a popular choice for many small and medium businesses in recent years. The compact design of the machine helps save office space, and at the same time meets the needs of copying, printing and scanning in color with A3 paper size.
The machine has full basic features, including copying, printing and color scanning, meeting most of the regular work requirements in the office. In addition, the device also has a built-in wifi connection feature, making it easier for users to connect to the device.
The Canon 2006N copier is highly regarded for its versatility and efficiency. It is especially suitable for small and medium businesses that want to save office space and costs, but still want to use a multifunctional and convenient copier. The integration of wifi wireless connection function is a highlight of this product, which increases its flexibility and efficiency during use.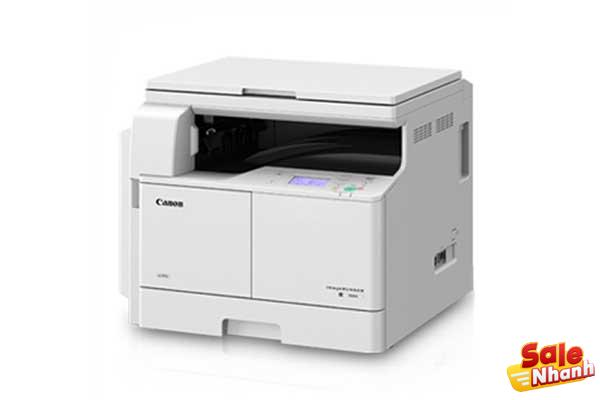 Excellent print security
In the process of purchasing office equipment, security is considered one of the most important factors that businesses or companies need to consider. In the modern business environment, important corporate documents, such as financial statements, contracts or insider information, are of great value and need to be protected. Therefore, choosing a copier to ensure the security of these documents is essential.
One of the solutions to ensure the security of important documents is to use the Canon 2006N copier. This machine is designed with a special feature that allows printing of documents only when the order is confirmed at the machine. This means that only authorized users are allowed to print documents from this copier, thereby ensuring that important company information does not fall into the wrong hands.
In addition to high security features, the Canon 2006N copier also has many other convenient features such as automatic duplex printing, energy saving mode and the ability to print remotely via LAN. This helps increase work efficiency and reduce costs for businesses.
Easily Scan Documents
The Canon IR 2006N copier is a multifunction device, equipped with two document scanning functions, Pull Scan and Push Scan. As a result, users can choose the scanning method that suits their needs and usage situations.
Pull Scan is a method of scanning documents by putting the document on the scanner and selecting scan on the control screen of the machine. When the scan is complete, the scanned file is stored in the user's computer.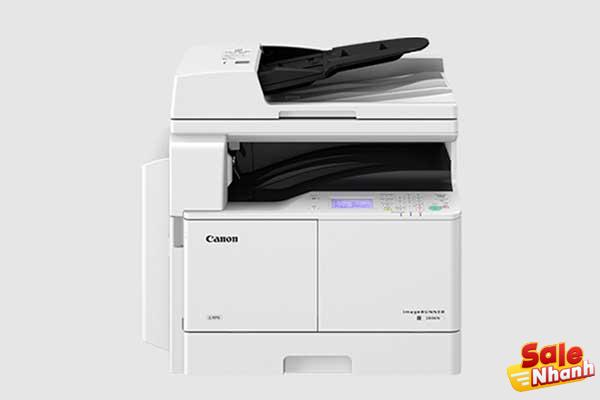 Push Scan is a method of scanning documents by pushing the scanned file from the copier to the computer. Users only need to select the computer that needs to receive the scanned file on the control screen of the copier, then start scanning the document. The scanned file will be automatically pushed to the selected computer and stored in the specified folder.
Convenient automatic inversion of prints
The Canon 2006N copier is a versatile office device equipped with advanced features to help users get the job done faster and more efficiently. In particular, the duplicator is one of the remarkable features of the machine.
The duplexer allows the Canon 2006N copier to automatically turn pages when copying two-sided documents, saving users time and effort. With this feature, users do not have to manually turn each page of paper, ensuring uninterrupted work and saving paper, minimizing negative impact on the environment.
Efficient wireless connection
The Canon IR copier is equipped with built-in wireless LAN, allowing it to connect to computers or mobile devices within the same wireless network. This brings many benefits to users, making it easier than ever to use the copier. With the integration of wireless LAN, users no longer have to spend a lot of time and effort to connect the copier to other devices, or install separate control software for the machine.
Instead, just a few simple steps to connect the copier to devices in the same wireless network, users can easily share documents and perform photocopying tasks quickly and conveniently. more beneficial. In other words, the built-in wireless LAN feature on Canon IR copiers helps to optimize user experience and improve work efficiency.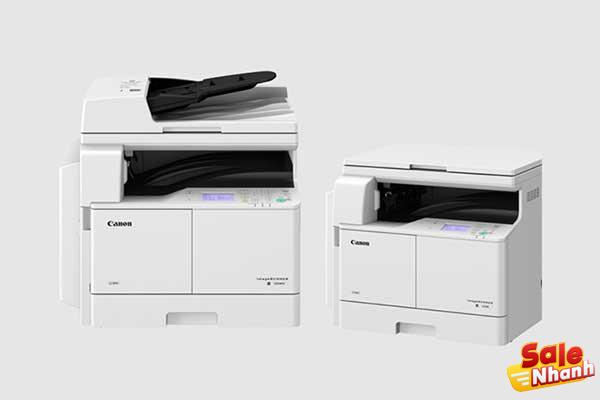 Conclusion about Photocopier Canon 2006N
Choosing to buy a copier that suits your needs is very important to ensure efficiency and cost savings for your work. Therefore, before deciding to buy a Canon 2006N Photocopy, you should consider and learn carefully about this product to make the right decision.
The Canon 2006N copier is a multifunction copier with print and copy speeds of up to 20 ppm and high resolution. It can also print and scan in color and comes with a host of handy features like automatic 2-sided printing and networking. These features make the Canon Copier 2006N a good choice for small office or personal use.
If your needs are printing, copying and scanning basic documents and do not require many advanced features, then the Canon Copier 2006N may be a suitable and cost-effective choice for you. However, if you need a more versatile copier, with faster print and copy speeds, and more advanced features like color printing, direct USB printing, or a wider range of connectivity, you might want to consider this. Reminds me of other options from Canon or other brands.
Salenhanh – Product review blog
Address: 115 Nguyen Van Qua, Tan Hung Thuan Ward, District 12, Ho Chi Minh City
Website: https://salenhanh.com/en
Mail: Salenhanh.com@gmail.com
#salenhanh #Reviewsalenhanh