The Canon MF641Cw all-in-one color laser printer is an efficient and reliable multifunction device for your printing needs. Built in a single piece, this printer is highly durable and rugged, making it long-lasting in your work environment.
Canon Mf641CW printer review review
Fast printing speed
The Canon MF641CW is a color laser multifunction printer, designed to print, copy, scan and fax documents with blazing fast printing speeds. Specifically, the black and white printing speed of the machine is 18 ppm and the color printing speed is 4 ppm. The copy speed of the machine is 18 ppm and the scan speed is 27 ppm. The fax transmission speed of the machine is about 33.6 Kbps.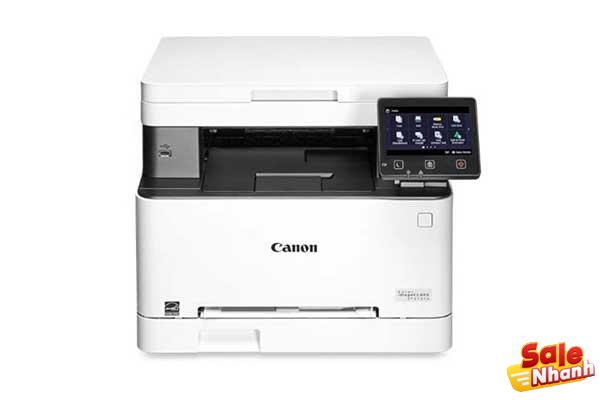 In addition, this printer also supports Wi-Fi and Ethernet connections, allowing users to connect and print from many different devices easily. With the standard paper tray of the machine can hold up to 150 sheets of paper, reducing the frequency of paper changes and saving time for users.
All in all, with its fast printing speed and wide range of connectivity, the Canon MF641CW is a good choice for offices and businesses that need a reliable multifunction printer.
Exceptional print quality
The Canon MF641Cw printer uses image smoothing technology to enhance the output quality of prints or scans. With a resolution of up to 1200 x 1200dpi, this printer gives you better quality prints and scans.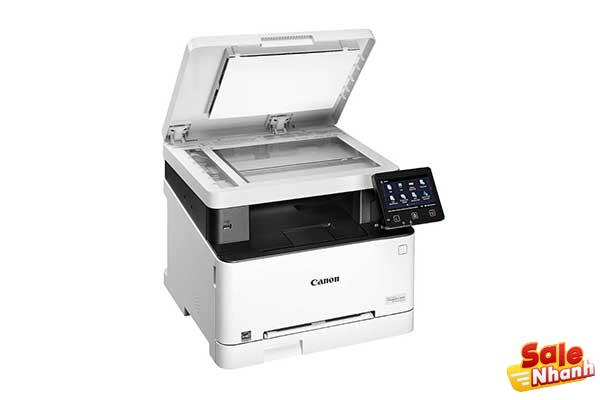 In addition, this printer is also equipped with other convenient features such as automatic duplex printing and mobile printing via wifi connection. This saves you time and increases your productivity.
Besides, Canon MF641Cw also has good multi-color printing ability, helping you get vivid and colorful prints. It is a great solution for your printing and scanning needs, meeting a variety of requirements from contract printing, receipt printing to high-quality photo printing.
Smart drying technology
Canon's special-demand drying technology system is capable of transferring heat directly to the ceramic heater, so that the heating process is reduced to a minimum, even without waiting. much longer to print the first edition.
Using this state-of-the-art drying technology, Canon is able to optimize the production process and improve work productivity. By using a direct heat source, without the need for other intermediaries, the delay in heating the machine is reduced to a minimum. This saves time and energy, while increasing efficiency and saving costs.
Thanks to this intelligent fusing technology, Canon has set a new standard in fast and efficient printing. First print is no longer a challenge, and manufacturers and users alike can enjoy the benefits of time and energy savings in production and printing.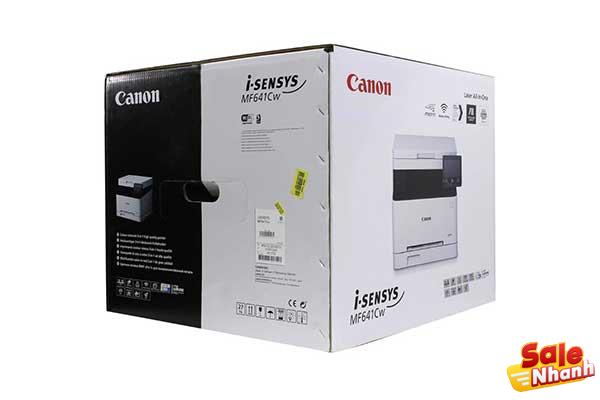 Convenient LCD screen
The Canon MF 641Cw printer is equipped with a 5-inch color LCD touch screen, allowing users to interact with the printer intuitively and easily. With convenient design and optimized access, users can customize machine settings quickly and save installation time. In particular, the shortcut icons on the screen make interacting and adjusting settings easier than ever.
You will not have to spend a lot of time searching for the necessary functions on the printer, but can focus on your work more effectively. With the 5-inch color LCD touch screen on the Canon MF 641Cw printer, printer control and management is simpler and more convenient than ever.
Easy user management
With the Canon MF 641Cw printer, you will have many useful benefits when managing machine users by department. If you're working in a large organization or business with multiple departments, managing printer users can be a daunting challenge. However, with the Canon MF 641Cw printer, you can manage users by giving them separate IDs and Passes for each department.
This allows you to track usage norms by each department, giving you greater control over your organization's costs. When you can track the number of pages printed and copied from each department, you'll have an overview of printer usage in your organization. This can help you identify money-consuming problems and figure out how to minimize costs.
With better user management and printer usage tracking, the Canon MF 641Cw printer can help you more effectively manage costs in your organization. You can easily print outputs and analyze them to make more informed management decisions. And thanks to this feature, you can achieve significant efficiency and cost savings in your business.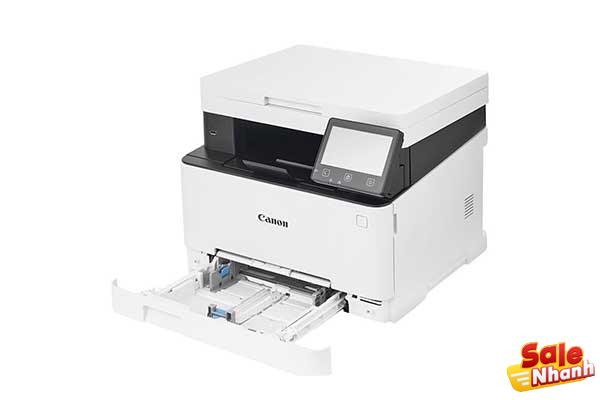 Connect, print smart
Sharing printers on a network can save you time and increase work efficiency. With the installation of wired Ethernet support and WiFi wireless on the Canon MF 641Cw printer, you can easily share the printer with other devices on your network.
Sharing printers on a network saves you time and effort because there is no need to connect printers directly to each device. If you work in an office or workgroup, sharing printers between team members can save a lot of time and convenience.
The Canon MF 641Cw printer supports wired Ethernet and wireless WiFi, allowing you to connect to other devices on your network. If you want to connect the printer to a wired device, you can use the Ethernet port to connect to a router or switch. If you want to connect the printer to a wireless device, you can use a WiFi connection to connect to your network.
Once you have connected the printer to your network, other devices on the network can access and use the printer. You just need to install the printer driver on those devices and start using the printer easily.
Related products:
Conclusion Canon printer Mf641CW
The Canon MF641CW is a convenient multifunction printer with many useful features for small offices and personal users, especially with its simple and time-saving printing capabilities. Perfect for small and medium-sized offices that need a convenient, low-cost printing device.
Salenhanh – Product review blog
Address: 115 Nguyen Van Qua, Tan Hung Thuan Ward, District 12, Ho Chi Minh City
Website: https://salenhanh.com/en
Mail: Salenhanh.com@gmail.com
#salenhanh #Reviewsalenhanh