Canon LBP223Dw printer is one of a series of black and white laser printers designed to be rugged, durable and has a print speed of up to 33 ppm, with high capacity and large ink cartridges. In particular, this is a perfect choice for businesses, ensuring to meet their printing needs quickly and efficiently.The Canon LBP223Dw printer is integrated with many useful features such as WiFi wireless printing, mobile printing and automatic duplex printing, helping users to print easily and conveniently. More convenient. The WiFi wireless printing feature helps users connect the printer to a wireless network and print from any location in the office. The mobile printing feature makes it easy for users to print documents from their smartphone or Smartphone. Automatic duplex printing saves paper and reduces printing costs. All these features help users to print efficiently and save time.
Review Canon LBP 223DW
Product design for Canon LBP 223DW laser printer
The Canon LBP 223DW laser printer is a modern product with fast print speeds of up to 33 pages per minute, helping users save time and increase productivity at work. With its compact design, this printer can be easily placed anywhere in your office.
The printer's built-in 5-line LCD allows users to easily configure and navigate settings. In addition, the screen also provides a lot of useful information about the operation and maintenance status of the device, helping to manage the printer effectively.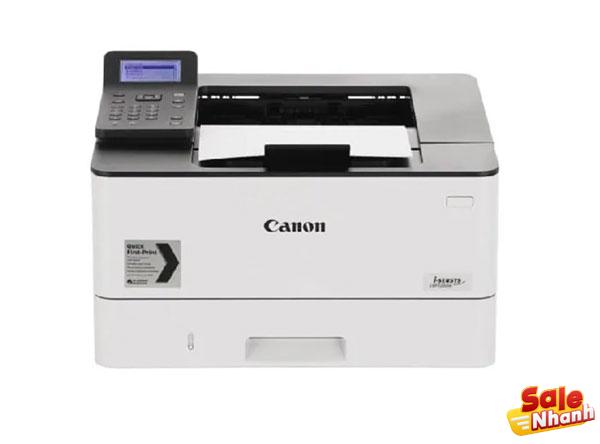 The Canon LBP 223DW printer also supports the PCL language standard, allowing you to print with a wide range of business applications. This is useful when you need to print documents such as reports, contracts or work-related papers.
Not only integrating fast printing speed and convenient features such as equipped with wifi and duplex printing, the Canon LBP 223DW printer is also appreciated for its durability and quality. With the above advantages, this is one of the great options for your business.
Connect ability
Canon LBP 223Dw printer has built-in wired and wireless LAN connection feature, making it easier for you to connect and print more conveniently. In particular, this feature allows the office to use a shared printer without having to use a server.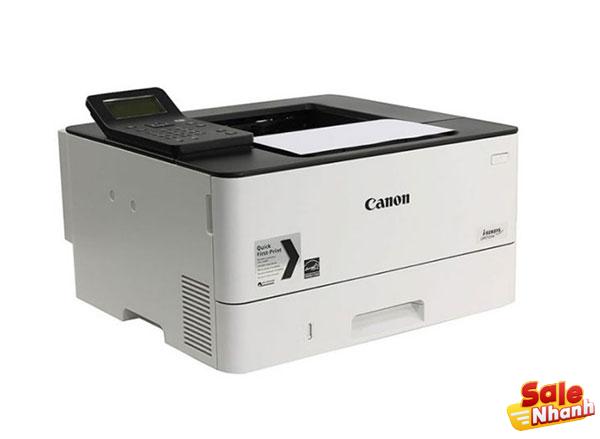 Large paper tray
The Canon LBP223Dw printer is equipped with a 250-sheet automatic paper feeder and a 100-sheet bypass tray, helping users to print multiple documents quickly and conveniently. If a larger volume of paper is required, the auto feeder can be expanded to 900 sheets by adding a 550 sheet auto feeder. This feature helps to increase printer usage time and reduce the time users have to change paper frequently, helping users save time and improve work efficiency.
Stable printing ability
Thanks to efforts in research and application of advanced manufacturing technology, Canon has created the 223dw printer with extremely stable and reliable operation. Not only that, this printer also minimizes common technical problems in the printing process such as paper jams, and the way to deal with problems is very simple and convenient.
Recommended with a monthly print capacity of 750 to 4000 pages, and a print capacity of up to 80,000 pages, the 223dw printer is the perfect choice for mid-sized businesses with continuous printing needs and high page counts. High. It not only offers high performance and fast printing speed, but also offers flexibility and convenience through automatic duplex printing.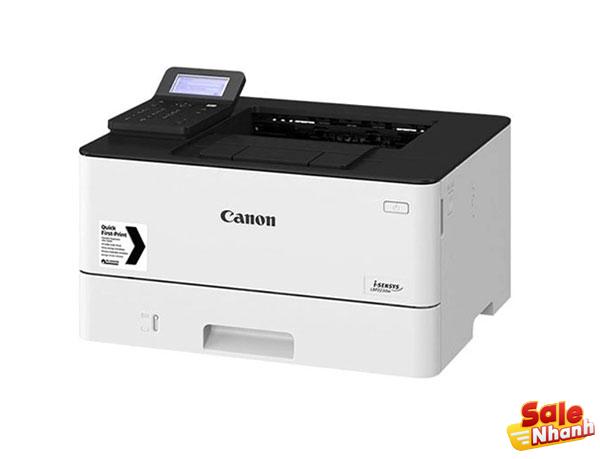 Supports various printing languages
Canon LBP 223Dw printer provides users with many different choices in using printing language. Not only does the printer support the UFR II print language, the printer also supports PCL and Adobe® PostScript print languages. With these features, users can use the printer with more variety when working with business software. Support for diverse print languages ​​also helps the printer work more flexibly with different applications and content, enhancing work efficiency and productivity.
Related printer products:
Should you choose to buy Canon LBP 223DW printer?
If you are looking for a printer that fits your office printing needs, featuring a combination of speed and capacity to print under 200 pages per day, then the Canon LBP223dw printer will be a great choice for your business. your career. With this printer, you can protect your investment and achieve high business performance, especially in today's digital transformation era.
Salenhanh – Product review blog
Address: 115 Nguyen Van Qua, Tan Hung Thuan Ward, District 12, Ho Chi Minh City
Website: https://salenhanh.com/en
Mail: Salenhanh.com@gmail.com
#salenhanh #Reviewsalenhanh