Canon LBP 226DW printer is not only a printing device with a simple design but also integrated with many modern features to meet the diverse printing needs of businesses. With mobile printing capabilities and PCL compatibility, this printer ensures flexibility and convenience in printing.
In addition, the LBP226DW printer provides the best support for businesses in printing, from printing simple prints to printing complex and diverse documents. With the features and capabilities that the LBP226DW printer brings, businesses will enjoy convenience and efficiency in their printing work.
Review Canon LBP 226DW
Canon LBP226DW printer design
With a solid and modern cubic design, the Canon LBP226DW laser printer gives users luxury and professionalism in any workspace. The compact size of the printer is only about 40.1cm x 37.3cm x 25cm, making it easy to install and use in many different locations in the office. In particular, this printer is also designed to save space and optimize the user experience, with the arrangement of control and connection buttons in convenient locations for use. With the convenience and efficiency that the Canon LBP226DW laser printer brings, users will always get the best experience in their printing work.
Printer Paper Tray LBP 226DW
One of the best features of the LBP226DW printer is the ability to automatically feed up to 250 sheets of paper and the bypass tray that can hold up to 100 sheets of paper. This makes it possible to print large amounts of documents without having to change the paper too often.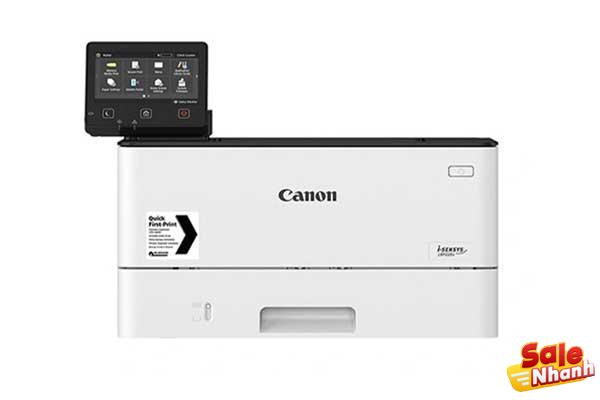 In addition, if you want to load more paper, the printer also has an additional automatic paper feeder with a capacity of up to 550 sheets, making the total paper load expandable up to 900 sheets. This ensures that you can print continuously for a longer period of time without having to stop to change paper. All of these features save printer users time and effort, and increase your productivity and efficiency.
Exceptional print speed
One of the outstanding advantages of the LBP226DW printer is its fast printing speed of up to 38 pages per minute. This enables you to complete print jobs quickly and efficiently, while minimizing wait times for printing.
Not only that, the printer is also equipped with convenient automatic two-sided printing function. With this feature, you don't have to manually reverse the paper every time you want to print two-sided, saving considerable time and effort. This is especially useful when you need to print a large number of documents or reports.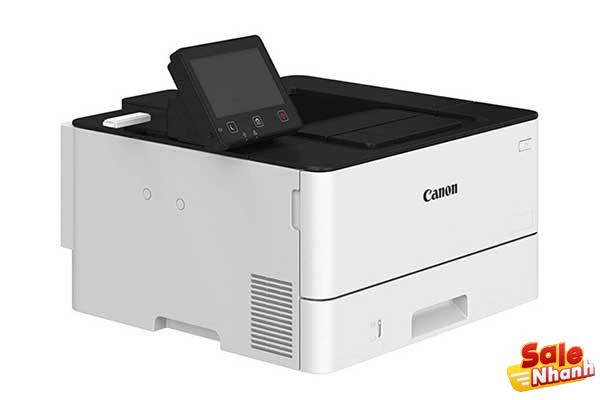 In short, the LBP226DW printer not only has fast printing speed, but also is equipped with convenient features such as automatic duplex printing, which increases work efficiency and saves time for users.
Printer screen LBP 226DW
Canon black and white laser printers are equipped with a 5-line LCD screen that makes it easy for users to navigate and configure settings on the printer. The LCD screen provides a variety of detailed and detailed information, allowing users to manage and maintain the device more quickly and easily.
More than just a display screen, the LCD screen also allows users to perform operations on the printer more flexibly and conveniently. As a result, users can customize print settings, set print schedules, manage folders, and customize other print functions with ease.
With a 5-line LCD screen, controlling and managing Canon black and white laser printers is easier and more convenient than ever. It provides users with a lot of useful information and allows them to customize print settings accurately and easily.
Connect ability
Canon printers are equipped with Wi-Fi printing, allowing users to connect to the printer easily and conveniently without using complicated cables. This feature also allows users to use the printer in many different locations, including offices or companies, without having to worry about the distance between the printer and the computer.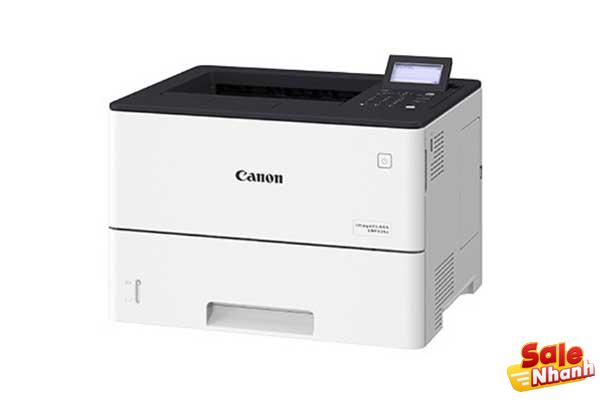 Using the Wi-Fi printing feature also brings users many different utilities and benefits. It helps users save time and effort in setting up the connection, as well as help them save money on the use of cables and other connection accessories.
With Wi-Fi printing, users can use Canon printers more flexibly and conveniently than ever before. This makes printing easier and allows users to save time and effort in using the printer.
Flexible printing
Canon printers are integrated with a new mobile printing solution, making it easy and convenient for users to print documents directly from their smartphones. This solution allows users to use mobile applications such as Google Cloud or Canon Mobile Printing to print documents from smartphones.
This mobile printing feature makes printing simpler and saves users time. Users can print documents from anywhere and anytime without having to use a computer or have to transfer documents to a computer before printing.
With the new mobile printing solution integrated on Canon printers, users will feel more comfortable and convenient in printing. This feature also helps users save time and effort in the printing process and meet the increasing demand for mobile printing of users.
With secure printing, the printer protects your documents absolutely and at no extra cost. It helps prevent unauthorized people from accessing your documents by requiring authentication before printing and encrypting data in transit. What's more, it also helps prevent sensitive printouts from being left on the printer, keeping your information safe.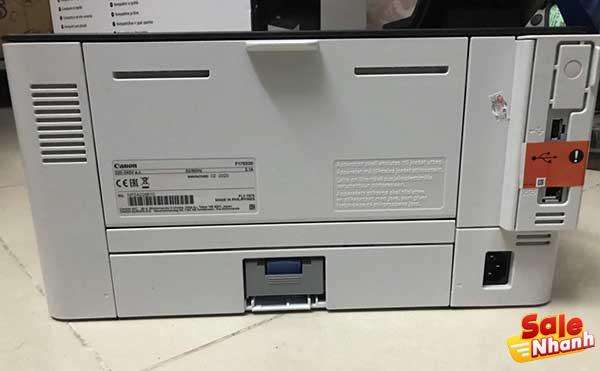 Conclusion about Canon LBP 226 DW . printer
Based on the information given, Canon LBP226DW Printer is a product worth choosing. This printer has many convenient features such as fast printing, automatic two-sided printing, automatic large paper tray and mobile printing feature. In addition, the Canon LBP226DW Printer also has built-in print security features that help protect documents and prevent sensitive printouts from being left on the printer. All of the above features make the Canon LBP226DW Printer an efficient and time-saving product for the office or individual user. However, choosing the right printer depends on the needs and budget of each user.
Salenhanh – Product review blog
Address: 115 Nguyen Van Qua, Tan Hung Thuan Ward, District 12, Ho Chi Minh City
Website: https://salenhanh.com/en
Mail: Salenhanh.com@gmail.com
#salenhanh #Reviewsalenhanh