Canon is a well-known brand in the field of technology, always putting quality and user experience first. And the Canon Laser LBP621Cw printer is no exception. With its compact design, this printer is easy to place anywhere in your workspace, saving space. At the same time, with its ruggedness and durability, this printer will become a trusted colleague in your daily work.
In addition, Canon Laser LBP621Cw also has many impressive features to improve user experience. This printer is equipped with advanced color laser printing technology, which delivers crisp and clear print quality. With fast printing speed, you can print multiple copies in a short time. The printer also features Wi-Fi connectivity, allowing you to print remotely without entangled wires.
All in all, the Canon Laser LBP621Cw is a great choice for those looking for a compact, reliable and highly functional printer. With good printing capabilities and Wi-Fi connectivity, this machine will make your work faster and more convenient.
Canon imageCLASS LBP621CW introductory video
Canon imageCLASS LBP621CW Review Comments
Canon imageCLASS LBP621CW printer design
Canon Laser LBP621Cw is a product designed with high quality plastic and painted in elegant white color, creating a dynamic and bright style for your office. This product is designed with square lines, for a solid and beautiful appearance. However, the most important feature of this printer is its size and weight. With a weight of only approx 12.8kg and full machine dimensions of 430 x 418 x 287 mm, this printer can be placed anywhere in your workspace without taking up too much space and at the same time. also limit the case of the machine vibrates during use.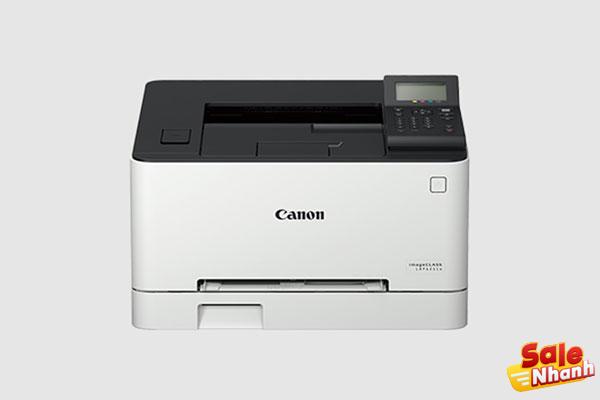 One of the outstanding features of the Canon Laser LBP621Cw is the 5-line LCD screen. With this screen, users can easily navigate and adjust printer functions with ease. Information about the printer's status is also displayed on the LCD screen, making it easier for users to manage and maintain the printer. Besides, the printer is also equipped with many other features such as Wi-Fi connection, advanced color laser printing, fast printing speed, helping users to complete the job quickly and efficiently. .
Exceptional printing speed
The Canon Laser LBP621Cw is equipped with outstanding printing speed, with the ability to print 18 pages per minute for both color and black and white printing, providing fast and efficient printing for your daily printing needs. Besides, the printer also has a monthly print capacity of up to 30,000 pages, ensuring flexibility and reliability for users.
The Canon Laser Printer LBP621Cw is also designed to support a wide range of paper types, including plain, thick and envelopes, along with popular paper sizes such as A4, A5 and B5. This gives you the flexibility to print different documents without any limitations.
Besides, the first page printing speed of the machine is also very fast, it only takes about 6.1 seconds to print the first page. This reduces wait times and increases productivity. The LBP621Cw Laser Printer does not have automatic 2-sided printing, however, with its fast printing and good print quality, this printer is still an ideal choice for your daily printing needs.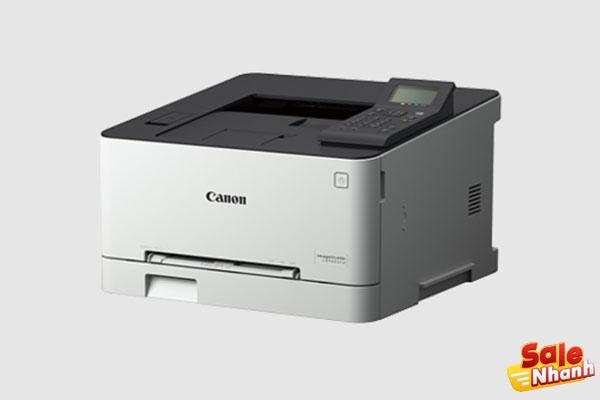 Impressive connectivity
In addition to traditional connections such as USB 2.0, Ethernet and USB drives, the Canon Laser LBP621Cw is also integrated with many flexible wireless connections such as WiFi, WiFi Direct and mobile printing capabilities. As a result, you can easily connect and control the printer from mobile devices such as smartphones or tablets.
With mobile apps like Google Cloud Print, Apple AirPrint, Canon PRINT Business, you can print remotely easily and conveniently. No matter where and when, you can connect to a printer and print documents quickly and efficiently. This is very useful especially for people with busy work schedules and need to move often.
Quality ink, good price
Canon LBP621CW uses Cartridge 054 with the ability to print 1500 pages for black ink and 1200 pages per color cartridge, however, if your printing needs are higher, this printer is also compatible with 054H high capacity ink cartridges. , allowing to print 3100 pages for black ink and 21300 pages for each color cartridge. You can choose the right ink for your printing needs to save costs and ensure the best printing performance.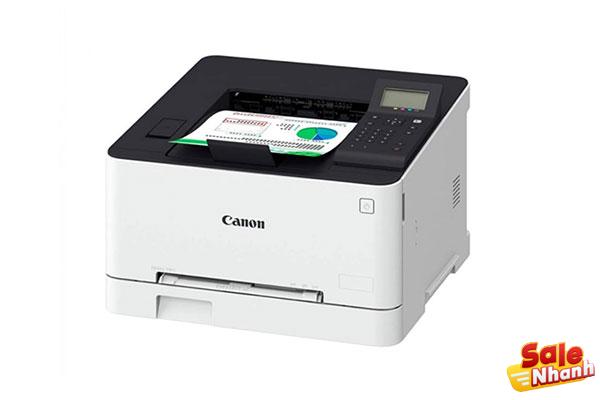 Maybe you are interested:
Conclusion about Canon imageCLASS LBP621CW . printer
With an affordable price tag of less than 8 million VND, Canon LBP621Cw is a compact color laser printer, with durable and good performance. The print quality of the machine is quite stable, especially when printing in color, this will be a worthy choice for offices that need color printing on a reasonable budget.
This printer can print dozens of quality pages a day without problems, and is packed with convenient features like Wi-Fi connectivity and mobile printing via apps. Besides, with the compatibility with the 054 and 054H cartridges, you can choose the right one for your printing needs with different options in terms of number of pages and cost. In short, the Canon imageCLASS LBP621CW is a worthy choice for offices that need color printing and the print volume is not too large.
Salenhanh – Product review blog
Address: 115 Nguyen Van Qua, Tan Hung Thuan Ward, District 12, Ho Chi Minh City
Website: https://salenhanh.com/en
Mail: Salenhanh.com@gmail.com
#salenhanh #Reviewsalenhanh