The Canon G1010 is one of the most popular inkjet printers in the business world, thanks to its ability to meet printing needs efficiently and at a reasonable price. However, long-term use of the printer can lead to various failures, affecting the printing process.
To solve these problems, users can apply some troubleshooting experience such as checking connections, replacing damaged components or performing inspection and repair steps according to the manufacturer's instructions. These experiences are very helpful and can save you time and money in printer repair. Please read the article below by ATALINK for more details.
Canon Pixma G1020 printer introduction video
About the origin of Canon G1010 Printer
Canon is one of the leading brands in the field of supplying office equipment in Japan, with more than 80 years of experience in product development and innovation. This brand has reached out to the world and has become one of the prestigious names widely used in businesses.
Canon printers are highly appreciated for their variety of designs, functions and models, meeting the printing needs of users. In particular, the Canon G1010 color inkjet printer is one of the famous products of the Canon brand, with outstanding features and reasonable price compared to other brands on the market. Using a continuous ink injection system, the Canon G1010 printer can handle large print volumes without interrupting the printing process. This is why many users have loved and chosen to buy Canon G1010 color inkjet printer to use in their work.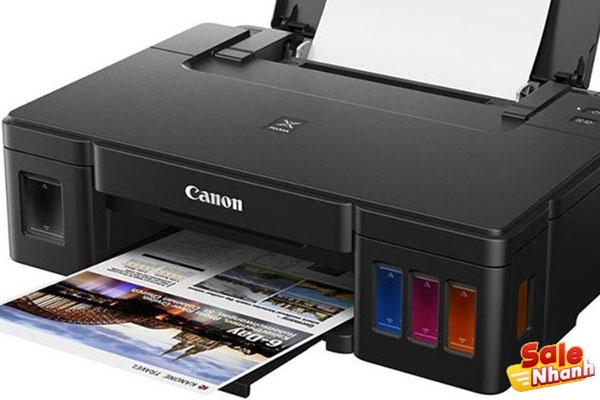 Structure of Canon G1010 . inkjet printer
Canon G1010 printer is also structured similar to other color inkjet printers on the market, with main parts including: print head and ink nozzles to spray ink onto paper, stepper motor to move. printhead on the surface of the print media, the ink cartridge to store the ink, and the paper tray to hold the print media. Understanding the structure and function of each part will help users to check and repair simple problems on their own printers.
Review of Canon Pixma G1010 printer
Cost savings
One of the significant advantages of using the Canon G1010 printer is the ability to print at a large capacity, helping businesses save a lot of costs. The printer is equipped with a continuous ink jet system, allowing continuous printing without the need for frequent ink replacements. This saves users time and money. Besides, the use of Canon G1010 printer also helps businesses reduce costs related to ink replacement, save operating costs and improve business efficiency.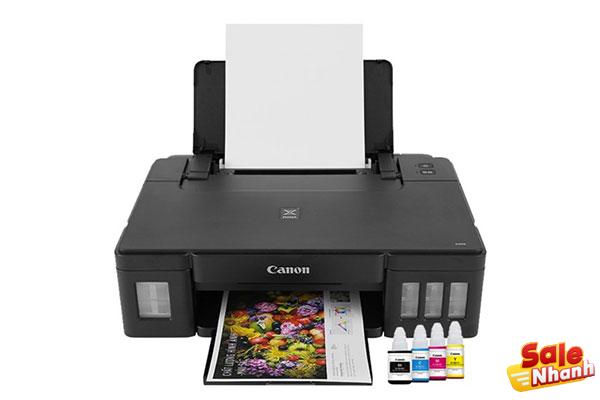 High resolution
With a color inkjet printer, you can enjoy high-contrast prints, sharp images and text, and minimize blurring and loss of text. In particular, the Canon G1010 printer also allows printing borderless photos up to A4 size, helping you create realistic and convenient photo albums to store memorable memories.
Nice and sharp print
The Canon G1010 printer is a product that excels in printing. With its high resolution, the Canon G1010 printer provides print quality that is superior to many other printers. Besides, Canon G1010 printer is significantly improved in ink usage. The intelligent safety valve cover design of the ink tank helps to limit ink leakage, ensuring that the print is not smudged or blurred. Therefore, it is the ideal choice for those who are looking for a reliable and efficient printing product.
Modern printing technology
The Canon G1010 printer is one of the few color inkjet printers on the market today that features borderless printing. This feature is one of the outstanding advantages of the Canon G1010 printer, helping to achieve higher quality standards than other printers. With this feature, users can unleash their creativity and create new works in their work. This makes the Canon G1010 printer a great choice for those looking for a high quality and multifunction printer.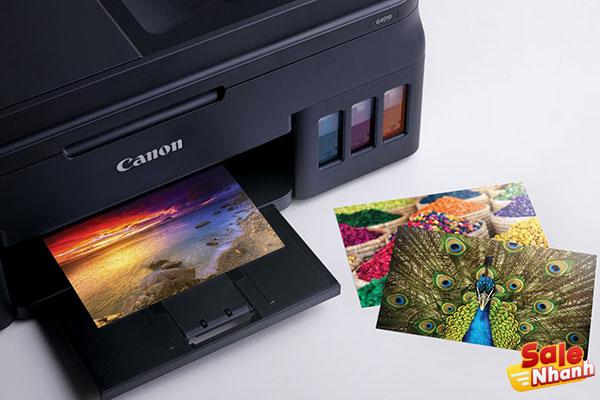 Large printing capacity
The printer has a maximum capacity of 5000 pages/month and color printing speed of 8.8 images/minute (black and white) and 5 images/minute (color). With these features, the Canon G1010 printer meets the printing needs of individuals and small business families.
In addition, the Canon G1010 printer also saves paper by using the input tray that can hold 100 sheets and the printed paper tray that can hold 50 sheets, saving time in changing paper. All of the above features make the Canon G1010 printer an efficient and convenient product for users' printing needs.
Support multiple connections
With Windows 10, 8.1, 7 SP1 compatibility, the Canon G1010 printer helps you connect to multiple devices and print documents easily and quickly, saving your work time. .
High quality printing ink
To ensure the best print quality, Canon recommends the use of GI-790 (Cyan, Magenta, Yellow) and GI-790 (Black) specialized inks for the Canon PIXMA G1010 printer. Each ink tank is capable of printing up to 6000 – 7000 pages and is designed with a spill-proof feature to help keep the area around the machine clean.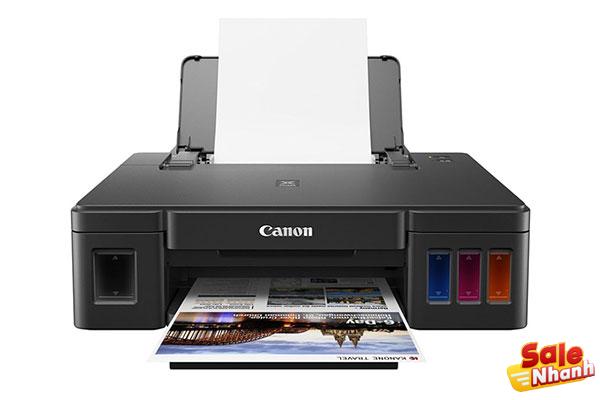 Should you choose to buy a Canon Pixma G1010 printer?
Based on the information provided, it can be concluded that the Canon G1010 printer is a good choice for printing high quality documents and photos. This printer has high resolution, overflow printing feature, fast print speed, and print capacity to meet the work and entertainment needs of individuals and family businesses.
In addition, with improvements in the use of ink, the Canon G1010 printer helps to limit ink leakage and blurred and blurred prints. Specialized inks are also capable of printing up to 6000 – 7000 pages / bottle, designed to prevent spillage of ink into the machine quickly, without fear of ink flowing into the area around the machine. However, further consideration should be given to specific requirements and needs in order to make a final decision.
Salenhanh – Product review blog
Address: 115 Nguyen Van Qua, Tan Hung Thuan Ward, District 12, Ho Chi Minh City
Website: https://salenhanh.com/en
Mail: Salenhanh.com@gmail.com
#salenhanh #Reviewsalenhanh