The movie Red Bear Transforms tells the story of a curse passed down from generation to generation by the Lee family. Curses are far from ghosts, horrors or other supernatural things that turn characters into red pandas. An already ordinary life begins to become extraordinary when a curse suddenly appears and begins to trouble the Lee family's life.
Not only does the film bring viewers the issue of puberty and the changes of children in a gentle and accessible way, but the film also contains many humane lessons about family affection so that everyone can love. and care more about each other.
Trailer of the movie Red Bear Transforms
Synopsis of the movie Red Bear Transforms
Release year : 2022
Genre: Animation, Family
Production : Walt Disney Pictures, Pixar Animation Studios
Directed by: Domee Shi
Voiced by : Rosalie Chiang, Sandra Oh, Ava Morse, Hyein Park, Orion Lee, James Hong
In 2002, a 13-year-old Chinese-Canadian girl named Meilin Lee or better known as Mei, lives in Toronto, Canada, with her parents Ming Lee (Sandra Oh) and Jin Lee (Orion Lee). They live in harmony in a small house next to a temple.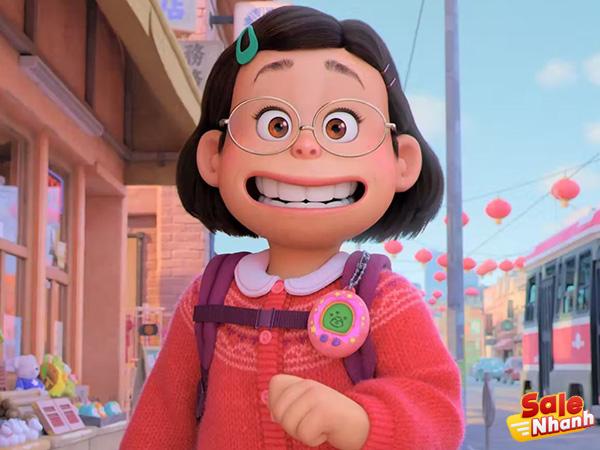 Source: Salenhanh.com
This is the temple of the Lee family dedicated to their ancestor, Sun Yee. Mei spends her time tending to the temple and is very obedient to her mother's orders, who is super strict and often overprotective. As a result, Mei becomes a super smart, polite kid who doesn't have much time to play with her friends in her spare time. Mei has close friends named Miriam (Ava Morse), Priya (Maitreyi Ramakrishnan) and Abby (Hyein Park). The three of them are fans of the boy band 4 ★ Town, which is very popular with young people. Although the four of them are friends, Mei's mother doesn't really like Mei's best friend as she is seen as a bad example and can influence Mei when in reality she is not.
Once Mei was studying in her room while drawing a picture of her crush, a young man named Devon (Addie Chandler), a salesman at a local supermarket, when her mother spotted her. Thinking that Devon had influenced his daughter and immediately came to him and even shouted at him. This is witnessed by many people, including Tyler (Tristan Allerick Chen), the bad boy.
Because of this problem, Mei felt really ashamed to lock herself in her room and then she had a very bad dream. The next morning, Mei wakes up from her sleep to find that she has turned into a fat red panda. The girl's father and mother heard noises from the bathroom and immediately went to check on their daughter.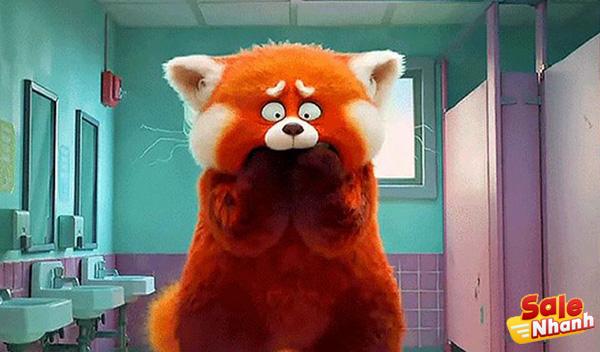 Fortunately, Mei was able to control herself so she turned back into a human. But Mei's hair color is still turning red. This made Mei worried about her changes being discovered, so she immediately covered her hair with a beanie. When they got there, Mei's mother had doubts about her daughter's condition and Ming (Mei's mother) thought her daughter was so strange because it was her first period, but Ming confused Mei even more.
Ming and Jin explain to their daughter that long ago, their ancestor, Sun Yee, was given the ability to transform into a red panda to protect their daughter. From then on, each female member of the family will turn into a red panda when she grows up. It becomes unpleasant and dangerous.
So the red panda's soul must be sealed in an amulet with a ritual performed on the night of the Red Moon that will take place next month. While waiting for the red moon to come, Mei's friends accidentally saw Mei's transformation. Instead of being scared, Miriam, Priya and Abby really like her new form. Mei can also control her emotions when around them and from there Mei ends up transforming herself into a panda for fun.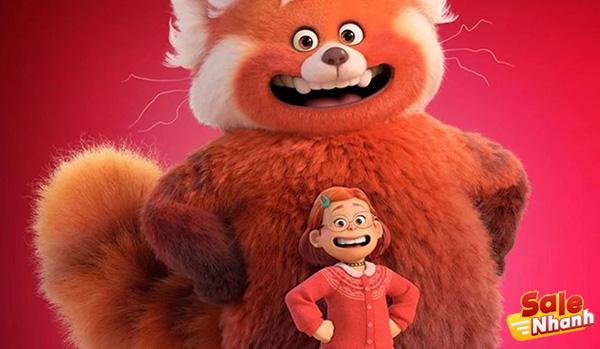 Ming and Jin don't know this. Mei also began using her powers to raise money for tickets to an upcoming 4★ Town concert in Toronto. Mrs. Ming really doesn't like boybands; This is why Mei has to hide it from her mother.
Mei and friends were delighted to be able to watch their favorite band perform until Mei discovered that the 4 ★ Town concert coincided with the night of the ceremony. This makes Mei uncomfortable and feels like the world is against her. Mei automatically gets angry and causes trouble on the birthday of Tyler, who hires Mei as his birthday mascot. After learning about Mei's mother had to come and take Mei home before she hurt others because of her angry mood.
Ming drags her home and punishes Mei to stay away from her friends. Mei failed to protect her friends because of her shame and fear in front of her mother.
Mei Wu's grandmother (Wai Ching Ho) and Mei's aunt finally arrive to help perform the ritual. Before the ritual begins, Jin finds a video that Mei has filmed as a red panda with her friends and tells her that she shouldn't be ashamed of this side of herself. During the ritual, when the red panda's form was about to be sealed, Mei decided to keep her powers.
Instead, Mei runs to the SkyDome to meet her friends and watch the Town 4 ★ show. While running, she accidentally dropped her grandmother's amulet. Ming gets extremely angry and turns into another big red panda and chases Mei to the SkyDome. A riot broke out on SkyDome. Mei and Ming argue a lot, Mei says she's an adult while Ming can't accept it, they fight and Ming faints.
The rest of the Lee family came to help. Grandma and Aunt Mei break their amulets to transform themselves into red panda forms to help bring Ming into a new ceremonial circle.
Mei's friends and 4* Town join in singing to complete the ritual, sending Mei, Ming, and the other women to the realm of autumn. Mei reconciles with Ming and helps him mend each broken relationship. After the ritual is successful, everything returns to normal; except Mei still maintains the power of the Red Panda. Some time later, Mei and her family help raise money to repair the SkyDome.
Mei and Ming's relationship has improved, and Mei balances temple duties – where her red panda is now an attraction – with spending time with friends, including Tyler.
The film clearly shows the family image commonly seen in Asian countries
It seems that Asians, especially parents, have a genetic habit of shaping their children to be perfect, and some people don't even think about their children's feelings. Unfortunately, Asian children have a high respect for their parents, to the point of agreeing to anything their parents ask them to unconditionally.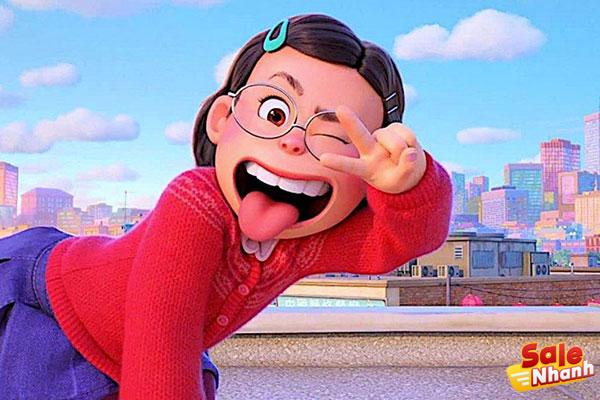 This is used as the core plot of the animated movie Turning Red, Ming is a typical old fashioned Asian mother. He worked hard to mold Mei into what she wanted, not what Mei wanted. As a result, Mei became rebellious and no longer wanted to listen to her mother. Anyone like Mei?
The film was accused of racist content
Did you know that the Disney movie starring Pixar received a huge controversy over the film's plot? This movie is accused of being a racist cartoon.
Disney and Pixar say the film has a universal theme; but in fact, from beginning to end, the story narrows down to a single target audience, Asia. This was revealed by Sean O'Connell of CinemaBlend.
He said that the film's story only focuses on a Chinese-Canadian girl so it's seen as a limited story and feels like it's made for friends and close family members. by Domee Shi.
But Sean's statement was eventually removed from the public article and Sean apologized for it; when the crew and cast finally spoke out about the incident. The essence of this story is not racist but a cultural story.
In an interview he did in Japan, Domee Shi said that the character 4 ★ Town in the movie Turning Red was inspired by the Korean boy band 2PM and BIGBANG. Domee herself, when creating the character Mei, liked boy bands, feeling like she had idolized two groups when she was a student.
No wonder when we watch this movie and see boyband 4 ★ Town, we immediately think of Korean boybands. Starting from the hair to the face. Thanks to Domee's idea of ​​the whole plot above, this movie received a lot of good comments as well as the too cute images that captured the love of the audience.
Salenhanh – Product review blog
Address: 115 Nguyen Van Qua, Tan Hung Thuan Ward, District 12, Ho Chi Minh City
Website: https://salenhanh.com/en
Mail: Salenhanh.com@gmail.com
#salenhanh #Reviewsalenhanh