Canon TR4570s is a printer product manufactured and sold by Canon brand – one of the most prestigious brands in this field. With efficient color inkjet printing, this printer can print high quality photos and office documents. The highlight of Canon TR4570s is the ability to print two-sided automatically, which saves paper and printing time.
Besides, the machine is also equipped with Wi-Fi connection, making it easy for users to connect to many different devices for convenient printing. In addition, the machine also has convenient office features such as document scanning, copying or faxing, providing users with a multifunctional solution in a simple device. The elegant design of the Canon TR4570s also makes it suitable for many different workspaces.
Canon TR4570s printer review review
Sophisticated, modern design
In Canon's TR4570s printer, instead of adopting a complicated design style, the Japanese manufacturer used a simple design with a modern functional layout to create a device that is both beautiful and aesthetically pleasing. America. The entire body is painted black, making the printer look luxurious, youthful and easily suitable for many types of spaces, from offices to private homes.
Sharp resolution
Canon TR4570s is made to meet the needs of those who demand high quality prints. With a resolution of up to 1,200 x 4,800 DPI, this product allows printing details on paper more clearly, completely eliminating blur or blurring of text. You'll be pleased with the print quality, as well as with the product's other features, including scanning, copying, and faxing.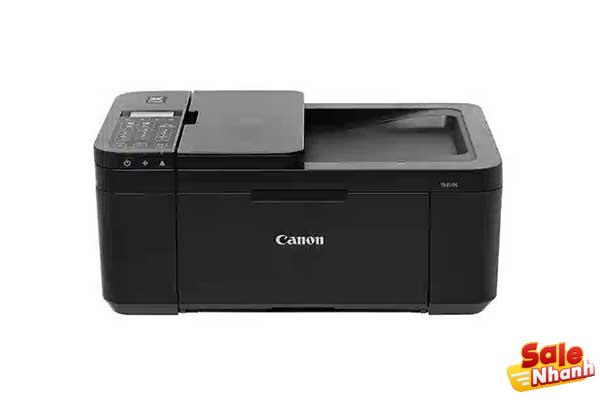 Many handy support features
The TR4570s printer not only supports regular black and white printing, but also provides you with high-quality color prints. This enhances the aesthetics and versatility of your publication, especially when you need to print a photo of a card or souvenir. In addition, this feature is also very useful for printing certificates of merit in a business or school environment.
Exceptional printing speed
The TR4570s printer is designed to meet the needs of fast and efficient printing in situations where high-speed printing is required. With black and white printing up to 8.8 pages per minute and color printing at 4.4 pages per minute, users can quickly print the necessary documents without having to spend a lot of time and effort to edit. and printing.
With the TR4570s printer's fast printing speed, users can save time and energy to focus on other important jobs. This makes even more sense when the user's time and efforts are precious and should not be wasted on unnecessary things. Therefore, the TR4570s printer is an efficient and convenient solution for those who need to print many documents quickly and save time.
Large paper tray
Canon's TR4570s printer is equipped with an automatic ADF paper feeder, improving your office convenience. With single-sided scanning and efficient support for features such as printing, copying and scanning, there's no need to manually open the lid. This will save you time and improve work efficiency. In addition, the product is also compatible with popular paper types such as A4 or A5, providing flexibility for your printing needs.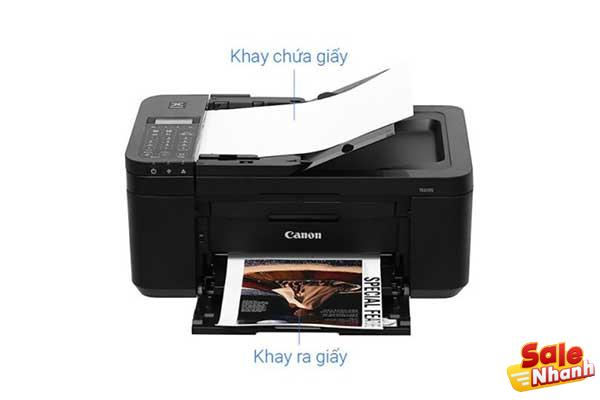 Convenient Wifi connection for printing
The Canon TR4570s printer is a remarkable product in today's printing market because of its advanced wireless connectivity feature. Using the Wi-Fi Direct connection mechanism, this printer has the ability to connect and interact with smart devices such as smartphones, tablets and laptops, making it easy for users to perform printing jobs conveniently and easily. fast.
The remarkable thing here is that the TR4570s printer can be compatible with many different operating systems, including Windows, macOS, iOS and even Android. This brings significant benefits to users, especially in an era where electronic devices are widely used across many different platforms.
However, the wireless connectivity feature of the TR4570s printer is more than simply connecting to smart devices. It also helps users save time and effort when performing print jobs. With the ability to connect directly to a computer, this printer allows users to print from any location within Wi-Fi range without the need to connect cables.
In addition, wireless connectivity makes the TR4570s more versatile than ever. Users can print from any device without having to switch back and forth between different computers or devices. This is especially useful for businesses or organizations that need to print from many different devices.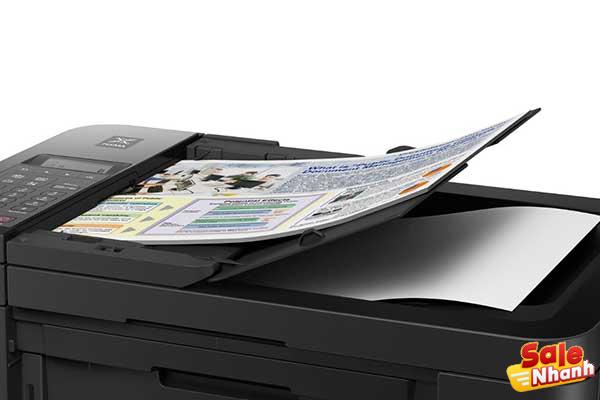 Owning LCD screen makes operation easier
The Canon TR4570s printer is a handy device for your printing needs. It is equipped with a large LCD display, allowing you to easily monitor the machine's functions and customize print modes. With the integrated control panel at the top, you can control the printer flexibly and quickly.
The Canon TR4570s printer's LCD display allows you to view information about the machine's status directly, such as remaining ink levels, connection status, and the number of pages printed. You can easily customize print modes such as resolution, print speed and print quality with just a few button presses on the control panel.
More than simply a printing device, the Canon TR4570s can also perform other functions such as printing over a Wi-Fi network, printing from mobile devices, and scanning and copying documents. With the convenient control panel, you can perform these functions quickly and easily.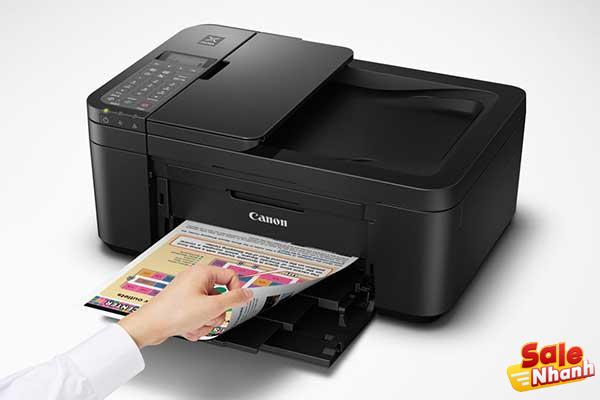 Related articles:
Conclusion about Canon TR4570s . printer
When deciding to buy a Canon TR4570s printer, your needs and criteria when using the printer will play an important role in your decision. This is a universal printer with basic features including printing, copying and scanning. That is to say, it has enough features to meet your basic printing needs.
Another plus for the Canon TR4570s is the Wi-Fi connectivity feature, which allows you to connect to a smartphone or tablet for direct printing. This is very convenient for quick printing without using a computer.
If you're looking for a multifunction printer for home or small office use, and don't need high-end features like multifunction color printing or high-quality inkjet printing, the Canon TR4570s could be the one. good choice. However, if you need to print with higher quality or in larger quantities, you should consider other products from Canon or other printer brands.
If printing speed is your priority, single-function printers may be a better choice. They can print faster and are more efficient at printing large quantities of documents.
Salenhanh – Product review blog
Address: 115 Nguyen Van Qua, Tan Hung Thuan Ward, District 12, Ho Chi Minh City
Website: https://salenhanh.com/en
Mail: Salenhanh.com@gmail.com
#salenhanh #Reviewsalenhanh