Canon Pixma iP110 is one of the outstanding mobile printer products thanks to its convenient Wi-Fi connection feature, allowing users to print directly from mobile devices such as laptops, smartphones or tablets without using the printer. use connection cables. This is very convenient for those who are often on the go and need to print quickly and easily.Not only that, the iP110 is also equipped with a 2,300mAh Li-Ion rechargeable battery, allowing users to carry the printer and print anywhere, anytime without having to search for a power source. It takes about 3 hours to fully charge the battery, and the battery can work to print about 290 sheets when connected to a computer using a USB port, or about 240 sheets when connected to a computer via wireless network. This allows users to print jobs seamlessly without worrying about running out of battery midway.

With a compact and easy-to-carry design, the Canon Pixma iP110 is considered a perfect choice for those who need a versatile, convenient and high-quality mobile printer. In addition to Wi-Fi connectivity and rechargeable batteries, the iP110 is also equipped with a range of smart and convenient printing features such as automatic two-sided printing, image printing, and direct printing from applications. smartphones and more. With these advanced features and technologies, Canon Pixma iP110 will surely satisfy users' printing needs well and give them excellent printing experience.
Canon Pixma iP110 printer review review
Printer design
We had the opportunity to experience the Canon Pixma iP110 printer model and found that the first impression this printer left in our minds was its beautiful design and compact size. With dimensions of only about 322 x 185 x 62mm and a weight of only 2kg (excluding portable batteries), the iP110 printer can easily be folded when not in use and can be equivalent to a compact 14-inch laptop. , just a little thicker.
The iP110 printer is designed with an entire matte black exterior, creating a sense of luxury and sophistication. However, we also found that the outer shell of this printer is prone to scratches, especially the front flap. Surely this is a point that needs to be improved to ensure the durability and protection of the printer.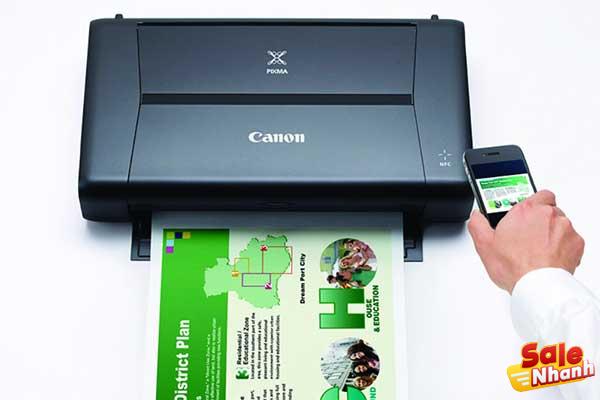 Print speed and resolution
Canon Pixma iP110 is one of the remarkable mobile printers on the market today, with the ability to support printing to a maximum resolution of up to 9,600×2,400 dpi. This ensures that prints are maximized in terms of detail and sharpness.
The Pixma iP110 printer also supports 3 different print quality levels, Fast, Standard and High, allowing users to adjust the print quality to suit their needs. However, when printing in the lowest Draft mode, the text quality can be jagged and the border is not clear, this is a common feature of printers using inkjet technology.
However, when higher modes such as Standard and High are selected, print quality is significantly improved, resulting in prints with higher definition and better details. In fact, the quality of these prints is comparable to some other laser printers on the market.
Large Paper Feed Tray
When using the Pixma iP110 printer, to use the print function, you need to open the top cover to turn it into a paper feeder, which can hold up to 50 sheets of paper. This paper feeder can be adjusted in height by pulling or retracting to suit your printing needs.
In addition, the front cover of the machine also needs to be opened to receive printed paper. However, if you place the machine too close to the edge of the desk, it is possible that the printed paper will fall, so you need to pay attention to the appropriate table top layout to avoid this situation.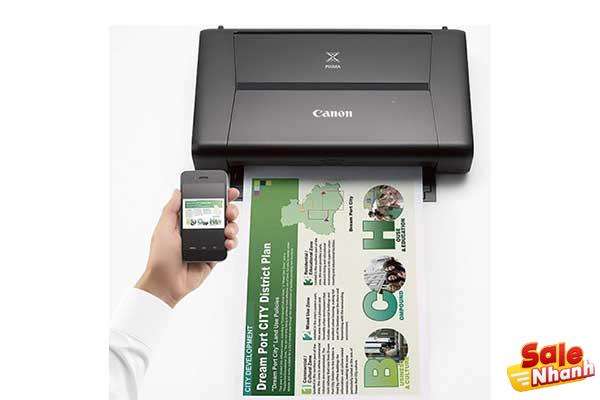 Pixma iP110 is one of Canon's printers, designed to support a maximum paper size of A4, with a weight of 64-105g/m2. In addition, the machine can also support Canon's "special" printing papers, with a weight of up to 275g/m2. This allows you to print a wide variety of documents with the best print quality.
Convenient wifi connection
Canon's Pixma iP110 printer is equipped with a series of control buttons located on the top of the machine, including 3 simple function buttons: power button, paper feed button and Wi-Fi connection button. However, the use of these buttons is quite complicated and difficult for first-time users, because the functions of the buttons are specified by the manufacturer.
For example, to connect the printer to the office's Wi-Fi network, you must press and hold the Wi-Fi button on the printer until the power light flashes twice, then release the button to complete the connection process. . This requires the user to carefully read the manual and follow the instructions.
However, the Pixma iP110 printer is also equipped with a Wi-Fi networking feature that allows you to print documents from a variety of devices, such as laptops, smartphones or tablets, without having to use cables. connect. Besides, this printer also supports direct connection to a computer via the common USB 2.0 port, making it easy to share documents and print quickly and conveniently.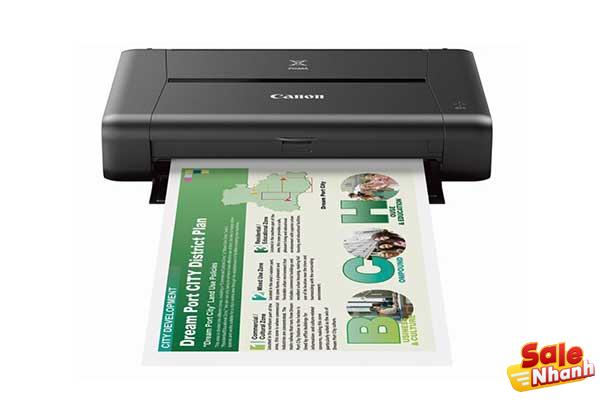 Related articles:
Conclusion about Canon Pixma iP110 . printer
The Canon Pixma iP110 printer has some limitations, such as a rather slow print speed, can only print a limited number of pages per use, and high ink costs. If you need to print large quantities of documents or print speed is important, you may want to consider some other options such as a laser printer or other color printer.
All in all, the Canon Pixma iP110 printer is a good choice for those who need a compact, multifunctional and high quality portable printer. However, the purchase of this printer depends on your specific use needs.
Salenhanh – Product review blog
Address: 115 Nguyen Van Qua, Tan Hung Thuan Ward, District 12, Ho Chi Minh City
Website: https://salenhanh.com/en
Mail: Salenhanh.com@gmail.com
#salenhanh #Reviewsalenhanh