The Canon imageCLASS MF645Cx printer is designed to provide users with high quality prints and great convenience. With high reliability, users can count on the crisp and vibrant quality of their prints.
The imageCLASS MF645Cx all-in-one color laser printer has a stable print speed of 21 pages per minute, helping users save time in printing. In particular, the printer has automatic 2-sided printing, which saves paper and printing costs.
Besides, the printer also supports many different connection methods such as Wi-Fi, Ethernet and NFC, helping users to be proactive in daily document printing. With a mid-range price tag, the Canon imageCLASS MF645Cx printer is a great choice for small and medium-sized offices, with rich features and solid performance.
Canon MF645Cx printer introduction video
Canon imageCLASS MF645Cx printer review review
Modern design
The Canon MF645Cx printer has the same external design and size as other Canon printer lines such as the MF634Cdw or the MF735Cx. With dimensions of approximately 451 x 460 x 413mm and a weight of 20.5kg, you can easily place this printer next to your computer on your desk or another convenient location for printing.
This printer is equipped with a 5-inch color touch screen LCD screen on the right hand side with multi-angle rotation, making it easy and convenient to operate and customize.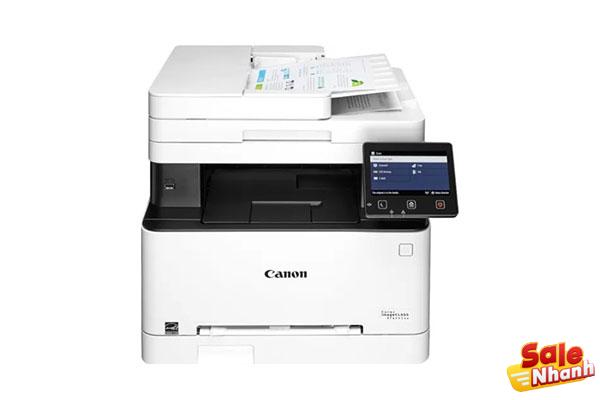 If you want to print continuously without interruption, the printer will help you with the standard 250-sheet tray and the 1-sheet multipurpose tray. In addition, the Canon MF645Cx also has a 50-sheet automatic duplexer (DADF) paper tray, helping you scan and print automatically quickly and save time.
The DADF tray will save your time and effort because it has the ability to receive the original document and scan both sides of the document simultaneously, instead of having to do it manually for each sheet like before. So, if you need to print large quantities of documents and want to save time, the Canon MF645Cx is a good choice for you.
Exceptional printing speed
Canon MF645Cx color printer is rated to have a stable print speed of 21 ppm for single-sided printing and 12 ppm for duplex printing, making it a suitable choice for offices and businesses with high demand. Multi-function printing needs such as copy and scan. In particular, the two-sided printing feature saves paper and energy, increases convenience, and makes the work environment cleaner and more sustainable.
The output quality of the Canon MF645Cx is 600 x 600 dpi, however, with image smoothing technology, the resolution can be up to 1200 x 1200 dpi. Results from printing tests show that prints achieve high definition even with small font sizes.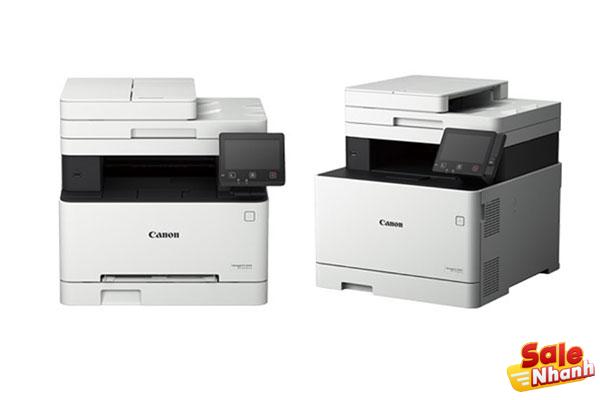 Although color laser printers can't print as excellent color as inkjet printers, Canon MF645Cx still shows the ability to print accurate, vivid colors and clear details. As proof, the test results show that the prints meet the expected level of color accuracy and contrast.
Above all, the Canon MF645Cx is a reliable product for businesses that need a multifunction printer with duplex printing and good print quality.
Many convenient connections
The Canon MF645Cx all-in-one laser printer has two standard connection protocols, Gigabit Ethernet and USB 2.0, to connect to a single PC. However, to print on multiple machines in the same office, you can use the Wireless Printing feature without using a connection cable.
In addition, the printer also has a USB slot on the left of the output tray that allows convenient direct printing of JPEG, TIFF, and PDF files without having to open the computer.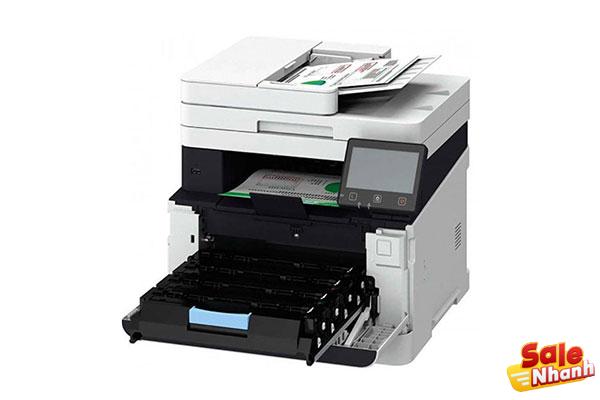 For printing from mobile devices, the printer supports mobile apps like Apple AirPrint, Mopria for Android, Google Cloud Print, and Canon Print Business on Android or iOS, making printing even simpler.
With the touch LCD panel and smart app library, you can get more benefits with just one touch. You can store and print frequently used document templates from the printer or send digitized copies of documents to predefined addresses with ease. All these features make using the Canon MF645Cx printer efficient and time-saving.
Good price saving ink
The Canon MF645Cx duplex printer cartridge used is Canon 054, a genuine cartridge recommended to ensure the quality and reliability of the printer. However, if you want to save money, you can use other compatible cartridges. However, when choosing compatible inks, you should pay attention to the brand, ensure the quality and reputation of the manufacturer to avoid problems related to ink.
With an all-in-one color laser printer like the MF645Cx, you can customize it to produce stunning prints and save on printing costs. However, customization should fit the needs and characteristics of your business. With automatic two-sided printing, the printer can help you save on paper costs and increase work efficiency.
But it's not just about using the right cartridge, maintenance and care is also important. You should regularly check the ink and replace it at the right time to avoid damage to the printer. Furthermore, when using compatible inks, regular checks are recommended to ensure print quality and avoid technical problems.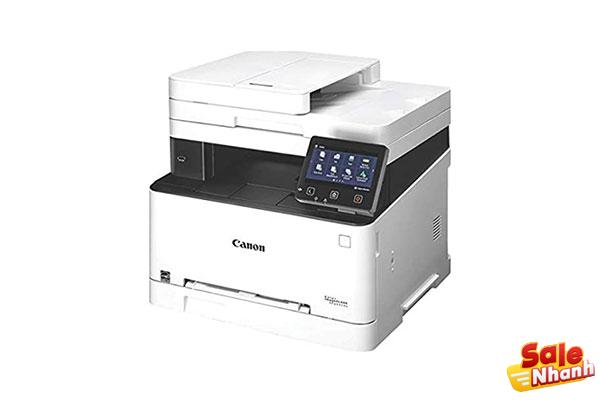 In short, choosing the right cartridge and customizing your printer to your business needs and characteristics is critical to achieving high workflow efficiency and cost savings. You need to pay attention to the quality and brand of the ink, and regularly check and maintain the printer to ensure the best operation of the printer.
Related articles:
Conclusion about Canon imageCLASS MF645Cx . printer
If you need a multifunction printer with good color printing and scanning capabilities, with fast print speeds and diverse connectivity features, then the Canon imageCLASS MF645Cx could be a good choice. However, if you need a printer with other special requirements such as high volume printing or a higher resolution, then you may need to consider other options.
Salenhanh – Product review blog
Address: 115 Nguyen Van Qua, Tan Hung Thuan Ward, District 12, Ho Chi Minh City
Website: https://salenhanh.com/en
Mail: Salenhanh.com@gmail.com
#salenhanh #Reviewsalenhanh