Attracting attention through his role in the TV series Reborn Rich (2022), actor Lee Sung Min is mentioned a lot by knetz and international audiences. This veteran actor shines as bright as the young actor Song Joong Ki plays in the same movie. Starting his career in 2004, Lee Sung Min has practically earned many titles in dramas and movies.
Lee Sung Min's dramas that he acted in have a variety of themes and genres. Among the dozens of movies that have been played, we have selected ten of his best dramas. Who are they? Here is the list for you!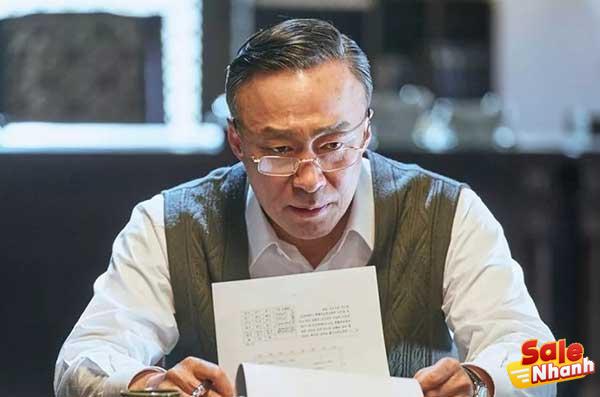 Misaeng: Incomplete Life
Release year 2014
Genre Drama, Life
Director Kim Won Suk
Cast Yim Si Wan Lee Sung Min Kang So Ra Kang Ha Neul Byun Yo Han Kim Dae Myung
Misaeng: Incomplete Life (2014) is an office drama starring Lee Sung Min, Im Siwan and some other actors. Confronting Im Siwan, Lee Sung Min plays Oh Sang Shik. He is a workaholic but has a warm personality.
Oh Sang Shik becomes Geu Rae's superior; an intern with no previous work experience. Geu Rae tried to become a professional Go player.
When his dream doesn't come true, he realizes he doesn't have any skills. Fortunately, he has a good boss like Sang Shik. Interestingly, baduk helped Geu Rae a lot in adapting and solving problems in the office.
Reborn Rich
Release year 2022
Genre Drama , Fantasy , Romance
Director Kim Tae Hee
Cast Song Joong Ki Lee Sung Min Shin Hyun Bin
Lee Sung Min's appearance in the movie "Reborn Rich" (2022) received much praise. This veteran actor has proven his qualities are not exhausted.
Playing the role of Jin Yang Cheon, actor Lee has to play the role of the head of a company called Soonyang Group, and Korea's top conglomerate, a cold and ambitious person.
Among his descendants, Yang Cheol is very interested in the youngest grandson named Jin Do Jun. The boy is considered visionary and ambitious. Obviously because Jin Do Jun is really Yoon Hyun Woo.
He is an employee of Soonyang Group who was cheated and harmed while at work. Surprisingly, Hyun Woo's soul mysteriously entered Jin Do Jun's body.
Juvenile Justice
Release year 2022
Genre Drama
Director Hong Chinh Chan
Cast Kim Hye Soo Kim Mu Yeol Lee Sung Min
Lee Sung Min's drama Juvenile Justice (2022) received a standing ovation for presenting an unprecedented legal story. The drama, starring Kim Hye Soo and Kim Mu Yeol, tells the story of a cold, elite judge who has just been appointed a Juvenile Court judge.
As a judge Shim Eun Seok really hates the children of criminals, but on the other hand, he is bound by rules that indirectly protect children because they are underage.
Shim Eun Seok also has to argue with the head of juvenile justice department Kang Won Joong played by Lee Sung Min. At the same time, Kang Won Joong's son was also involved in a crime.
Memory
Release year 2015
Genres Drama , Law , Life , Romance
Director Park Chan Hong
Cast Lee Sung Min Kim Jee Soo Park Jin Hee
Memory (2016) shows a man's best efforts to protect the precious values ​​of life and the love of his family, when his memories begin to fade. Lee Sung Min becomes the main character named Park Tae Suk in this drama. He is a lawyer by profession who discovered he has Alzheimer's disease.
Despite knowing about his health condition, Tae Suk still risked his life to fight for one last case. The drama has a total of 16 episodes also played by Kim Jee Soo, Park Jin Hee, Lee Jun Ho and some other actors. Watch Memory (2016) Get ready to be captivated by your seniors' acting!
The King 2 Hearts
Release year 2012
Genres Comedy, Drama, Military, Romance
Director Jung Dae Yoon
Cast Lee Seung Gi Ha Ji Won Jo Jung Suk Yoon Je Moon Lee Yoon Ji
The King 2 Hearts (2012) is a South Korean television series with the theme of North and South Korean relations, mixed with a bit of romance and a bit of humor.
Starring Lee Seung Gi and Ha Ji Won, this drama depicts the efforts of King Lee Jae Kang, played by Lee Sung Min, to combine the military might of North and South Korea.
Jae Kang wants the two Koreas to unite and win a world-class military competition. Because of that, he sent his younger brother, Lee Jae Ha, to a training camp.
There, Jae Ha, who has no interest in politics and power, meets the daughter of a high-ranking North Korean military official named Kim Hang Ah. After much tension at first, the two begin to develop feelings.
Money Game
Release year 2020
Genre Business, Drama, Mystery, Politics
Director Kim Sang Ho
Cast Go Soo Lee Sung Min Shim Eun Kyung
True to its title, Lee Sung Min's film Money Game (2020) offers a story with a theme that is no stranger to money and games.
This film shows the conflicts that occurred within Korea's Financial Policy Bureau after twenty years of currency crisis. Although it happened a long time ago, the incident caused concern to the Korean government.
They don't want bad things to happen again. To prevent this incident from happening to Korea, three employees from the Financial Services Commission and the Ministry of Economy and Finance worked hard. They are Chae Yi Heon, Heo Jae, played by Lee Sung Min and Lee Hye Jun; The only female official on the team.
The Great King, Sejong
Release year 2008
Genre Drama, History
Director Kim Sung Geun , Kim Won Suk
Cast Kim Sang Kyung Kim Yeong-cheol Choi Myung Gil Park Sang Min Kim Sung Ryung Lee Yoon Ji Lee Chun Hee
Want to see Lee Sung Min act in a hanbok? You must see his movie called The Great King, Sejong (2008). Even if you don't play the main character, you can still enjoy the story.
The story revolves around the character Prince Chung Nyeong; The third prince lived outside the palace because of the political tension that ensued.
Chung Nyeong lived as a commoner until he grew up. When it was time to take the throne, Chung Nyeong, whose title was King Sejong, began working for his country.
He also created the Korean writing system known as Hangul. In this drama, Lee Sung Min plays the role of Choe Man Ri; a professor opposed the creation of Hangul with other scholars.
Shadow Detective
Release year 2022
Genres Crime , Drama , Mystery , Horror
Director Han Dong Hoa
Cast Lee Sung Min Jin Goo Kyung Soo Jin Lee Hak Joo
Lee Sung Min in this movie plays Kim Tae Rok; a veteran detective awaiting retirement. One day, he received a phone call from someone claiming to be an old friend.
Over the phone, this person claimed to have killed Kim Tae Rok's colleague named Woo Hyun Seok. The caller also advised Tae Rok to find out his mistakes in the past.
Tae Rok becomes a suspect for Woo Hyun's death. However, they soon find out the identity of the mysterious caller with the help of two other detectives, Lee Sung A and Song Kyung Chan, played by Kyung Soo Jin and Lee Hak Joo respectively.
Splendid Politics
Release year 2015
Genre Drama , History , Politics
Director Choi Jung Gyu , Kim Sang Ho
Cast Cha Seung Won Lee Yun Hee Kim Jae Won Seo Kang Joon
Besides The Great King, Sejong (2008), Splendid Politics (2015) is another historical drama starring Lee Sung Min. This film once again presents the tricks and conspiracies of the power struggle taking place in the palace. The story follows the life of Princess Jung Myung, the only royal descendant of the queen who survived the massacre.
To survive, the princess lives her life as a commoner and must disguise herself as a man. Disaster struck when his father, King Seon Jo died and the throne was replaced by Prince Gwang Hae.
Gwang Hae is a princess with an ambitious concubine and doesn't hesitate to kill anyone who might threaten her position, including the son of King Seon Jo and the queen.
Golden Time
Release year 2012
Genre Comedy , Medical , Romance
Director Kwon Seok Jang , Lee Yoon Jung
Cast Lee Sun Kyun Lee Sung Min Hwang Jung Eum Song Sun Mi
Lee Sung Min plays a workaholic surgeon known for being sharp and putting patients before himself in the drama Golden Time (2012). His name is Choi In Hyuk and he guides residents at a hospital, one of whom is Lee Min Woo.
After two years of serving the village, Min Woo returned to the hospital where he came from to complete his residency. The liberal Min Woo is exhausted from his work. Under the guidance of Choi In Hyuk, Min Woo once again questioned his reason for becoming a doctor.
Among the many Lee Sung Min dramas that have aired, the 10 that we have selected in this article will not disappoint you. The choice of topics is quite diverse, from medicine to business, so you can choose according to your preferences. So, what is your favorite movie from this senior actor?
Salenhanh – Product review blog
Address: 115 Nguyen Van Qua, Tan Hung Thuan Ward, District 12, Ho Chi Minh City
Website: https://salenhanh.com/en
Mail: Salenhanh.com@gmail.com
#salenhanh #Reviewsalenhanh