The star, who holds dual Australian and American citizenship, is an actress and model who has successfully captured the attention of world filmmakers. Nicole Kidman is an actress born in Honolulu, Hawaii on June 20, 1967.
The actress, who won an Oscar for her role as best lead character in the 2003 film The Hours, has superb acting skills in every appearance.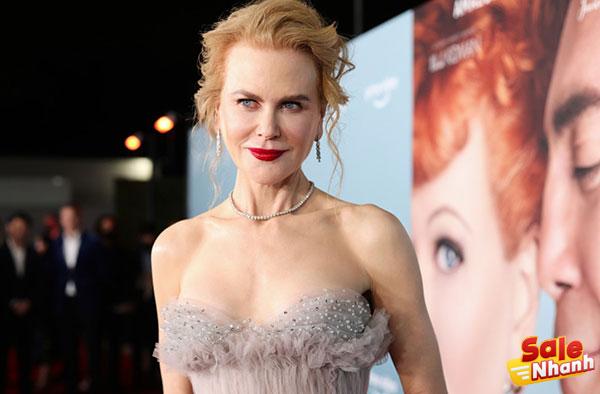 In addition to these movies, some of the Nicole Kidman movies that we are going to discuss this time also have interesting plots to follow. If you are also a lover of the acting of this talented actress, here are the top Nicole Kidman movies that you should watch!
Before I Go to Sleep
Release year : 2014
Genre: Drama, Horror, Mystery
Directed by: Rowan Joffe
Cast: Nicole Kidman, Colin Firth, Mark Strong
Production company: Scott Free Productions, Millennium Films, StudioCanal
Before I Go to Sleep is a horror film based on the best-selling novel of the same name by SJ Watson. This movie is about a woman who wakes up from her sleep every day without remembering anything that happened before.
This is due to an accident that happened in the past. Nicole Kidman plays Christine, a woman who struggles to find the truth among the people around her.
Can Cristine find the real answer to the situation in her life? Horror films that succeed in impressing the audience with their skillful acting are something you should watch.
Source: Salenhanh.com
Aquaman
Release year : 2018
Genre: Action, Adventure, Fantasy
Directed by: James Wan
Actors: Jason Momoa, Amber Heard, Willem Dafoe
Production company: DC Comics, DC Entertainment, Panoramic Pictures
This DC-based superhero movie stars Nicole Kidman as Queen Atlana who is none other than Arthur Curry's mother, aka Aquaman. In this film, Atlana is said to leave Arthur with her husband to escape the dangers of the underwater army, Atlantis.
Atlana herself is the Queen of Atlantis, who has two sons from her marriage to the King of Atlantis and an ordinary fisherman. The story of Aquaman's struggle to reveal his identity and the mystery of his mother's disappearance is one to watch.
In addition to showing a great view underwater. The intense action scenes between the Atlantis army against Aquaman are really interesting to watch.
The Goldfinch
Release year : 2019
Genre: Drama
Directed by: John Crowley
Actors: Oakes Fegley, Ansel Elgort, Nicole Kidman
Production company: Amazon Studios, Color Force, Warner Bros
Another Nicole Kidman film adaptation of the bestselling novel of the same name by Donna Tartt. This film by John Crowley tells the story of Theodore "Theo" Decker, a 13-year-old boy who lost his mother to a terrorist attack at the Metropolitan Museum of Art.
When it happens. The child then ran away with "The Goldfinch", a painting by Dutch artist Carel Fabritus. This causes him to live a different life from other children until he grows up.
The Upside
Release year : 2017
Genre: Comedy, Drama
Directed by: Neil Burger
Actors: Kevin Hart, Bryan Cranston, Nicole Kidman
Production company: Escape Artists, Lantern Entertainment, The Weinstein Company
The Upside is a remake of the 2011 French film The Intouchables. The box office hit in the US tells the story of a wealthy businessman named Philip Lacasse and his nurse, Dell Scott.
The movie Upside itself is based on the true life story of two businessmen Philipe Pozzo and Abdel Scott. Nicole herself plays the personal secretary of a wealthy businessman named Yvonne. What is the story between the rich businessman and the nurse? The film has a touching plot, is a must see movie with the family.
Lion
Release year : 2016
Genre: Biography, Drama
Directed by: Garth Davis
Actors: Dev Patel, Nicole Kidman, Rooney Mara
Production company : The Weinstein Company, Screen Australia, See-Saw Films
One of the movies starring Nicole Kidman is titled Lion. The film that won 6 Oscar nominations was indeed able to take all the tears of the audience. The film is based on the true story of a boy named Saroo who has to be away from his family.
It all started when Saroo followed his brother to work. Eventually, an event separates the two until Saroo is adopted by a family from Australia, Sue (Nicole Kidman) and John Brierley (David Wenham), adopted.
After growing up, Saroo sought to find his family back through technology in his hometown. Saroo's journey to find his family can indeed stir the emotions of the audience. If you don't believe it, you can watch this autobiographical film for yourself.
Genius
Release year : 2016
Genre: Biography, Drama
Directed by: Michael Grandage
Actors: Colin Firth, Jude Law, Nicole Kidman
Production company: Desert Wolf Productions, Michael Grandage Company, Riverstone Pictures
Genius is a film adaptation of the life of a world-renowned editor, Max Perkins, who edited the book Genius by Thomas Wolfe. The film itself tells the story of Thomas Wolfe, a new writer who has always encountered rejection from publishers.
So, one day, Thomas met Max Perkins, a famous editor who eventually became his friend and colleague. His success began with the publication of Thomas' first book, "Look Himeward, Angel", which became a bestseller.
The conflict itself begins to emerge during the making of the second book, where the problem lies not only in their work, but also in the lives of their families. In this film, Nicole plays Aline Bernstein, a famous designer. This drama that tells the story of the friendship between a writer and an editor is truly the best you can collect.
Boy Erased
Release year : 2018
Genre: Biography, Drama
Directed by: Joel Edgerton
Actors: Lucas Hedges, Nicole Kidman, Joel Edgerton
Production company : Spotlight feature, Perfect world image, Anonymous content
Boy Erased follows the life of a teenager named Jared Eamons, a 19-year-old teenager with heterosexual orientation issues. As a child raised in a religious environment. Jared's life received the full attention of both his father and mother, who were known as the heads of the church.
For the sake of changing the child back to his nature as a man. Jared's parents were forced to enroll him in a behavior change therapy program. His parents, Marshall and Nancy Eamons, are played by Russell Crowe and Nicole Kidman.
This film presents a life picture of a family's problems, which can open viewers' perspectives on social problems occurring in society. So interesting to see.
The Killing of the Sacred
Release year : 2017
Genre: Drama, Horror, Mystery
Directed by: Yorgos Lanthimos
Actors: Barry G. Bernson, Herb Caillouet, Bill Camp
Production company: Element Pictures, A24, Film4
After previously, Nicole wowed audiences in the horror film The Other. This time Nicole is back to act in an interesting horror movie worth watching called "The Killing of the Sacred".
The film follows the life of Steven Murphy, a heart surgeon whose negligence cost a male patient his life. Dr Murphy, who felt guilty about this, then tried to comfort the patient's 16-year-old son.
Their initial normal encounter becomes more intense as events disrupt the lives of Dr. Murphy and his family.
In this movie, Nicole Kidman will play Dr. Anna, wife of Steven Murphy, who is terrified of many times. What is the next story of this horror movie? Well, you can see for yourself so as not to cause curiosity.
The Beguiled
Release year : 2017
Genre: Drama, Horror
Directed by: Sofia Coppola
Actors: Nicole Kidman, Kirsten Dunst, Elle Fanning
Production company : American Zoetrope, FR Productions
The Beguiled is a horror film that brings together three actresses of different generations, namely Nicole Kidman, Kirsten Dunst and Elle Fanning. Tells the story of a soldier, John McBurney (Collin Firth), who is found appearing in a girls dormitory led by Martha Fransworth (Nicole Kidman) during the war.
John's appearance in the dormitory eventually became the focus of attention of the residents of the female dormitory. Among them are teacher Edwina Morrow (Kirsten Dunst) and flirty student Alicia (Elle Fanning). This satirical film featuring the exciting story of John's adventures in the midst of a remote and mysterious female dormitory is a must-see for you.
The Prom
Release year : 2020
Genre: Comedy, Music
Directed by: Ryan Murphy
Actors: Nicole Kidman, Meryl Streep, Kerry Washington
Production company : Netflix, Ryan Murphy Productions
The Prom is a musical drama by Nicole Kidman that will air in 2020. The musical tells the story of the stage star, featuring senior actress Meryl Streep as Nicole Kidman's opposite. . The film itself is an adaptation of Ryan Murphy's musical film "The Prom" which has previously successfully captured the attention of the audience.
Nicole Kidman and Meryl Streep previously worked together on the movie "Big Little Lies". Two Oscar-winning actresses are indeed a breath of fresh air for audiences who like musicals. So let's wait for this screening of my movie.
Those are 10 Nicole Kidman movies that you absolutely must see. If there are films by other actresses that you would like to continue discussing. You can send a message in the comments section below.
Salenhanh – Product review blog
Address: 115 Nguyen Van Qua, Tan Hung Thuan Ward, District 12, Ho Chi Minh City
Website: https://salenhanh.com
Mail: Salenhanh.com@gmail.com
#salenhanh #Reviewsalenhanh