If you are a fan of superhero movies, you are probably familiar with the silhouette of Jason Momoa . The actor born on August 1, 1979 is indeed rising like a kite, especially after the role of Aquaman. But before becoming a DC superhero, Jason Momoa acted in many movies, you know!
The actor who is also in the series "Game of Thrones" is credited with having acted in several films with various genres. From "Aquaman" to his own movies, here are 10 Jason Momoa movies that you should watch if you are a fan of the actor.
Aquaman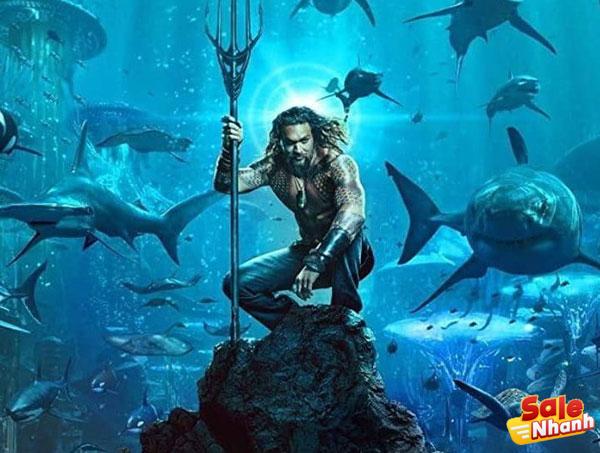 Release year : 2018
Genre: Action, Adventure, Fantasy
Producer: Warner Bros. Pictures, Movies DC
Directed by: James Wan
Actors: Jason Momoa, Amber Heard, Willem Dafoe, Patrick Wilson
"Aquaman" focuses on the character Arthur Curry (Jason Momoa), the son of the lighthouse keeper, Thomas, and the queen of the sea kingdom of Atlantis named Atlanna. Arthur lives in the human world under the supervision of Nuidis Vulko, a mentor of Atlanna's choice who also teaches Arthur many things, including fighting.
Arthur, played by Jason Momoa, is depicted as a strong man with the ability to control sea water. He can also communicate with sea animals and can swim at high speeds.
Despite being descended from a queen, Arthur refuses to live in Atlantis after learning that his mother was severely punished for loving a human. But because of the appearance of a strong enemy, Arthur could not help but return to his homeland under the sea.
Justice League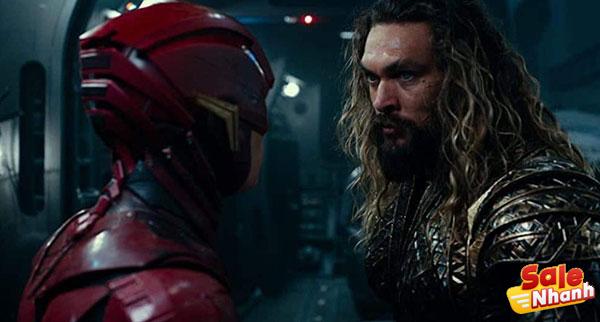 Release year : 2017
Genre: Action, Adventure, Fantasy
Producer: DC Films, RatPac Entertainment, Atlas Entertainment, Brutal and Unusual Films
Directed by: Zack Snyder
Actors: Ben Affleck, Henry Cavill, Gal Gadot, Ezra Miller, Jason Momoa
The film tells the story of a group of superheroes from DC Comics who work together to fight evil on earth. The story begins with Bruce Wayne/Batman (Ben Affleck), who tries to rally superheroes to fight the villains that are increasingly rampant after Superman's death.
One of the characters invited to participate is Arthur Curry aka Aquaman played by Jason Momoa. When visited by Bruce Wayne, Arthur refused to join the other superheroes.
However, an enemy named Steppenwolf appeared and messed up the area near the ocean so Arthur had to move to gather his power. In the end, Arthur chose to join the Justice League. Along with Batman and other superheroes, Arthur tries very hard to use his abilities against Steppenwolf.
Conan the Barbarian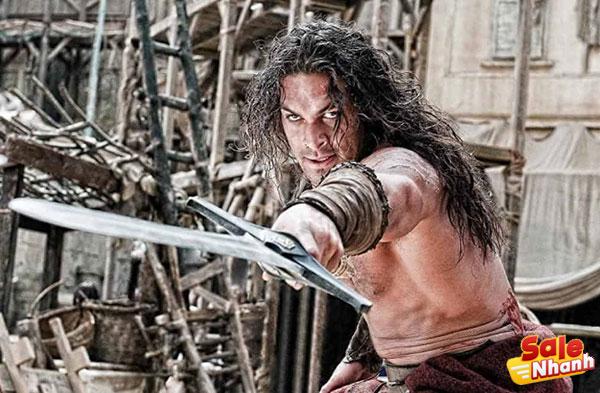 Release year : 2011
Genre: Action, Adventure, Fantasy
Producer: Millennium Films, Paradox Entertainment
Directed by: Marcus Nispel
Actors: Jason Momoa, Rachel Nichols, Stephen Lang, Rose McGowan
Conan (Jason Momoa) is the son of a Barbarian chief named Corin. Conan grew up to be a very strong boy thanks to his father's diligent upbringing, he was even able to defeat many adults at once with his own hands.
Trouble comes when his village is attacked by Khalar Zym (Stephen Lang). The whole village was massacred, even Conan witnessed his father being killed in the attack. This tragedy certainly created a grudge in Conan's heart.
For many years, he lived with a high determination to find Khalar Zym and avenge the death of his family. But revenge is not an easy matter, especially when Khalar Zym is always accompanied by his daughter Marique (Rose McGowan) who is an evil witch.
Braven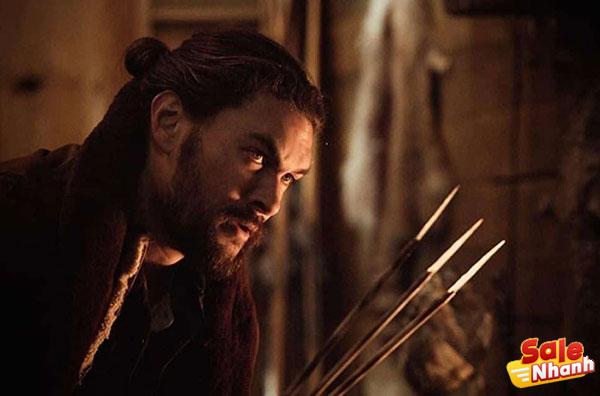 Release year : 2018
Genre: Action, Horror
Producer : Highland Film Group, INGENIθUS
Directed by: Lin Oeding
Actors: Jason Momoa, Garret Dillahunt, Jill Wagner, Stephen Lang
Jason Momoa is not only participating as an actor but also sitting in the producer chair of this film. He plays Joe Braven, a husband and father who cares deeply about his family.
One day, Joe plans to go on vacation with his father, Linden (Stephen Lang), to a small family-owned house in the mountains. They also accidentally took Joe's daughter Charlotte on the trip. However, Joe and his father found something unexpected when they arrived at their house.
The hut appears to have been used as a stash of cocaine by a drug lord named Kassen (Garret Dillahunt). As the criminals prepare to take their cocaine, Joe realizes that he and his family are in danger.
Being in the middle of the mountains with minimal cell phone signal made it difficult for Joe to get help. Joe also with all his strength and temporary devices tries to fight the criminals to protect his family.
The Bad Batch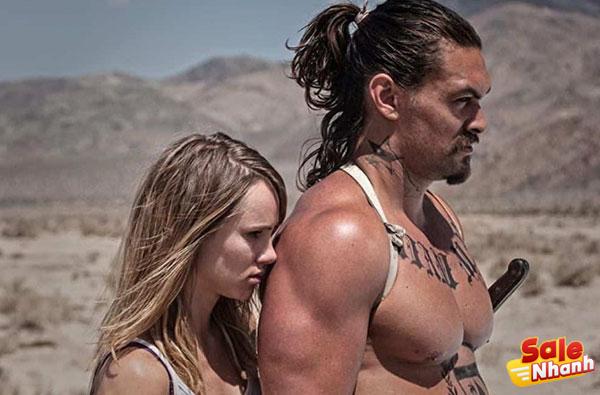 Release year : 2016
Genre: Horror
Producer: Annapurna Pictures, VICE Films
Directed by: Ana Lily Amirpour
Diễn viên: Suki Waterhouse, Jason Momoa, Giovanni Ribisi, Keanu Reeves
A young woman named Arlen (Suki Waterhouse) is trapped in an area of ​​cannibals. Arlen was attacked and lost a leg and an arm, but was eventually able to save himself. In the midst of his struggle to survive, Arlen meets a muscular man named Miami Man (Jason Momoa).
The Miami Man himself is the leader of a group of cannibals that has a wife named Maria and a young daughter named Honey. However, Maria was killed by Arlen, who was feared by the cannibals, while Honey disappeared to a place called Comfort.
On the way to find Honey, Miami Man and Arlen's relationship grows closer. Miami Man even protects Arlen from other cannibals who want to eat Arlen. Arlen eventually decided that he would stay by the Miami Man's side even if his life would be fraught with dangers.
Wolves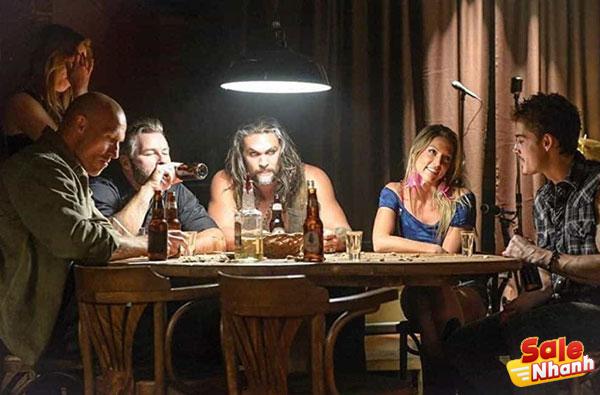 Release year : 2014
Genre: Action, Fantasy, Horror
Producer: TF1 International, Copperheart Entertainment
Directed by: David Hayter
Diễn viên : Lucas Till, Stephen McHattie, John Pyper-Ferguson, Merritt Patterson, Jason Momoa
"Wolves" tells the story of a teenage boy named Cayden (Lucas Till), who has just discovered that he is a werewolf. He then chooses to leave his old life and start meeting other werewolves.
Cayden also briefly met a bar girl named Angel, who made him fall in love. However, the conflict escalates when Cayden finally meets Connor (Jason Momoa).
Connor is a strong and quite violent alpha werewolf. From the story of another werewolf named John, Cayden finally learns that Connor is actually his biological father. According to John, Connor raped a woman named Lucinda who was none other than Cayden's biological mother.
Connor himself didn't know Cayden was his son. Connor, who wants a son, finally intends to marry Angel. Cayden tries his best to stop Connor's intentions and save the girl he loves.
Bullet to the Head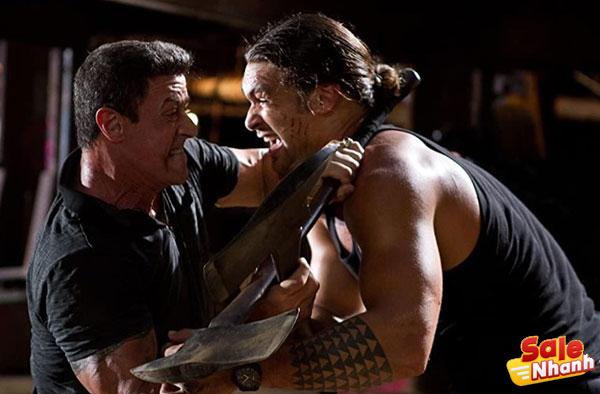 Release year : 2012
Genre: Action, Crime, Horror
Producer: Dark Castle Entertainment, IM Global
Directed by: Walter Hill
Actors: Sylvester Stallone, Sung Kang, Sarah Shahi, Adewale Akinnuoye-Agbaje, Christian Slater, Jason Momoa
The movie "Bullet to the Head" is about the cooperation between an assassin named Jimmy Bobo (Sylvester Stallone) and detective Taylor Kwon (Sung Kang) in hunting down a criminal. It all started when Jimmy Bobo killed a corrupt cop and his colleague, Louis Blanchard (Jon Seda).
After completing the mission, Jimmy Bobo and his colleagues were suddenly attacked by Keegan (Jason Momoa). Keegan himself is a mercenary hired by a crime leader named Morel.
Keegan is described as a ruthless and uncompromising killer. He will also do various ways to get the job done. Jimmy Bobo and Taylor Kwon eventually team up to fight Morel, but it turns out that Keegan is actually more dangerous than his master, giving it time to overwhelm Jimmy Bobo and Kwon.
Sugar Mountain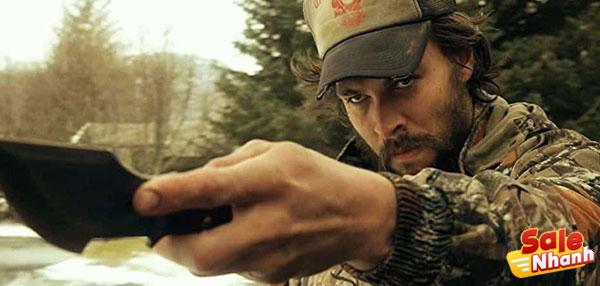 Release year : 2016
Genre: Horror
Producer : Yellow brick film
Directed by: Richard Gray
Actors: Cary Elwes, Jason Momoa, Drew Roy, Haley Webb, Shane Coffey
This movie is about hoax news becoming reality. A young man named Miles (Drew Roy) is trapped in a huge debt with a criminal named Joe (Jason Momoa). With the help of his girlfriend, Lauren, and brother Liam, Miles set out to create a hoax that he was lost in the mountains of Alaska.
The story is intended to be sold to the mass media at a high price. However, no one thought the prank would actually come true. Miles, who initially pretended to disappear, seems to be completely missing without anyone knowing his whereabouts.
Jason Momoa is classified as a villain named Joe Bright. Joe himself never believed in the news that Miles was missing in the mountains of Alaska. He's sure Miles is just faking the news about him getting lost in the wild. Joe who wanted his money back didn't stay silent so he started terrorizing Lauren and Liam.
Once Upon a Time in Venice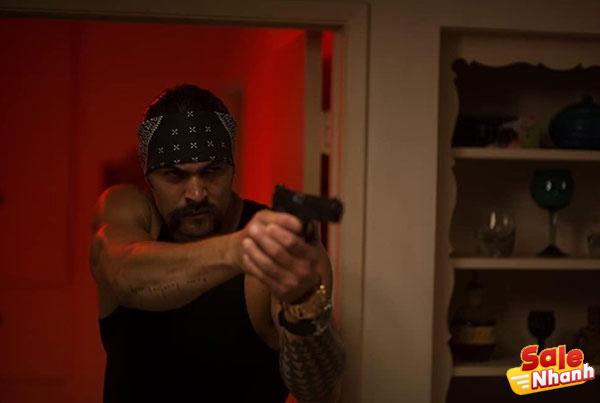 Release year : 2017
Genre: Action, Comedy
Manufacturer : Voltage Image
Directed by: Mark Cullen
Actors: Bruce Willis , Jason Momoa, John Goodman, Thomas Middleditch
The film's content focuses on a detective named Steve Ford (Bruce Willis) who suddenly loses his beloved dog. After investigating, Steve finds clues that his dog has been stolen by a drug lord named Spyder (Jason Momoa).
Steve then went to Spyder and negotiated to get the dog back but Spyder refused to give up the dog except on one condition, that Steve had to do something for Spyder. To save his dog, Steve finally obeys Spyder's every request and begins to do many unexpected things.
Spyder, played by Jason Momoa, is a fierce and scary-looking villain. The character is also well-suited to be played by Jason Momoa, who is tall and stocky. However, the Spyder character sometimes behaves a bit strangely in contrast to his intimidating appearance.
Road to Paloma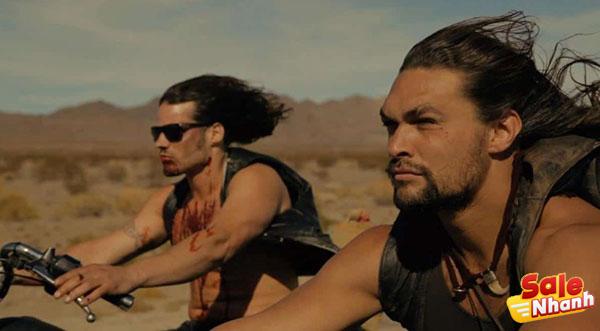 Release year : 2014
Genre: Drama, Horror
Producer: Boss Media, Pride of Gypsies
Directed by: Jason Momoa
Actors: Jason Momoa, Sarah Shahi, Lisa Bonet
Road to Paloma is the directorial debut of Jason Momoa. Not only that, but Jason is also a producer, co-writer, and the main character in the film. Jason Momoa himself plays Robert Wolf, a Native American who becomes a fugitive from the police after seeking revenge on his mother's killer.
Robert then travels to the American West on his motorcycle and plans to scatter his mother's ashes somewhere. But the further he went, the more difficult Robert found himself and realized that he was facing too much injustice.
Those are 10 Jason Momoa movies that have been released on the market. Slowly but surely, Jason Momoa's Hollywood career continued to rise and his name became more and more known to the public.
Salenhanh – Product review blog
Address: 115 Nguyen Van Qua, Tan Hung Thuan Ward, District 12, Ho Chi Minh City
Website: https://salenhanh.com
Mail: Salenhanh.com@gmail.com
#salenhanh #Reviewsalenhanh