Perseus and his two friends embark on an adventure through hell to save Zeus who is being held captive by Hades and Ares. They must overcome various obstacles in a maze full of traps to find time before Kronos is successfully resurrected by the two evil gods.
Perseus' inner struggle over his relationship with his father and son influences this journey.
Wrath of the Titans is an action fiction film by Jonathan Liebesman and published by Warner Bros. Pictures released on March 30, 2012. As a sequel to the commercially successful Clash of the Titans despite poor quality, Sam Worthington returns as Zeus' son Perseus in adventure two.
Planned as a trilogy, this movie actually buried plans for a sequel. What makes this movie not able to exploit all the interesting elements in it? Check out the review below to see the full review as well as the full answer!
Wrath of the Titans movie synopsis
Release year 2012
Genre Action , Adventure , Fantasy
Production Cott Productions , Furia de Titanes II AIE , Legendary Pictures , Thunder Road Pictures
Director Jonathan Liebesman
Cast of Sam Worthington Liam Neeson Rosamund Pike Ralph Fiennes Edgar Ramirez
A decade after Perseus defeated the Kraken, he lived a simple life with his son a fisherman after the death of his beloved wife Io.
Zeus visits them with the purpose of asking Perseus for help to stop Hades' next evil plan, which is to resurrect Kronos. But Perseus refused because he could not leave his son Helius.
One day, a volcano erupted and a chimera broke out of it and attacked the village where Perseus lived. With his ingenuity and fortitude, Perseus was able to defeat the creature that had died of his own fire.
Perseus understood now that what Zeus feared, namely the fall of the walls of Tartarus, was beginning to happen. Perseus and Helius then arrived at the temple of the gods that had been abandoned by humans. This is what causes the gods to lose their power.
Suddenly Poseidon appeared badly wounded. He reports that Zeus was held captive in Tartarus by Hades and Ares for his power to resurrect Kronos.
Before he died, Poseidon gave Perseus his spear and asked him to find his son, Agenor, who knew Hephaestus, the god who built Tartarus.
Perseus then braced himself, delivered Helius to Clea, and rode Pegasus to the kingdom led by Queen Andromeda. His goal there is to free Agenor, who is the queen's prisoner.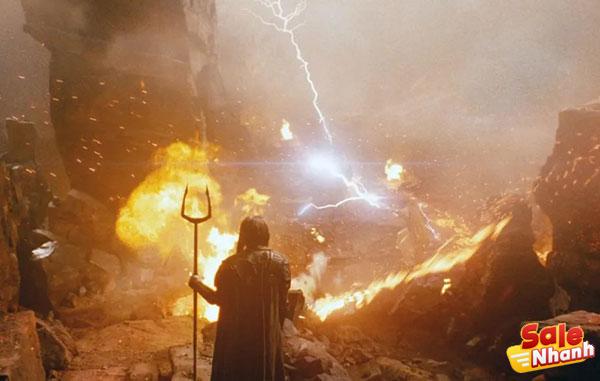 Perseus reported what he knew, so Andromeda immediately prepared his soldiers to stand on the battlefield. They then sailed across the ocean with Agenor as their navigator to the secret island where Hephaestus was.
They were confronted by three giant bicycles guarding the island. After conquering one of them, they were escorted to meet Hephaestus. After learning of the problem, Hephaestus is ready to help by showing the secret path to Tartarus.
At the entrance, they were blocked by Ares. But Perseus, Andromeda, and Agenor got in because of Hephaestus' sacrifice.
Inside the maze, Agenor holding a map can't find the way to Tartarus' belly. Perseus splits off and has time to fight the Minotaur. After successfully destroying the creature, they meet again at the gates of Tartarus.
Hades' heart melted with Zeus' apology to him. But Ares arrived and immediately attacked Hades before he could free Zeus. They fought until they fell into the abyss of Tartarus. Perseus arrives and immediately frees Zeus and takes him away.
Kronos can only be defeated by Trium's spear which is a combination of Zeus' lightning, Poseidon's trident and Hades' rake. Only Zeus' lightning has not yet reached Perseus, causing him to challenge Ares, the owner of Zeus' lightning.
Did Perseus defeat Ares? How did the Andromeda army keep Kronos' army from hell? Listen to the excitement in their adventure story until the end, OK!
Wrath of the Titans movie review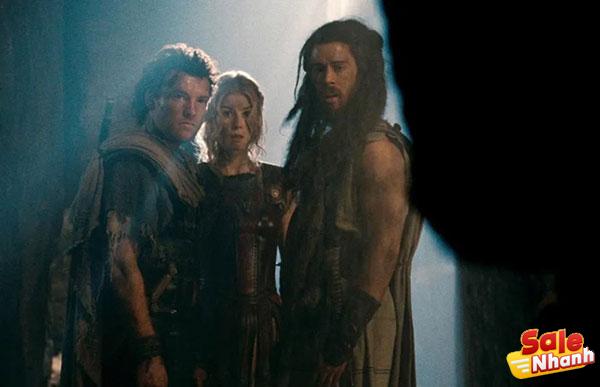 After the success of Clash of the Titans, what makes us want to continue the story of Perseus' adventures that is not based on stories from ancient Greek mythology? Wait a minute! Isn't Perseus a mythical figure of one of the world's oldest cultures?
That is true, but the story being told is not found in ancient Greek literature, in fact there are many flaws in it.
In the story, Perseus does not hunt Medusa as in the original story, but conquers the Kraken, a giant Norse mythical creature.
And at the end of the film, he also marries Io instead of Andromeda as in the literature. There is an error in the genealogy, as Io is 9 generations taller than Perseus and she is also the wife of Zeus among humans.
Back to the original question, what factors make us excited when watching this movie? Of course there is a line of stars playing in this movie. Liam Neeson, Ralph Fiennes and Danny Huston play the three god brothers, Zeus, Hades and Poseidon.
In the movie Clash of the Titans, Zeus and Hades play an important role in the story, while Poseidon is just a supplement. We certainly expect all three of them to have equally big roles in this next movie. But we are just disappointed, because again they are used as a supplement to the story.
There are two more gods present here, Ares played by Edgar Ramirez and Hephaestus played by Bill Nighy. But they also don't get enough playtime, even though their role is really important in this movie.
Speaking alone, the three main characters were not explored in depth by Dan Mazeau and David Leslie Johnson as screenwriters.
We only know a little about Perseus' background, that's because it just continues from the previous movie. While Andromeda and Agenor were given no background at all, so they just became one-dimensional characters.
Glamorous visual effects processing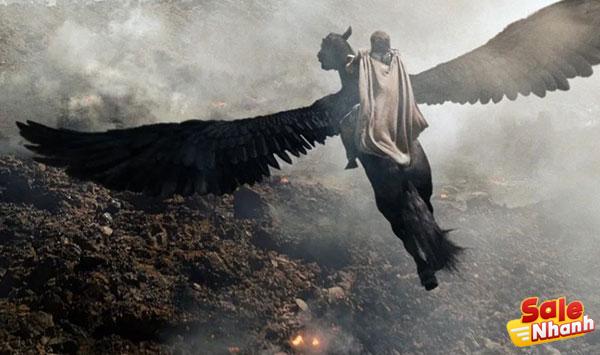 Indeed, this film's plot and character depth were suboptimal and felt rather disappointing, but we were pleasantly surprised by the visual effects present, better than the first film. The composition looks detailed and smooth, so it looks realistic.
And most impressive is the depiction of Tartarus with a maze that is always moving and changing positions that make anyone who enters it get lost. Perseus, Andromeda and Agenor were no exception, they entered it with a map of Hephaestus.
We were dumbfounded as the camera moved up to capture the entire landscape of the maze making our hearts flutter for it.
All three of them try to reach Tartarus' stomach, where Zeus is being held, even separated and Perseus fights the Minotaur. But they easily escaped from that location after rescuing Zeus.
No need to think about the many holes in the story that make us just shake our heads in disgust. With the script not matching the plot and the characters, the great visual effects finally seem to have become the main characters in this 1 hour 39 minute film.
The relationship between father and son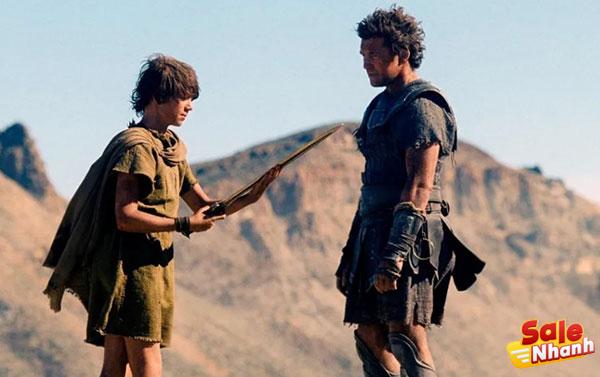 The presence of qualified visual effects, helps the cinematic quality of this film. We are shown the beauty of nature as the background of the story's location.
With a large production budget, the film was shot in South Wales, Tenerife Island in Spain and Torres del Paine National Park in Patagonia. The real beauty of this movie, though, is the story of the relationship between father and son, both Zeus and Perseus, as well as Perseus and Helius.
Zeus and Perseus as fathers want to give their son the best life on their own terms. Zeus wanted Perseus to become a god with him, but was refused because Perseus preferred to live a simple life like a normal human.
He chose this life because Perseus also wanted to give his son the best life so they wouldn't get caught up in the endless conflict of the gods.
Although Helius had said that he wanted to become a god one day, after Perseus defeated Kronos and many casualties were reduced, Helius withdrew his intention and continued on the path. that his father chose.
This doesn't necessarily lead us to consider Zeus a terrible father to his son. He tried to get closer to Perseus, but their life choices were different. And Perseus could be close to his sons, so Helius followed his father's best choice for them.
Here we will identify with Zeus as a father. He could not live with his son and was preoccupied with the infighting between the gods. He also lost his powers, like the other gods, because he was no longer worshiped by humans.
But our anxiety was healed by the arrival of Perseus to pick up Zeus, which demonstrated his great love for his father.
And the last act of Zeus and Hades is a testament to their love for humanity, which has forgotten them. The elements of this story should be deepened so that more weight can be given to the story.
Despite having a disappointing script, Wrath of the Titans can still amaze us with detailed and neat visual effects. It even feels like we want to ride Pegasus like Perseus did.
The acting of the actors is responsible as their characters are rendered superficially with stiff and unimpressive dialogue. As a result, with all of these weaknesses, let alone the earnings of the first film, plans for a follow-up film, originally titled Revenge of the Titans, failed to materialize.
Even so, Wrath of the Titans is still well worth watching when filling your spare time. Have fun watching!
Salenhanh – Product review blog
Address: 115 Nguyen Van Qua, Tan Hung Thuan Ward, District 12, Ho Chi Minh City
Website: https://salenhanh.com/en
Mail: Salenhanh.com@gmail.com
#salenhanh #Reviewsalenhanh