Dreaming of becoming a famous rapper turns out to cause a group of young Thai people to face many troubles. Starting from each person's vision, mission and ego, they can make this dream or lose it forever.
You can see this story in Viu's original Thai TV series Wannabe (2022). This film by director Tom Nitiz Wongthed is really very different from most of the popular Thai TV series today.
Taking the musical genre, hip hop songs and the realities of the Thai entertainment industry are brought to life. Not only that, the great acting of Nonkul Chanon, Gun Setthapong, Marina Sadanun and Dream Supakit looks very impressive.
Telling about the struggle of Thai street rappers to achieve success, surely many people will be curious about the plot of Wannabe (2022). For those of you who want to know the full information, don't forget to read the following movie synopsis and reviews.
Wannabe movie summary (2022)
Release year 2022
Genre Drama , Friendship , Musical , Romance
Benetone Film Production , VIU
Director Issaraporn Kuntisuk
Cast Nonkul Chanon Santinatornkul Marina Sadanun Balenciaga Gun Setthapong Eosuk Dream Supakit Thinjun Noon Pitchatorn Santinatornkul
Becoming a famous and successful rapper is the biggest dream of a young Thai man named Puen (Nonkul Chanon).
That aspiration is not only aspiration and passion but also a prestige to be respected by many people in the industry. The hardships and humiliation he received made Puen obsessed with becoming famous.
Starting from his hatred of his father, in the face of various insults he received, Puen tried to create a song that became a hit among Thai youth. A song called "F*ck Being Your Son", became the beginning of his success.
Not alone, Puen invited his two best friends Rang (Dream Supakit) and Tan (Tanyook Soomchin) to perform this song. The presence of Wine (Marina Sadanun) with a special voice also makes this song containing insults to her father even more addictive.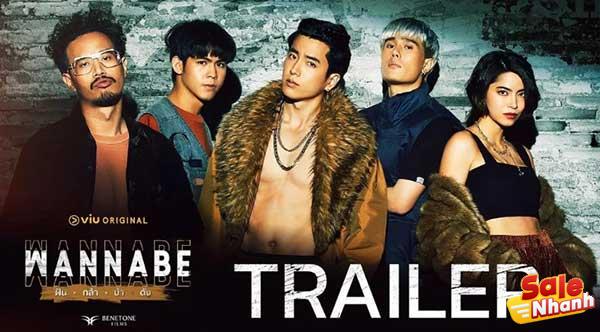 On the other hand, there are two young men named Wang (Gun Setthapong) and Maam (May Varisara) who are pursuing their dreams. Maam decides to leave her mother and attend a talent event to become a member of a girl group.
Meanwhile, Wang really admires KHA 22 and worked hard to be able to join as a new member. Wang admires Puen as Be Gun and he is very passionate about being a rapper.
Puen and Tan's help makes Wang feel that he has found the identity and dream he wants in life.
After the great success of the first song, KHA 22 immediately released the second song called "Wannabe". The song that responds to these haters is stability in their careers. This song became a hit again and made their group more widely known.
However, the popularity did not go smoothly, because there were many troubles to come. Inner problems, from obsessions, narcissism to love problems are slowly destroying KHA 22.
All of this starts with the attitude of Puen, who is often seduced by many girls, until he gets into a scandal with an ambitious idol named Money.
Unbeknownst to him, it turned out that Money's shadow was Maam, the girl Wang really loved. This scandal has clearly destroyed Maam's career and created chaos in KHA 22. Tan, who couldn't accept seeing Wang beaten by Puen, decided to leave KHA 22.
This is where the rivalry between Puen and Wang begins, as both release songs to curse each other. Using the name Real KHA, Wang and Tan stole success and attention from Puen and KHA 22. When Real KHA was at the peak of their careers, Puen and KHA 22 were on the fringes.
Due to Puen's selfish and narcissistic attitude, Wine decides to leave the group. Not only that, Puen and Rang's long-standing friendship was broken by an affair. Wine and Rang secretly have an affair and this makes Puen very frustrated.
But it's not just Puen that breaks down, Wang feels the same about Maam's betrayal, who has returned to Puen's arms. Instead, this young man has followed in the footsteps of his idol.
Now KHA 22 has been completely destroyed, moreover Tan is declared dead in a car crash. Is this the ending that Puen, Wang, Wine and Rang will accept with KHA 22?
Wannabe (2022) movie review
Long lasting Hip Hop music
After watching Wannabe (2022), this original Viu film left a deep impression. The reason is because the story presented is very different from most popular TV series. Moreover, this drama has a deep plot and shows various aspects in the lives of rappers and the entertainment industry.
To keep the story from getting boring, screenwriters Issaraporn Kuntisuk, Yui Athima Iamathikhom and Anawat Kitchawengkul also added other elements, from romance, family conflict, friendship to betrayal that made the emotional tension over out of control.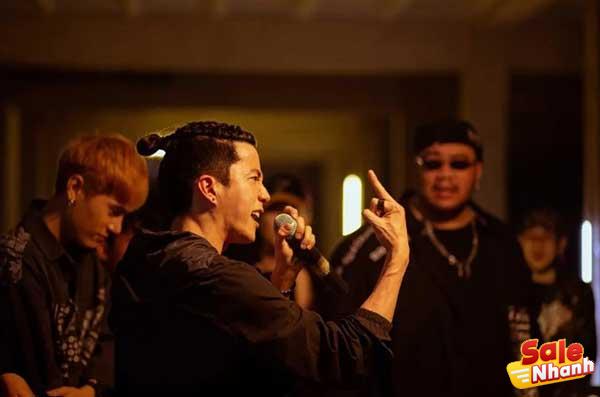 Anyway, from the plot in this Tom Nitiz Wongthed-directed film, it feels coherent and the tension builds up slowly.
One more thing, I really like the different hip-hop songs in this movie. Moreover, the lyrics of the song are really deep and focus on each character's life experience.
In addition, the song is sung live by the main cast. One of them is the main soundtrack called "Wannabe" sung by Nonkul, Marina and Dream directly.
Glimpse Similar to Famous Bollywood Movies
When watching Wannabe (2022), at first glance this movie reminds me of one of the famous Indian movies. The film is Gully Boy (2019), a film directed by Zoya Akhtar starring Ranveer Singh, Alia Bhatt and Siddhant Chaturvedi.
Fyi, this film also tells the story of an Indian street rapper's struggle to achieve his dream. So what do Wannabe (2022) and Gully Boy (2019) have in common?
To me, the two have a similar premise. Both tell the story of street rappers whose dreams of becoming famous and often underappreciated. The story is also armed with romantic conflicts to complicated family issues.
The performed song also shows the real life that the characters go through. Although there are some similarities, the plot shown is very different.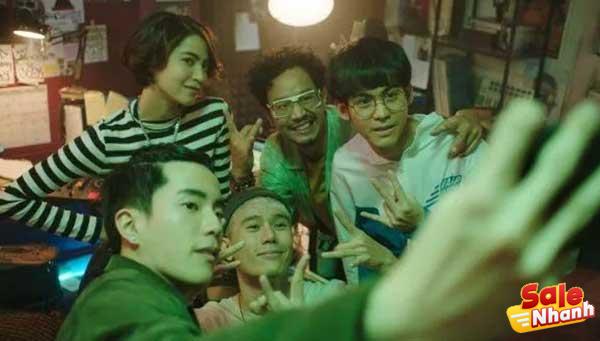 Gully boy (2019) focuses on young Indian Muslims who struggle to achieve their goals behind an abusive father. While Wannabe (2022) tells the story of a Thai rap group whose ambition is to pursue success.
I also want to mention the cinematography in Wannabe (2022). The pictures of the residential life of the lower class in Thailand are clearly shown.
I also like to choose natural light, so it makes tense emotions more touching. Although it seems simple, the cinematography still feels interesting and quite good.
The plot feels more emotional
The thing that I least expected after watching Wannabe (2022), this movie is not about the dream of becoming a rapper. Audiences will get to see how complex and wild the entertainment industry is, especially for those living in a hip hop environment.
The work they present sounds artistic but hurts someone without realizing it. This environment is also close to alcohol, drugs and free sex, which will destroy careers and lives.
Achieving goals and dreams is difficult but destroying them is easy. This is what Wannabe (2022) presents, a picture when you dream of entering the toxic circle like the entertainment industry.
This deep groove is complemented by the final song performed by Marina Sadanun. The lyrics of the song about separation make the final plot of KHA 22 feel painful.
Honestly, this scene and song made me cry and feel sad. Seeing young people who have dreams and opportunities but are destroyed by their own ego, greed, and recklessness.
Nonkul Chanon appeared brilliantly as a Rapper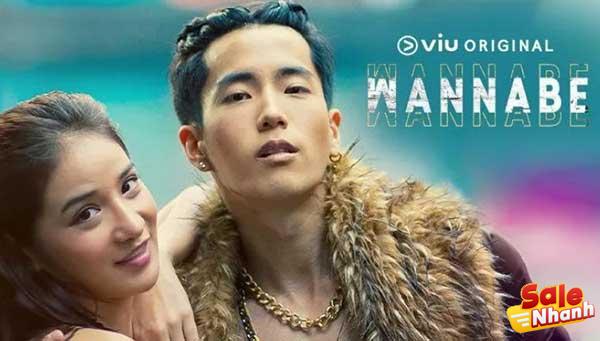 When watching Wannabe (2022), my eyes were only focused on Nonkul Chanon's excellent performance. The actor born in 1996 did not give the audience the opportunity to criticize his acting ability.
Bringing a completely different atmosphere from the characters he has played, Nonkul looks really shining in this drama. Playing a character named Puen, he is known as a street rapper with the stage name Be Gun.
Having a bad relationship with his father, Puen is really obsessed with being famous. The thing most attached to the character of Puen or Be Gun is the unstable emotions and short-sighted way of thinking to achieve success.
I must admit, the character Be Gun is someone I both like and hate. This shows that the acting quality of Nonkul Chanon cannot be underestimated.
I like the different facial expressions in the way he shows his emotions. The audience can really immerse themselves in and feel how difficult and complicated Be Gun's life is.
Wannabe (2022) is an inspirational drama and offers many life lessons. There are many important messages about dreams, egos, obsessions and other things that young people may need.
Although it shows reality, this film does not judge the profession of a rapper. Exactly this movie offers a lot of valuable lessons.
Salenhanh – Product review blog
Address: 115 Nguyen Van Qua, Tan Hung Thuan Ward, District 12, Ho Chi Minh City
Website: https://salenhanh.com/en
Mail: Salenhanh.com@gmail.com
#salenhanh #Reviewsalenhanh