Talking about anime will never end because the anime world is always very rich and constantly has many different new topics that attract viewers. Although anime about fighting and love are often loved and cared for by many people.
However, that doesn't mean other themed movies are any less appealing. Typically, Anime themed about cooking are also widely received and positively responded by viewers.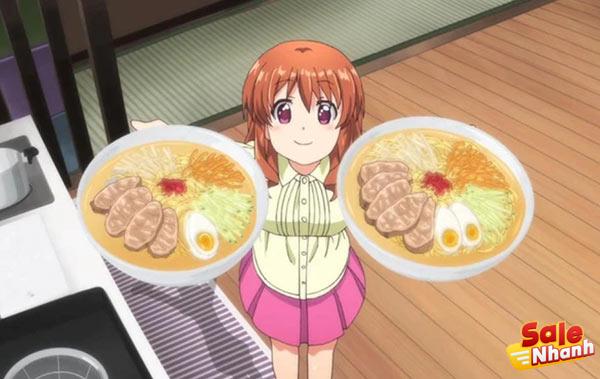 If you are an Anime lover as well as cooking and chef, here are the Top 20 Best Cooking Anime for you. Review movie Salenhanh
Anime Shokugeki no Souma
Release year: 2015

Genre: Gourmet, Ecchi

Produce: JCStaff

Đạo diễn: Yoshitomo Yonetani

Lồng tiếng bởi: Yoshitsugu Matsuoka, Minami Takahashi, Risa Taneda, Nobuhiko Okamoto

Episodes: 24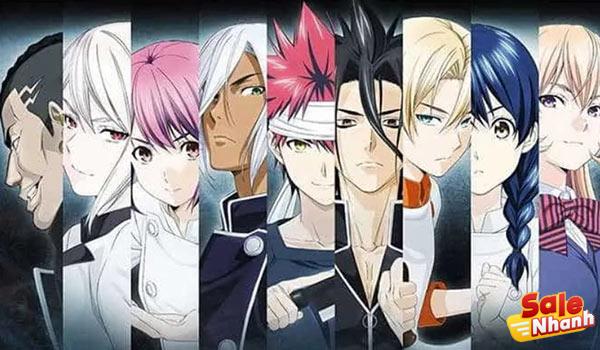 Most people are familiar with this anime series. Shokugeki No Souma is one of those cooking anime that will make you salivate while watching it.
This anime tells the story of Yukihira Souma, a teenage boy whose cooking skills are outstanding compared to other kids his age. Souma has a dream to defeat his father and become a professional chef at his father's Yukihira shop.
Suddenly, his father decided to close the shop he ran and sent Souma to attend one of the cooking schools in Japan, Tootsuki Culinary Academy.
The school is famous for its graduates who become world-famous chefs, but the school only has a meager graduation rate each year.
This anime shows off the greatness of the characters in making unique dishes and of course looking delicious. Furthermore, there is a rather unique fan service as each character brings value to every dish made. Are you curious? Just watch the anime, okay?
Anime Yakitate!!
Release year: 2004

Genre: Comedy, Gourmet

Produce: Sunrise

Directed by: Yasunao Aoki

Lồng tiếng bởi: Yumiko Kobayashi, Chihiro Otsuka, Sho Hayami, Atsuko Yuya

Episodes: 69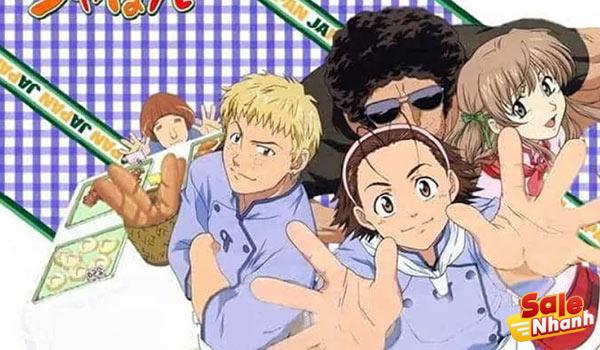 This anime is no less competitive when it comes to making the audience salivate. Random !! Japan tells the story of a country boy, Azuma Kazuma, who wanders to the city to achieve his dream of becoming a skilled baker.
Azuma Kazuma doesn't have any special skills when it comes to making bread. However, he was given a hand that was dubbed the hand of the sun. Azuma Kazuma's hands are magical, as they have the right temperature and can make bread dough rise quickly.
I myself watched this anime until the last episode and of course, I was spoiled with the varied choices of delicious bread menu available. The story of Azuma Kazuma is equally interesting to follow, you know.
Anime Yumeiro Patissiere
Release year: 2009

Genre: Gourmet

Produce: Studio Hibari

Directed by: Iku Suzuki

Lồng tiếng bởi: Aoi Yūki, Nobuhiko Okamoto, Ayana Taketatsu, Tsubasa Yonaga

Episodes: 50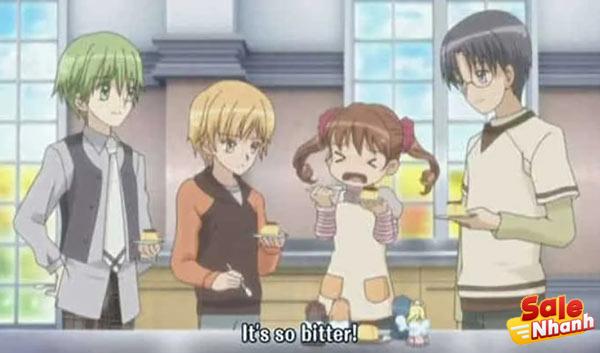 This anime, which uses dessert to appeal to the audience, tells the story of Ichigo Amano, a girl still in junior high school. Ichigo, who has absolutely no talent for making desserts, you know.
The story begins when this careless girl attends her sister Natsume's piano competition. He then meets Henri Sensei at a cake festival.
Henri Sensei, who was a student of his grandmother, who also worked as a painter, invited Ichigo to St. Marie Academy was attracted by this girl's unique talent for making desserts.
in St. At Marie Academy, Ichigo meets three handsome princes with extraordinary baking skills. Ichigo who has no talent is required to join this team of handsome men. How will the story continue, eh, roughly? Just listen, okay?
Anime Emiya-san Chi no Kyou no Gohan
Release year: 2018

Genre: Comedy, Gourmet, Casual

Produce: ufotable

Diễn: Miura Takahiro, Satou Tetsuo

Lồng tiếng bởi: Kawasumi Ayako, Sugiyama Noriaki

Episodes: 13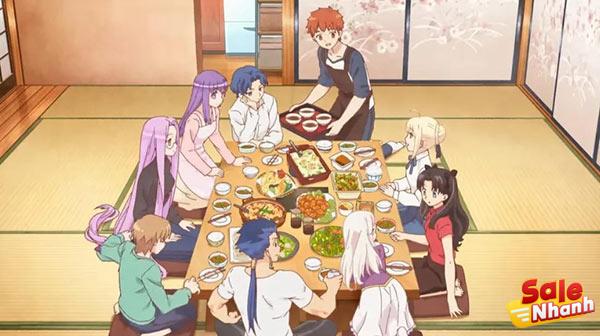 This anime revolves around the delicious and beautiful dishes of the Emiya family. In any season and every day they enjoy a delicious meal. It was Emiya Shirou, he decided to cook for his family and showed Saber about modern cuisine.
Every day, Shirou always goes to the market to see the different foods he can cook. Despite the limited budget, Shirou still cooks with unique ingredients.
Shirou's mastery of cooking attracts uninvited guests from all over the city. So there is never a dull moment when eating with Emiya's family.
Cooking anime: Restaurant to Another World
Release year: 2017, 2021

Genre: Fantasy, Gourmet, Slice of Life

Produce: Silver Link., OLM

Directed by: Jinbo Masato

Lồng tiếng bởi: Suwabe Junichi, Uesaka Sumire, Oonishi Saori

Episodes: 24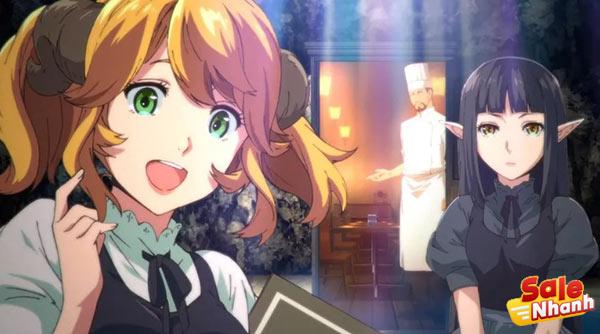 Restaurant to Another World Season 1 & Season 2 tells the story of a restaurant named 'Nekoya'. However, this restaurant is no ordinary restaurant.
This restaurant is run by a human chef and two demon waiters. Every Saturday Nekoya restaurant is closed, but the door of this restaurant will be connected to another world on that day.
The guests who arrived on Saturday were 'different' customers. They have all become regulars and are willing to wait until Saturday to taste their favorite food. Prepare to be hungry while watching this anime.
Anime Rokuhou-dou Yotsuiro Biyori
Release year: 2018

Genre: Gourmet, Slice of Life

Produce: Zexcs

Directed by: Kamiya Tomomi

Lồng tiếng bởi: Ono Daisuke, Suwabe Junichi, Yamashita Daiki, Nakamura Yuuichi

Episodes: 12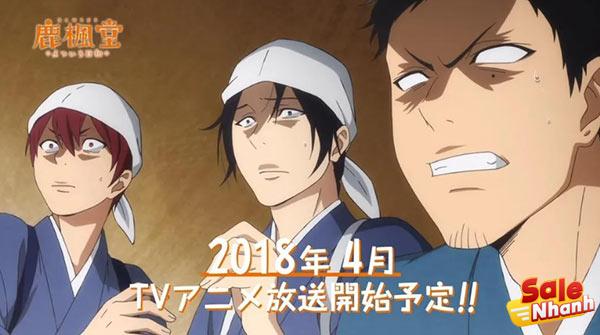 Rokuhou-dou Yotsuiro Biyori, tells the story of four men who run a Japanese-style teahouse called 'Rokuhodou'. Four professionals work on site with their respective expertise.
Four people include Sui, the shop manager in charge of making tea, Gre in charge of making Latte Art, Tokitaka for the main course and Tsubaki for the dessert.
Rokuhodou is known to excel in customer friendliness. However, in addition to serving their customers, the four also help address customer concerns. A series of interesting stories ensued in this warm restaurant.
Anime Cooking Master Boy
Release year: 1997

Genre: Action, Comedy, Drama, Gourmet

Produce: Nippon Animation

Directed by: Masami Anno

Lồng tiếng bởi: Mayumi Tanaka, Chika Sakamoto, Akio Ohtsuka, Daisuke Sakaguchi

Episodes: 52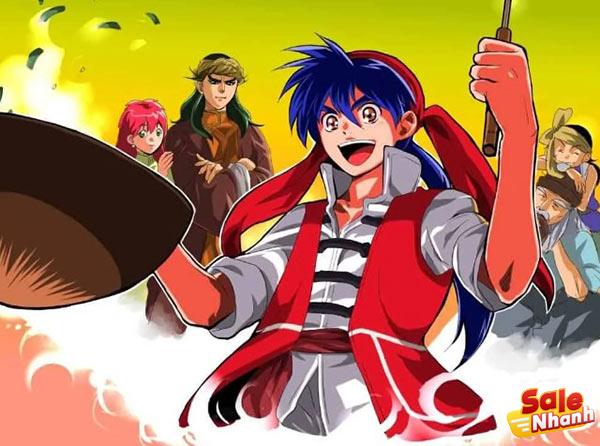 This anime is an old school anime about cooking that is equally attractive following the storyline. Cooking Master Boy tells the story of Mao, a young man with a high passion for cooking, especially traditional Chinese dishes.
Mao himself aspired to be the greatest chef. On the way to achieve his goal, the Rabbit encountered many difficult obstacles. Fortunately, he is accompanied by friends who love him.
Oh yes, this anime also has many unique attractions as the characters taste the available food. Similar to Shokugeki No Souma , lame ! However, the Cooking Master Boy anime is still fun to watch.
Cooking Anime: Sweetness and Lightning
Release year: 2016

Genre: Comedy, Gourmet, Casual

Produce: TMS Entertainment

Directed by: Tarou Iwasaki

Lồng tiếng bởi: Rina Endō, Saori Hayami, Yūichi Nakamura, Tomokazu Seki

Episodes: 12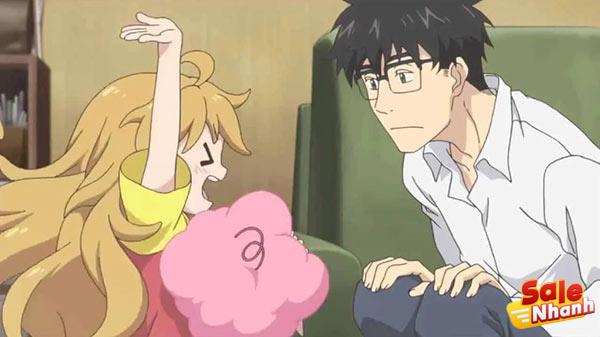 The anime with the original title Amaama to Inazuma is also on the list of anime about life that also discuss cooking. This anime tells the story of a father and only daughter who has been abandoned forever by his wife who is also the mother of the child.
The father, Inuzuka, working as a high school teacher is required to take care of his young daughter. Unfortunately, he is incapable of cooking, until Inuzuka's father is finally forced to buy food for his son from outside his home.
That's when Inuzuka-sensei met his student, Kotori Ida. This Kotori Ida is a girl who loves to eat. Kotori Ida's family turns out to have a restaurant business that they run themselves. This girl also offers to help Inuzuka make food for her beloved daughter.
This anime will make you salivate with a series of special food menus. Oh yes, be careful when you see the compactness of Inuzuka-sensei, his daughter and Kotori Ida in this anime.
Anime Kakuriyo: Bed & Breakfast for Spirits
Release year: 2018

Genre: Drama, Gourmet, Romance

Produce: Gonzo

Đạo diễn: Okuda Yoshiko

Lồng tiếng bởi: Konishi Katsuyuki, Toki Shunichi, Touyama Nao

Episodes: 26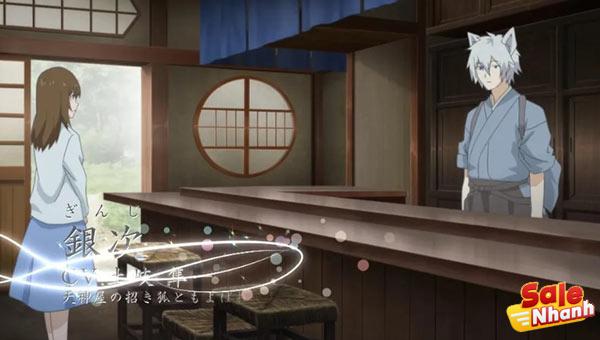 The anime's plot tells the story of a college student named Aoi, who inherited the ability to see spirits from her grandfather. Once upon a time, a ruling god named Oodanna appeared, the owner of his 'Tenshi' (Heavenly Inn) and took Aoi away.
Oodanna said that his late grandfather had a huge debt, so Aoi had to pay it off by marrying Oodanna. However, Aoi firmly refused and chose to pay the debt his way.
Aoi then worked as a cook at Oodanna's inn to feed the ayakashi or spirits.
Anime Toriko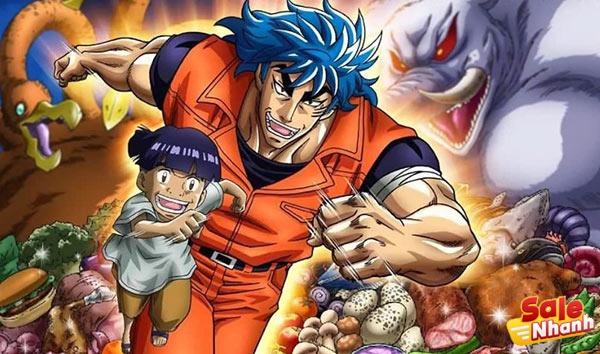 Next, is Toriko. This anime is a cooking anime that follows the adventures of Toriko. He has an extraordinary talent when it comes to cooking.
Toriko and her friend Komatsu decide to go on an adventure, wandering in search of the best food. This anime presents the theme of food and action, you know. Oh yeah, despite being an old school anime, Toriko is still fun to watch, really.
Anime Isekai Izakaya: Koto Aitheria no Izakaya Nobu
Release year: 2018

Genre: Fantasy, Gourmet

Produce: Sunrise

Directed by: Ono Katsumi

Voiced by: Mimori Suzuko, Sugita Tomokazu

Episodes: 24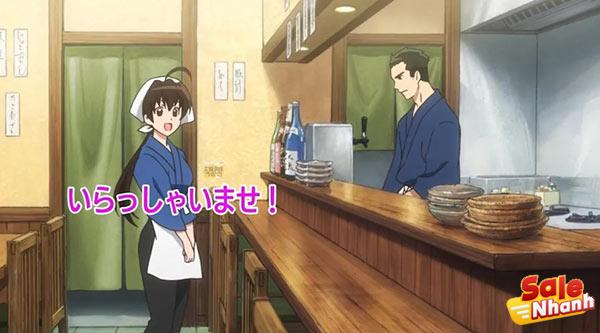 There is a bar called Nobu in Kyoto, Japan. The staff of a traditional Japanese izakaya include an experienced head chef named Nobuyuki Yazawa and a friendly waitress named Shinobu Senke. Bar Nobu is famous for its delicious food and drinks.
However, despite its simple appearance, there is a door that connects to a bar in another world. Visitors from various walks of life come to Nobu to sample the chef's delicious dishes.
Anime Bartender
Release year: 2006

Genre: Drama, Gourmet, Casual

Produce: Palm Studio

Directed by: Watanabe Kouji

Voiced by: Mizushima Takahiro

Episodes: 11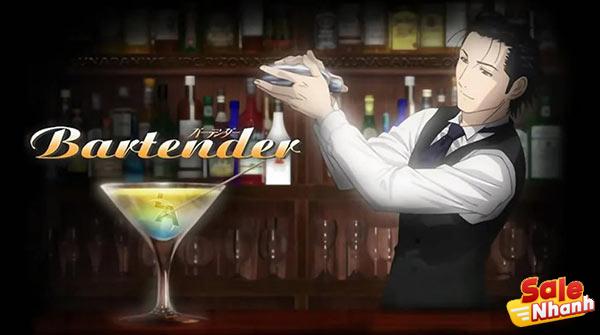 Eden Hall is a hidden bar in the Ginza district of Japan. The bar is run by Sasakura Ryuu, a prodigy bartender who is said to make the best cocktails. However, not everyone can find Eden Hall. Instead, Eden Hall will look for its customers.
Customers with all kinds of difficult circumstances roam the bar Eden Hall. Ryuu also knows how to make the right cocktail to entertain customers. He also always brings friendliness and an ear ready to listen to customers' concerns.
Anime Paradise Restaurant
Release year: 2009

Genre: Drama, Gourmet, Romance, Slice of Life

Produce: David Productions

Đạo diễn: Kase Mitsuko

Voiced by: Yamanoi Jin, Orikasa Fumiko

Episodes: 11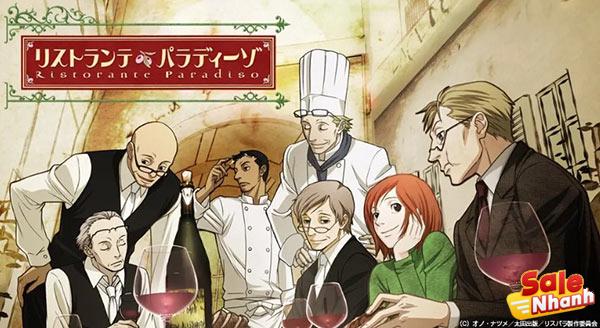 Nicoletta is a young girl who comes to Rome to destroy her mother who abandoned her as a child. Nicoletta watches her mother at a restaurant called Casetta dell'Orso.
The restaurant is run by grown men who all wear glasses. Like other customers, Nicoletta was helpless by their friendliness and warm voices.
Later, Nicoletta became an apprentice chef at a restaurant owned by her mother's boyfriend. However, before Nicoletta realized it, the planned plans were swept up in a sweet romance there.
Anime Ben-To
Release year: 2011

Genre: Action, Comedy, Gourmet

Produce: David Productions

Directed by: Itagaki Shin

Voiced by: Ise Mariya, Katou Emiri, Shimono Hiro, Yuuki Aoi

Episodes: 12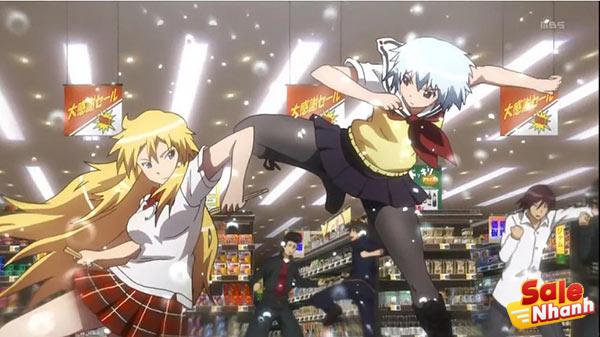 In the supermarket, when bento boxes are halved, there will be a fierce battle. There are two sides when a war breaks out over bento boxes.
The two factions mentioned are the Wolf group who can eat the bento and the Dog group that has to admit defeat when eating cup noodles.
Satou's friend is a high school student living in a dormitory. Once, when he wanted to find cheap food at a local market, he was knocked unconscious by a girl. When he wakes up, Satou discovers the fact that buying a bento box for half the price could put his life in danger.
After that, an upperclassman invited Satou and some other students to join the 'Half-Price Eaters Club'. Together they learned about what it means to fight for food. Even if you have to scramble for bento boxes.
Anime Mister Ajiko
Release year: 1987

Genre: Comedy, Gourmet

Produce: Sunrise

Diễn: Imagawa Yasuhiro

Voiced by: Takayama Minami, Kobayashi Kiyoshi

Episodes: 99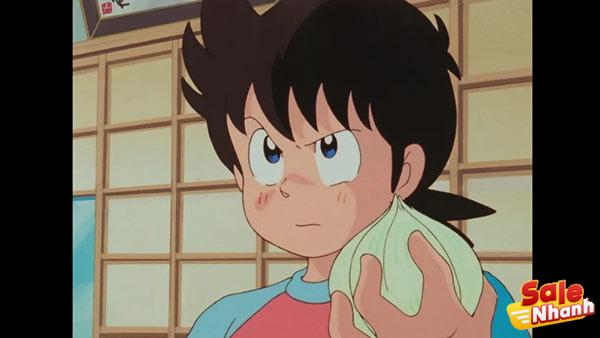 It's Ajiyoshi Yoichi, a culinary expert who owns a restaurant he runs with his mother. One day, Murata Genjiro appeared at Yoichi's restaurant and was surprised by the delicious taste of the dish made by Youichi.
Youchi is then invited to the Aji-O Building, where he will compete in a pasta making contest with Italian chef, Marui. Youichi has enthusiasm and new ideas to create new dishes for his guests.
Youichi had a chance to defeat Marui in the match. And since then, Youichi has participated in various competitions and met new competitors in the race to serve the best food.
Anime Antique Bakery
Release year: 2008

Genre: Lover, Comedy, Gourmet

Producer: Nippon Animation, SynergySP, Shirogumi

Directed by: Okumura Yoshiaki

Lồng tiếng bởi: Miki Shinichiro, Hanawa Eiji, Fujiwara Keiji, Miyano Mamoru

Episodes: 12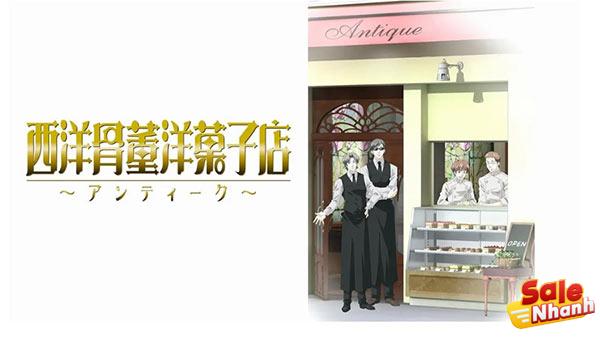 Tachibana Keiichirou, a handsome man who owns a pastry shop called Antique Bakery. One day, he reunites with an old high school friend who was his first love, Ono Yusuke.
Now Yusuke has become a world-class pastry chef who is known to have it all and is a gay playboy. No one can resist the charm of good looks and baking skills like Yusuke.
However, Yusuke doesn't remember Keiichirou and that makes Keiichirou a bit more relieved. Keiichirou then invites Yusuke to be the pastry chef at his cake shop. What will be the story of Keiichirou and Yusuke after 14 years of meeting each other again?
Anime Kiyo in Kyoto: From the Maiko House
Release year: 2021

Genre: Comedy, Gourmet, Casual

Produce: JCStaff

Directed by: Suzuki Youhei

Voiced by: Hanazawa Kana, Ichimichi Mao

Episodes: 12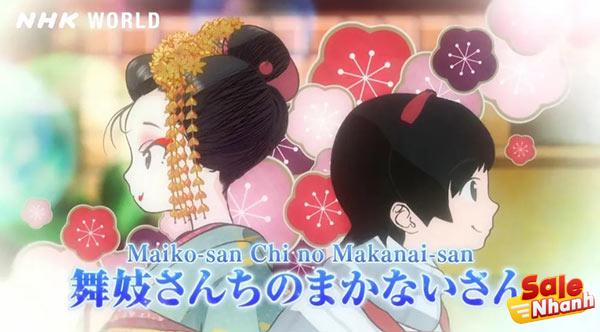 With the dream of becoming a maiko (ambitious girl geisha), Kiyo and Sumire come to Kyoto from Aomori Prefecture. However, an unexpected event occurs and causes Kiyo to work as a chef at Maiko's House.
While Kiyo works every day serving food at Maiko's House, her friend Sumire struggles to achieve her goal. Although the two friends now have different paths, they still support each other.
Anime Osake wa Fuufu ni Natte Kara
Release year: 2017

Genre: Comedy, Gourmet, Romance, Casual

Produce: Creator in the pack

Đạo diễn: Tachibana Saori, Hirawasa Hisayoshi

Voiced by: Kitamura Eri, Ichiki Mitsuhiro

Episodes: 13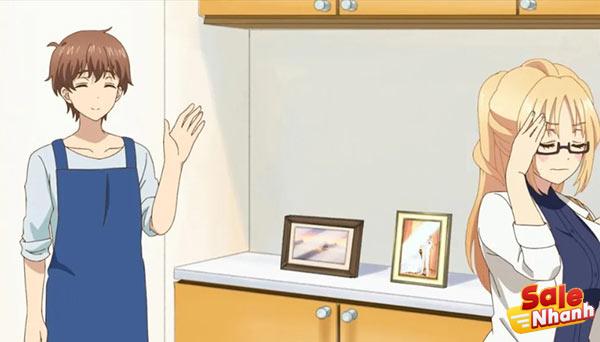 Chisato Mizusawa is a married wife to a bartender named Sora. At work, Chisato is known to be a calm person and doesn't like alcohol. However, every time when she comes home, her husband always serves by serving delicious food and drinks.
Only Sora knows his wife's secret. And just with her husband, Chisato showed a different personality. Sora really likes alcohol, but she loves her kind husband more. The two share a life filled with happiness.
Anime Dagashi Kashi
Release year: 2016

Genre: Comedy, Gourmet

Production: feel.

Đạo diễn: Takayanagi Shigehito

Voiced by: Taketatsu Ayana, Abe Atsushi

Episodes: 12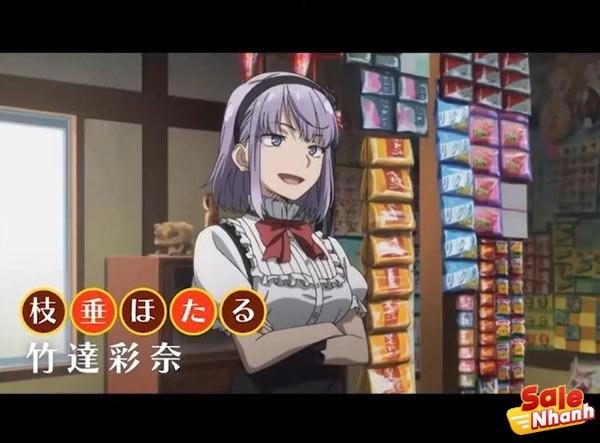 In the countryside there is a sweets shop run by nine generations of the Shikada Dagashi family. The shop is a small shop selling traditional Japanese confectionery.
However, Kokonotsu Shikada with dreams of becoming a manga artist refused his father's request, Shikada You, to inherit the family business. However, that all started to change when the eccentric Hotaru Shidare appeared.
Hotaru finds Shikada You to bring her back to work at the family company, Shidare Corporation, a world famous candy manufacturer. However, Kokonotsu's father set a condition for Hotaru.
If he can convince Kokonotsu to take over the family business, then Kokonotsu's father will come to Hotaru. After that, Hotaru's quest begins to entice Kokonotsu to take over his family business.
Anime Oishinbo
Release year: 1988

Genre: Comedy, Gourmet, Casual

Produce: Shin-Ei Animation

Directed by: Takeuchi Yoshio

Voiced by: Inoue Kazuhiko, Shou Mayumi

Episodes: 136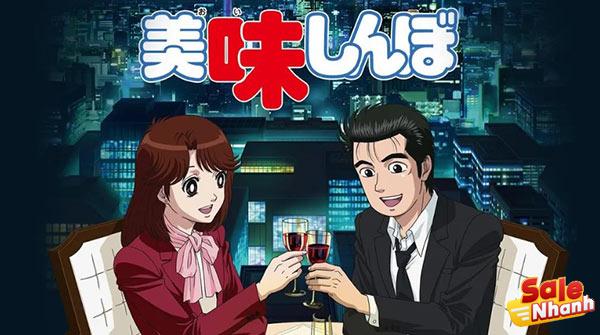 Oishinbo is an anime that tells the story of a newspaper reporter. This anime is quite unorthodox and loved by adults in Japan.
It was Yamaoka, a well-known food critic, working at Touzai Shimbun. Yamaoka is assigned to Yuuko Kurita, a young employee who has just been chosen as the editor. Together, the two try to find the main menu that will be displayed during the company's 100th anniversary.
Well, those are the cooking anime titles that you absolutely must watch. Especially if you like to eat plus enjoy watching anime. Again, be careful, don't watch the anime when you're hungry, okay? Watch out, addicted!
Salenhanh – Product review blog
Address: 115 Nguyen Van Qua, Tan Hung Thuan Ward, District 12, Ho Chi Minh City
Website: https://salenhanh.com/en
Mail: Salenhanh.com@gmail.com
#salenhanh #Reviewsalenhanh