Do you know that wearing a watch on your wrist can change your outlook on life? Having a watch can help you keep track of time better. You might be thinking that you already have a phone where you can look for the time whenever you want. But imagine you are reading a book and you want to know the time. Would you rather take out your phone or take a glance at your wrist? Remember that when you look at your phone, you can get easily distracted by the notification. Above this, a wristwatch can show off your taste in fashion and make you look more attractive—for instance, a man with wristwatch signals that he pays attention to both dedication and fashion style. And, now it's down to the main question.
What's the best watch brand for you at the most reasonable price?
It is without a doubt 'G-Shock' from Casio for both quality and price. What's so special about G-Shock? Coming from the Japanese household brand Casio, there is less for you to worry about the quality. Not to mention that a G-Shock watch is more affordable than a smartwatch these days. A smartwatch might require a software update from time to time, but G-Shock watches do not. Besides, Casio designs every G-Shock watch with much dedication to today's fashion. So, you can have both a watch and an accessory. Thus, we are here to bring you the best g shock watch in 2020.
However, to help you decide better, we have designed the buying guides below for you to through first for a better decision.
Buying Guides of G Shock Watch
Analog vs. Digital Display: What's your jam? Is it a watch with an analog display or one with just a digital display? The analog display makes you look more classic than a digital display. However, the digital display can help you more easily read the time. Anyway, G-Shock also has many watches with a combination of a digital and analog display. With these many options, you have to survey yourselves as to which one you would like to have on your wrist.
Fitness-Oriented vs. Normal Watch: If you are a big fan of the gym, you should be looking at the fitness-oriented watch than a regular watch. The fitness one offers you training features like step tracking, interval timing, and more supports. This is many thanks to the Bluetooth connected application to your phone from G-Shock. But, if you are looking for a regular match, you don't need to buy a fitness-oriented one since it can be more costly for you. Besides, there is more variety of style and model for the non-gym watches.
Damage Resistance: Truth be told, there is a high chance that your watch gets accidentally damaged, like dropping into water or dropping to the ground. Among all G-Shock watches, some have more resistance than others regarding the resistance level. Additionally, some watches are eventually shock and resilience resistance. Some watches are more rigid than others, especially those designed for the military. Thus, you might have to consider first if you are a cautious person or not to your watch? If you find yourself a bit clumsy, you might want to find the watch with much resistance.
Fashion and Style: You should also consider which style you want. Are you leaning more towards the classic style or a more vibrant style? You would not want a watch that does not fit your fashion taste nor personality. You might as well want to look at your closet and think of the outfits you usually wear daily. Pick the right one!
If you finished reading our buying guides, you are now good to go through our list.
Best G Shock Watches
Men's Casio G-Shock Analog-Digital Carbon Watch GA2000-1A2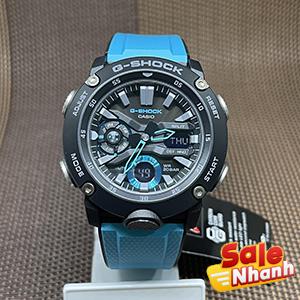 This G-Shock model GA2000-1A2 is designed for men that are looking for another level of toughness. The carbon core collection of this one has impressive timepieces that can withstand any tough levels of adventure. Meanwhile, the 48mm case is crafted by a watch expert from premium Resin combined with carbon fiber. This is purely an innovative combination that is more durable and lighter than Resin. It also helps to protect the internal mechanics from shock-induced deformation and damage. Besides, there is a double LED light for the face and the digital display.
Advantages:
Withstand any tough adventure
More durable yet lighter
Internal mechanics protection from deformation and damage
Men's Casio G-Shock Analog-Digital GA-2000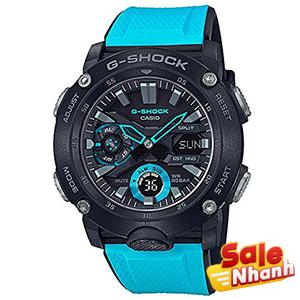 This is one of the latest analog series from G-Shock, famous for its excellent timekeeping, durability, and strength. This one has a carbon core guard design that shows off a military-inspired duty. Meanwhile, G-Shock also reinforces the resin case with lightweight carbon fiber so that you can experience an enhanced shock and resilience resistance. There is also an instant-release interchangeable brown resin band that can coordinate with desert and wooded. While to ease your visibility at night, there is a double LED light, one for the digital display and another one for the face.
Advantages:
Timekeeping, durability, and strength
Enhanced shock and resilience resistance
Double LED light
Ladies' Casio G-Shock S-Series G-Squad GMAB800-1A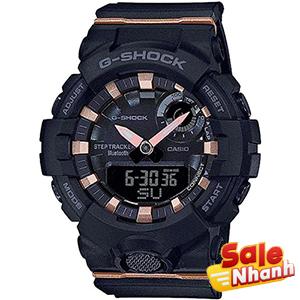 To all the ladies out there, G-Shock created this astonishing watch for you. This GMAB800-1A model is simply perfect for an everyday fitness-oriented timepiece, especially for fashionable and stylish athletes. This watch comes with a black resin case (45.2mm) with a black resin strap and rose gold-tone accents. You can connect this watch to Bluetooth using the G-Shock phone app for a variety of support and function for your training. There is a 3-axis accelerometer in this water-resistant watch to keep track of step counts, lap records, and customizable interval timers. It can also calculate your burnt calories as well as providing you with a daily step target.
Advantages:
Fitness and training-oriented watch
Fashionable and stylish design
Application functions and supports for training
G-Shock Women's GMAS120MF-2A2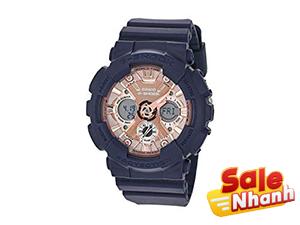 This women's GMAS120MF-2A2 is the latest invention of G-Shock's Metallic Face Collection. This one brings back fun and function together with G-Shock technology and metallic details. There is a 45.9mm navy resin case equipped amazingly with a rose gold-toned dial. There are both digital and analog dial displays in this match. It is also made magnetic resistance, shock resistance, and auto LED light with a beautiful after-glow. G-Shock also added world time, countdown, stopwatch, alarm clock, and more to this model.
Advantages:
Metallic face design
Have both digital and analog display
Magnetic and shock resistance with auto LED light.
G-Shock Men's GBD800UC-5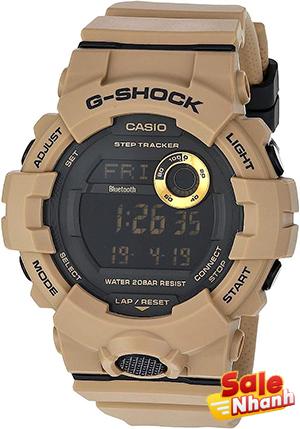 G-Shock Men's GBD800UC-5 is one of a kind with its resistant mineral glass. The glass here has the Neobrite water resistance Case with a 200-meter capacity. You can be drowning, but this one could never. The bezel material is from premium Carbon. There is a double LED light, one for the face with an after-glow effect and another black-light LED for the digital display. There is also world time with 31 different time zones for your personal need. And, G-Shock also equipped the daylight-saving option on to this digital watch.
Advantages:
Resistant mineral glass (200-meter water resistance)
Premium carbon material
Double LED lights and 31 different time zone
G-Shock GA140-1A4 Black One Size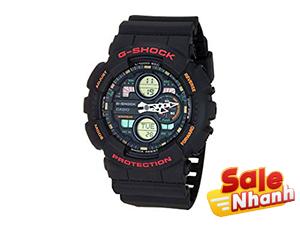 If you are looking for a men's analog & digital watch, this G-Shock GA140-1A4 should never disappoint. Like the earlier product, this one has a 200-meter water resistance capacity, thanks to its premium mineral glass. It is also both magnetic and shock resistance. The case bezel material of this one is mainly Resin. However, there is only one LED light with selectable illumination duration and the after-glow effect. There is a total of 29 time zones available, covering 48 cities and one coordinated universal time.
Advantages:
Resistant mineral glass (200-meter water resistance)
Have both digital and analog display
One LED light and 29 different time zone
Casio Men's G-Shock GW6900-1 Tough Solar Sport Watch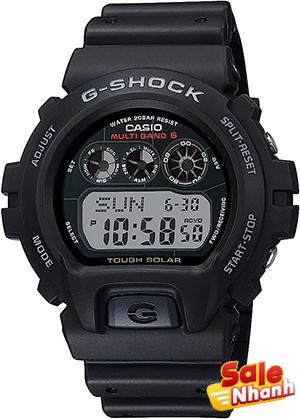 This is a shock-resistance watch with a digital display. On top of just standard time display, this one has day and date for you too. There is also an LED black-light to help you see better at just any time. G-Shock also equipped additional features to this classic watch such as world time, daily alarm with snooze, multi-band with six atomic timekeeping, 12 and 24-hour formats, and especially solar power battery. The solar power battery will help this classic watch to endure for a long time. And, you also have less to worry about battery replacement. While the 41 mm case of this watch is a stainless steel one with a high-quality mineral dial window.
Advantages:
Day, date, and time digital display
LED black-light and many additional features
Solar power battery for longevity
Casio G-Shock Men's G-Shock Skeleton Series Watch GA400SK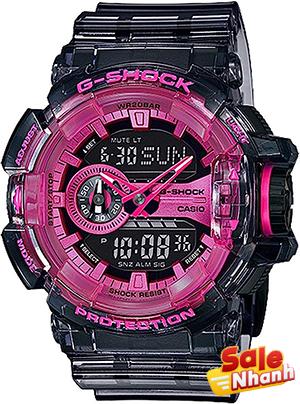 This is another men's analog plus digital display watch from G-Shock. This model GA400SK is indeed magnetic resistance, shock resistance, and 200M water resistance. But what's really fascinating about this G-Shock model? It is, without a doubt, the beautiful and unique design from G-Shock. This model features a black semi-transparent resin and vivid metallic colors to accommodate today's fashion. It also features a stunning LED light to help you see clearly in the dark. It also has a relatively large face, which is easy for you to identify the time. Not to mention that this one is a limited edition.
Advantages:
Magnetic resistance, shock resistance, and Water resistance
Beautiful and unique design (semi-transparent Resin)
Limited edition from G-Shock
Casio G-Shock G-Squad Black & Purple Watch GMAB800-8A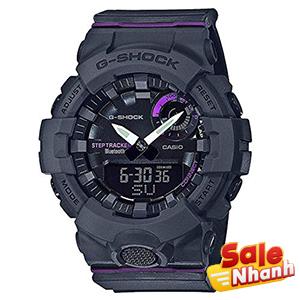 What's new with this latest addition to the G-Squad line up? G-Shock especially engineered this GMAB800-8A for more fun and practical training. Talking about training, you can connect this watch to your phone for various training support functions. You can both record and set a target of your workout with this watch. Beyond this, the color combination of this watch is also fashionable and stylish for today's fashion. You will also love that this watch if shock and water resistance for up to 200 meters down. And, you get both digital and analog display with this one.
Advantages:
Fitness and training-oriented watch
Fashionable and stylish design
Shock and water resistance
Casio Men's G-Shock XL Series Quartz (Model: GA-700UC-5ACR)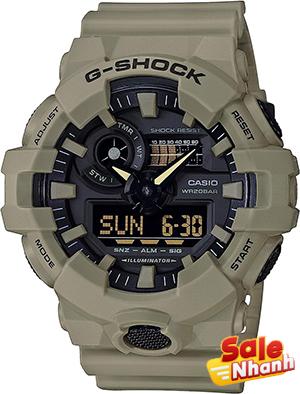 If you are looking for the best g shock watch for the military, this model GA-700UC-5ACR should be the one for you. You will be amazed by what this analog plus digital watch has to offer. G-Shock designed this one following the "Triple 10" guiding concept. It has an endurance of 10-meter fee fall and up to 10-year battery life. It is also 200-meter down water-resistant. There is also a super illuminator LED light that comes with an after-glow feature.
Nevertheless, this one has 31 different time zones and world time. It also comes with the daylight saving on and off option for energy saving. This one is indeed a shock and vibration resistance. Moving on to its look, this model GA-700UC-5ACR is a simply beautiful addition to your accessory amid its military design. It will close the gap of what's missing from you. You can wear this with any outfit such as casual, sporty, and formal.
Advantages:
Military-oriented design
10-meter fall endurance and 200-meter water endurance
Shock and vibration resistance
A perfect addition to your accessory
How do you like our suggestions of the best Casio g shock? We are wondering which one makes it to the top of your list. But we hope that you do not forget to consider our buying guides before purchasing one. You should pick the one that fit your fashion styles and at the same time, serve your need. If you are a gym person, a fitness-oriented should be your pick, and if not, you should aim for a regular watch. And, do not forget to get the display you want, analog or digital display, or maybe you can get both in a watch from G-Shock. Nevertheless, do not forget to look for watches with good resistance like water, shock, drop, etc. Finally, we cannot wait to help you unleash your style and determination with a new G-Shock watch on your wrist. Enjoy your shopping!
Conclusion
In conclusion, the top 10 best G-Shock watches offer a wide range of features and functionalities to cater to different lifestyles and preferences. Whether you're an outdoor enthusiast, athlete, or simply looking for a reliable and durable timepiece, there's a G-Shock watch that fits your needs. These watches combine innovative technology with rugged design, providing accurate timekeeping and durability in various challenging conditions.
FAQs
What are G-Shock watches?
G-Shock watches are a line of rugged, shock-resistant watches produced by Casio. They are designed to withstand harsh conditions and extreme activities.
What makes G-Shock watches special?
G-Shock watches are known for their durability and toughness. They feature shock-resistant structures, water resistance, and various useful features like timers, alarms, and chronographs.
What are the top 10 best G-Shock watches?
The top 10 best G-Shock watches may vary based on personal preferences and specific features. However, some popular models include the G-Shock GA-100, GA-110, GD-350, GW-9400, GW-M5610, Rangeman GW-9400, Mudman G-9000, and the Gulfmaster GWN-1000.
Are G-Shock watches water-resistant?
Yes, G-Shock watches are generally water-resistant to a certain depth, usually 200 meters or more. However, the water resistance may vary depending on the specific model, so it's important to check the specifications for each watch.
Can I wear a G-Shock watch while swimming or diving?
Yes, most G-Shock watches are suitable for swimming and recreational diving. However, if you plan to engage in professional diving or activities involving high water pressure, it's advisable to choose a G-Shock model specifically designed for such purposes.
Are G-Shock watches suitable for outdoor activities?
Absolutely! G-Shock watches are highly regarded for outdoor activities. They are resistant to shocks, vibrations, and extreme temperatures, making them ideal for hiking, camping, and other adventurous pursuits.
Do G-Shock watches have any smart features?
Some G-Shock watches offer limited smart features such as Bluetooth connectivity, allowing them to sync with your smartphone to display notifications, control music, or set the time automatically. However, G-Shock watches primarily focus on their durability and toughness rather than extensive smart capabilities.
How long do G-Shock watch batteries last?
The battery life of G-Shock watches varies depending on the specific model and usage patterns. However, on average, a G-Shock watch battery can last anywhere from two to ten years before needing replacement.
Can I replace the strap on a G-Shock watch?
Yes, G-Shock watches often have interchangeable straps, allowing you to customize the look or replace a damaged strap easily. However, it's important to ensure that the replacement strap is compatible with your specific G-Shock model.
Where can I purchase G-Shock watches?
G-Shock watches are available in various retail stores worldwide, as well as online platforms like the official Casio website, authorized dealers, and popular e-commerce websites.