Titanic is the work of famous director James Cameron. Released in December 1997, Titanic raked in a net profit of $2.194 billion in subsequent additions, including a 3D redeployment in April 2012.
In February 2023, James Cameron will re-release his film in 4K 3D that can be viewed in theaters for a certain period of time. The release coincides with Valentine's Day. Well, romantic huh? Another reason for Titanic to be re-released is to celebrate the film's 25th anniversary and its success as the greatest film of all time.
Summary of Titanic (1997)
Release year 1997
Genre Drama, Romance
Director James Cameron
Cast Leonardo DiCaprio Kate Winslet Billy Zane Frances Fisher Gloria Stuart Bill Paxton
The film opens with an underwater expedition led by Brock Lovett (Bill Paxton), he and his team use the research vessel Academic Mstislav Keldysh to search for the wreck of the luxury Titanic that sank in 1912. But in between. Searching for corpses, Brock also has a hidden plan, to retrieve the treasure.
The treasure was a large diamond necklace named Heart of The Ocean that was listed as one of the valuables on board. After finding the wreck, Brock then began looking for where this treasure was. He also obtained a safe that he was sure was the object he was looking for.
Brock and his team then returned to the ship, and when the safe was opened he found nothing but a painting of a naked young woman wearing a necklace he was looking for. The sketch is then published and attracts the attention of an old woman named Rose Dawson Calvert (Gloria Stewart).
Old Rose then immediately called Brock and confessed that the woman in the picture was her. The atmosphere was uproar, and Brock and his expedition team then invited elderly Rose to board the Keldysh to tell about her experiences sailing with the luxury ship Titanic.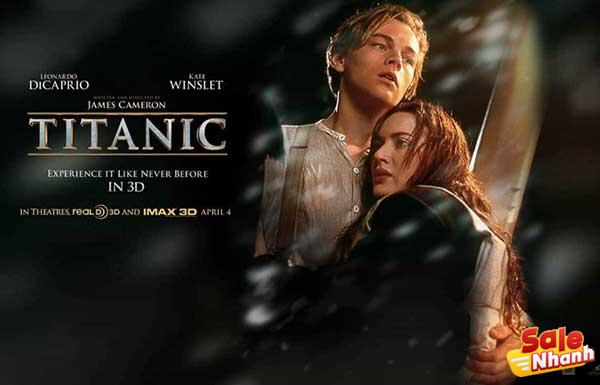 Rose begins to tell the story, the shipwreck image on the screen begins to change into a brand new ship, and Rose (Kate Winslet) returns to 17 years old. He is seen downstairs with his mother, Ruth DeWitt Bukater (Frances Fisher) and 30-year-old billionaire fiance Caledon Nathan Hockley (Billy Zane).
Rose, who would soon marry Cal, was brought to New York on the Titanic's maiden voyage from Southampton, England. Rose has no love for Cal, she marries to save her family's reputation and make her selfish mother rich and comfortable.
Once Rose has boarded, we're taken to a young male character named Jack Dawson (Leonardo Di Caprio) playing poker for a third-class ticket to the Titanic with his friend Fabrizio de Rossi (Danny Nucci). The bet they won and put them on the luxury ship.
The Titanic sailed, thousands of people escorted the luxury ship to leave. All passengers on board were on the outer deck to say goodbye. Soon the ship was out to sea. Rose, who was already in her room, began unloading all of her belongings, including her beloved Pablo Picasso & Claude Monet paintings.
As night falls, the Titanic docks in Cherbourg, France to pick up other passengers, one of whom is a wealthy woman named Margaret 'Molly' Brown (Kathy Bates), who is often referred to as 'money' by Mrs. new' or the new rich. The next day, the Titanic made its final pick-up in Ireland.
On the train, Rose feels completely bored with the life of the rich and feels that she has no one to rely on to cheer her up. He was disappointed in everyone and decided to jump from the stern to commit suicide, where Rose met Jack, Jack convinced her not to commit suicide and Rose did.
Rose and Jack become good friends, Rose tells her life story and Jack listens, and vice versa. All day together, the two young people really like each other. The closeness lingers as Jack is invited to dine with a first-class passenger & continue the actual party on deck with Rose.
Cal, who discovered this after receiving a report from his bodyguard, namely Lovejoy (David Warner), was furious and asked Rose not to see Jack anymore, Ruth also asked her son. don't be impulsive. This frustrated Rose, she was forced to stay away from Jack, but Jack was able to open her heart again.
Jack takes Rose to the bow and gives Rose a special gift. Rose is really happy, then they go back to Rose's cabin because the girl asked Jack, who is good at painting, to draw herself wearing only a necklace that Cal had given them as a wedding present. Jack followed suit.
As soon as they finished drawing, Rose and Jack escaped from the pursuit of Lovejoy, who was looking for Rose on Cal's orders. They went down to the cargo deck. There, they were traveling in a vintage car and then they tricked the ship's security guards who were looking for them again. Rose and Jack climbed onto the bow.
In the observatory, the navigators saw an iceberg right in the Titanic's path, an iceberg warning was issued in the cockpit. Despite their best efforts, the Titanic could not avoid the iceberg and was eventually grazed; tearing the hull of the ship, causing the ship to sink quickly.
Passengers who knew the Titanic was an unsinkable ship, relaxed about the incident, not knowing that the big ship would sink. As soon as the water entered the wheelhouse dozens of floors above the water, the new passengers panicked and scrambled for the lifeboat, which was only half-capacity with 2,200 passengers.
At that critical moment, Cal slanders Jack again for taking his necklace so he is jailed, which causes Rose to flee from Cal and her mother to help Jack. After succeeding, the two climbed to the upper deck. There, Rose boarded the lifeboat but jumped off the ship because she didn't want to leave Jack.
The Titanic sank completely. Rose & Jack floats with 1,500 others. Jack helps Rose climb up a broken piece of wooden wall so she doesn't catch a cold, while Jack stays in the water and dies. Rose continues to live by fulfilling her promise to Jack to stay alive no matter what.
Titanic Reviews (1997)
Nothing on earth can come between us
Do you agree that this movie deserves a 10/10 rating? For me personally and probably other Titanic movie buffs will agree! This movie doesn't just showcase spectacular footage. But there are many stories that can be learned. You will know how love conquers all from the love story of Jack and Rose.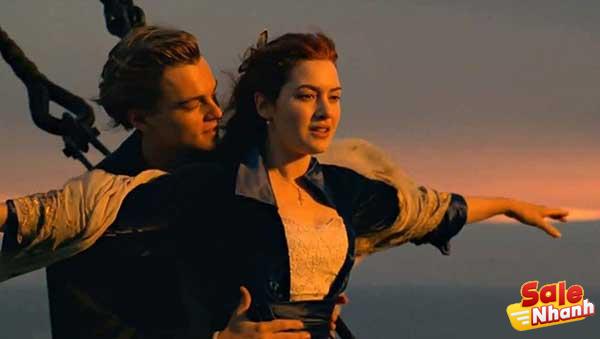 Right from the beginning of the movie, we can see Rose's face that it's hard to travel on the Titanic. Rose thinks her mother is too selfish to 'match' her with a man she doesn't like at all just to save money for their family. Not to mention Rose's fiancé, Cal, is hot-tempered! Makes Rose even more dizzy.
Jack's presence at that moment was absolutely perfect. Jack can 'take' Rose out of the cage and can make Rose laugh again. Rose falls in love with Jack and vice versa. Like the tagline of this movie; 'Nothing on earth can come between us'. Sounds very romantic, doesn't it? But it is true. Until the last moment, Rose thought about Jack.
A very hit movie to watch
Although the length of this movie is quite long, I guarantee that you will not get bored while watching it. The neat, spiced plot of Jack and Rose's love drama is delightful. You will also see the appearance of a ship and the interior of the ship is very cool. I guarantee you will enjoy watching it.
The best scene for me was when the ship set anchor and gave a long whistle. Little did they know that when the ship departed, the Titanic would not return. Next is the scene where Jack takes Rose to the bridge with his arms wide open like he's flying. So sweet! Combined with the beautiful Atlantic sunset sky background!
The last hour of the movie is the climax of the story. You will witness a dramatic scene when the Titanic hits an iceberg, ripping its hull and causing it to sink. The whole mess starts here. You will see the struggle of everyone including Jack and Rose to stay safe.
I myself could not imagine if I had to be in the position of Jack, Rose or other Titanic passengers, who at that time could only wait to see if they would live or die when the ship they were sitting on sank. They panicked endlessly, confused about where to go and just let go and watched the water roll before their eyes.
Not to mention the handful of lifeboats for a Titanic-sized ship. As ridiculous as it sounds, a ship with a capacity of 2,000 people only has lifeboats that can hold only half of the total number of passengers. Do you know why there are not enough lifeboats? The ship's designers found that if there were too many lifeboats, the ship's form would become messy. Seriously! _
There are many scenes that caught my attention. If I recall, I can get goosebumps. When the mother and two children missed the lifeboat, they chose to return to the waiting room to die. A mother reads fairy tales to her son until he falls asleep despite everyone on deck trying to save himself.
Plus the scene where the wealthy couple Ida & Isidor Straus choose to be together. Do you remember the scene where the couple fell asleep hugging each other when the water started to flood the room? Yes, I mean this couple. History also tells that Ida refused to board the lifeboat because she did not want to leave her husband, Isidor, alone on the ship.
An impressive film despite decades of experience
Produced at Baja Studios, James Cameron has actually reconstructed a replica of the Titanic, even slightly larger. It would take more than 19,000,000 gallons of water to submerge the replica scene. Initially, the producers of Paramounts & 20th Century Fox were reluctant to even turn down the idea of ​​making the film.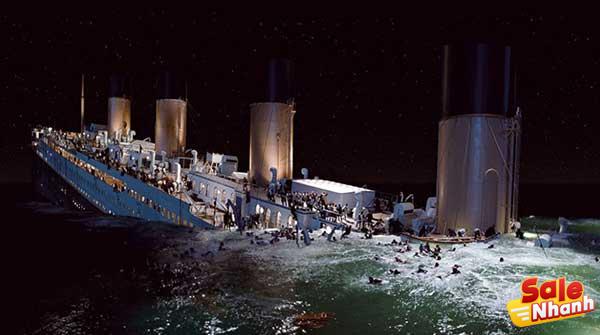 The two producers' C-level doubt that a three-hour love story can attract viewers. Moreover, the cost disbursed at that time was huge, $200 million. However, thanks to James' expertise as a director, insight and interests, he finally agreed that Titanic would be made soon.
Nhạc phim Hits My Heart Will Go On
Perhaps the movie Titanic would be nothing special without this song. The song performed by Celine Dion is considered the most suitable soundtrack after the song I Will Always Love You by Whitney Houston in the movie Bodyguard. My Heart Will Go On was written by Will Jennings and became the best song by James Horner, the same composer who scored the music for the movie Titanic.
But you know what? At first Celine Dion didn't want to sing this song. He considers the song too sad and, according to him, enough to sing soothing songs for a movie after Celine successfully sang Beauty and The Beast.
When James Horner meets Celine and starts playing the intro; Celine immediately told her husband and manager: 'I won't sing that song'. However, Celine's husband convinced her to perform first. If you don't like it, Celine can refuse at least after doing the demo.
Celine Dion ended up flying to New York to do a demo. Celine sang My Heart Will Go On as best she could. Guess what happened? The demo was successful! Unbeknownst to Celine, James Horner had formed an orchestra behind the scenes. So when Celine sings, she's really being accompanied by all the instruments.
Result? The song My Heart Will Go On that you are listening to is not a recording. But it was actually a demo by Celine, who didn't want to sing the song at the time. Now, both the movie Titanic and the song My Heart Will Go On have become movies and have even been included in the Top 10 Favorite and Greatest Soundtracks of All Time, according to Bacaterus! Celine is proud of her decision to continue working on her demo.
After reading the Titanic movie review, you must have missed the movie Titanic, right? Let's watch the movie again; especially for those of you who haven't seen it yet. Well, don't miss it! Oh that's right, have a tissue ready in case you suddenly wipe your tears. Understandable, romantic movie, so sad. Wow top markotop deh!
Salenhanh – Product review blog
Address: 115 Nguyen Van Qua, Tan Hung Thuan Ward, District 12, Ho Chi Minh City
Website: https://salenhanh.com/en
Mail: Salenhanh.com@gmail.com
#salenhanh #Reviewsalenhanh