Do any of you still believe in lightning love? If you still admit it, then you have the same story as the main character in this movie. The main character falls in love at first sight and immediately decides to get married, confusing the parents.
The above story has been incorporated into a movie by director Ol Parker with comedy drama genre. Teaming up with some famous stars like George Clooney, Julia Roberts, Kaitlyn Dever and Maxime Bouttier, they all made this movie colorful and quite fun to watch. Curious about the story?
Ticket to Paradise Summary
Release year 2022
Genres Comedy , Drama , Family , Romance , Youth
Produce Red Om Films , Smokehouse Pictures , Universal Pictures , Working Title Films
Director Ol Parker
Cast George Clooney Julia Roberts Kaitlyn Dever Maxime Bouttier
David Cotton (George Clooney) is a hardworking father, he is married to Georgia (Julia Roberts) who is also a hard worker and they have a sweet daughter named Lily (Kaitlyn Dever). Lily has a happy life and is the pride of her parents.
Growing up, Lily is now a college graduate and about to become a lawyer. This naturally turned out to be the most enjoyable thing for Lily, but David and Georgia's mates weren't quite as happy. During their ten years of marriage, they could not love each other anymore until they divorced when Lily was young.
Thinking that her father and mother were fine, it turned out that Lily was wrong. Meeting them at a graduation ceremony was the worst thing Lily had ever done. The two of them were like children who didn't want to lose to each other. However, for Lily's business, David and Georgia are willing to be patient.
With Lily graduating, she and her best friend Wren Butler (Billie Lourd) will adventure to Bali to celebrate their release from prison before starting their own lives at work. Lily is very happy to be able to spend time with her best friends on an island known as paradise on earth.
Arriving in Bali, Lily runs into a local young man named Gede (Maxime Bouttier) and immediately falls in love with him. He partyed with Gede all night and spent the next days with Gede. Wren didn't mind at all, he was actually happy to see her.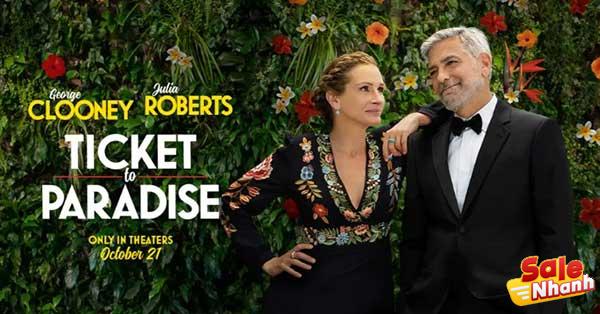 Elsewhere, David, who was busy with his big project, and Georgia, who was studying paintings at the art center, was surprised by an email from Lily, who suddenly said that she was going to be soon. get married and ask her parents to come to Bali as soon as possible to celebrate her marriage.
David and Georgia end up leaving for Bali with the big question, how brave and reckless their daughter was to say goodbye to go on vacation instead of deciding to marry a foreign local man. David and Georgia have never met. On the plane, everything happened between the two of you.
They finally plan to prevent Lily's marriage, they want Lily not to hurry to get married so that her married life will end badly like what happened to her parents. This led David and Georgia to come together for the mission.
Upon arriving in Bali, Lily, who was terrified of putting her parents in an impromptu situation, was relieved after seeing that David and Georgia got along. Her father and mother couldn't help but laugh when they heard that Lily was happy to see her parents doing this together.
Lily immediately took her parents to see Gede, who immediately fell in love with Georgia because of Gede's friendly and hardworking personality; Though enchanted, Georgia must stick to the plan. Contrast that with David, who thinks Gede will steal his child by asking him to marry him.
After meeting with Gede and his extended family, the wedding date has been determined. This made David and Georgia even more convinced to immediately implement their big plan.
David ends up chatting with Gede and asking him many things about his life, while Georgia spends time with Lily & Wren.
When they received information about the date of the ring exchange that had been blessed by the religious leaders, Georgia immediately informed David. The ring will then be brought by Gede's cousin. Taking advantage of this, Georgia tricked the boy and stole his ring.
When the ring event started, the ring was clearly not there causing everyone to stir. But Gede was able to keep everything under wraps and said that the ring would be bought back and would be blessed again so it didn't have to be a big deal, deep in Gede's heart he knew very well that David was the one. bought it. accepted but he kept silent.
The next day, Gede invites David, Georgia, Wren, and Lily to vacation in Nusa Penida, but David wants to take them to Tanah Lot, which is notoriously unvisited by people who want to get married. Gede believes that David doesn't want him to marry Lily.
Taking advantage of the two of them, Gede confronts David and talks about the ring. Gede then says that if he is like this, Lily will hate him even more. This made David think for a bit. At the same time, Gede's ship is adrift so they cannot return home from the island.
As they prepare to burn wood to keep warm while waiting for a call back, Lily accidentally finds their wedding ring in her mother's bag. Lily is very angry, she hates Georgia and David so much. But things have worked out and Lily is not going to back down from her marriage to Gede.
Upon returning to the hotel, David and Georgia then chatted and opened up about their son's marriage. At the same time, Georgia was proposed by her boyfriend Paul (Lucas Bravo). Not wanting her and her children's problems to become even more chaotic, Georgia took action.
He refused Paul's marriage proposal and focused on his son's marriage. He and David immediately congratulated and apologized if what they had done before was wrong. After being blessed, Lily and Gede were happily married. After all events are over, David and Georgia decide to get back together and live happily ever after.
Ticket to Paradise movie review
Story with simple content
This film's screenwriters, Ol Parker, and director, and Daniel Papski, made the story of Tickets to Heaven simple. They don't cover the super big issues that make us emotional when we discover them. Even the solution to the problem can be said to be very simple.
The climax of this movie is not long, only when Lily finds a ring in Georgia's pocket, then she gets very angry but in the end Georgia and David apologize and finally the matter is resolved. Not a lot of comedy elements are included even though the genre of this film is comedy-romance. So all the stories ended without a mark.
Jewish cinema
Referring to Bali, it is certainly not strange when the paradise on earth has the most wonderful scenery ever chosen as a filming location for blockbuster movies. This is what Ol Parker did, he brought Bali back to be seen by millions of people's eyes on the beauty of the Island of the Gods.
Mountains, valleys, shady forests, beaches, mountains, sky and even the sun look so beautiful in this movie Ticket to Heaven. But did you know that the filming of this movie was not done 100% in Bali but in the Whitsunday Islands, precisely at the Palm Bay Resort on Long Island, off the east coast of Queensland, Australia.
Exciting film by Maxime Bouttier
Who doesn't know Maxime Bouttier? The guy born on July 22, 1993 successfully portrayed the character Gede in the movie Ticket to Paradise! An advantage for Maxime because his English pronunciation in the scene is not stiff and very fluent. The Balinese language sounds natural because he has Balinese blood from his mother.
This is also Maxime's film debut so he may have one more chance to act in other international films. Of the 25 scenes where he had to compete with Julia and George, great artists and actors, Maxime was able to complete it so smoothly, he really put all his heart into this project!
This 104-minute film will be a panacea for George Clooney and Julia Roberts fans, as it's their reunion movie after their frequent collaborations on big movies. Their humorous acting and simple story earned this movie a score of 3.6/5 from Salenhanh.
Salenhanh – Product review blog
Address: 115 Nguyen Van Qua, Tan Hung Thuan Ward, District 12, Ho Chi Minh City
Website: https://salenhanh.com/en
Mail: Salenhanh.com@gmail.com
#salenhanh #Reviewsalenhanh