A very happy family moves into a grand new home on the outskirts of the city. But then a letter arrives that sow great terror.
Not just one, but many letters later arrived. Dean and Nora become suspicious of the neighbors and hire a private detective to investigate.
The Watcher is a mystery thriller miniseries by Ryan Murphy and Ian Brennan released by Netflix on October 13, 2022. Based on a true story that happened in New Jersey in 2014, this miniseries stars the actor. Naomi Watts and Bobby Cannavale.
Could Ryan Murphy return to present a compelling mystery story like his previous series? Check out the following review to get the full review.
Summary of The Watcher (2022)
Release year 2022
Genres Drama, Horror, Mystery
Producer Ryan Murphy Productions
Directors Ian Brennan, Ryan Murphy
Cast of Naomi Watts Bobby Cannavale Luke David Blumm Mia Farrow Noma Dumezweni
Brannocks looks at homes for sale in upstate New York. They were impressed with the beauty of the house, except for Ellie. Dean and Nora's daughter, like any other teenager, doesn't want to move out and lose her schoolmates.
Dean meets a strange neighbor and also sees other neighbors who are always staring at the house. Feeling that it was appropriate, Nora met her sales agent, who turned out to be Karen, an old friend of Nora's.
Through Karen, they get a fair price and their offer is preferred. But the problem is their financial condition is not healthy.
To realize his dream home, Dean spends his savings, sells stocks, and withdraws his retirement fund so he can pay off the remaining debt he has lost so he can take out a bank loan.
They moved away. They are startled to see Jasper, their neighbor, come out of the food elevator and complain about the presence of a piano in the house from Mitch and Mo. Later, they also received a letter containing threats from a mysterious figure calling himself "The Watcher".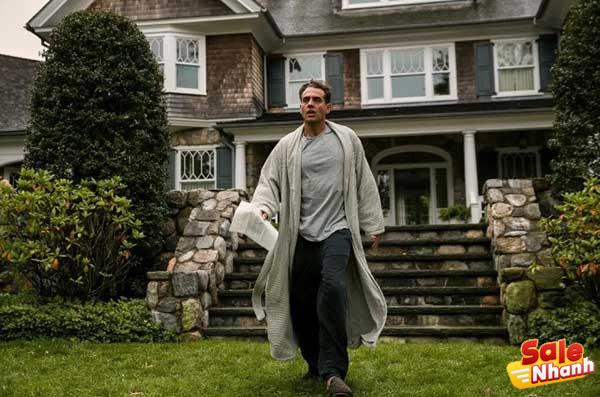 They then report this to Detective Chamberland, who denies any such threat exists in his town. Mitch and Mo are reprimanded by Dean for picking up trees in his fence and they say they will keep an eye on Dean's family.
Jasper was also reprimanded for entering the house without permission. Pearl, Jasper's brother, is furious with Dean and says he will keep an eye on his family.
Worried, Dean calls for CCTV and alarm installation services from a young man named Dakota who has a crush on Ellie when she sees him swimming.
One night, Dean finds Carter's pet dead in the house and receives a second letter detailing their family members.
Again Chamberland did not react to Dean's report and said they should hire security or private detectives.
Dean chooses the latter and meets Theodora Birch, a former jazz singer turned private detective with a high crime rate. Kitchen renovation has begun.
Nora and their two children chose to stay in a motel because the smog could trigger Carter's asthma. Meanwhile Dean stays at home to supervise the work of the craftsmen.
That night, Dean was startled by music from the roof. And it turned out that someone had sneaked into the house. This person also called Nora from home.
Nora then told Karen about the incident, who immediately offered to sell her house for a cheap price. Of course Nora didn't want to because she bought it at a high price.
Through Theodora, Dean meets the house's previous owner, Andrew Pierce. As an artist agent, he used to live in the house with his wife and 3-year-old son.
His wife became depressed and her son noticed that there was a cult ritual inside Mo's house when he deposited money there. He also received mysterious letters containing threats and terror. Andrew then chose to move out and sell his house. But then he discovered his wife had committed suicide.
To ensure the safety of the Deans at the motel, Dakota volunteered to observe from the side of the road. But instead, he grows closer to Ellie. Meanwhile, Dean is unable to become a partner in his company and becomes a bit depressed.
At home, he got into an argument with Mo and threatened to kill him if he bothered him again. In the middle of the night, Dean hears gunfire.
The next morning, the police and ambulance came to pick up Mitch and Mo's bodies. Their son accuses Dean of being the reason his parents chose to commit suicide.
Dean and Theodora reduce suspects after Mitch and Mo are killed. They also decided not to accept Andrew's story because he was suspected of having a mental disorder.
Nora gets advice from Karen to immediately sell her house and move to another house with no dark history. Karen also accused Dean that he may have cheated on her.
At home, Dean meets a strange man claiming to be a building inspector named John. He talks about how hard it is to raise a daughter and tells Dean that Ellie is in a relationship with Dakota.
After asking the foreman, he didn't know a building inspector named John. Dean shivered. Theodora then opened a secret profile of John Graff's character, one of the people who lived in the house.
He killed his whole family in the house. He then disappeared without a trace while erasing his identity. She's in the same situation as Dean, struggling financially, suddenly getting emotional, receiving a mysterious letter and having a supposedly naughty daughter.
The renovations have been completed and their families can gather again. Dean sank deeper into his frenzied thoughts. I kept thinking who was the John Graff I met.
Theodora raised another suspicion, it was Dakota. Threats to Dean and his family are his area of ​​business, especially when he uses the moniker "Stalker" in online games.
Dean and Nora see the contents of Ellie's cell phone, which turns out to be a conversation and exchange of body photos with Dakota. When Dakota came to set up the camera, Dean scolded her.
The police arrive, but Dakota is the guard. Dakota asked to take a sample of her DNA as evidence. Ellie has stated on social networks that her father's behavior does not allow her to love black men.
Negative public reaction to Dean, who considers him a racist. Dean's career is in jeopardy because of Ellie's actions and Nora's youth membership is also suspended.
Dean's boss has a video of Dean spending the night with a young woman in his bedroom. Likewise, Nora, who immediately gets angry and throws Dean away.
All of these are acts of Dakota as an outlet for his anger. Confused, Dean sees Mitch and Mo get out of the taxi in good health!
Nora receives an explanation from Theodora that Dean wrote one of those mysterious letters. This is evidenced by his handwriting. Nora was picked up by Pearl to meet Mo.
They talk about the house and Mo explains the murder case his son committed. Mo said his son was the author of the letter, while Pearl thought Jasper was the author.
Dakota goes to Dean to show him the results of the video research in the room. He later also explained in front of Nora that he did not find the video when the woman entered the house. Dakota suspects that the woman was either inside the house or had entered through a secret passage.
DNA test results were released and Chamberland stated that "The Watcher" was a woman. They rebuked Karen and Chamberland, who were having lunch at the country club, with all sorts of harsh accusations.
Ellie tries to find out about letters titled "An Ode to the House" that were a school assignment from a teacher named Robert Kaplan that they saw when they were about to buy their first home.
A craftsman tells Dean that they have found a passage in the basement. Dean and Nora chase a man running inside, but they both hit a dead end. Dean and Nora find a secret room in the hallway.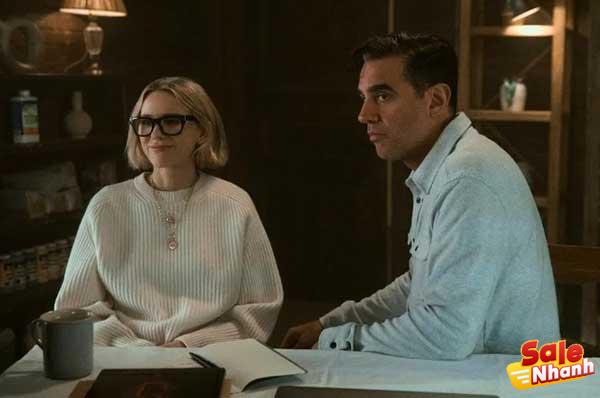 The room has a mattress, lamp and food. They suspect that is where The Watcher has been hiding all this time. Chamberland doesn't want to help Dean anymore because yesterday's incident caused him to break up with Karen.
Theodora shares information she got about Roger Kaplan from his ex-wife. It turned out that from a young age he admired the houses in the area, but could not afford to buy them because he was just an ordinary teacher.
Roger then assigned his students to write a love letter to the house they liked.
This quest grew in popularity in waves, until it was also announced on the Facebook page. However, one of the houses received a threatening letter. Dean, Nora and Theodora visit Carol's house, who immediately suspects that the letter is from Roger.
Dean and Nora then reprimand and accuse Roger of going shopping with his wife. The next morning, Roger stands at the door and threatens Dean for pushing him to the brink of divorce.
In the end, Dean and Nora decided to sell the house. Through an agent named Bruce, they receive a high offer.
But this offer was canceled because potential buyers read negative articles about their home. Nora is angry with Karen because she doesn't want her to profit from selling the house.
They moved to the city. But Dean still couldn't get past The Watcher. Nora's artwork sold out and she became famous, while Dean stayed home with the kids because he was unemployed.
Nora is angry with Dean after reading the news that the landlord, that is, them, is sending threatening letters to the neighbors. Dean admits what he did and does it because he's upset.
Dean receives a shocking confession from Theodora that he is a Watcher. He was the head of the household before them and sold it because he needed it for treatment.
Because he still loves the house, he sends letters threatening and fabricating things to Dean to get them out of the house immediately.
Dean then proceeds to visit the neighbors to apologize. He visits Mo, who has just been left behind by Mitch. When Dean tells him about Theodora, Mo denies ever knowing her and offers the truth.
Through Theodora's daughter's confession at the funeral, the reason Theodora lied is to keep Dean's heart from getting hurt with an unsolved case. The house bought by an agency turned out to be Karen's way of buying a house on the cheap.
Will Karen experience the horrors of Dean and his family? Is the gathering of the house's neighbors really The Watcher?
And what about Dean's fate after finding no mysterious figure? Not all are solved and still a mystery after we finish this miniseries.
Review of the movie The Watcher (2022)
Based on a true story
The story of the house at 657 Boulevard in Westfield, New Jersey that was terrorized with threatening letters was published in New York Magazine in 2018. The family living in the house is Derek Broaddus and his wife Maria and their three children. their. So far this case has not been resolved.
This miniseries by Ryan Murphy and Ian Brennan is inspired only, because the actual plot is not shown here. The suspenseful premise is crammed with numerous conspiracy theories and bizarre events beyond human comprehension.
In the first two episodes, we'll surmise some suspicious characters, such as Mo, Jasper, and Karen. It then spread to Dakota, the enigmatic John Graff, Roger Kaplan, and even Dean himself as the prime suspect in writing this threatening letter.
The mystery of who the culprit is is then mixed with various strange conspiracies that sometimes don't matter to show. One of them is the cult rituals and loving gatherings at home.
Because in the end, all these conspiracies do not support the final conclusion and seem to exist only as fantasy without any possibility of it happening in reality.
The house that brings suffering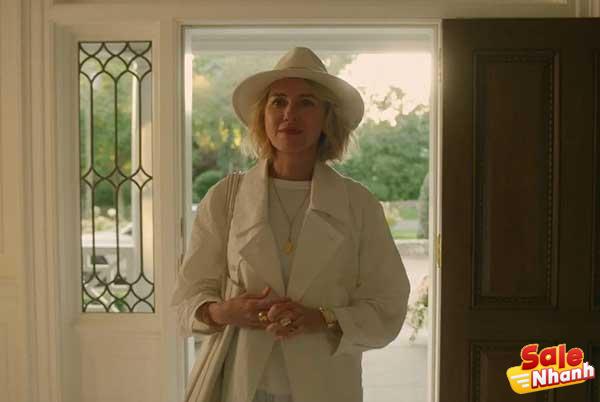 The house featured in this miniseries is a classic multi-room luxury mansion located in upstate New York. The environment looks comfortable.
But it turns out that this house is often for sale by people. There are at least two stories from people who lived before, one that really happened and the other that is just a fantasy.
If you look at the stories of the people before, after they settled down, the career of the head of the family suddenly collapsed.
John is fired and Andrew is abandoned by the artists he works with. The same goes for Dean, who is not a partner in the company and is obsessed with The Watcher.
If John kills his whole family and goes missing without a trace, Andrew confronts his depressed wife and commits suicide. Fortunately, Dean still has common sense even though his emotions are always exploding.
Furthermore, he hired the services of a private detective, who offset his anxiety with various types of information, although sometimes it was just speculation.
But with all those similarities, we have no doubt that this house is haunted, which then affects the psyche of its inhabitants.
It all stays within the realm of reality by throwing out conjectures about some of the characters and the plot behind them. So there is no dense horror impression in this Netflix miniseries.
Anticlimactic End of the American Dream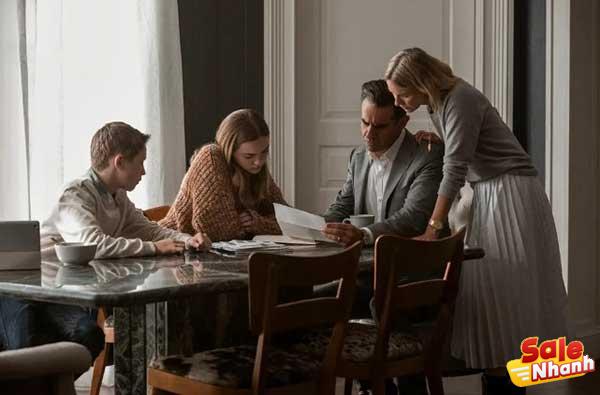 In fact, at the heart of this miniseries story is one family's attempt at realizing the "American Dream", the dream of every American.
Having a large income, living in a luxurious house, harmonious family. But not everyone can make it happen. The example given here is Dean and his family.
Dean, who had hoped for a brilliant career, became nervous about not being able to be his life partner, even though he took the house he paid for with a bank loan. And the house they are in also causes unrest with the terrifying threat from a mysterious figure.
Likewise, Dean worries about taking care of his teenage daughter. He became like a paranoid every time he saw Ellie wearing makeup or clothes that accentuated her beauty.
Nora, who sees Dean's changes, grows increasingly heated with Karen suspecting Dean of having an affair with a teenager. But fortunately Nora was able to dismiss this suspicion.
As the story draws to a close, there are several events that really relieve the tension. One of them was Theodora's false confession to Dean. It becomes a confusing new episode at first, but is immediately resolved in the next two scenes.
From here, the story becomes paradoxical as nothing has been revealed to answer our curiosity while watching the 7 episodes of this miniseries.
And in the end, The Watcher becomes one of those Ryan Murphy crime stories whose tension is inconsistent and fails to reach its full potential.
One of the factors is that there are so many conspiracies that have been spread but still not come to a satisfactory conclusion.
The acting of the cast is quite good and brings the characters as expected. Bobby Cannavale can drain his emotions and fill every shot with a question mark expression.
Meanwhile, Naomi Watts is able to balance it with calm and grace when it comes to solving problems one by one.
But the star of this series is actually Jennifer Coolidge who makes a convincing appearance. He can show Karen's closeness to Nora and can also be a mysterious figure as one of the suspected mailers.
He seems to have a hidden agenda, though we eventually learn that he wants to own the house, too.
For those of you who like mystery stories with the "whodunit" concept, The Watcher deserves a look. Now available on Netflix. Like watching!
Salenhanh – Product review blog
Address: 115 Nguyen Van Qua, Tan Hung Thuan Ward, District 12, Ho Chi Minh City
Website:  https://salenhanh.com/en
Mail: Salenhanh.com@gmail.com
#salenhanh #Reviewsalenhanh