Sophie and Agatha's friendship is put to the test when they are sent to the school where fairy tales are made. They felt that they had transferred schools and repeatedly told this to the principal.
But the ugliness in Sophie's heart due to Rafal's whispers made her an evil witch. Agatha must be able to stop Rafal's evil plan to destroy this school.
The School for Good and Evil is a fantasy film by Paul Feig that was released as a Netflix original on October 19, 2022.
With two young actresses starring, this drama is also backed by a host of top actresses who are their teachers at school. Charlize Theron, Kerry Washington, and Michelle Yeoh played the role.
Adapted from the novel by Soman Chainani, will this film receive the same positive response as the novel? Check out the following review to find out a full review of the film shot in Belfast and its surrounding areas.
The School for Good and Evil movie synopsis (2022)
In the past, twin brothers Rhian and Rafal founded the School for Good and Evil to prepare their students to participate in many fairy tales.
In a fierce battle, Rafal expended his attack on Rhian. But with his agility, Rhian survived the attack of Rafal, who fell from the cliff.
Today, the village of Gavaldon. Sophie, who looks like a princess, befriends Agatha, who is nicknamed the witch by the residents. As usual, the two of them were looking for a new book to read.
Sophie sees the fictional school logo on the front page of the Cinderella book. Secretly, Sophie wrote a letter to the school so she could leave her village.
When the blood moon phenomenon occurs, a supernatural being pulls Sophie and is immediately chased by Agatha. In addition to this creature, they were also carried by a giant bird with a skeleton to the School for Good and Evil.
Sophie was put in Evil's School and Agatha was put in the Good School. Both feel that their positions have been changed. Agatha and Sophie were prepared by their deans for a welcome party.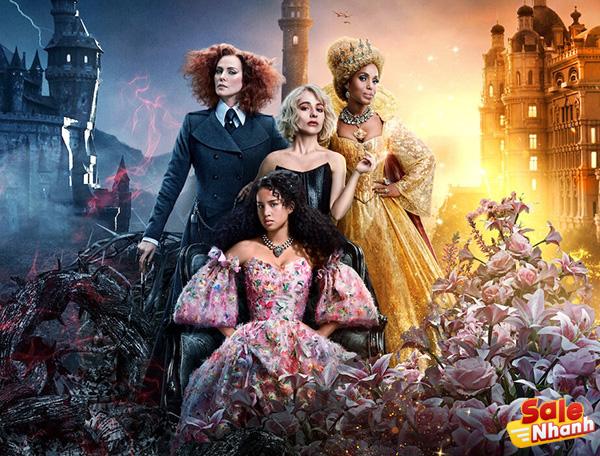 Sophie wears a black witch robe, while Agatha dresses like a princess. At the party, both are attracted by the presence of Prince Tedros, the son of King Arthur.
That night, Agatha comes out of the dormitory to meet Sophie, but is attacked by Cupid and has to hide in the library. Eavesdropped on Lesso and Dovey, the two deans of each school.
They were confused as to why Rhian had invited the two girls to study here. After they leave, Agatha sees a menacing appearance of Rafal.
Agatha then invites Sophie to meet Rhian's principal so she can transfer Sophie to the Kindergarten. Rhian offers Sophie a condition, which is to kiss her true love in order to transfer schools. Sophie identified that person, it was Tedros.
They go from class to class without any conformance to the material being taught. Agatha fails her smile class, while Sophie is attacked by another student with her magic. When pressed, Rafal will appear who helped Sophie. Lesso began to understand what Rafal wanted from Sophie.
Agatha is warned about her failure to grasp the lesson in class. There will be harsh consequences if you fail. While in the forest, Gregor, who had just befriended Agatha, was swept away by a storm and disappeared.
As Kindness School students study in the lake, Agatha saves a failed student a few years ago who turned into a small fish in the lake.
Then a giant skeleton-shaped bird came to them. Agatha is surprised, but she realizes that the bird is the reincarnation of Gregor.
But too late, Tedros immediately kills him. Agatha gets angry and hits Tedros. Feeling that School of Kindness is making students selfish, Dovey tells Agatha that she is a real princess.
Lesso hugged Sophie and cut her hair short, causing the hatred in her heart to change personality. Even so, Agatha still wanted to help Sophie get close to Tedros.
Using her magic, Agatha united them. But Sophie and Tedros's company together brings with it a lot of disdain that brings them to the face of the principal.
To prove whether they are true love or not, Sophie and Tedros must take a fairy tale test where they must survive in the Green Forest against various creatures in it until morning. When Sophie was hunted by Death, Tedros tried to save her.
Tedros is pushed back and Excalibur's sword is thrown from him. Agatha sneaks up to Sophie to help Tedros, but Sophie doesn't budge. Agatha then intervened to help Tedros. After finishing, they fight and cancel the test.
Sophie is convinced by Rafal that Agatha is her enemy. The students present at the school dance were amazed at the appearance of Sophie, whose appearance has now become a witch.
He incited Tedros and the other Good School students to attack Evil's School. Agatha tried to block them because it was an insult.
Sophie enters the principal's office and intends to kill Rhian, who turns out to be Rafal. All this time he hid his identity after killing Rhian on the cliff.
Rafal wants to be Sophie's bride. As they kissed, the buildings of the two schools began to crumble and the power of darkness appeared.
What will Agatha do to save herself, her friends and the school? Will Sophie unite with Rafal forever? Find the answer by watching this movie to the end.
The School for Good and Evil (2022) movie review
Interesting friendship story
When the novel School of Good and Evil was published in 2013, this fantasy fairy tale by Soman Chainani captured the hearts of readers.
The cleverness and originality of the plot and the fantasy world in which the story lies is the main attraction of the novel. The core of the story is about the friendship of two teenage girls with different personalities in a village called Gavaldon.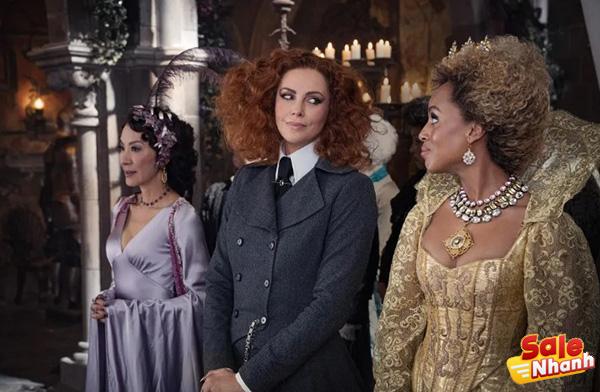 Sophie has the appearance of a princess in a fairy tale with all the sufferings of life like Cinderella. Meanwhile, Agatha is sloppy and always wears black, so she looks like a witch.
These two characters are played very well by Sophia Anne Caruso as Sophie and Sofia Wylie as Agatha. Their chemistry is really solid, like they are real real friends.
When they joke, when they are angry, even when they are sad, they all express it in a unique way. We too, like it or not, this fairy tale will continue to go deeper. Especially, when they are accidentally sent to the School of Good and Evil, they feel confused.
And halfway through the movie, we'll see how they struggle to convince the teachers and principals that they misplaced their students. And here we start to see little by little changes happening in both.
Agatha is rude and aggressive towards strangers, not a fairy-tale princess like the other students in the Kind School.
But gradually, we see that there is a heart of a princess hidden within us. As Dovey told Agatha, she has a high capacity for empathy and it is this trait that makes her a true princess.
While Sophie initially took on the appearance of a princess, little by little she changed into that of a witch.
Wearing a black suit and short blonde hair, her attitude changed when she resigned to the attitudes of educators, who seemed to have prevented her from transferring schools.
And Sophie is not a bad person. He was only tempted by Rafal's whispers when in a situation that didn't match his expectations.
His ambition to be someone useful was intertwined with Rafal's evil thoughts, so his concept of ambition changed direction. But even if Sophie turns evil, deep in her heart she is still a good person, willing to sacrifice herself for her best friend.
Fantasy school with little intrigue
While both are set as a school of magic and sorcery, don't confuse this School for Good and Evil with Hogwarts in the Harry Potter series.
Aside from the lack of diversity in existing classrooms, there aren't many students in them either. For a school with two large buildings, this Rhian-led school feels exclusive.
By only having two classes, the competition between them is quite high, but it is also easy to read. There is not much information about this school in the movie that should still be explored.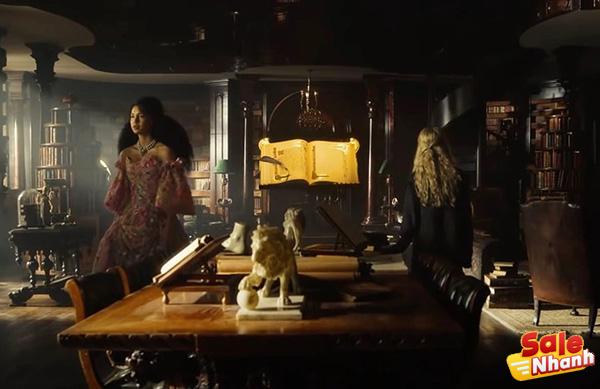 Kind School looks like we're inside a sweet and colorful birthday cake. Meanwhile, School of Crime looks quite dark, but still less distinctive.
We will be amazed at the school and all the rooms in it, because the use of visual effects is still immature, especially in the early scenes.
Since it's nothing special, we can be a little excited to see a visual effects exhibition that wants to be grand but actually seems to be lacking here and there. The CGI for the creatures in the field is clearly not impressive at all.
There is only one scene from the visual effects that can leave us in awe, and that is when Rafal appears before Agatha in the closed library with a bloodstain covering the entire room.
But if we watch the two films The Shining (1980) and Doctor Sleep (2019), the scene will look stale and far from the visual effects shown in the two classic horror movies.
Filled with shallow characters
The appeal of the movie School of Good and Evil lies, of course, in the top cast that enliven this 2 hour 27 minute film.
Who wouldn't want to see Charlize Theron, Kerry Washington and Michelle Yeoh acting in a movie? And Paul Feig succeeded in this movie. Unfortunately, the three of them are not deep and only appear in one dimension.
We don't know anything about Dovey's background, played by Kerry Washington. We also know very little about the love story between Lesso and Rafal, as it is told in only one scene.
And about Michelle Yeoh's character Anemone, we know even less. Furthermore, he only appeared in two scenes.
Quite disappointing indeed and this is the main weakness of the film written by Paul Feig and David Magee.
The storytelling leaves a lot of holes and doesn't take the power of the story from the novel. Whether all the interesting elements of the novel have been shown, such as the parents of the students who are famous characters in the fairy tale world.
School for Good and Evil has the advantage from the cast, although the characters are less explored in depth. At least the two main characters did not disappoint.
The visuals are supposed to be great, but the visual effects and cinematography are undercooked. And the main downside of this movie lies in the weakness of the script and the way the storytelling in it.
For loyal readers of his novels and connoisseurs of fantasy films, you must definitely check out The School of Good and Evil, especially since there are so many famous stars in it. An inspirational true friendship story with a touching moral message. It can be watched on Netflix right now, yes!
Salenhanh – Product review blog
Address: 115 Nguyen Van Qua, Tan Hung Thuan Ward, District 12, Ho Chi Minh
Website: https://salenhanh.com
Mail: Salenhanh.com@gmail.com
#salenhanh #Reviewsalenhanh