At the 71st British Academy Film Awards, The Handmaiden (2016) won for Best Film Not in English. This award is just one of many in high regard for this film. Park Chan Wook as a director should be proud because even though he debuted in 2016, the film is still being discussed a lot.
Adapted from Sarah Waters' novel Fingersmith, "The Handmaiden" tells the story of a Korean maidservant, Sook-hee, who is tasked with taking care of a Japanese woman known as Lady Hideko . But in reality, Sook-hee has been tasked by a man named Count Fujiwara to make Lady Hideko fall in love with her with the intention of taking over the entire estate.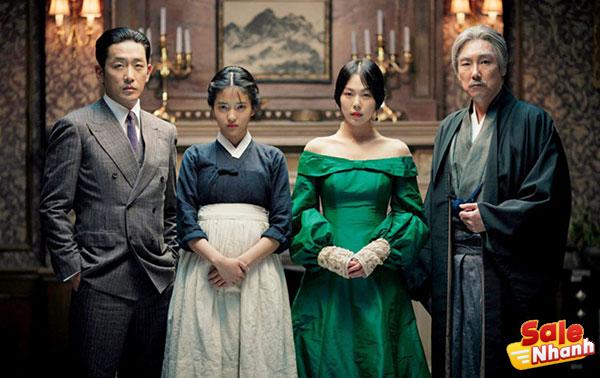 With the setting shifting from British Victorian to Japanese colonial times in Korea, this film is packed with the erotic psychological thriller genre that presents its own uniqueness and complexity. Undoubtedly, the genius of film director Park Chan-wook always gives the audience special surprises, when in this film, he divides the plot into 3 parts from different perspectives.
In the early stages, the audience is left to generate their own speculations and expectations for the existing characters. However, in the presence of story perspective options, the audience will be asked to weigh their brains again until they find the real answer at the end. Let's review Salenhanh to review the content of the movie The Handmaiden (The Handmaiden 2016)
The Handmaiden movie trailer (The Handmaiden 2016)
Synopsis of the movie The Handmaid
Release year 2016

Genre Drama , Psychological , Romance , Horror

Film Production Moho , Film Yong

Director Park Chan Wook

Cast Kim Min Hee Kim Tae Ri Ha Jung Woo Jo Jin Woong
Part 1
In Japanese-occupied Korea, a con man operating under the lure of "Earl Fujiwara" plans to seduce a Japanese heiress named Lady Hideko, then marry her and give she went to asylum to steal her inheritance. He hires a pickpocket named Sook-hee to be Hideko's maid and encourages Hideko to marry him.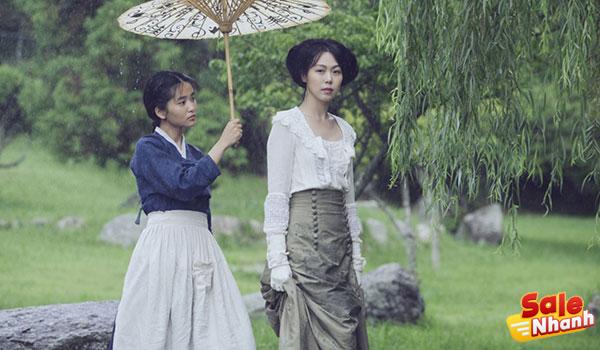 Hideko lives with her uncle Kouzuki, a Korean man who helped the Japanese take over his country in exchange for a gold mine. Kouzuki then used this fortune to feed his obsession with rare books, selling blacksmiths to accumulate more money and books. Sook-hee's main job is to help Hideko prepare to read books to Kouzuki's guests. Returning to her disappointment after reading the book, Hideko asks Sook-hee to sleep next to her. The two end up making love under the pretext of preparing Hideko for a married life with the Count. Sook-hee begins to express reluctance about this plan, but when Hideko herself suggests that she loves someone other than the Earl, Sook-hee firmly refuses the marriage. Hideko slapped her and roughly threw her out of the room.
When Kouzuki went on a business trip for a week, Hideko and Fujiwara ran away. After withdrawing Hideko's inheritance, it is revealed that Hideko's innocence is part of a scam. She and Fujiwara overcame Sook-hee and convinced the refugee camp that she was the "Countess" so that she could pledge to replace Hideko.
Part 2
A series of flashbacks show that Hideko's "reading exercise" is actually Kouzuki teaching her to read sadistic pornography brutally since she was 5 years old. The flashback reveals a regime of psychological and physical abuse that gradually degrades the sanity of Hideko's aunt, who is eventually found hanged from a tree in the yard, and so Hideko takes over. reader role for the auction. When Hideko questioned hanging in a book she had to read, Kouzuki told her he murdered her aunt with torture devices in the basement after she tried to run away.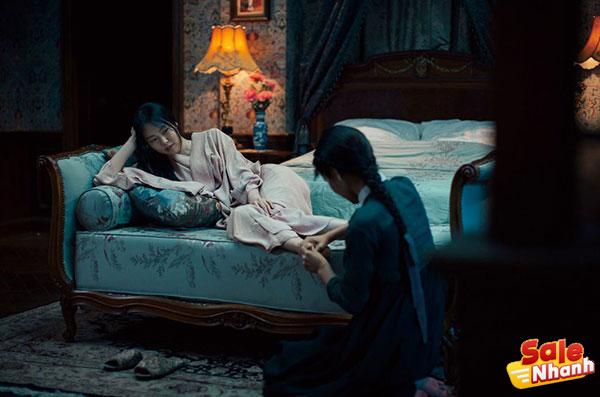 In the recent past, the Earl realizes that seducing Hideko is impossible and instead engages her in a plan to run away and then split her inheritance. When Hideko expressed his fear to her uncle, the Count gave her a bottle of opium used to commit suicide, so that she would never be taken to the basement while alive. Hideko asks the Count to find her a girl to hire as a maid, pledging to take refuge at Hideko's place.
While being guided by the Count, who takes advantage of Sook-hee's illiteracy, Hideko suddenly falls in love with her. Hideko tries to confess his love, but when Sook-hee insists on continuing the marriage, Hideko throws her out of the room and tries to hang herself. Sook-hee saves her and the two admit to their plot. Hideko helps Sook-hee write a letter to her family to say that she has cooperated with Hideko, and executes a plot to get Hideko and Sook-hee away from those who manipulated them. Hideko shows Sook-hee the books she is forced to read and Sook-hee starts destroying the library. Hideko calls Sook-hee "her savior" and participates in destroying her uncle's collection.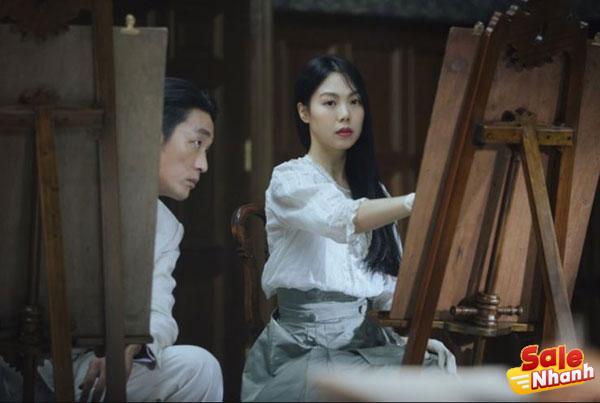 Source: Salenhanh.com
Part 3
After leaving Sook-hee at the refugee camp, Fujiwara and Hideko eat together, where Fujiwara wants Hideko to marry her again, this time with Sook-hee, because they have swapped identities. He also reveals that Sook-hee will die in the next few days, prompting Hideko to question Fujiwara's wishes. Sook-hee's friend Bok-soon sets fire to the refugee camp and pretends to be a firefighter to rescue Sook-hee. Hideko drinks Fujiwara's alcohol with drops from the opium potion, rendering him unconscious while she takes the money and leaves. The women reunite and run away together, disguising Hideko as a man to avoid detection.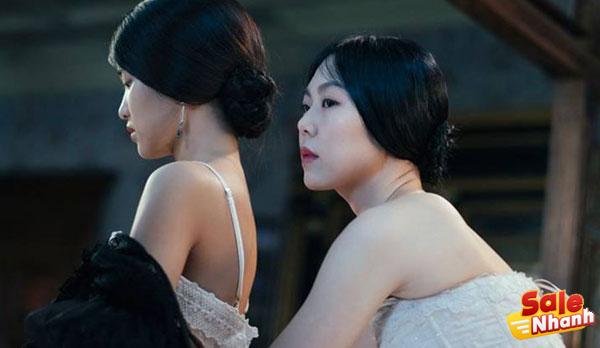 Kouzuki caught Fujiwara when he received a letter from Hideko detailing Fujiwara's deceitful behavior. He tortured Fujiwara in his cellar with a collection of antique bookbinding tools and forced him to give out sexual details about his niece. Fujiwara concocts a story about their wedding night sex, while a flashback shows he witnessed Hideko masturbating before slitting his own hand with a knife staining his sheets. , refused to consummate marriage. When Kouzuki insisted for more details, Fujiwara persuaded him to give him one of his cigarette, which he then disgustedly refused to provide more details. Kouzuki noticed that the cigarette was producing blue smoke. Fujiwara revealed that his cigarettes were laced with mercury and that the toxic gas in the smoke would kill them both.
On the ferry to Shanghai, China, Sook-hee and Hideko celebrate their new-found freedom by making love again.
Review of the movie The Handmaid
If The Handmaiden (2016) can be simplified to one sentence, the plot of this movie is pretty well represented by the phrase "a con man is tricked". In the approximately 2 hours and 24 minutes film, you will see a very good cooperation between the noble daughter, Princess Hideko, and Ok Jo, a girl posing as a servant.
Handmaiden's aesthetic is very distinctive like Park Chan-wook's other works, having a gloomy feel with low saturation. Cold and dark colors are the real weapon, but in this movie, Park Chan-wook seems to downplay the overly complicated camera movements. All of these technical decisions feel well-suited to depicting a remarkable backstory. So don't be surprised if this film wins Best Foreign Language Film at the 71st BAFTA Awards.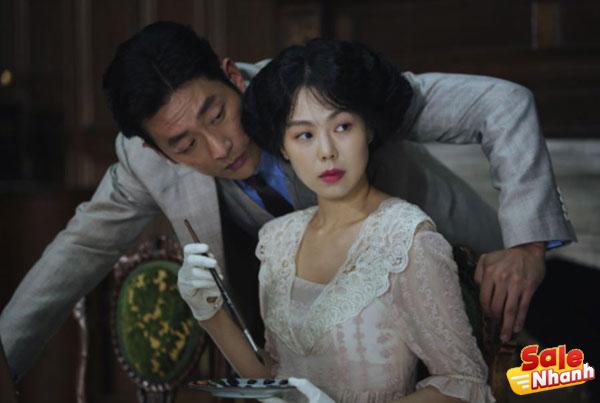 There are many aspects that can be studied about this film, from technical problems to things that cannot be seen directly. But what stands out the most about this movie is the sapphic aspect shown in the relationship between Sook-hee and Hideko. In Korea's rather conservative film industry, the story of lesbians is sure to cause controversy from various circles. Not only from homophobic groups, but also from LGBT groups.
Of course, film critics haven't forgotten the controversy of the French film Blue is the Warmest Color (2013), which also sparked a lesbian romance. Abdellatif Kechiche's film was criticized for its sex scenes that were too intense for the male gaze. Instead of depicting the relationship between two women as intimate and more like a heterosexual relationship, the director is actually seen as objectifying a lesbian relationship to satisfy lust in the eyes of men. .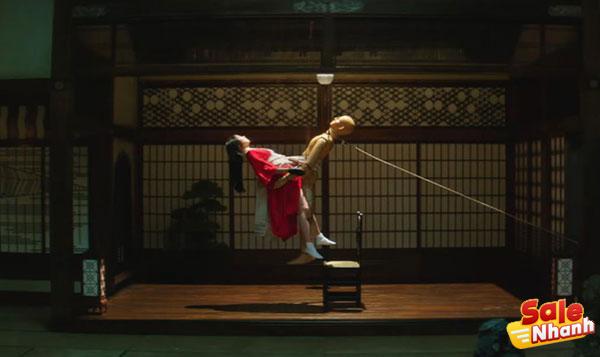 Fortunately, Park Chan-wook didn't fall into the same male gaze as his portrayal of the two female characters' unrevealing lesbian sex makes the film not as raw as the movies. owners are pornographic. Along with a rather unexpected ending after many successful attempts to deceive the audience, The Handmaiden's story can be considered as the struggle for the freedom of women (especially lesbian women) from the hands. of manipulative men.
Salenhanh – Product review blog
Address: 115 Nguyen Van Qua, Tan Hung Thuan Ward, District 12, Ho Chi Minh City
Website: https://salenhanh.com/en
Mail: Salenhanh.com@gmail.com
#salenhanh #Reviewsalenhanh