Celebrating Halloween in October 2022, Netflix has released a Halloween-themed movie that is suitable for watching with the family. The Curse of Bridge Hollow film stars famous comedian Marlon Wayans and former Destiny's Child member Kelly Rowland.
The Curse of Bridge Hollow tells the story of a father who doesn't believe in ghosts, whose son even encourages his father to believe in ghosts after they accidentally turn on a cursed lantern. What is the full story and how does it rate? Check it out below, come on!
The Curse of Bridge Hollow movie synopsis
Release year 2022
Genre Adventure , Comedy , Family , Fantasy , Friendship , Horror , Mystery , Supernatural , Teen , Horror , Youth
Production Ugly Baby Productions
Director Jeff Wadlow
Cast of Priah Ferguson Lauren Lapkus Marlon Wayans Nia Vardalos Holly J. Barrett
Howard Gordon (Marlon Wayans) and his family have just moved from an apartment to a residential complex in a small town called Bridge Hollow. When he arrived at the complex, he was quite surprised to see the amount of Halloween decorations and decorations in the neighbors' homes.
More than just decorations, there are many spooky drawings on display in the neighbor's yard such as zombies and clowns. It turns out that the residents of Bridge Hollow are actually celebrating Halloween.
All residents are very enthusiastic about home decoration. But Howard didn't care because he was not one to follow the tradition of such celebrations.
To get used to his new environment, Howard brings his wife, Emily (Kelly Rowland) and their son, Sydney (Priah Ferguson) to the city centre. They had a chance to meet the mayor of Bridge Hollow, who told him about stingy Jack's origins.
Again Howard found it odd and unimportant. Howard then takes Sydney to a local museum, but Sydney refuses and prefers to explore the city alone.
Sydney then enters the cemetery complex at Bridge Hollow. He accidentally meets 3 teenagers about his age, namely Mario, Jamie and Ramona. They are a group of ghost hunters.
Mario realizes that Sydney has moved into the infamous Hawthorne house. They say that Madame Hawthorne, a gypsy expert and former owner of the house, lived and died in the house.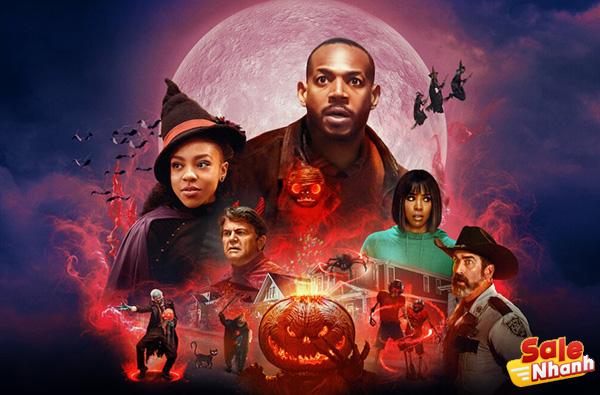 Ramona then asks Sydney to find out if there is ghost activity in her house. Sydney, who is really interested in mystical things, looks very excited. When he returns home, Sydney plays with a seance app via his Ipad.
It didn't take long, it seemed the meeting was successful. Sydney's bedroom door suddenly moved on its own. Sydney also tracks the movement of souls to a barn.
In the warehouse, he finds an old photo album. Sydney also found a storage box with an old pumpkin-shaped lantern inside.
Sydney then tells what she found to her father and mother. He was convinced that there were other people living in their house. But his father, Howard, mocked him. Sydney doesn't care and still believes what she sees.
Although his father was a man of great respect for science or scientific truth, Sydney did not care. He decided to participate in the Halloween festival. He started looking for costumes and decorating their house with Halloween decorations.
Seeing that, Howard seemed displeased. Howard threw away the Halloween decorations. Sydney, who was lighting a fire in an old pumpkin lantern, seemed apathetic and stuck with her desire to celebrate Halloween.
Howard tries to put out the fire in the old pumpkin lantern, but strangely it comes back to life. Time after time Howard tried to put out the fire, time after time the fire was rekindled.
Howard ended up throwing the old pumpkin lantern in the trash. But a surprising thing happened. Suddenly, the old pumpkin lantern brought to life the bat-shaped ornament lying in the trash.
The bat flies around the house and frightens Sydney and Howard. The bat then flew out of the house. His fiery red eyes can bring other objects to life, especially the Halloween dolls in the yard.
Immediately, the zombie forms came to life and terrorized the inhabitants of Bridge Hollow. Then what really happened? You can watch the movie until it's over!
The Curse of Bridge Hollow movie review
The plot is simple and interesting
Judging from the plot, the characters involved, the dialogue and other elements in it, this movie seems very suitable for the whole family to watch. The reason is, the plot presented is also very light, not lengthy for children to understand.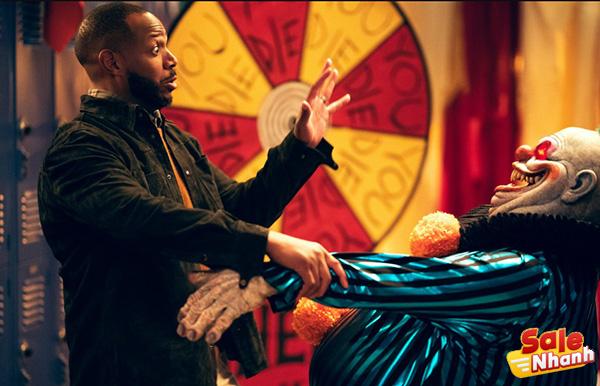 The film's content revolves around the story of a father who does not believe in the existence of ghosts and his son who is really interested in the occult.
The child who accidentally lights up a lantern turns out to release an evil power that can give life to inanimate objects. From there, the father and son adventure begins where the two work together to end the curse.
In addition to being animated with Halloween-themed backgrounds and props that kids will easily enjoy, this movie presents scenes of dialogue and just the right amount of humor.
The jokes and silly moments presented don't feel overdone, although I had little hope that there would be more comedy, with the main character Marlon Wayans present here.
Conflict related to real life
Family movies often feature conflict between families. The film The Curse of Bridge Hollow itself focuses on father-son conflict, where Howard is an extremely compliant father of logic and science.
Howard doesn't want to believe things that happen outside of reason. As a result, Howard became obsessed with directing his son, Sydney, to join the school's various clubs that were more academically based, such as the science club.
Meanwhile, like most kids, Sydney isn't really enthusiastic about science. He is more interested in the paranormal. It is common for parents to impose their will on their children in real life.
In some scenes, though, it shows how science can help fix problems that occur. This movie tries to show that what parents want is not always wrong. Because in the end, science will always be useful and can be used in any condition.
Horror foods adults can enjoy
This movie is indeed more geared towards children, but that doesn't mean it isn't loved by adults. You as an adult can still be very entertained with this movie.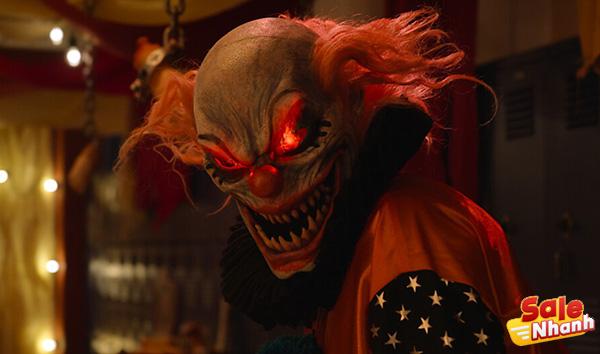 Although the plot is simple, this movie has enough 'horror' vibes, especially through the zombie and clown images that seem to be able to live because of being possessed by the spirit. Applause for the art and wardrobe team for successfully showing off a sloppy figure!
Therefore, some scenes can be quite heartbreaking for children so children still need support when watching this movie.
The Curse of Bridge is said to be the complete family film package because it has almost all the elements needed in a family movie.
From the beginning of the adventure of father and son to fight the forces of evil, the comedy is quite entertaining, the conflict resolution also very applicable to real life.
So, although this movie is quite thick with fantasy elements, in terms of conflict and resolution, it can still be applied to real life.
That is the comment of The Curse of Bridge Hollow. Even though Halloween has passed, this family-themed movie is still fun to watch with family during the holidays. Have you watched it yet? Don't forget to share your opinion in the comment section!
Salenhanh – Product review blog
Address: 115 Nguyen Van Qua, Tan Hung Thuan Ward, District 12, Ho Chi Minh City
Website: https://salenhanh.com/en
Mail: Salenhanh.com@gmail.com
#salenhanh #Reviewsalenhanh