A prison is a place to keep a group of criminals who are serving their sentences for the crimes they have committed. This place is very synonymous with violent acts and high fighting among prisoners. In fact, there are some prisons that torture their prisoners.
So it is certain that many prisoners want to escape from that "cursed" place. There are two options for them, the right way or the wrong way. This second option tends to be more popular and is practiced by prisoners who want to return to their criminal world.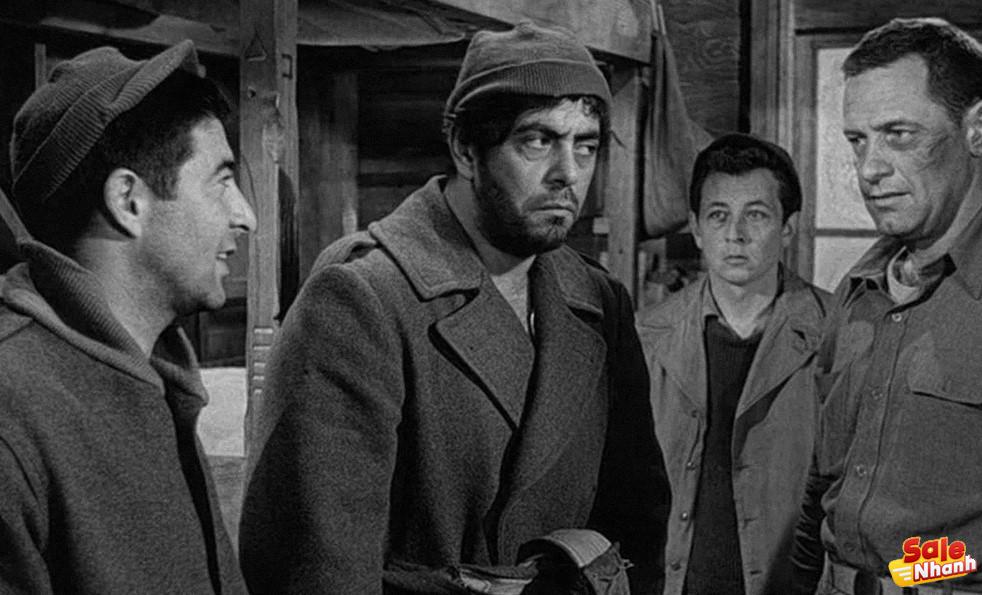 The topic of prison escape certainly did not escape the eyes of filmmakers. Many films are produced showing the prisoners' escape plans in their own ways, very dangerous of course and some of them seem very original and brave.
Here, we have selected 10 best films, representing each generation of cinema, this is a film that never lacks ideas to reproduce movies with this theme.
Stalag 17 [1953]
Release year : 1953

Genre: Comedy, Drama, War

Directed by: Billy Wilder

Actors: William Holden, Don Taylor, Otto Preminger

Production company : Paramount Pictures
The classic film that earned William Holden Best Actor honors from the Academy Awards tells the story of American fighter pilots imprisoned in German camps during World War 2. While Incarcerated, they thought of escaping the camp.
But that's not the only problem they face. Among them was a German informant who always divulged secrets about the combat missions of American troops and their allies. Through a trick question before escaping, the informant was captured and removed by them when they tried to escape the camp.
The Great Escape [1963]
Release year : 1963

Genre: Adventure, Drama, History

Directed by: John Sturges

Actors: Steve McQueen, James Garner, Richard Attenborough

Production company : The Mirisch Company, Alpha
The film, starring leading actors, was inspired by a non-fiction book by Paul Brickhill about the massive escape of British soldiers held in German camps in Poland. in World War 2.
To add to the fun of the film, some fictional elements were included, including the addition of American soldiers who played a key role in the escape plan, who had experienced numerous failures, Fictional events and fluent dialogue with a hint of comedy. .
As its title suggests, this John Sturges movie is one of the best ever made by Hollywood with a star-studded cast of then-stars like Steve McQueen, James Garner and Richard Attenborough. Until now, watching this movie is never boring.
Cool Hand Luke [1967]
Release year : 1967

Genre: Crime, Drama

Directed by: Stuart Rosenberg

Actors: Paul Newman, George Kennedy, Strother Martin

Production company : Jalem Productions
As someone who served as a patriot for his country and was later miserably discharged until ending up in prison, Luke has become an opponent of the system in effect in the land. country in all cases, one of which is the prison system.
His free spirit and mind were also able to influence other inmates to believe in and support him, although many inmates also felt uncomfortable and threatened by his existence in prison. jail. So he was deemed dangerous and shot during his escape. His life was not saved.
Paul Newman, who plays Luke, did an excellent job and performed his character so well that he was nominated for the Best Actor category during the Academy Awards event. But the Oscar winner was George Kennedy as Best Supporting Actor.
Papillon [1973]
Release year : 1973

Genre: Biography, Crime, Drama

Directed by: Franklin J. Schaffner

Actors: Steve McQueen, Dustin Hoffman, Victor Jory

Production company : Les Films Corona, General Production Company, Solar Productions
The story in the film is based on the true story of Henri Charriere, a French murder defendant played by Steve McQueen in this film. Papillon itself is French for butterfly, which is Henri's nickname because of the tattoo on his chest.
His friendship with a fellow inmate named Louis Dega led them to plot their escape from the prison where they were held several times, although they were eventually recaptured. They are being held at a location in South America in the country of French Guiana.
At the end of the film, the narrator asks whether Papillon will ever get out of his freedom and live as a free man. After his release, Papillon lived in Venezuela and opened restaurants in his two main cities. He later returned to France to write his biography, which is the origin of the story in the film, which also features Dustin Hoffman as Louis Dega.
Midnight Express [1978]
Release year : 1978

Genre: Biography, Crime, Drama

Directed by: Alan Parker

Actors: Brad Davis, Irene Miracle, Bo Hopkins

Production company : Columbia Pictures, Casablanca Filmworks
The film is based on a non-fiction book by Bill Hayes, starring Brad Davis as the book's author, who was arrested by Turkish police in 1970 for being caught trying to smuggle 2 kg of hash at the airport on the way back to America.
The depiction of Turkish society, especially the police apparatus, which is presented as brutal and brutal, is controversial. For this, Bill Hayes and Oliver Stone, as screenwriters, apologized to the Turkish government. Uniquely, this screenplay won an Oscar in the category of Best Adapted Screenplay.
Billy was motivated to escape from prison because of a visit from his girlfriend in 1975. He managed to escape from his front door in a prison guard's uniform and crossed the Greek border and returned to the US three the following week.
Escape from Alcatraz [1979]
Release year : 1979

Genre: Biography, Crime, Drama

Directed by: Don Siegel

Actors: Clint Eastwood, Patrick McGoohan, Roberts Blossom

Production company : Paramount Pictures, The Malpaso Company
Once again a non-fiction book about prison escapes is brought to the big screen. This time, director Don Siegel teamed up with his lead actor, Clint Eastwood, in a thriller about the inmates' escape from the legendary high-security prison, Alcatraz.
What did these prisoners do to escape? They scraped the walls of the prison with spoons shaped like shovels. Moments later, at the right time, all three escaped through the wire fence and plunged into the sea, landing safely on the beach.
Victory [1981]
Release year : 1981

Genre: Drama, Sports, War

Directed by: John Huston

Actors: Michael Caine, Sylvester Stallone, Pelé

Production company : Lorimar Film Entertainment, Victory Company, New Gold Entertainment
This film by John Huston is said to be unique, because in addition to showing a host of famous actors, such as Michael Caine and Sylvester Stallone, professional and legendary football players have also been presented and acting, namely Pele, Bobby Moore, Osvaldo Ardiles, and several other club players. Ipswich Town, which supports the football match scene at the end of the film.
A football match between a Nazi team and prisoners from the camp was used as a way to escape. Their original plan was to escape through the stadium's underground pipeline at halftime, but they chose to end the game.
At the end of a tight round, the POWs defeated the Nazis and the crowd burst with joy as they ran onto the field. This incident was used by inmates to escape by blending into the crowd that was moving out of the stadium.
The Shawshank Redemption [1994]
Release year : 1994

Genre: Drama

Directed by: Frank Darabont

Actors: Tim Robbins, Morgan Freeman, Bob Gunton

Production company : Castle Rock Entertainment
This witty drama has been recognized for the quality of the story and performances by Tim Robbins and Morgan Freeman. His patience during 19 years to formulate and execute the escape plan has led to success as well as proper revenge on those who committed crimes against the main character.
The executed plan was so neatly arranged and kept secret to all parties, even his colleague was not given all the details of the escape. But he doesn't forget his mate and keeps his promise by giving him some money and being invited to live in his new house on the coast of Zihuatanejo, Mexico, according to their dream.
The Count of Monte Cristo [2002]
Release year : 2002

Genre: Action, Adventure, Drama

Directed by: Kevin Reynolds

Actors: Jim Caviezel, Guy Pearce, Christopher Adamson

Production company: Touchstone Pictures, Spyglass Entertainment, World 2000 Entertainment
The film adaptation of Alexandre Dumas' popular adventure book stars Jim Caviezel and Guy Pearce. The smell of revenge is very strong throughout the film, but because the protagonist has a kind heart, his revenge is also elegant but still painful.
In his story, Edmond Dantes was sent to prison for slander by his own friend. After six years in prison and arbitrary treatment, he finally found a way out by getting into the body bag of his friend who died in prison and was then thrown into the sea.
Escape Plan [2013]
Release year : 2013

Genre: Action, Horror

Directed by: Mikael Håfström

Actors: Sylvester Stallone, Arnold Schwarzenegger, 50 Cent

Production company: Summit Entertainment, Mark Canton Productions, Emmett / Furla / Oasis Films (EFO Films)
The film gathers two aging action stars, Sylvester Stallone and Arnold Schwarzenegger, who still pumped adrenaline in their bodies with pretty good action scenes directed by Mikael Hafstrom.
Stallone's role as a structural engineer earned him a reputation as a notorious prison escapee, in the context of his work as a security consultant rather than a criminal. This time he was asked to test his skills in a prison with the most up-to-date system.
There, he meets Emil, a very high-ranking and well-respected criminal. Emil has repeatedly tried to plan a prison escape and he is now helping his new friend's efforts to try to escape from the prison together which turns out to be on a giant cargo ship.
While most of the stories from the films above feature criminals as protagonists, that doesn't mean what they're doing is good. The proof is that they are locked up in prison for violating applicable laws and regulations. Some of them are even held in maximum security prisons and in the middle of the ocean.
Of course, these prison break-themed movies aim to entertain and fuel our adrenaline with excitement because of the excitement served in the film. We do not need to pay attention to the details of the actors' steps, as most of them are just fiction to spice up the excitement in the film.
Want to see a more adrenaline-challenging movie? If so, you need to read the article 10 best horror movies of all time that you absolutely must see.