Racism is the belief in the superiority of one race over another, which often results in discrimination and injustice towards one of the oppressed races. This began in ancient times, where slavery was still allowed in all human civilizations.
In the religions and constitutions of various countries and international organizations in this modern era, racism is strictly prohibited in various forms, both in the form of actions and only in the form of ideas. thought. Even so, there are still sparks of racism in social life, especially in multicultural areas.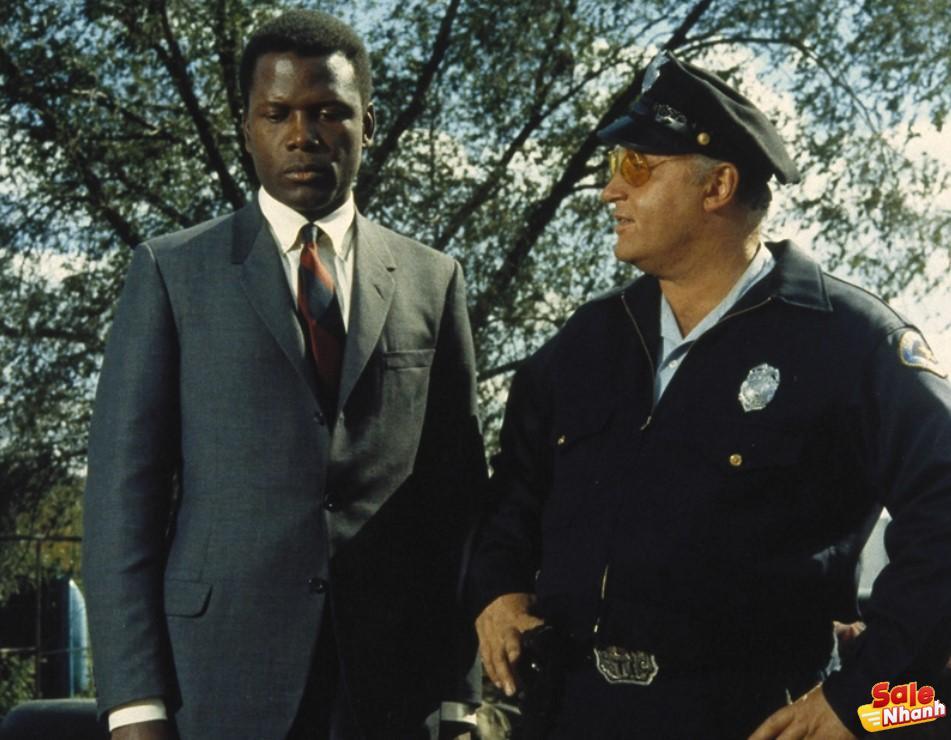 Hollywood, the cinematic mecca of the world, has always included this theme in its various works from the silent film era to the present. African-Americans are often victims of discrimination even in a country that upholds human rights, namely the United States. As a result, there are many racist films, from the slavery era to the modern day.
Here, we've picked out the 10 best movies about racism made by Hollywood, most of which tell the story of the injustice African-Americans experience in the United States.
In the Heat of the Night [1967]
Release year : 1967

Genre: Crime, Drama, Mystery

Directed by: Norman Jewison

Actors: Sidney Poitier, Rod Steiger, Warren Oates

Production company : The Mirisch Corporation
This classic film, starring Sidney Poitier and Rod Steiger, follows the police investigation into the murder of a wealthy Mississippi businessman. An African-American detective is sent from Philadelphia to lead the investigation that led to this racist practice.
Although this film is only a fictional story based on a novel by John Ball, many facts were revealed about the racist practices in Mississippi at the time, not even this movie allowed to film there until moving to Illinois instead.
The Color Purple [1985]
Release year : 1985

Genre: Drama

Directed by: Steven Spielberg

Actors: Danny Glover, Whoopi Goldberg, Oprah Winfrey

Production company: Amblin Entertainment, The Guber-Peters Company, Warner Bros.
One of the favorite films of critic Roger Ebert, directed by Steven Spielberg, this film tells the story of an African-American woman who has to experience many injustices in life such as violence, poverty, and poverty. , racism and sexual harassment.
The film starring Whoopi Goldberg and Oprah Winfrey received a lot of praise and won many awards from various world film festivals. In addition to its outstanding quality, this film also received a sizable advantage from its theatrical release.
Mississippi Burning [1988]
Release year: 1988

Genre: Crime, Drama, History

Directed by: Alan Parker

Actors: Gene Hackman, Willem Dafoe, Frances McDormand

Production company : Orion Pictures
This crime thriller, starring Gene Hackman and Willem Dafoe, is actually based on a true story. However, the names and locations of the stories were fictitious, thus causing controversy and criticism from many parties, especially the families of the victims.
This film by Alan Parker tells the story of two FBI agents who are investigating the disappearance of three human rights activists in Mississippi, who have raised suspicions that the Ku Klux Klan was killed for racism.
Crash [2004]
Release year : 2004

Genre: Crime, Drama, Horror

Directed by: Paul Haggis

Actors: Don Cheadle, Sandra Bullock, Thandie Newton

Production company : Bob Yari Productions, DEJ Productions, Blackfriars Bridge Films
The multi-star movie about racism says that acts of racism can happen out of ignorance and misunderstanding, not out of hatred towards a particular race. At least that's what the director and screenwriter, Paul Haggis, wanted to highlight.
In this episodic story, not only African Americans are the victims, but also other races such as Persian immigrants and Latino workers. All segments of the story are treated in such a way that the stories are related to each other.
The Butler [2013]
Release year : 2013

Genre: Biography, Drama

Directed by: Lee Daniels

Actors: Forest Whitaker, Oprah Winfrey, John Cusack

Production company: Follow Through Productions, Salamander Pictures, Laura Ziskin Productions
Forest Whitaker is a believable actor who truly deserves a role as heavy as in this Lee Daniels film. The film follows the life journey of an African-American White House butler who has served there for more than 30 years.
From the eyes of Cecil Gaines, we understand the many problems each American President faces in overcoming the problem of racism in his country. Even his family members were not forgiven for this racist act.
In his heart, he believes that this problem will be solved by a wise leader who is trusted by the people. His belief is also realized with
12 Years a Slave [2013]
Release year : 2013

Genre: Biography, Drama, History

Directed by: Steve McQueen

Actors: Chiwetel Ejiofor, Michael Kenneth Williams, Michael Fassbender

Production company: Regency Enterprises, River Road Entertainment, Plan B Entertainment
This film is based on the memoirs of an African-American citizen in 1841, who was later kidnapped and enslaved to work in plantations owned by white men who were prone to segregation. race. Solomon Northup experienced various tortures and sufferings while enslaved for 12 years until finally being freed from that condition and his citizenship restored to its original state.
One of the best Hollywood movies has Chiwetel Ejiofor in the lead role and many other famous actors in supporting roles like Michael Fassbender, Benedict Cumberbatch, Paul Giamatti, Brad Pitt. Director Steve McQueen received a lot of praise after winning many awards from various world film festivals.
Mandela: Long Walk to Freedom [2013]
Release year : 2013

Genre: Biography, Drama, History

Directed by: Justin Chadwick

Actors: Idris Elba, Naomie Harris, Terry Pheto

Production company: Videovision Entertainment, Distant Horizon, African Films Worldwide
It would not be correct to talk about apartheid without mentioning Nelson Mandela, a human rights activist who became a leader in South Africa who was able to tear down the wall of apartheid in South Africa. that country. This film captures the movements he has made since he was young.
Although Idris Elba did not really resemble Mandela in his youth, Mandela's warrior spirit was embedded in his every word and movement. The civil rights equality he fought for got him 27 years in prison and was eventually elected president of South Africa from 1994-1999.
Selma [2014]
Release year : 2014

Genre: Biography, Drama, History

Directed by: Ava DuVernay

Actors: David Oyelowo, Carmen Ejogo, Oprah Winfrey

Production company : Pathé, Harpo Films, Plan B Entertainment
Besides Nelson Mandela, in the US there is also a famous human rights defender with fiery statements, that is Martin Luther King, Jr. This drama represents only one of the stories of his struggle, which was the long march from Selma to Montgomery to advocate for votes for the injustice of government in the city.
Martin Luther King, Jr. played by David Oyelowo, who can present a powerful draw as an important figure in the history of fighting for human rights of African Americans. The film directed by Ava DuVernay does not focus on a character but emphasizes the events that happened.
Hidden Figures [2016]
Release year : 2016

Genre: Biography, Drama, History

Directed by: Theodore Melfi

Actors: Taraji P. Henson, Octavia Spencer, Janelle Monáe

Production company: Fox 2000 Pictures, Chernin Entertainment, Levantine Films
Fight for equal rights not only through protest and politics, but also by doing the job professionally so that their abilities are recognized and appreciated. In this film, three African-American women working at NASA had to go through a lot of discrimination until their roles were recognized in many of NASA's space missions.
The forms of discrimination and racism shown in the film, starring Taraji P. Henson and Octavia Spencer, while gentle yet still make our hearts feel pity and sympathy for those Injustice has befallen them.
Detroit [2017]
Release year : 2017

Genre: Crime, Drama, History

Directed by: Kathryn Bigelow

Actors: John Boyega, Anthony Mackie, Algee Smith

Production company : Annapurna Pictures, First Light Production
In 1967, many cases of racism spread in various parts of the United States, one of which was in the city of Detroit. Kathryn Bigelow's filmography, known for the details of the events of his films, chooses several hours to take place at the Algiers Motel.
Some of the motel's residents, who are mostly African-American, were treated with violence, racism and sexual harassment during an interrogation to find the alleged shooter from the motel. .
The actions and treatment that lead to racism are really not suitable for anyone, because basically all human beings are equal in the eyes of God, the difference is the action and the degree of faith. theirs to religion. This type of treatment will cause liver disease, harming yourself and others, both mentally and physically.
We should not be arrogant and demeaning to others, especially because of the difference in skin color and birth, because all human beings are created by God with their own unique qualities and uniqueness. we don't have to.
It is hoped that the cases of racism that still occur today can be reduced by introducing severe punishments and strict regulations to protect the human rights of every human being.