This time we will provide recommendations of the best Android games. The recommendations that we are going to share are the best online survival games for Android that are fun to play.
Recently , the games available on the Google Play Store are flooded with the same genre . In fact, there are many games with attractive genres that you can play, such as survival.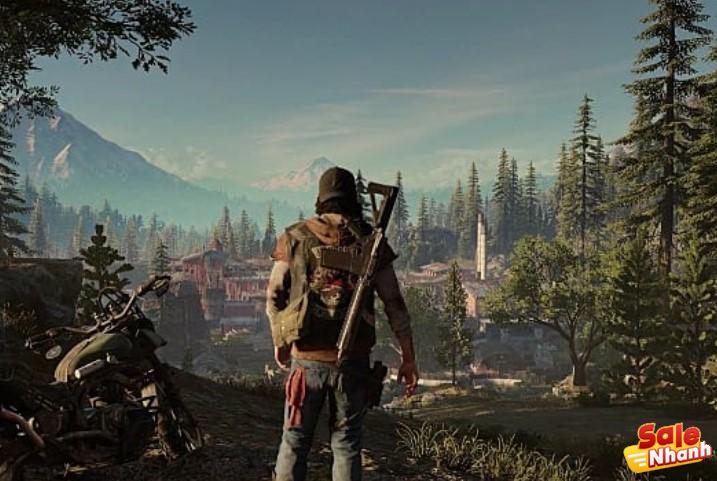 This game genre requires you to survive the various challenges that exist. Survival mission is what makes survival games enough to trigger adrenaline.
Instead of lingering, just go through the recommendations for the best Android 2022 survival game you can download on the Google Play Store.
Life After
First of all, Life After which is a game of the MMORPG genre. This game takes the zombie theme, has quite attractive and attractive gameplay.
In the game made by NetEase, you as a player will be invited to survive a zombie pandemic. In addition to surviving the onslaught of zombies, here you will be building a house to live in.
The interesting thing is that you can team up with other players to build a settlement and survive together, crafting weapons, exchanging food ingredients, etc.
PUBG Mobile
The next recommendation for the best survival game on Android is PUBG Mobile. This game presents different playable modes. Of course, every mode you run requires you and your team to defend against enemy attacks until you finally win the game, aka chicken dinner.
There are different modes this Android survival game can play, such as classic, arcade, arena, playlab and ranked arena. There are also 4 battlefields with their own characteristics: Erangel, Miramar, Sanhok and Vikendi.
Minecraft
Who doesn't know this mobile survival game? The game with unique graphics in 8-bit game style presents a fairly extensive open-world experience. Minecraft you can play online or offline.
In the Minecraft world, you can build any object you want. Not only that, there are also challenges from monsters ready to chase and devour your character.
Moreover, Minecraft is a cross-platform game that allows you to play with 10 friends at the same time. Of course, it's really fun to co-exist in the Minecraft world.
Limbo
Limbo is a pretty popular game on many different platforms. Not only Android, Limbo is also available on Xbox, PlayStation and PC.
With a rather dark setting, you will play as a child exploring a side-scrolling world filled with monsters. To survive, you must solve puzzles and avoid traps that stand in your way.
This best offline survival game will also train your brain through presented puzzles and quizzes. The black and white nuances make this game quite stressful and thrilling to play.
This War of Mine
How does it feel to live in the midst of a raging war? You will be able to feel it through the game This War of Mine. In our opinion, this one survival game offers great gameplay.
You will play as a civilian who must survive in war conditions. The character feels the lack of food, anxiety and fear as if you can feel it too.
In the middle of the game, you are faced with choices in life that are sometimes difficult but you have to accept. Such as stealing food from helpless people, killing people and various scenes can play with your emotions.
Crashlands
The best game on Android with the next survival genre is Crashlands. This game is set in space life. The strategy you do to survive becomes the key element in the game.
You are required to collect a variety of scattered items. In addition to the survival element, the Crashlands game is also filled with action and thrilling RPG elements that make it even more fun to play.
Last Day on Earth
The zombie world is definitely closely related to survival. Well, the game Last Day on Earth represents the experience of survival in the midst of an intense zombie apocalypse.
In addition to having to survive the invasion of zombies, you are also a player who has to go around in search of food. To protect yourself, you can create shelter from items found while exploring.
The location you create cannot be the original location. You have to build it with a solid fence and defense so as not to be crushed by scary zombies.
Survival Island EVO
Want to try the experience of hunting and living like ancient people? You can try it by playing Survival Island EVO game.
With a first-person perspective, you will be invited to survive by hunting for food. In addition, you can collect materials from nature to build houses and other purposes.
But beware, there is also a threat from wild animals that are ready to prey. Make sure your weapons are ready to survive amidst the cruelty of nature.
Don't Starve: Pocket Edition
Don't Starve: Pocket Edition is the next list of the best survival games on Android that you can try. In keeping with its genre, this game only requires you to survive.
Previously, this game was available on PC. However, as its popularity continued to grow, eventually Don't Starve: Pocket Edition was introduced for the mobile platform as well.
To survive, you are required to collect various items scattered in the wild and adapt to the environment you are in. Curious about the excitement in the offer? just download the game Don't Starve Pocket Edition on the Google Play Store.
Jurassic Survival
Reading the name, your mind will surely imagine the shape of a dinosaur in the Jurassic world. The game Jurassic Survival will not invite you to see the beauty of dinosaurs but must survive the attacks of these ancient animals.
Like most survival games, you can collect food and other materials that can be used to build shelters. In addition to having to survive dinosaur attacks, there is something interesting here. You can tame these ancient animals as pets. Is it interesting?
Zombie Anarchy
Zombies and survival are a unity that is hard to separate. Well, in this Zombie Anarchy game you will survive from zombie attacks.
In this game, you will be invited to build a city that has fallen due to the zombie apocalypse. Not only building the city as a shelter, you are also required to increase the number of soldiers you have.
The zombies faced are also very diverse and have different abilities. However, the soldiers you have are also equipped with many skills to fight the zombie horde.
You can play and download this online survival game for free through the Google Play Store.
Prey Day: Survival Craft & Zombie
The next survival game recommendation on Android is Prey Day. This game takes place in the year 2033, where it is said that there was a zombie apocalypse that year.
When a zombie outbreak occurs, the infection strikes violently and deadly. This left only a few people able to survive.
To survive, you are required to look for items that are useful and can help you survive zombie attacks.
To make it even more interesting, there are many secret places that you can find to get useful items that can help your adventure. Prey Day is available for free on the Google Play Store.
Grim Soul
For those of you who are interested and like fantasy themed survival games, this game titled Grim Soul is a must try.
In this game, you will be invited to survive the pursuit of evil enemies from the dark. In addition to surviving, you will also have to explore various ancient and mysterious locations in search of treasure and save survivors.
Even more interesting, you can also build a base so you can survive. The headquarters that was built was also a place to store the obtained treasures.
Republique
The next Android survival game recommendation is Republique. Here you will perform each thrilling mission and of course you will have to survive.
In the game Republique, you will play as a hacker whose mission is to help a woman named Hope escape a mysterious place.
Not only offers a variety of action, this best Android survival game also includes some puzzles that make it even more challenging. For the sake of curiosity, let's try the Republique game available on the Google Play Store.
Westland Survival
The games below will combine the survival genre with cowboy life. Westlend Survival can be played offline on Android smartphones.
In this Android survival game, you will play as a cowboy who has to survive from criminals. To catch you, these criminals have some weapons and also prepared some equipment.
In addition to avoiding ambushes by guards, here you can also collect various resources to build houses. Very interesting isn't it?
Those are the 15 best survival games for Android 2022. It will definitely be fun and stressful for you to play while waiting for the sun to set.
Salenhanh – Product review blog

Address: 115 Nguyen Van Qua, Tan Hung Thuan Ward, District 12, Ho Chi Minh City

Website: 

https://salenhanh.com

Mail: Salenhanh.com@gmail.com

#salenhanh #Reviewsalenhanh