If you are looking for a solution to upgrade from HDD to SSD, the best product today that can meet your universal needs is the ADATA SU650 SSD. With 3D NAND Flash technology, this product provides higher performance and reliability than traditional 2D NAND standard. In particular, intelligent SLC Caching improves read/write performance and speeds up hard drive operation.
Plus, the self-correcting LDPC ECC feature boosts reliability, stability, durability and ultimate performance. To assist with replacing your computer with a new SSD, it comes with the original ADATA SSD Toolbox management software and free Migration Utility operating system migration software. You can download these software on the ADATA website. With good performance and affordable price, the ADATA SU650 SSD is a great choice to upgrade your storage system.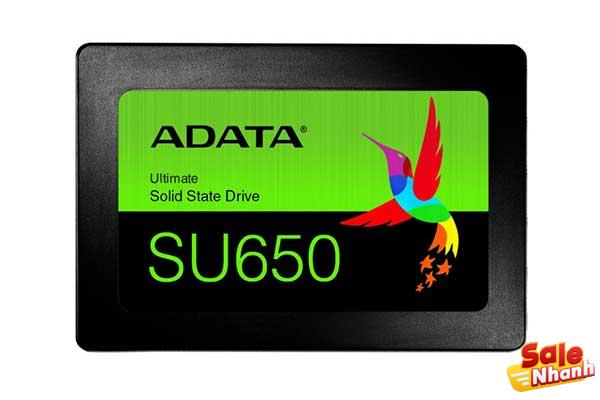 Adata SU650 SSD review review
ADATA SU650 SSD has 3D NAND Flash technology
The ADATA SU650 SSD product has been equipped with 3D NAND technology, which is an advanced technology that allows the product to store more data and effectively meet the storage needs of users. In particular, this technology also significantly improves product reliability, helping to significantly improve the Cost-Performance ratio (i.e. performance to cost) compared to other products on the market.
Not only possessing 3D NAND technology, the product is also equipped with intelligent SLC Caching for faster read / write performance and self-correcting LDPC ECC to increase drive reliability and durability. hard. In addition, the product also comes with genuine ADATA SSD Toolbox management software and free Migration Utility operating system transfer software to support users to replace a new SSD for their computer. With these great features, the ADATA SU650 SSD is a good and efficient storage solution for your needs.
SLC . Smart Caching
With the intelligent SLC storage algorithm, the ADATA SU650 SSD's NAND Flash memory can operate in single-level Cell mode, helping to maximize data read/write performance. This is especially useful for tasks that require high processing speed such as operating system boot drives or video and graphics processing tasks.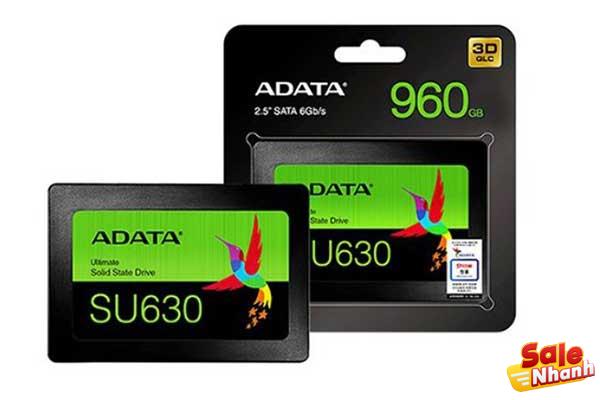 This product also integrates flexible 3D NAND technology, allowing users to choose from a variety of capacities from 120GB to 960GB depending on the needs of each person. With read/write speeds of up to 520MB/s and 450MB/s, the ADATA SU650 SSD enables users to access data more quickly and efficiently than ever before.
Owns LDPC ECC technology
LDPC ECC technology is integrated into the ADATA SU650 SSD to automatically detect and repair data errors. This helps protect data integrity and increases product reliability, stability, and durability. With this feature, users can safely use the ADATA SU650 SSD without having to worry about losing important data.
Outstanding performance
With advanced memory chip technology, the ADATA SU650 SSD enables data read/write speeds up to 10 times faster than traditional HDDs, ensuring a smooth and efficient computing experience. . Besides, because there is no rotating mechanism like HDD, the ADATA SU650 SSD works extremely smoothly and coolly, minimizing noise and temperature in the system. In addition, with absolute shock and vibration resistance, the ADATA SU650 SSD ensures data protection and increases product durability.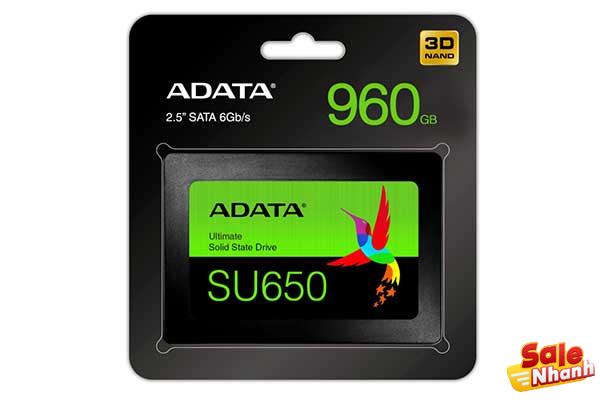 Management software included
Each ADATA SP580 SSD is bundled with the free ADATA SSD Toolbox and Migration Utility software, providing users with features to monitor, manage the hard drive's health, lifespan, and performance. The Migration Utility (Acronis True Image) tool is also a significant benefit for users when converting from HDD to SSD. It allows you to backup and transfer data quickly and easily, including the operating system.
Product compatibility
The ADATA SU650 SSD is a perfect product for those who want to enhance their computer's performance without having to worry about storage space. With a thickness of only 7mm, this hard drive is not only easily compatible with Laptops and Ultrabooks, but can also be used on Desktop computer devices. With fast read and write speed and impact resistance, ADATA SU650 will bring a smooth and stable usage experience to users.
Video introducing Adata SU650 SSD hard drive
Salenhanh – Product review blog
Address: 115 Nguyen Van Qua, Tan Hung Thuan Ward, District 12, Ho Chi Minh City
Website: https://salenhanh.com/en
Mail: Salenhanh.com@gmail.com
#salenhanh #Reviewsalenhanh