The movie Saw 5 is no longer directed by Darren Lynn Bousman and is directed by David Hackl as his directorial debut on the big screen.
In Saw 5, this time we will be following FBI agent Peter Strahm, who tries to track down detective Mark Hoffman after discovering his identity as Jigsaw's apprentice and new serial killer.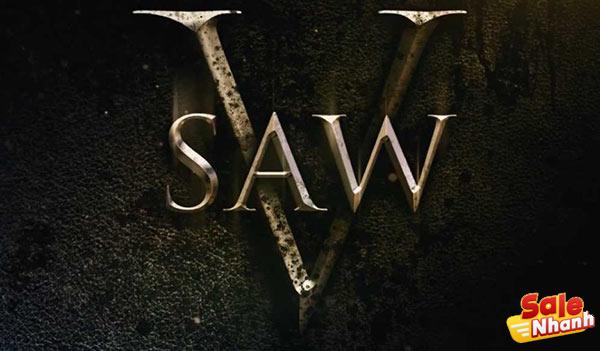 Meanwhile, Hoffman is assigned by John Kramer alias Jigsaw to continue his work if he dies. Now, he is trying to trap and kill Strahm, who has found out his true identity.
Saw 5 then explores Hoffman's background in flashbacks and explains Jigsaw's journey as an apprentice. In addition to focusing on Strahm and Hoffman, this film also continues to show the victims have to go through a series of terrifying death tests that will surely make viewers feel tense when looking at the characters in the movie. Find a way to save yourself. Let's review Salenhanh Movies through the main content of this Saw 5 movie through the review review below.
Saw Blade 5 (Saw 5) movie trailer
Saw Blade (Saw 5) movie synopsis
Release year: 2008

Genre: Horror, Thriller, Mystery

Producer: Twisted Pictures

Directed by: David Hackl

Starring: Tobin Bell, Costas Mandylor, Scott Patterson and Betsy Russell
After successfully escaping from the Jigsaw trap chamber, Peter Strahm is attacked by a mysterious figure wearing a pig-headed mask. Then Strahm woke up to find his head sealed in a box filled with water. He then poked his neck with a pen so he could breathe. In the end, he was able to survive death.
Meanwhile, detective Mark Hoffman manages to save the lone survivor of Jigsaw's trap. Then he was promoted. The Jigsaw case was closed when the serial killer died.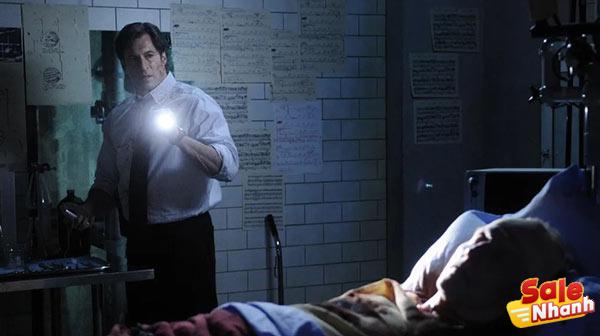 In his office, Hoffman finds a letter revealing that someone who has learned his true identity is a student of Jigsaw. He also received word that FBI agent, Lindsey Perez, was pronounced dead while investigating SWAT officer Daniel Rigg, who was set up by Jigsaw.
At the hospital, Strahm managed to recover from his condition although it is now difficult for him to speak out loud. His boss, Dan Erickson, gave him time off and advised him not to re-investigate the Jigsaw case. However, Strahm is very suspicious of Detective Hoffman. He also decided to reveal his involvement with Jigsaw.
Elsewhere, a group of Brit Stevenson, Luba Gibbs, Charles Salomon, Mallick Scott and Ashley Kazon are undergoing a series of experiments designed by Hoffman. Their necks were all stuck and they had to retrieve the key to keep all five of them safe.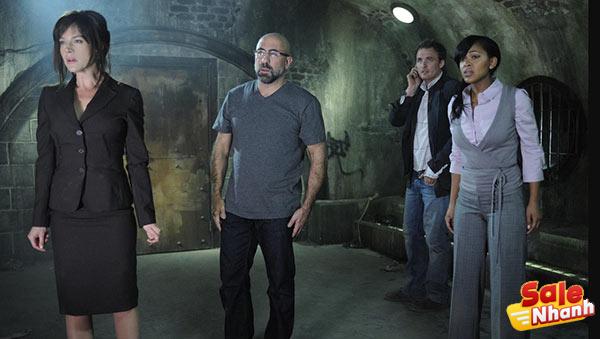 A tape then tells them that they must work together if they want to survive. However, the whole year did not trust each other.
As a result, Ashley must have been the first victim to be beheaded. In the next test, Charles must die in an explosion after Mallick, Brit, and Luba give him no room to save himself.
Mallick, Brit and Luba are the remaining victims, but they are still unwilling to cooperate. Brit and Luba then plot to kill Mallick so they can move on to the next test. However, Brit kills Luba because he doesn't trust her.
In the final test, the two worked together. They had to fill a glass with 10 liters of blood for the exit door to open. Then Mallick and Brit cut their arms to fill the glass.
Elsewhere, Strahm found Hoffman in a sewer. He then followed her into a room and found a cassette tape asking her to enter the glass case. However, Strahm attacked Hoffman. He then locked Strahm in a chest.
After placing him in a glass coffin, Strahm believes he has captured Hoffman. But unfortunately, his speculation was wrong because the chest was the way out of the room. Then the wall started moving to cover the room. Strahm must also be in a trap designed by Hoffman.
Saw 5 Movie Review
Two main characters fighting
Once again, Saw V still repeats too many elements presented in the previous films. It's hard to find a fresher approach in this fifth installment. But thankfully, throughout the 90 minutes, the story line is not too complicated. Connections from all the Saw movies continue to make this series still enjoyable to follow.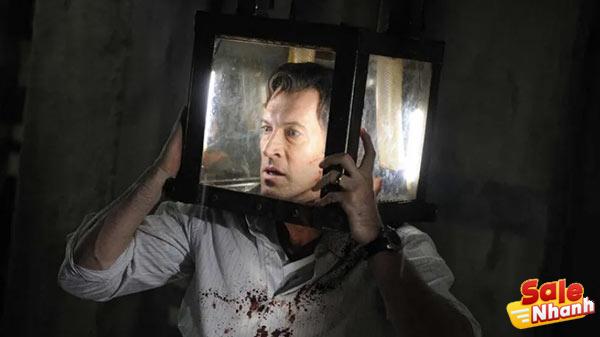 Besides, Saw V is not about John Kramer aka Jigsaw. This movie focuses more on the character of detective Mark Hoffman (Costas Mandylor) as his replacement.
Here, Hoffman can take on the role of a villain as cruel as his teacher. Even though he's a detective, his evil side feels pretty scary in sinister ways.
Costas Mandylor then did a great job in that role. He plays the character of Mark Hoffman who is cold, doesn't talk much but can be very threatening through his dangerous actions.
While not as iconic and charismatic as Tobin Bell as Jigsaw, Costas plays a fairly smooth serial killer.
On the other hand, Peter Strahm (Scott Patterson) is the second main character to become Mark Hoffman's rival. In this movie, his image looks like a "hero" trying to break Hoffman's real cover. Throughout the film, he becomes obsessed with gathering evidence of Hoffman's involvement with Jigsaw.
We will also support all his actions. However, these characters are sometimes overly ambitious, and have a tendency to do nasty stupid things. Eventually, the obsession led him to fall into Hoffman's trap and die a horrible death.
Scary but easy to understand movie
This movie is actually easier to follow when compared to the fourth installment of Saw, which feels rather confusing.
It can also be said that Saw 5 is a new chapter and doesn't always rely on John Kramer as the main villain. The image of Mark Hoffman then became a qualified substitute in spreading nightmares to his victims.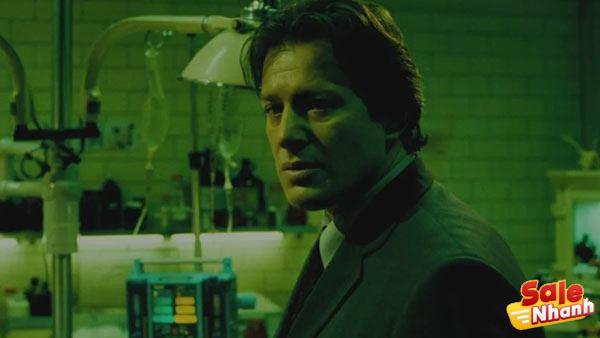 Additionally, through several flashbacks in Saw 5, we can see how Hoffman learns from John Kramer until he is finally established to continue Jigsaw's legacy. On the other hand, director David Hackl made this film as his directorial debut, which is pretty solid.
The first feature of this feature film is that the plot is neater and less messy than the previous one. David also still brings the eerie atmosphere that was built by director Darren Lynn Bousman and also James Wan in the previous four films.
Saw 5 does not lose its gripping horror content nor an uncontrollable bloody brutal murder. All those gory aspects are still going strong in this movie and perhaps even more thrilling and obvious.
The uncomfortable feeling every time I see the pieces of corpses and corpses reappears throughout this movie.
Through good cinematography in exploiting violent content, Saw 5 was also able to produce some gruesome but equally impressive death scenes. This movie seems like a more "fun" sequel to enjoy the plot as it never gets verbose in everything.
Never lose the scary tense atmosphere
Saw 5 isn't all about Jigsaw, but rather the character's journey between detective Mark Hoffman and FBI agent Peter Strahm.
The two people who play Costas Mandylor and Scott Patterson aren't really top-notch actors. However, they appear promising as two people hunting each other.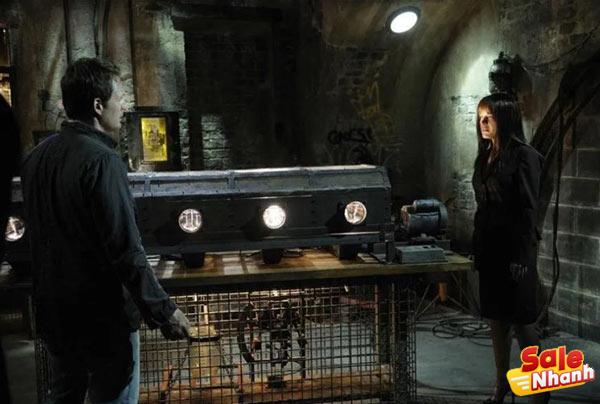 In addition, as long as this movie lasts from the first minute to the end, Saw 5 tries to show the dark and dark colors that were brought in the first two movies.
It also seems to be quite successful. Some of the locations are shown to be scary like the FBI office and the basement where the death game takes place.
In addition to the plot of this movie that highlights Hoffman and Strahm, the death trials victims are unfortunately unrelated to their scheming. All victims are shown only as a forced routine to be performed by Hoffman, who is now Jigsaw's successor.
All in all, Saw 5 certainly brings a new direction to the franchise by introducing an alternative villain to Jigsaw. However, actor Tobin Bell (Jigsaw) still appears in some flashback scenes.
Overall, Saw 5 still has a common thread with the previous Saw movies. This sequel runs more likely, and is definitely not to be missed every minute.
Salenhanh – Product review blog

Address: 115 Nguyen Van Qua, Tan Hung Thuan Ward, District 12, Ho Chi Minh City

Website:  

https://salenhanh.com/en

Mail: Salenhanh.com@gmail.com

#salenhanh #Reviewsalenhanh