This fourth sequel is the third Saw film that director Darren Lynn Bousman returns to work. Actor Tobin Bell reprises his role as John Kramer aka Jigsaw.
There are also Costas Mandylor as Detective Mark Hoffman, Scott Patterson as Agent Peter Strahm, Betsy Russell as the character Jill Tuck, and Lyriq Bent as SWAT officer Daniel Rigg.
In Saw 4, the story focuses on Daniel Rigg, who becomes increasingly obsessed with saving everyone who is a victim of Jigsaw.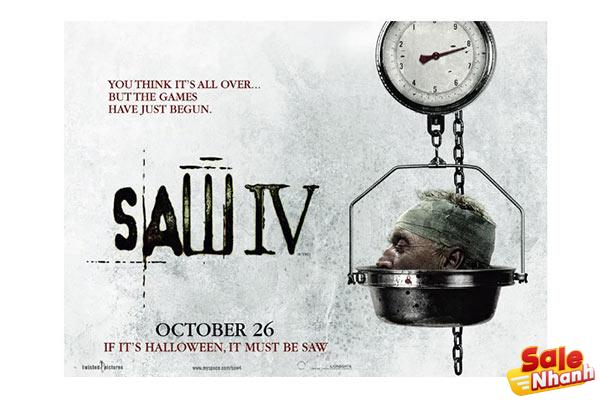 But unfortunately, Daniel is caught up in the deadly game of the serial killer. He then struggled against time to save detective Eric Matthews, who was still alive in serious injury. So how will things turn out? Let's review the movie Salenhanh through the content of the Saw 4 movie through the review review below!
Saw blade 4 movie trailer (Saw 4)
Summary of the movie Saw Blade 4 (Saw 4)
Release year: 2007
Genre: Crime, Horror, Mystery
Produce: Twisted Image
Directed by: Darren Lynn Bousman
Cast: Tobin Bell, Costas Mandylor, Betsy Russell, Lyriq Bent
Detective Mark Hoffman arrives at the autopsy room to examine Jigsaw's corpse. In his stomach, he finds a tape recording explaining that the death game will continue even though he is no longer around.
In one place, two men named Trevor and Art Blank were both chained. They were in a situation that could threaten their lives.
In that situation, Trevor's eye was sewn up. He can't even see. As for Art Blank, he had stitches on his mouth so he couldn't speak. Both must kill each other to survive.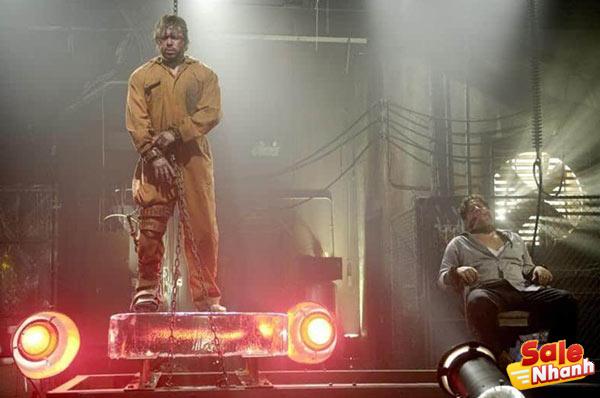 Meanwhile, the police finally found the body of Detective Kerry, who died tragically. Lieutenant Daniel Rigg and Detective Mark Hoffman later went to the scene to see the body of the colleague. Later, the two meet FBI agents, Peter Strahm and Lindsey Perez, who take on the Jigsaw murder case.
They then concluded that Amanda Young was not actually working alone. There is another Jigsaw student still hiding. After leaving the place, Rigg and Hoffman are kidnapped and participate in a series of tests that were prepared by Jigsaw before his death.
Rigg later learns that Detective Matthews is actually still alive. He had 90 minutes to save him from death.
During the first test, Rigg found a woman named Brenda trapped. Jigsaw's video then tells him not to save him, but Rigg ignores the message and helps Brenda.
After being saved, Brenda even tried to kill Rigg. But he failed because Rigg was faster to attack him first.
Next, Rigg went to a motel. He is ordered to kidnap Ivan, the inn manager, and the rapist. Rigg then forces Ivan into a trap. Not long after, his body was torn apart
In another experiment, Rigg had to save a wife and husband who were both hit by an iron pole. Time ran out, Rigg went against his conscience, and let them free the iron themselves.
Elsewhere, Strahm and Perez's agents discover that Art Blank is an attorney for Jill Tuck, ex-wife of John Kramer aka Jigsaw. In addition, he also became a lawyer for all those who were victims of Jigsaw's atrocities. But unfortunately, Art was even subjected to a series of deadly tests from the killer.
Strahm then interrogated Jill and forced her to share her background with John Kramer.
Jill went on to explain that she was pregnant with the baby, but she suffered a miscarriage after a thief, Cecil Adams, pushed the door into her stomach. On the other hand, John was declared to have brain cancer which made his life short.
After a while, their family became chaotic. The two of them got divorced. John then plans to get revenge on Adams. He managed to design a trap and force Adams to fall into a barbed wire net, eventually killing himself.
On the other hand, Rigg is on his final test. He then went into a room and found Matthews hanging, while Hoffman was electrically strapped to a chair. He is then faced with a difficult choice because he must save one of them.
Review of the movie Saw 4
Repeat the same concept
Since its debut in 2004, the Saw series has become a very promising horror movie. The first trilogy of this film also plays out quite impressively through violent content and brutal murder. So it's no wonder that 'Saw' is by far one of the most beloved and well-regarded horror horror series.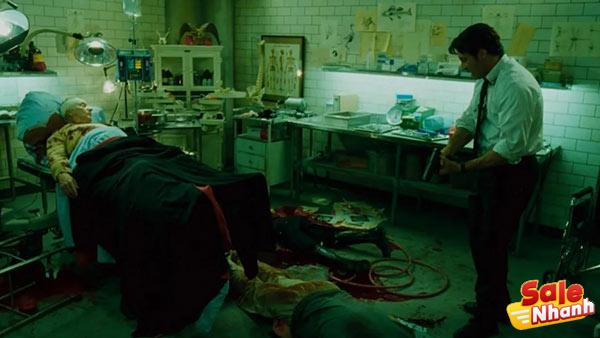 Going into the fourth season, this movie really still presents all the gore services clearly. But on the other hand, Saw 4 tends to fall into the same repeat pattern. The idea of ​​a fresh original story quickly became a monotonous story because the concept was overused.
In this sequel, the formula feels a bit oversaturated as the victims have to take a series of tests to survive. In the end, all the victims had to die tragically and none of them actually survived the test given by Jigsaw.
John Kramer aka Jigsaw actually died at the end of Saw 3. Even so, he's still in the dead game because he designed a test for Daniel Rigg before he died. .
Here, he doesn't rise from the dead, but the film leaves space for the serial killer by introducing a new villain to take the place of Jigsaw.
The killer character then manages to stay neatly hidden throughout this film. His identity begins to be revealed towards the end of the film and becomes an unexpected turn of events.
In about 90 minutes, Saw 4 plunges us into a predictable plot, but the maddening and brutal side is still terrible.
Jigsaw .'s Alternate Disclosure
Not only does it act as a sequel, it can be said that Saw 4 also has an opening function. In a short while, we will be invited to learn about Jigsaw's background that has not been revealed in the previous three films.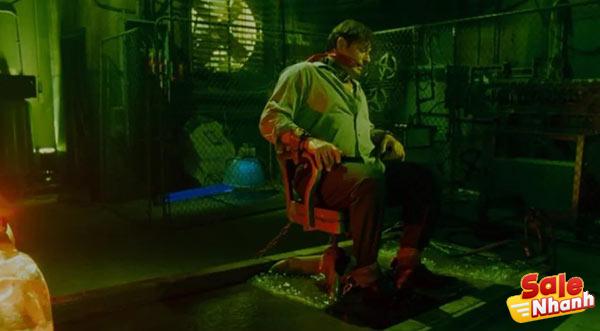 In addition, there are several scenes that provide a background story of the character's journey from the new assassin to replace Jigsaw.
Since it acts as both a sequel and also an introduction to Jigsaw's life story, this film often presents several flashback moments to create a complete general sequence. However, this way is also a bit complicated. We felt "forced" to string together the puzzles one by one to link to previous Saw movies.
Like the previous film, Saw 4 opens with a scene that is not too wordy and thrilling right from the opening act. Although the character Jigsaw (Tobin Bell) is said to have passed away, he still has an important influence on the overall plot of this film.
Furthermore, the four core characters like detective Mark Hoffman (Costas Mandylor), agent Peter Strahm (Scott Patterson), Daniel Rigg (Lyriq Bent) and agent Lindsey Perez (Athena Karkanis) are all in a difficult situation. towel.
They believe that even though Jigsaw and Amanda are dead, there is still a student to take his place as the serial killer.
The four characters then all had the same bad luck when they were caught in the trap of Jigsaw as well as the new assassin. Meanwhile, towards the end of the film, we're surprised to discover that Detective Hoffman turns out to be the killer character replacing Jigsaw.
Since the beginning of his first three films, Hoffman has worked closely with Jigsaw in planning an entire series of murder experiments on his victims.
Hoffman is said to have been his first student before Amanda joined Jigsaw. This character is just as ruthless as his teacher in killing his victims.
The movie is still testing adrenaline
Overall, Saw 4 is still "fun" with the violent, brutal content that has been brought in from the first three movies. The movie runs pretty solidly and still delivers gruesome images full of blood and disjointed body parts.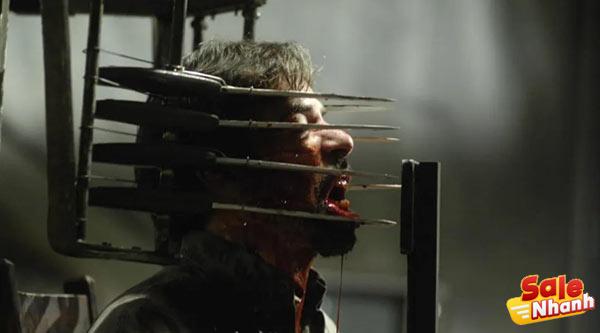 Other than that, the cinematic element of this 4th sequel isn't too special and still resembles the direction Darren Lynn Bousman took in Saw 2 and Saw 3. The camera angle sometimes moves too fast to navigate from scene to scene. other.
It also tends to make us feel dizzy while watching it while the jumpscare aspect is not very successful. Saw 4 still offers a scary side that fans of horror movies with brutal gore concepts like.
This movie may seem monotonous because it presents the same formula, but it's still quite enjoyable and also really challenging for adrenaline to watch. In short, Saw 4 is a series of Saw movies that must be enjoyed from start to finish.
Salenhanh – Product review blog
Address: 115 Nguyen Van Qua, Tan Hung Thuan Ward, District 12, Ho Chi Minh City
Website:  https://salenhanh.com/en
Mail: Salenhanh.com@gmail.com
#salenhanh #Reviewsalenhanh