Anime Romantic Killer is an adaptation of the manga of the same name. An Original Animation (ONA) premiered on Netflix on October 27, 2022. This anime has 12 episodes and belongs to the romantic comedy genre.
As Hoshino Anzu, a female gamer who only thinks about three things: video games, chocolate snacks, and cats. With just these three things, Anzu always lives happily.
But Anzu's encounter with the love fairy, Riri, forces him to play an otome game in the real world. All normal life was changed in an instant. And what happens when three important things in Anzu's life are taken away?
Romantic Killer movie synopsis (2022)
Release year 2022
Genre Anime , Comedy , Romance
American production
Director Kazuya Ichikawa
Cast Rie Takahashi Mikako Komatsu Yuichiro Umehara Gakuto Kajiwara
Anzu, a high school girl who doesn't really care about love stories. She's just a girl who loves games, chocolate, and her pet cat named Momohiki. Then, one day, a pack of video games that Anzu had ordered arrived.
Anzu is excited and ready to play all night to finish his latest game. When Anzu started playing the game she just bought, suddenly a small creature named Riri appeared and said she was a love fairy.
Riri also explained the reason for appearing in front of Anzu. He intends to help Anzu, who has never thought of love, find a boyfriend. Anzu is one of the test candidates for the real-world simulation game.
So Riri will make Anzu feel surrounded by ikemen (handsome) men and live a romance with these men. Various romantic scenarios were also prepared by Riri for Anzu.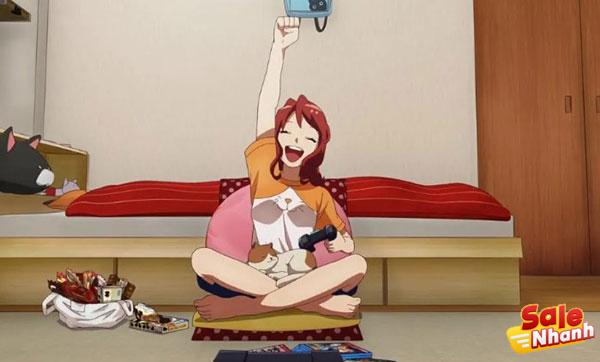 In order for her plan to work, Riri removed three important things from Anzu's life. On top of that, Riri also devised another scenario to make sure Anzu's parents didn't get in her way.
Anzu's parents were unexpectedly moved to America and brought their beloved cat there. And now, Anzu lives alone in her house, according to Riri's plan.
Anzu is annoyed and vows to thwart all of Riri's plans. Anzu was even determined to become a "Romantic Assassin" until Riri stopped and returned to her normal life.
Riri devised a series of plans to make Anzu feel like a real-world otome game. It begins with his encounter with a "cold" handsome man named Tsukasa. And to my surprise, it turns out that Tsukasa is a popular student at his school.
The next meeting with handsome men was with Junta. Another popular student plays baseball at Anzu's school. And what's more surprising, Junta is her childhood friend who has been forgotten by Anzu. There is also Hijiri, a wealthy student who has many fans.
Anzu hopes to escape Riri's hostage and avoid any situation that could turn romantic. Throughout the story, Anzu develops a sincere relationship with his potential girlfriend. And Anzu must direct their feelings, also wanting to protect them from Riri's schemes.
The test plan given by Riri is increasing day by day. Will Anzu succeed in stopping Riri's plan? Or is he even stuck in the romantic situation Riri expected?
Romantic Killer movie review
Follow the story of Anzu and the love fairy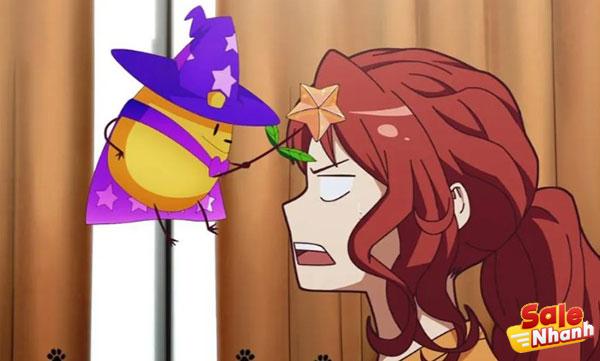 The story in this anime follows the main character, Hoshino Anzu, a gamer girl and a love fairy, Riri. Anzu is a main character nicknamed "non-main player". Since childhood, Anzu has been fascinated with games, unlike most girls his age.
Anzu is also very uninterested in love stories and prefers playing otome games to having a boyfriend. He's a pretty straightforward, logical character and really cares about those you're having trouble with.
Meanwhile, Riri is a witch whose mission is to help Anzu have a lifelong romance. He is quite charismatic and always uses various ways to soften Anzu's romantic mood.
Sometimes Riri can transform into a man and woman claiming to be Anzu's cousin. Often one of Riri's humanoid figures appears with the intention of creating romantic conspiracies.
But Riri's character, who was supposed to complete the quest, starts to get hooked as she gets to know Anzu better. He even violated the witch's work policy to help Anzu.
As Riri tries her best to create a romantic atmosphere and help Anzu get a girlfriend, Anzu herself always tries to thwart Riri's plans.
The story is ridiculous and not dramatic
Although there are elements of romance, out of the 12 episodes of this anime, all of them have ridiculous stories and are not thrilling. You will always enjoy the absurdity of Anzu and Riri as well as some other characters.
All the male characters who become Anzu's potential boyfriends have different characteristics. But everyone is always nice to Anzu in their own way. They also often like Anzu as a friend. Though two of them, Tsukasa and Hijiri, started to like Anzu as the opposite sex.
While Junta, he has liked Anzu since childhood, he just doesn't have the courage to confess his feelings to Anzu. Instead of feeling clumsy, I even resented the anime's reverse harem romance. All the characters also have their own development.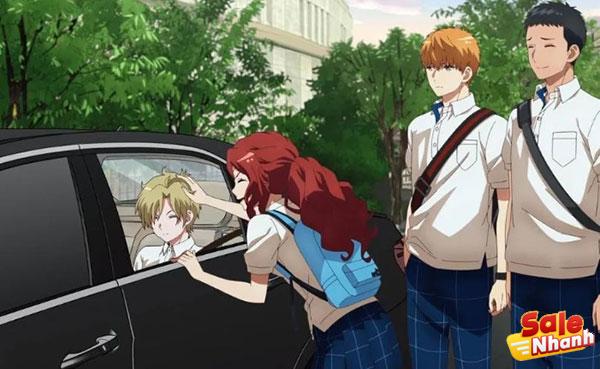 Tsukasa, who was initially like the "Ice Prince", started to become more open-minded. Junta, who was originally cowardly, has become a character trying to become stronger. And Hijiri, who is a proud character, gradually learns to be more humble, although sometimes appears tsundere attitude and overconfidence.
And what is quite interesting about this anime, it turns out that the men who become Anzu's potential boyfriends are not fictional characters. They were all existing original characters, but Anzu had never known them before.
It's just, they're a selection of characters that are part of Riri's plans to become Anzu's potential partners. Their background is clear, not manipulated.
Open end
The plot of this anime runs very gently and appropriately. The cinematography is also beautiful so it's fun to watch. Moreover, the visual expression is perfect for all the characters.
But at the end of the story, even though it ends with a happy ending, I think this anime has great potential for a second season. Since Riri's quest for Anzu has yet to be completed, especially in the last few minutes with the words "Continued?", the story is very likely to continue in season 2.
In my opinion, this Netflix anime series is the best anime series. In fact, the rating on IMDb has so far reached 7.6. While on MyAnimeList it has an 8.23 ​​rating. Pretty high rating, right?
So I strongly recommend you to watch this anime. Especially for those of you who like romantic comedies that are not dramatic. Has anyone seen this cartoon?
Salenhanh – Product review blog
Address: 115 Nguyen Van Qua, Tan Hung Thuan Ward, District 12, Ho Chi Minh City
Website: https://salenhanh.com/en
Mail: Salenhanh.com@gmail.com
#salenhanh #Reviewsalenhanh