The Canon MF735Cx printer  is a brother to the Canon MF635Cx laser multifunction printer , but more powerful and versatile with NFC near-field connectivity. You just need to perform the "Touch – Print" operation and you're done. Besides, combined with V2 Color Technology, developed by Canon , MF735Cx and MF635Cx become a pair of duplicators specializing in printing high-quality documents for professional offices. Salenhanh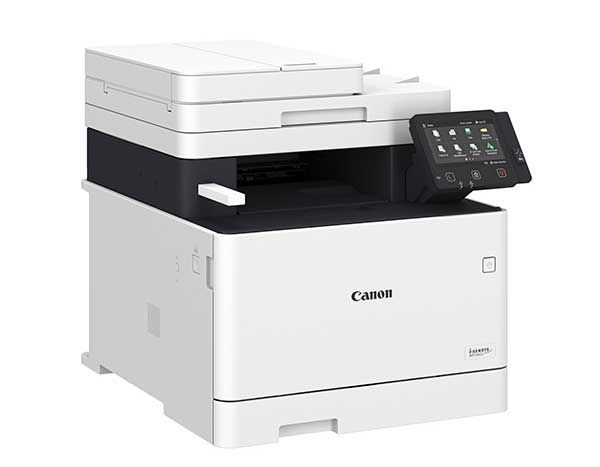 Detailed review of Canon MF735CX printer product
Compact and convenient design
The shape and appearance of the MF735Cx color multifunction laser printer is exactly the same as that of the MF635Cx from the position of the control screen, the USB hole to the color. But there is still a point for you to distinguish is the NFC area right on the right side of the panel. This is where the NFC near-field connection function is implemented. Just touch your mobile device with NFC and you can print easily.
The dimensions of 471 x 469 x 460 mm (DxRxC) and the weight of 24.5kg also make it need a separate table to place on.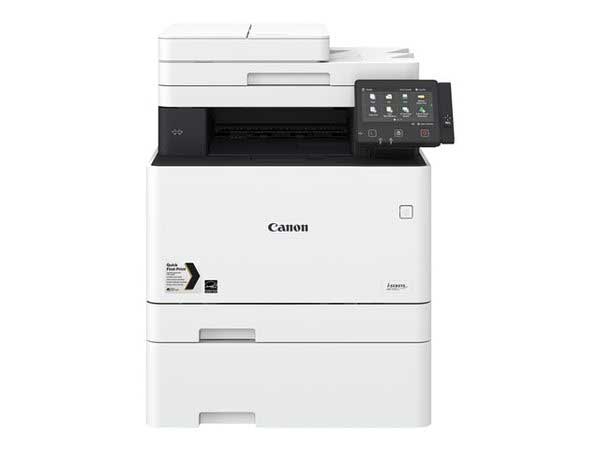 Convenient paper feed tray
The standard 250-sheet input tray, up to 50-sheet multi-purpose tray, and 150-sheet output tray help tackle heavy workloads. And yet, you can still "customize" this machine with a 550-sheet paper feeder, increasing the total capacity of the Canon MF735Cx to 800 sheets, terrible yet?
Modern control panel, easy to use
The control panel is the same as the MF635Cx when it is a color LCD touch screen with full display information to help you easily monitor your printing process and promptly intervene when there is a problem.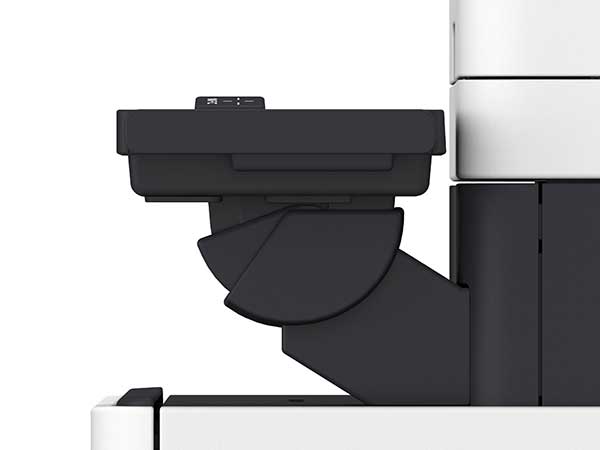 Flexibility in each printing operation
The multifunction color laser printer MF735Cx can perform 4 functions of printing, scanning, copying and faxing. Especially, the MF735Cx also has an automatic 2-sided printing feature that is both convenient and economical.
Exceptional print speed
Print speed up to 28 ppm, shorten your printing time quite a bit. The MF735Cx only takes about 8 seconds to print the first page since booting. This is enough to see how fast this machine is.
Convenient connectivity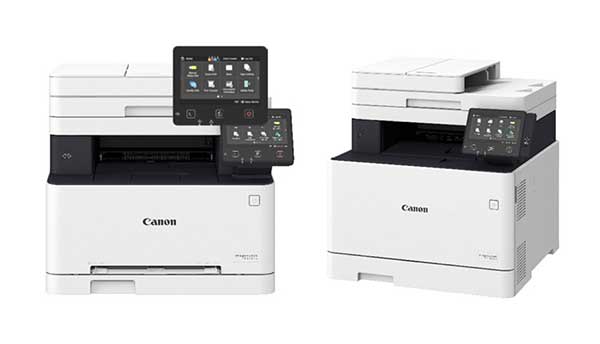 Regarding connectivity, you can connect in many ways. Traditionally, there is a USB 2.0 cable, an internal network cable. Modern has Wi-Fi and NFC features. With the NFC feature, you just need to touch the mobile device to the receiver of the machine to be able to proceed with printing.
Or you can also print remotely thanks to the mobile printing feature through applications such as Canon PRINT Business, Apple AirPrint, Google Cloud Print… Just install these applications on your machine and you can Borderless printing experience.
Canon MF735CX Printer Toner Cartridge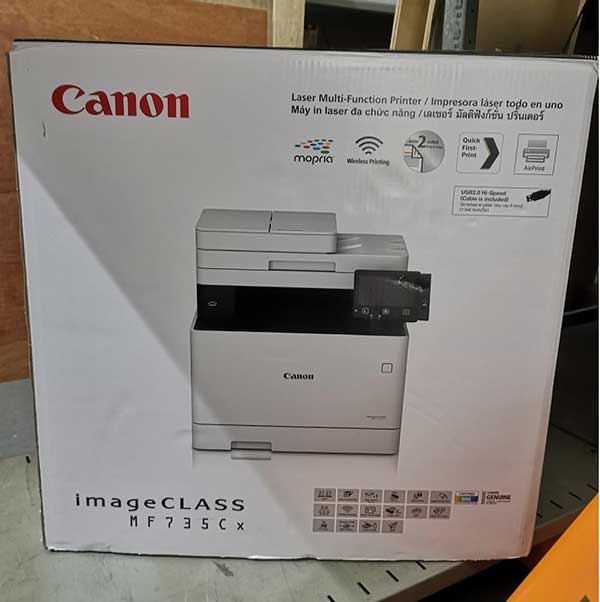 Canon MF735Cx printer uses standard 046 ink cartridge for a capacity of 2200 black and white pages and 2300 color pages. Or you can use the 046H high capacity toner cartridge for up to 6300 black and 5000 pages of color. Of course, if you want to save money, use Greentec compatible ink produced by Toan Nhan itself, which has been thoroughly tested and certified for printers.
Should you choose Canon MF735CX printer?
The Canon MF735CX printer is a line of outstanding printers with print speeds of up to 28 pages per minute, providing small and medium-sized offices with a convenient, cost-effective printing solution.
If you are in need of choosing genuine Canon MF735CX printer , good price, Toan Nhan office machine is the most suitable address for you. With more than 10 years of experience in the business of printing ink products, office printers.