The games among us will come with Virtual Reality (VR) technology support. The game, titled Among Us VR, will launch in November 2022.
Already announced from Engadget on Wednesday (October 12, 2022), Among Us VR is the result of a partnership between Innersloth, Schell Games and Robot Teddy. After going through various stages of development, Among Us VR is finally ready to launch on November 10, 2022 on Meta Quest 2 and Steam.
"Get ready, comrades! Imposters are free from November 10, 2022," the account tweeted @AmongUsVR.
In terms of game concept, the Among Us game with VR technology is almost similar to the 2D version of the game. The friendship destruction game will ask crew members to identify scammers or impostors on a ship.
As for the impostors, they were tasked with killing all the crew on board without being caught. The difference is, if you play with VR technology, the game feels more intense.
In addition, players can also use hand expressions when accusing others of being an impostor or defending themselves when accused of being an impostor.
Previously, the game Among Us was made by a developer called InnerSloth Studio. The development team that created the game Among Us includes Forest Willard, Marcus Bromander, and Amy Liu. The three of them became the characters behind the success of Among Us.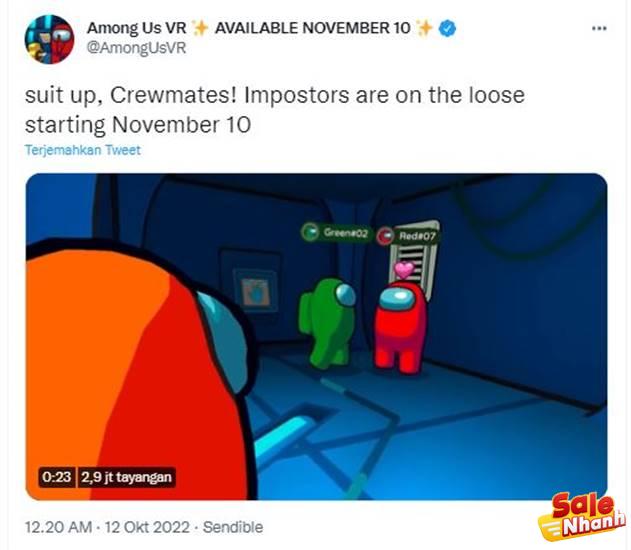 Then during the Covid-19 pandemic, the name Among Us became popular. The reason is that many influencers on the YouTube and Twitch platforms are already using Among Us. So many people are curious to try this game with simple gameplay.
The game continues to be successful. Based on data from Sensor Tower, Among Us has been downloaded over 85 million times worldwide. The biggest download spike occurred between August and September 2020.
The pinnacle of this game's glory was at The Game Awards 2020. The Game Awards is an annual award ceremony for various achievements in the video game industry.
Among us won two categories, which are Best Mobile Game or Best Mobile Game and Most Multiplayer. Among us can beat other interesting games such as Call of Duty Mobile, Genshin Impact and Legends of Runeterra.
Salenhanh – Product review blog
Address: 115 Nguyen Van Qua, Tan Hung Thuan Ward, District 12, Ho Chi Minh City
Website: https://salenhanh.com
Mail: Salenhanh.com@gmail.com
#salenhanh #Reviewsalenhanh