Unlike her brother Yun Bok, Yun Jeong has been very good at painting since childhood. The father did not want to admit it and thought that his daughter did not dare to draw. One day, it was because of his painting that he had to lose Yun Bok and take with him the pain and guilt of his father.
Poor Yun Jeong was blamed and held accountable for the incident. He was required to become a man in order to enter the palace and become a painter there. Studying with Kim Hong Do, Yun Jeong's painting won praise from King Jeongjo. Until one day, an event changed his life.
Yun Jeong loves a man. That man was also the first to discover that Yun Jeong was actually a woman. So, can the relationship between the two go well?
How do people react when they learn that the great painter is a woman? The movie Portrait of a Beauty (2008) will give you the answer, but before that never have a headache when reading the summary and a little review below!
Portrait of a Beauty movie synopsis
Release year: November 2008
Genre: Drama, Historical Drama, Romance
Producer: Yedang Entertainment Company, Iroom Pictures CJ Entertainment (Distributor)
Directed by: Jeon Yun Su
Actors: Kim Min Sun, Kim Young Ho, Kim Nam Gil, Choo Ja Hyun
Several adults gathered and praised the painting of a boy calling himself Shin Yun Bok. Along with her father, Shin Han Pyeong (Park Ji Il), Yun Bok must face their praises.
A descendant of a royal portrait painter, his work is considered worthy of pride. One of the relatives asked Han Pyeong to train Yun Bok well so that their family's glory would return.
However, now this trend is being set by Kim Hong Do, an artist whose work is very popular with the king. To change it is certainly not an easy thing. One of them then wanted to see Yun Bok draw with his own eyes. Meanwhile, from afar, a little girl named Yun Jeong is peeking.
The request couldn't be refused but Yun Bok looked very nervous, sweating, in tears and even drenched in sweat. The boy just held a brush and never started scratching.
This angered Han Pyeong. He felt that he had been humiliated in front of so many people. Overcoming his anger, he searches for Yun Bok. Unfortunately, Yun Bok took an unexpected stance. The boy chose to hang himself.
Han Pyeong doesn't accept her son's death and blames Yun Jeong for all the tragedies, who turns out to be his biological daughter, as Yun Jeong is Yun Bok's younger sister. The burden of sorrow was immediately given to him. Han Pyeong said that in addition to cheating by humiliating their family, Yun Jeong was also the cause of her brother's death.
The man still couldn't accept that his daughter dared to draw. He tore the girl's clothes leaving her topless. When Yun Bok's ashes were thrown into the sea, Yun Jeong dressed up as a boy. His father asked him to study with Kim Hong Do.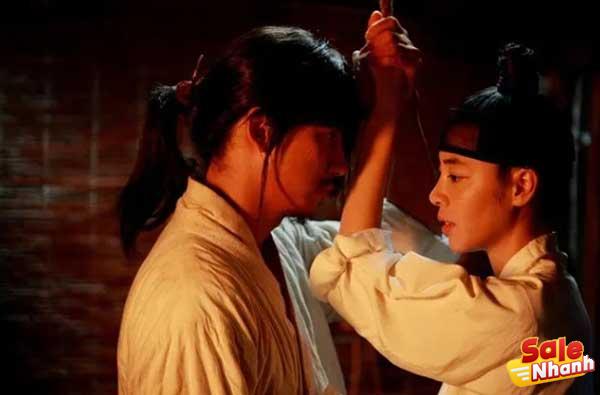 He said that although Kim Hong Do was famous for treating everyone fairly, no one knew what was on his mind. The man ordered his daughter to show respect to Kim Hong Do, because after all, all teachers will be defeated by their best students.
Ten years later, Yun Jeong (Kim Min Sun) grows up into a teenage girl dressed as a boy. He is shown a painting with the sound of a musical instrument from his teacher, Kim Hong Do (Kim Young Ho). Yun Jeong has great imitation skills, but Hong Do wants his students to follow his heart and paint his own pictures.
That day, among other court painters, Yun Jeong was praised by the king. He was introduced as Shin Yun Bok. The king himself said that the paintings could depict perfect behavior and high integrity.
The main virtues, can be displayed through elegant calligraphy. The king then asked Yun Jeong to come to him to explain the meaning of the painting he had made.
At first, Yun Jeong's answer did not please the king, but the girl could handle it. The king then commended the royal painters by saying that they were more than craftsmen.
Their artistic style represents the style of the whole kingdom. Then the king ordered the royal painters to study literature and art, and then make paintings that reflected the kingdom's glory.
The story continues by showing the uproar in a market. The crowd shows that this place is a busy market. Amidst the busyness, a bronze mirror dealer named Kang Mu (Kim Nam Gil) is surrounded by girls. However, soon news of the mirror's existence drove them to leave.
Kang Mu immediately packed his goods because he saw the arrival of the officers. He had to run away because he didn't have a business license. The man ran through the crowd while being chased by officers. He was captured and managed to escape again. Unfortunately while running, he collided with Kim Hong Do and the worker carrying the original mirror.
As a result, both fell at the same time and the mirror broke. The owner can only lament and do not know what to do. The precious mirror seems to be someone's order. As a form of responsibility, Kim Hong Do, who was traveling with Yun Jeong, as well as Kang Mu, had to meet the person.
The owner of the mirror requested a painting worth 10,000 as a condition of exit. Otherwise, the long beaten Kang Mu would become his slave. Hong Do agrees, but his hand is injured, so he assigns the task to Yun Jeong. Unable to resist, Yun Jeong began to stroke the brush in front of them.
The picture is finished. A woman suddenly appeared between them as if helping to translate Yun Jeong's painting. He said the painting shows a wandering monk who was Shide from the Tang Dynasty, an aristocrat who lived as a beggar to take care of the poor all his life.
The woman identified as Sul Hwa (Choo Ja Hyun) then praised Yun Jeong's resourcefulness and talent by saying that she is worth more than a broken mirror. He also assured that perhaps the owners of the mirror would be indebted to him. So who is that woman? Does he know Yun Jeong's true identity?
Reviews of Portrait of a Beauty
The female artist disguised herself to follow her father's wishes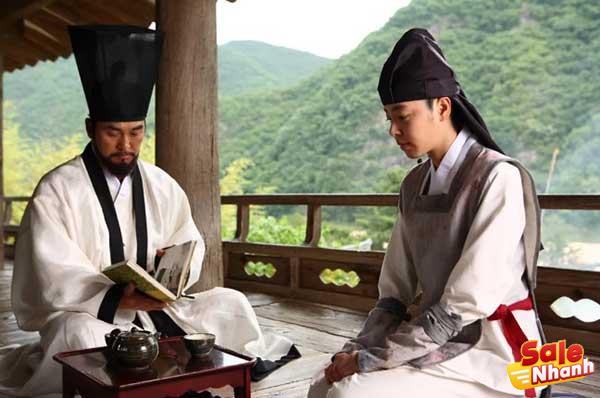 The death of his brother causes Yun Jeong to be reprimanded by his selfish father. Gradually this assumption became something ingrained in his mind. Yun Jeong neither refused nor protested when his father "designated" him as a son. Everything was done to give wings to his dream of becoming a court painter, again according to his father's wishes.
Stemming from this heartbreaking premise, the film Portrait of a Beauty (2008) presents a plot that feels fast at times, but at times feels slow. However, the emotions expressed in this movie have increasing graphics.
You'll be drawn into the fray pretty quickly, especially since Yun Jeong's disguise was eventually discovered by Kang Mu. From here, the story starts to get more emotional although it feels quite slow.
Master's Wish for His Disciples
Besides starting to feel more emotional, the development of conflict and character in Portrait of a Beauty (2008) is also very smooth. At the beginning of the story, you will see the silhouette of Kim Hong Do as a wise teacher, a teacher who always protects and encourages his students, in this case, Yun Jeong or Hyewon.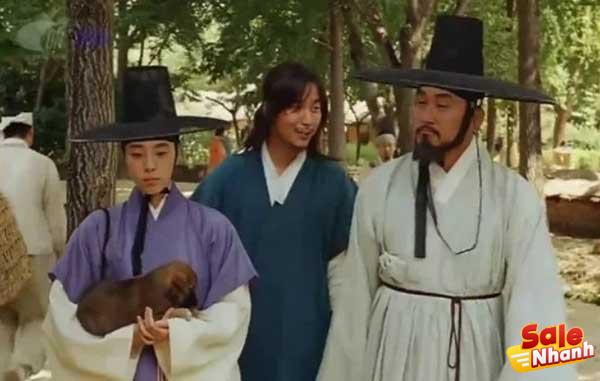 Entering the middle of the movie, you will see Hong Do starting to doubt because Yun Jeong shows the feminine side in her paintings.
Until one day, Kim Hong Do witnessed with his own eyes that Yun Jeong was actually a woman. Hong Do calmly turned out to be a student. He is willing to do anything to have Yun Jeong. In this part, the story starts to get more exciting because it pulls more emotions from each character.
Hong Do's emotions being haunted by the love of Yun Jeong, Yun Jeong and Kang Mu and the similar madness of Sul Hwa, who really craves Hong Do, are wonderful things. Because he is also packed with beautiful cinematography.
The camera angles were chosen to show sadness, despair, love and loneliness. No wonder this Korean film received the Best Cinematography award from the Chunsa Film Art Awards (2009) and the Grand Bell Awards the same year.
A love story with a tragic ending
Every conflict in this movie begins with the romantic love between Kang Mu and Yun Jeong. Like people in love, Yun Jeong produces many paintings with a light, romantic and vulgar appearance. He describes the relationship between people, especially two people in love. Yun Jeong considers it the most natural purity in the world.
In royal times, such paintings were considered forbidden, inappropriate and harassing. However, that did not dampen his habit of painting adult objects. Unfortunately, her inspiration in painting, her love for a man, led them both to a tragic situation.
Unfortunately, in this part, there is a bit of the plot that feels sensational, so the plot is a bit confusing. Especially the last part Yun Jeong's true identity was known to the king.
There are some scenes that are less detailed and seem to have been completed in a hurry. With a duration of about 1 hour 48 minutes, the ending part of this movie feels quite messy compared to the plot in the whole movie.
Overall Portrait of a Beauty (2008) is quite successful in presenting a classic romance story. As an adult drama, the struggle of love, escapism, and sacrifice in this film is interspersed with vulgar intimate scenes to make the emotions more authentic.
Curious about the plot? You can watch this film by director Jeon Yun Su on Netflix right now! But if you have other good movie recommendations, you can write them in the comment column, friends! Oh that's right, in addition to the review, we also discuss the details of the movie Portrait of a Beauty, please click directly on this link!
Salenhanh – Product review blog
Address: 115 Nguyen Van Qua, Tan Hung Thuan Ward, District 12, Ho Chi Minh City
Website: https://salenhanh.com/en
Mail: Salenhanh.com@gmail.com
#salenhanh #Reviewsalenhanh