We invite you to enjoy the historical drama starring Park Hyung Sik and Jeon So Nee called Our Blooming Youth.
Still set in palace life, this drama follows the life of Crown Prince Lee Hwan, who is surrounded by rumors after his brother's death. The saddest rumor says that Lee Hwan is his brother's killer.
Similar accusations were made to Min Jae Yi after his entire family was killed. The girl is the daughter of the scholar accused of murder.
Jae Yi is determined to go to Lee Hwan to solve the case and vindicate him. Curious about what's next? Follow their story in Our Blooming Youth (2023).
Korea Our Blooming Youth movie summary (2023)
Release year 2023
Genre Drama , History , Mystery , Romance
Director Lee Jong Jae
Cast Park Hyung Sik Jeon So Nee Pyo Ye Jin Yoon Jong Seok Lee Tae Sun Heo Won Seo
Crown Prince Lee Hwan ascended the throne in place of his brother who died with anxiety. The reason is, he is rumored to have killed his brother to get where he is now.
A mysterious letter has arrived to aggravate the situation. However, a girl, the daughter of a scholar who used to solve cases, enters his life after the death of his entire family.
Episode 1-2
A year ago, Crown Prince Lee Hwan's right shoulder was hit by a poisoned arrow. As a result, Lee Hwan's right hand was not moved optimally.
However, the killer who launched the poisoned arrow is still a mystery. The story circulates in the palace, it is the work of a ghost because it was rumored that Lee Hwan poisoned his brother, Prince Ui Hyeon, so that he could take the throne.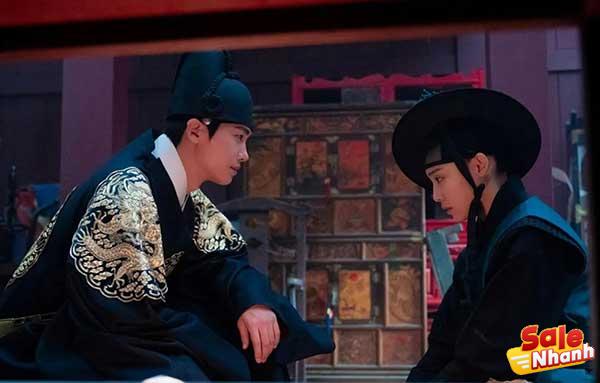 Since taking the throne, Lee Hwan received a mysterious letter that terrified him. The content of the letter continues to haunt because it writes that Lee Hwan is the killer of Ui Hyeon. The contents of the letter disappoint Lee Hwan as he seems to blame Ui Hyeon's death on him.
Rumors of Lee Hwan's right hand being disabled continued to circulate in the palace. The National Rights Advisor, Jo Won Bo, takes this very seriously. He didn't want the future king to have a deformed right arm.
Not only that, he also planned to take advantage of Lee Hwan's weakness to overthrow him because he wanted the queen's son, none other than his nephew, to have the opportunity to become the Crown Prince.
Won Bo wants the king to hold the Great Hunt to see if Lee Hwan's right hand can be used. His idea was opposed by the Left State Councilor, Han Jung Eon, who wanted Lee Hwan to recover first.
However, the king decided that the Great Hunt would still be held. Lee Hwan had no choice but to prepare mentally.
Worry is more evident for Jung Eon's best friend and son, Han Sung On. Han Sung On himself is preparing to marry Min Jae Yi, the daughter of a scholar named Min Ho Seung.
Unfortunately, just as the wedding day was approaching, Min Ho Seung's whole family passed away. Min Jae Yi is accused of murder.
Rumors also say that Jae Yi is in a relationship with a man who has been cared for by his family since childhood. Jae Yi has no choice but to run away.
During the chase, he fell down a ravine. Jae Yi survives, but no one knows about it, except for two maids, one of whom is Jang Ga Ram.
He then disguised himself as a soldier and tried to approach Lee Hwan. Jae Yi has a special purpose for that because before his father passed away, he gave a letter that was sent with a courier from Lee Hwan.
The late Ho Seung also advised Jae Yi to protect the Crown Prince. Since then, Jae Yi believes that the death of his whole family is related to Lee Hwan.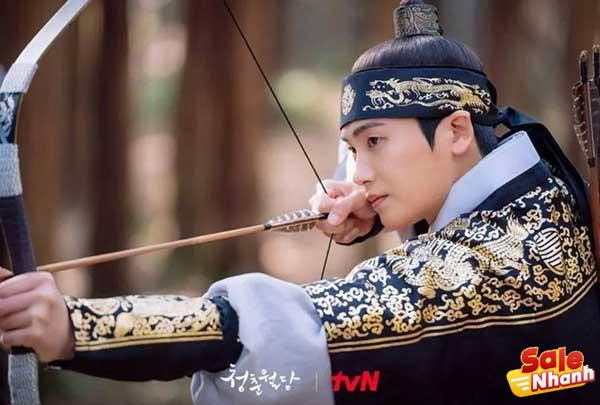 Big Hunt has arrived and Lee Hwan looks very confident. While engrossed in hunting, an arrow was shot towards Lee Hwan. Jae Yi who was peeking from the tree became the defendant.
He immediately explained that he was Jae Yi and that he had come because of a letter sent by Lee Hwan. Intrigued by that answer, Lee Hwan married Jae Yi without immediate punishment.
Arriving at the palace, Lee Hwan surprised the mandarins who became enemies in the blanket with his hunt. However, when he was about to write a prayer, his hand mysteriously bled even though he was not injured. Bad rumors are back.
In that situation, Lee Hwan went back to meet Jae Yi. Jae Yi convinces Lee Hwan that he came to help. The reason is, with Lee Hwan's help, Jae Yi is sure that his family's killer will be revealed.
He then revealed that the drop of blood on Lee Hwan's hand earlier was a hoax and not the influence of the ghost.
Lee Hwan then personally proved Jae Yi's words to refute the baseless rumors. Unfortunately, when Jae Yi's trick was proven correct, Lee Hwan still did not trust the girl. When Jae Yi discovered all the secrets of his mysterious letter, Lee Hwan was shocked and even more moved.
Korea Our Blooming Youth movie review
The act of becoming a Crown Prince by Park Hyung Sik
Succeeding with the drama "Happiness" (2021) with Han Hyo Joo, struggling to escape the image of Jung Yi Hyun, Park Hyung Sik finally appeared differently in a historical drama. Titled Our Blooming Youth (2023), a handsome actor born in 1991 plays Crown Prince Lee Hwan.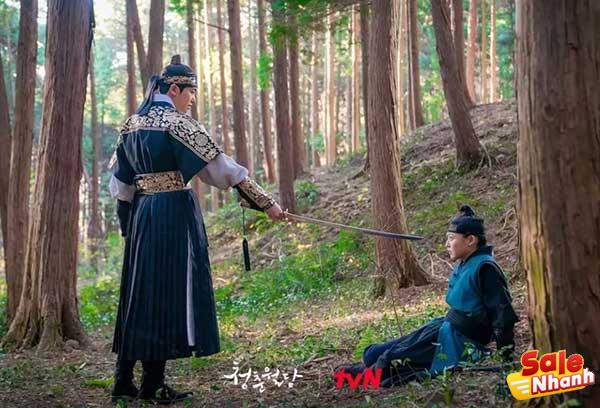 In the splendid royal suit, right from the first two episodes, Park Hyung Sik appeared full of charisma. His character Crown Prince Lee Hwan will make you feel sorry for him as he lives in a state of depression following his brother's death. In this new drama, Hyung Sik is ready to participate in the cunning plots of two-faced palace officials.
Live quizzes in early episodes
Also starring Jeon So Nee, the plot of Our Blooming Youth (2023) is quite dense in the first two episodes. The behind-the-scenes story of Lee Hwan as the Crown Prince who is depressed because of rumors of killing his own brother is shown from the very beginning.
Lee Hwan's brother's death is used to the fullest as a potential puzzle to intrigue the next episode.
In addition to the truth about Lee Hwan's brother's death, the first two episodes of this drama also make us curious about some other things. First, specifically about the truth behind the death of Min Jae Yi's family and second, who is the mysterious person behind the terror that has attacked Lee Hwan so far.
Jeon So Ne, Joseon Dynasty Detective
The restless, fragile and fearful Lee Hwan's character is balanced by an attractive female character played by Jeon So Nee.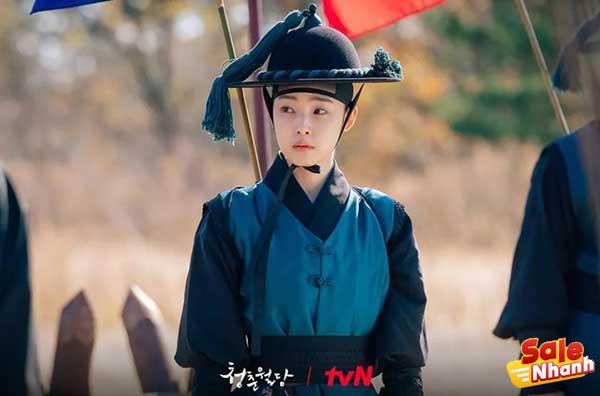 Min Jae Yi is the daughter of a scholar who cannot marry because her family mysteriously passed away. His life suddenly becomes very stressful because he is accused of being a murderer.
Through the first two episodes, the series promises a strong and intelligent female character. Min Jae Yi is known to be good at investigating events.
You can see a bit of his prowess in episode two as he was able to analyze strange events and ultimately save Lee Hwan from baseless rumors.
In the upcoming episodes, Jae Yi will often amaze us with his intelligence and courage.
However, you will still find the formula of "dressing up" starting to get boring in this drama, at least until episode 2. The problem of women living in the Joseon era are constrained and limited, the set This movie still resonates.
Our Blooming Youth (2023) promises a story full of surprises. The seeds of the evil characters have been revealed, but the gray characters are also ready to bring you other emotions, surprises.
Are you ready to follow Lee Hwan and Jae Yi's story in uncovering the deaths of loved ones? Follow the updates on Salenhanh!
Salenhanh – Product review blog
Address: 115 Nguyen Van Qua, Tan Hung Thuan Ward, District 12, Ho Chi Minh City
Website: https://salenhanh.com/en
Mail: Salenhanh.com@gmail.com
#salenhanh #Reviewsalenhanh