Oblivion is a science fiction film that shows the state of the Earth being destroyed by the war against alien beings. The film is directed by Joseph Kosinski, produced by Peter Chernin, and written by Karl Gajdusek with Michael deBruyn.
Actor Tom Cruise starred in Oblivion as the main character named Jack Harper aka Tech 49.
His original character was a commander on a mission to Titan, the moon on the planet Saturn. However, Jack is encountered by an alien space station named Tet, and he is cloned against the rest of the humans on Earth.
Oblivion received mixed reviews from critics, and grossed $286 million worldwide on a production budget of approximately $120 million. On the critic site Rotten Tomatoes, the film has a 53% rating based on 255 reviews, and an average rating of 5.88 / 10. What's interesting about the movie? Check out his review below.
Summary of Oblivion (The Secret of Earth's Doom)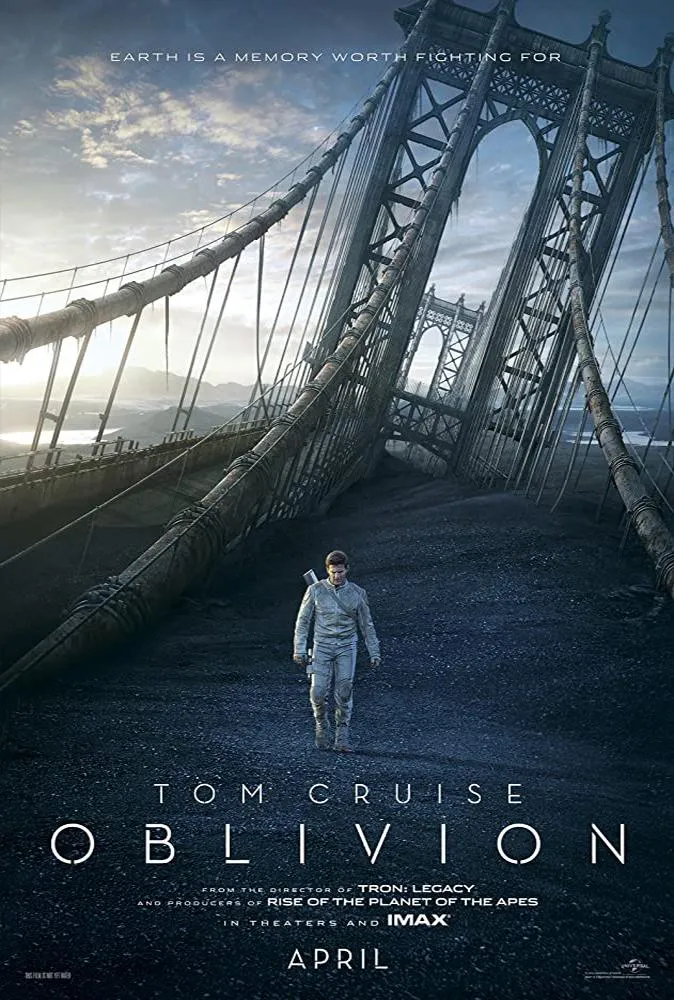 Release year
two thousand and thirteen
Category
Action, Adventure, Science Fiction
Manufacturing
Monolith (III) Image, Relative Media, Universal Image
Manager
Joseph Kosinsky
Cast
Tom Cruise

Morgan Freeman

Andrea Riseborough

Olga Kurylenko

Nikolaj Coster-Waldau
In 2017, a race of aliens invaded Earth. They also managed to destroy the Moon. Humanity was finally able to win the war using nuclear weapons. However, due to nuclear power and the loss of the Moon, parts of the Earth are uninhabitable and humanity is in danger of extinction.
60 years later in 2077, Jack Harper and Victoria "Vika" Olsen become one of the last remaining human races on Earth.
Jack aka Tech 49 has a mission to repair the combat drones that are hunting the group of Scavengers or scavengers that are still alive. He is also in charge of the maintenance of the hydrorig generator engine capable of turning seawater into fusion energy.
Meanwhile, Vika is his colleague. He plays the role of a communications officer to guide Jack during his work.
The second mission is led by Sally, the director of a space station called Tet that orbits planet Earth. With their mission on Earth completed, Jack and Vika set out for Titan, humanity's new home.
Once while Jack was completing his mission, he saw an unidentified object flying down from the sky and falling to a place not far from him. Vika then asks Jack to step back and let the drone examine the subject. However, Jack ignored Vika's suggestion and went straight to it.
Jack then finds five people, including a woman, hibernating in the capsule. While he was checking it, a drone suddenly appeared and shot them one by one. Jack then protects the still sleeping woman and saves her from being killed.
He immediately brought it to the headquarters for inspection. Jack and Vika managed to revive the woman. The woman was later identified as Julia. After meeting her, Jack realizes that Julia is the woman who often appears in his dreams. However, he was surprised because he seemed to know Julia very closely.
After an argument, Jack and Julia go to the crash site to find the flight data recorder. Arriving at the place, both were caught by a group of garbage pickers and brought to the headquarters.
Malcolm Beech, their leader, explains to the two that the human scavenger hunt is disguised by using alien technology to avoid being killed by the drones. Malcolm also reveals that they are the only human species left on Earth.
Malcolm then releases Jack and Julia to find the truth in the radioactive zone. Julia then tells Jack that she is his wife. What Julia said made Jack's lost memory gradually recover.
Arriving in the radiation zone, Jack must face his own clone, who is nicknamed Tech 52. He also meets his clone, Vika, who is still working as a communications officer. After defeating Technology 52, Jack and Julia go to Malcolm once more to find out the truth.
Malcolm then explains that Tet is an alien artificial intelligence whose goal is to take Earth's resources.
They also wiped out all of humanity using an army of drones, and a clone of Jack. Humanity's victory against the aliens and Titan's new home for them is just a lie fabricated during Tet.
Elegant and impressive image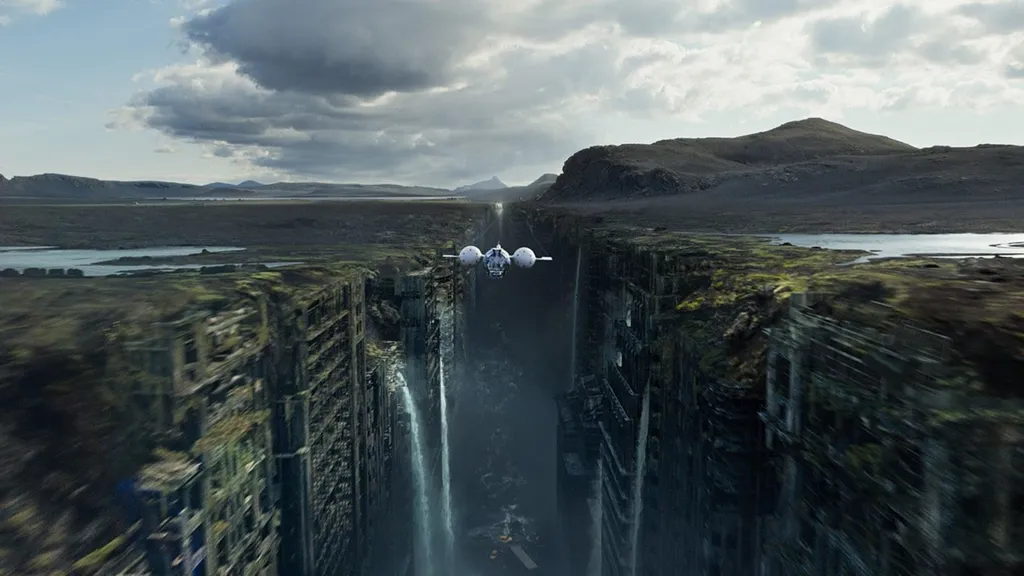 Director Joe Kosinski made his big screen debut while working on the sci-fi film Tron: Legacy (2010). Claudio Miranda then worked on the cinematography and made the film look quite luxurious. After that, the two collaborated on Oblivion with a large production budget of about 120 million USD.
With that big budget, Kosinski and Miranda did a great job producing this movie. In two hours, Oblivion impressed because it had great looking cinematography. The mainland Earth that has been destroyed by the use of nuclear weapons against aliens also feels quite realistic.
Although in this movie, the Earth is said to be in a state of ruin and uninhabitable, there is still a growing green environment to be a comfortable place to live.
The earth is not completely dead. There are still some humans left to create a new civilization. Then, all of Earth's post-apocalyptic landscapes are beautifully visualized.
In addition, the space station called Tet appears as a space object filled with threats, and looks scary. Inside is a human-like alien artificial intelligence named Sally.
There are no scary looking aliens, but they do include an army of drones with a mission to eliminate humanity and take Earth's resources.
Uncomplicated sci-fi movies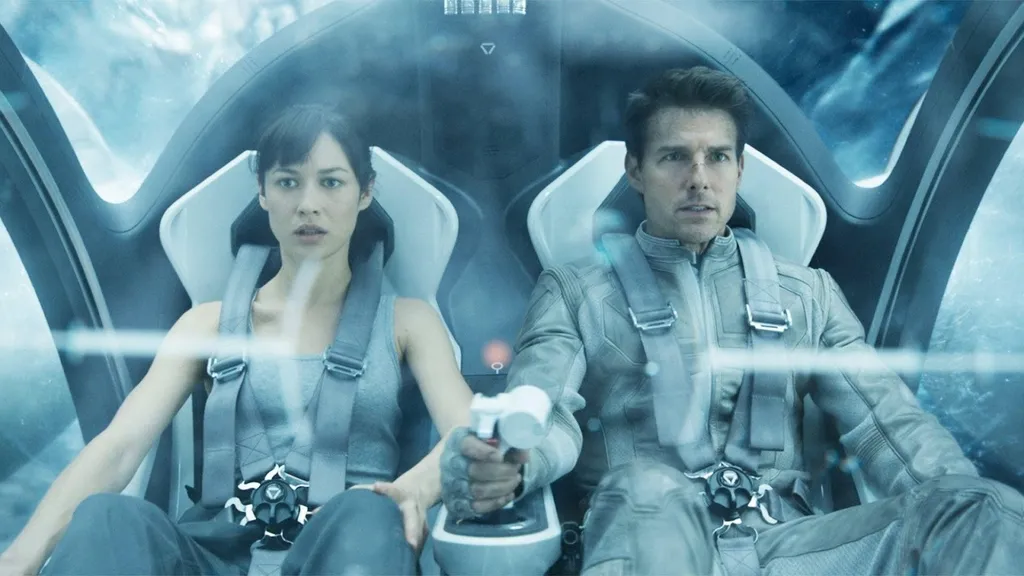 Oblivion is able to present its sci-fi theme with an easy-to-understand plot approach. From the first minute, the premise diagram is clear enough with Tom Cruise as Jack Harper or Tech 49 directly narrating the context of Earth's "doomsday" and how humanity triumphs over the aliens.
Then towards the end of the story we get an episode, when Tet is an evil alien who turns out to be a clone of Jack and Vika (Andrea Riseborough) to hunt down humanity.
All of Tet's lies are later revealed when a group of Garbage Pickers, led by Malcolm Beech (Morgan Freeman), help uncover the secrets Tet has kept from Jack.
Before getting into the fun part of the reveal, Oblivion runs at a mediocre intensity at first. There are no events that are challenging and also really threaten Jack as the main character.
When he finds Julia (Olga Kurylenko), the movie then slowly shifts into a much more interesting and engaging way.
Jack's journey is even more impressive when he meets his wife. When his memory is restored and Tet's evil plan is exposed, Jack becomes a different person braver than before.
However, the exploration of the characters Malcolm, Vika, and Olga does not have strong depth, and they are only seen as supporting players.
Not Tom Cruise's Best Movie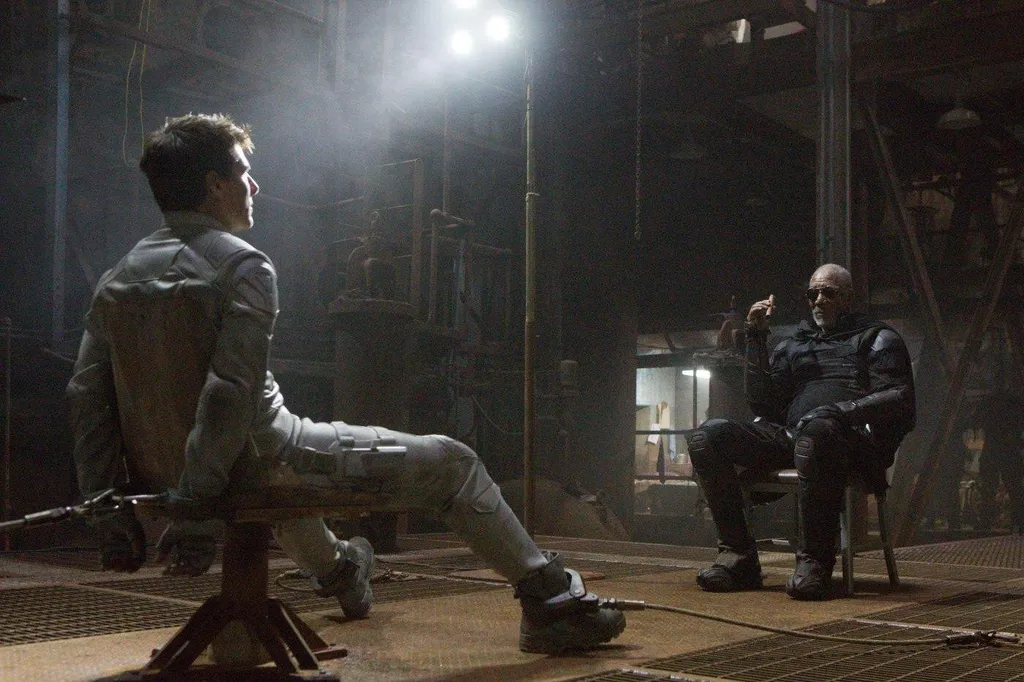 Oblivion isn't the first sci-fi movie starring Tom Cruise. He has also previously acted in Minority Report (2002), War of the Worlds (2005), Edge of Tomorrow (2014), both of which fall under this genre. Science Fiction . All of these films were quite successful with good earnings at the box office.
Not inferior to the three films, Oblivion still looks impressive throughout the story. Backed up by stunning visuals, this movie is able to cover its premise that really feels ordinary.
One of the weak points of Oblivion is the lack of beautiful moments in the game. The sequence of action scenes is only shown a little more quickly when entering the final round.
Ultimately, Oblivion becomes one of Tom Cruise's sci-fi movies that shouldn't be missed. Cruise's acting experience as well as his charisma make this movie all the more enjoyable to enjoy while Oblivion isn't his best movie, but it never hurts to put it on your watch list. . Have fun watching!
Salenhanh – Product review blog
Address: 115 Nguyen Van Qua, Tan Hung Thuan Ward, District 12, Ho Chi Minh
Website: https://salenhanh.com/en
Mail: Salenhanh.com@gmail.com
#salenhanh #Reviewsalenhanh