If you are a man looking for a multivitamin tailored to your specific nutritional needs, look no further than NuBest Men's Multi. This premium-quality multivitamin supplement is designed with a unique blend of vitamins, minerals, and other nutrients to deliver a comprehensive solution for men who want to take control of their health. But before making any purchase, we would like to give you a Men's Multi review so that you can understand why this is a good choice.
Key ingredients of NuBest Men's Multi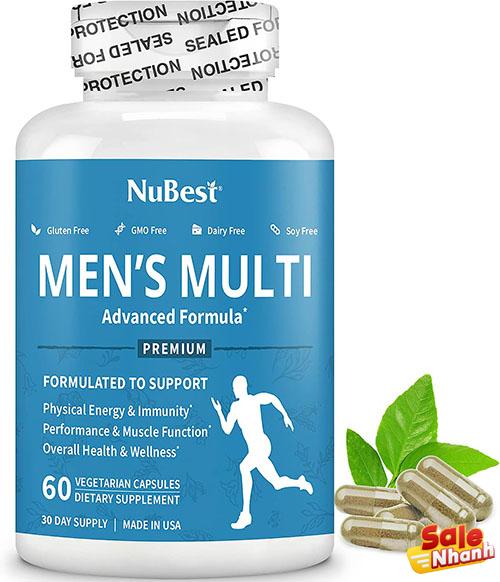 Vitamins
Vitamin A is a powerhouse nutrient that provides numerous health benefits. It is helpful in supporting eye health and preventing macular degeneration.

Vitamin C works as an antioxidant in the body and is involved in a range of functions, including collagen synthesis, wound healing, and immune system support.

Vitamin D3 is essential for bone health as it helps the body absorb more calcium, which is necessary for building stronger bones.

Vitamin E is another powerful antioxidant that plays an important role in preventing cell damage caused by free radicals. It also supports the immune system, skin health, and cardiovascular health.

Enriched with all vitamins B, this product might help reduce stress, boost immunity, support the nervous system, build up DNA, and produce red blood cells.
Minerals
Zinc is an essential mineral that plays a vital role in wound healing, immune health, and protein synthesis. Men require zinc in their diets to support their overall health and well-being.
Magnesium is also vital because it helps improve bone health, muscle function, sleep quality, and energy production. Without adequate magnesium, men may experience issues with these critical bodily functions.
In addition, Men's Multi does not contain any added iron. Although this mineral is necessary for supporting a man's healthy immunity, reducing fatigue, and improving energy metabolism, men typically require less iron during their lifetime. Adding excess iron without consulting a doctor can lead to tissue damage, DNA mutations, and premature aging.
Three unique blends
The male performance and energy proprietary blend combines several essential ingredients to improve male health and physical wellness, including hair growth, immune health, balanced hormone levels, and joint, eye, and brain health.
Men's Multi also includes the immune proprietary blend featuring echinacea, spirulina, garlic, and beta-glucan. These ingredients work together to support immunity, improve the detoxification process, control oxidative activity, and strengthen body comfort.
The energy and antioxidant fruit proprietary blend is crucial for detoxifying the body and converting stored fats into energy. It helps the body absorb essential nutrients for optimal functioning as well.
Health benefits of NuBest Men's Multi
This supplement could be an ideal choice for men who experience low energy and stamina. Its broad range of vitamins, minerals, and antioxidants might help support the immune system, enhance energy levels, and increase physical performance. Furthermore, the formula contains three exclusive fruit and herbal blends that provide additional health benefits to promote overall wellness.
With this comprehensive approach to health, men can feel confident that they are providing their bodies with the right nourishment to maintain optimal health and performance. By incorporating this supplement into their daily routine, men may notice improved energy levels and a boost in their overall well-being.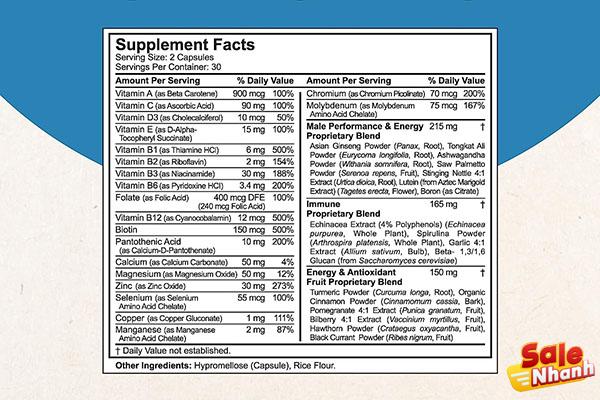 Ways to optimize the benefits
First and foremost, you need to follow the recommended instructions. One to two capsules should be taken with a meal in the morning, or as directed by a healthcare professional. Avoid consuming the supplement on an empty stomach since certain components may not be effectively absorbed.
However, taking Men's Multi alone may not be enough to improve men's health. So, what should you do? Let's learn more!
Combine it with a balanced diet
While this product provides essential nutrients, it should not be a replacement for a balanced diet. Incorporating a healthy diet with it can help optimize nutrient intake and overall health. A nutritious diet should include a variety of fruits, vegetables, whole grains, lean protein, and healthy fats.
Exercise regularly
Staying active is vital for men's health and can help reduce the risk of chronic diseases, such as heart disease, diabetes, and obesity. Engage in moderate-intensity exercises for at least 30 minutes daily and take Men's Multi regularly to support physical performance and energy levels.
Sleep well
Adequate sleep is critical as it might impact everything from energy levels to cognitive function. Set up a regular sleep schedule, avoid electronics before bedtime, and create a sleep-conducive environment to improve sleep quality and overall health.
Control sleep levels
Stress is a common issue that can negatively affect overall health and development. High levels of stress even lead to increased inflammation, reduced immune function, and mental health concerns. So, you need to perform stress-reducing techniques, such as meditation, yoga, or deep breathing exercises, to deal with it.
Frequently Asked Questions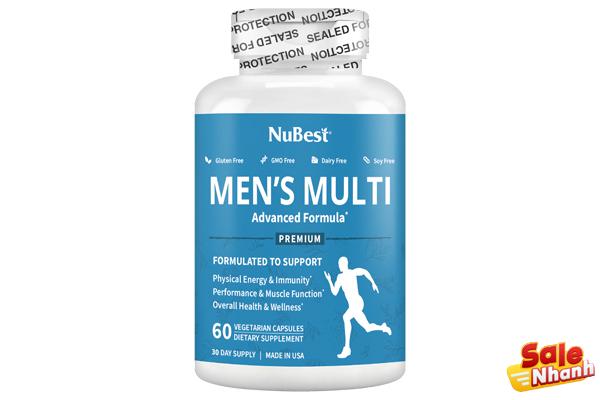 How much is Men's Multi?
The official price for a 60-capsule bottle is $32.89, sold directly on nubest.com. For newcomers, you will get a coupon to save up to 15% off. By subscribing to their service, you can save 15% off on your next order and have the product automatically shipped to your door.
Moreover, the website offers a money-back guarantee, allowing you to return the product if you experience any unpleasant side effects.
Where to buy it?
The official website, NuBest, or other online retailers, like Amazon, eBay, or Walmart, are the best places to buy this product.

Is it safe?
There are no reports of any side effects from taking this vitamin up to now. That said, it is safe when taken as directed. But you need to consult with your health care professional before taking it in case you have any pre-existing health condition or take medication. 
How long does it take to see results?
The results may vary depending on the individual and their lifestyle habits. However, most people can expect to see results within a few weeks of consistent use. It is important to note that taking a multivitamin is not a quick fix, and results may be more noticeable over time with regular use.
In sum,
NuBest Men's Multi is a powerful multivitamin designed to meet the unique nutritional needs of men. With a comprehensive blend of carefully-selected vitamins, minerals, antioxidants, and herbal extracts, it might aim to support men's health and well-being in various ways.
Also, do not forget to incorporate the healthy lifestyle habits mentioned above to maximize all the benefits. Remember that taking care of your health is a lifelong journey that requires commitment and dedication. Start small, stay consistent, and enjoy the process!
This article is evaluated by Salenhanh and is based on the author's personal opinion. It does not replace the advice of a medical professional.