Mystic River is a psychological crime film adapted from the 2001 novel of the same name by Dennis Lehane. Several famous actors have been involved in this movie, starting with Sean Penn (Jimmy Markum), Tim Robbins (Dave Boyle), Kevin Bacon (Sean Devine), Laurence Fishburne (Whitey Powers), and actress Marcia Gay Harden (Celeste Boyle) .
At the 76th Academy Awards, the film received six nominations with one of them being Best Picture, Best Director, and Best Actor for Sean Penn. At other awards events, Penn won Best Actor at the Critics' Choice Awards, and was also on the National Board of Review with Mystic River, who received Best Film.
In addition to receiving good feedback in some award events, Mystic River also received quite positive reviews.
On the Internet Movie Database (IMDB) website, the film has a rating of 7.9/10 out of 450k votes, while Rotten Tomatoes gives it 88% based on 206 critics with a 7.80/10 rating. how is the movie? Let's review Salenha review about the content of the movie Mystic River!
Synopsis of the movie Mystic River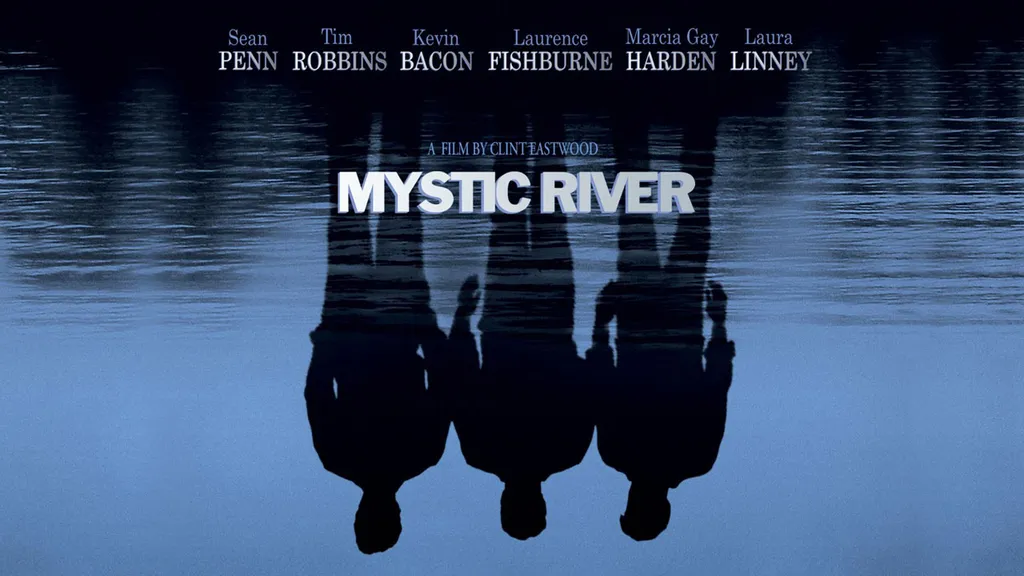 Release year: 2003

Genre: Psychological, Mystery, Crime Drama

Producer: Village Roadshow Pictures and Malpaso Productions

Directed by: Clint Eastwood

Starring: Sean Penn, Tim Robbins, Kevin Bacon, Laurence Fishburne and Marcia Gay Harden
In 1975, three friends Jimmy Markum, Sean Devine and Dave Boyle were playing street hockey not far from where they lived. Two suspicious men claiming to be police officers then put Dave in his car, leaving Sean and Jimmy on the street.
Dave is kidnapped. He was taken by two people to a mysterious place. Then they sexually harassed Dave. A few days later, Dave escaped from them. The two were later arrested by the police.
25 years later, Jimmy is now a former scammer and owns a convenience store. Sean is currently working as a police detective, while Dave is a laborer who is still traumatized by the kidnapping and abuse that happened to him as a child.
Jimmy's daughter, Katie, plans to escape to Las Vegas with her boyfriend, Brendan Harris. One night, Katie and her friends went to a bar to party. Dave also happened to be at the bar with a coworker drinking while watching a baseball game.
That night, Katie is mysteriously killed. On the other hand, Dave comes home covered in blood and injured. To his wife, Celeste, Dave says he killed a robber.
The next day, Sean and his partner, Whitey Powers, investigate the murder case. Meanwhile, Jimmy conducts his own investigation with help from the Savage Brothers. Sean later obtains evidence in the form of a 38 revolver used as the weapon to kill Katie.
Upon investigation, the gun turned out to belong to Brendan's father, Ray Harris, whom he had used when robbing a liquor store in 1984. After investigating all the witnesses, Whitey became suspicious of Dave. , who keeps changing the story about the wound on his arm, and also his presence at the bar the night Katie was killed.
Dave then behaves strangely. This started to irritate Celeste to the point of doubting her. Celeste then goes to Jimmy. Jimmy then tells Celeste that her husband may have been involved in the murder. Jimmy and the Savage Brothers then take Dave to a bar to get him drunk.
After the bar, they reached the Mystic River. Dave immediately realized that they thought he had killed Katie. Dave insists he doesn't. That night, he confessed to killing an unscrupulous person. Elsewhere, Sean and Whitey are finally able to find definitive evidence that points to their real culprit.
Review of the movie Mystic River
For over two hours, Mystic River is more than just a regular murder mystery movie. This movie has layers and layers of complicated stories with promising character depth.
What happened to Jimmy, Sean, and Dave at this point cannot be separated from what happened to their past relationship when they were young.
Even though as adults they lead different lives, the connection between the three goes well, and makes the whole series very interesting to follow. A murder case happens to Katie that eventually forces Jimmy, Sean and Dave to be together again in a really complicated situation.
Sean Penn reprises his role as the very prominent Jimmy Markum character. Jimmy's character also offers a strong sense of personality, and Penn seems to have deepened his role very well. The emotions of sadness, anger expressed by him bring Jimmy's character to life in every emotional aspect.
His relationship with his child, Katie (Emmy Rossum), is quite peaceful, and also very warm even though it is only for a short time. As Jimmy was identifying his body in the morgue, the moment was painful, and full of pain.
Meanwhile, the actor who played Andy Dufresne in The Shawshank Redemption (1994) Tim Robbins played Dave Boyle quite perfectly.
At the ripe old age, Dave really has a fragile life because his personality has been "abused" since childhood by two unscrupulous people.
Dave wasn't as emotional as Jimmy. He looks humble and quiet. His strange movements make this character the person suspected of murdering Katie. However, as time went on, Dave became the victim of a misunderstanding that eventually killed him.
Also, Kevin Bacon's approach to Sean Devine's character looks capable and cannot be underestimated. Sean is a good police detective. He also has to deal with his inner turmoil when people start accusing Dave of being the real culprit who killed Katie.
Highly attractive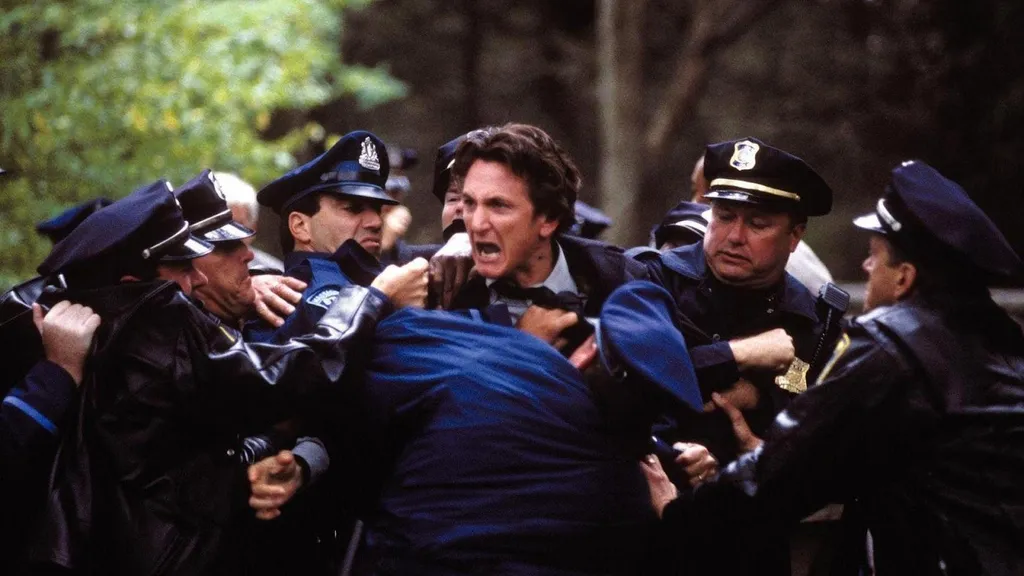 Mystic River runs with a rather gloomy atmosphere through a complex and mysterious plot. The film moves from one sad, forgotten tragedy to another greater tragedy. Each subsequent event has an impact on each protagonist's journey.
What happened to Katie has indirectly "haunted" the lives of Dave, Jimmy and Sean. Dave and Jimmy were the two who suffered the most from the incident and both seem to have had very tumultuous days.
Jimmy and Savage Brothers are in action once again and they act rashly by taking action on the streets to find the culprit who killed their son. On the other hand, I don't know what happened to Dave. He seems afraid of something he's never really done.
Through the complex and also melancholy characters' journeys, this film must be enjoyed slowly and carefully. The overall plot in Mystic River is less intense and more fast-paced to follow each side of the trilogy's journey.
As a result, Mystic River can be boring for those who want to see the action of a shocking crime movie. The movie really isn't, but that doesn't mean it's not interesting at all.
Engaging character development, unexpected murders, and a dark plot are the attractions that make Mystic River so special.
The ending is tragic and somber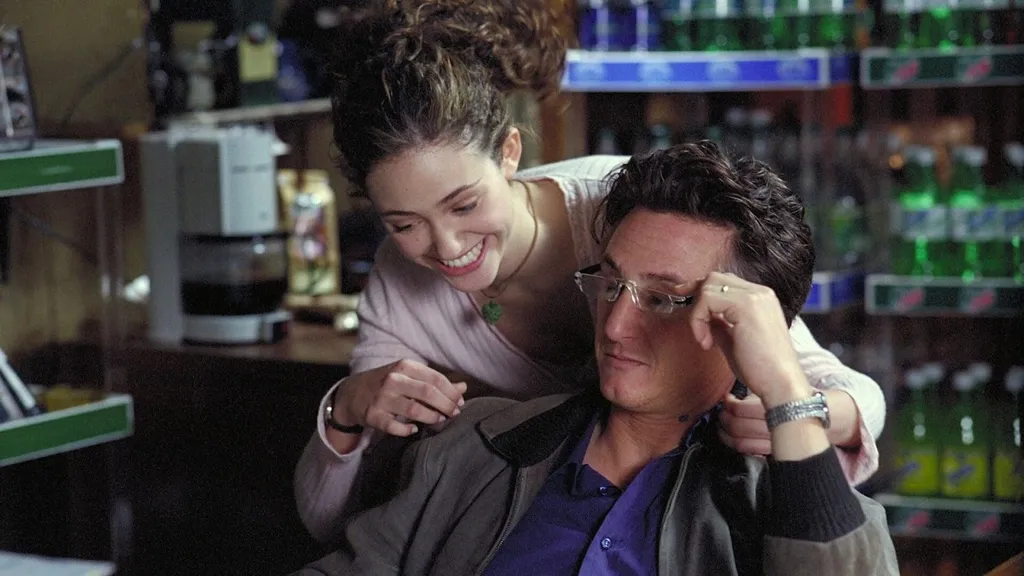 Director Clint Eastwood directs this film fairly consistently from start to finish. He's pretty good at keeping the rhythm of Mystic River nicely and trying to get us to guess the main culprit. Some of us might be a bit fooled and think Dave is the killer.
However, our speculation was completely wrong and the culprit was revealed unexpectedly. Unfortunately, we will feel pity and also sadness when Dave has to be horribly murdered by his own best friend, Jimmy.
Through reckless decision and non-existent evidence, Jimmy kills him, then washes his body in the Mystic River.
Mystic River has an ending that breaks Dave's family. The feeling of pity must also be felt by the wife and the child who do not know the whereabouts of her husband. It must also be admitted that this film is full of tragedy through its dark plot and cold cinematography.
Overall, Mystic River has very quality actors with Kevin Bacon, Tim Robbins and even Sean Penn.
Additionally, Laurence Fishburne (Whitey Powers) and Marcia Gay Harden (Celeste Boyle) take on satisfying supporting roles. With story material and attractive realistic characters, this is a movie not to be missed. Like watching!
Salenhanh – Product review blog
Address: 115 Nguyen Van Qua, Tan Hung Thuan Ward, District 12, Ho Chi Minh
Website: https://salenhanh.com/en
Mail: Salenhanh.com@gmail.com
#salenhanh #Reviewsalenhanh