'My Father's Dragon' is an animated series based on the classic children's book created by major Irish animation studio Cartoon Saloon. This movie is directed by Cartoon Saloon co-founder Nora Twomey, who has also directed two of the studio's best films, 'The Secret of Kells' and 'The Breadwinner', both of which are featured nominated for an Oscar, on the list of the best animated films of the 2010s.
The voice actors in this film adaptation are Jacob Tremblay ('Room', 'Luca') as Elmer and Gaten Matarazzo ('Stranger Things') as Boris, as well as other actors such as Dianne Wiest, Rita Moreno, Chris O'Dowd, Judy Greer, Alan Cumming, Whoopi Goldberg and Ian McShane.
My Father's Dragon movie synopsis (2022)
The premise of 'My Father's Dragon' is to suggest that the animals on Wild Island are on the verge of extinction, as well as a local legend that tells them how to survive a deadly flood.
Leaving their once successful store, a boy named Elmer (Jacob Tremblay) and his mother, Dela (Golshifteh Farahani) move to a crowded urban area known as Nevergreen. In an unfamiliar environment, Elmer believes in his mother's promise that they will soon open their own store like the one in the city before.
At first, the daily life of this mother-daughter couple was still going on as usual, although there was no significant progress. However, when the pressures of life begin to mount, the goal of owning your own store seems even further away.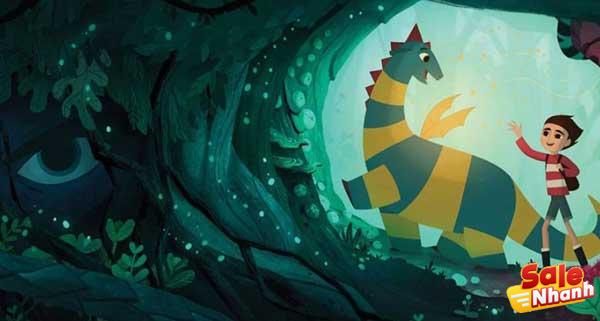 The climax is when Elmer gets angry with her mother and runs away until then a talking cat leads Elmer to the Deserted Island, preparing to free a dragon named Boris (Gaten Matarazzo). There, a dragon with a stocky body and yellow-green stripes on its skin, has not completely escaped Saiwa (Ian McShane), the leader of all the animals living on the island, which Boris is forced to keep. the island from sinking. .
While on the Wild Island, Elmer begins to discover many new things and begins his adventure there that brings Elmer and Boris closer, especially as they have to outwit many cunning animals to reach their destination. get your goal.
Review of the movie My Father's Dragon (2022)
Old story like new
'My Father's Dragon' reinvented the classic children's story by adding new themes and fantasy elements to engage audiences. As we all know, this cartoon is derived from the children's book of the same name by Ruth Stiles Gannett, which was first released in 1948. For generations, the adventure of rescuing a dragon from a Wild Island by Elmer Elevator became a bestseller and was nominated for the Newbery Medal and has never run out of print.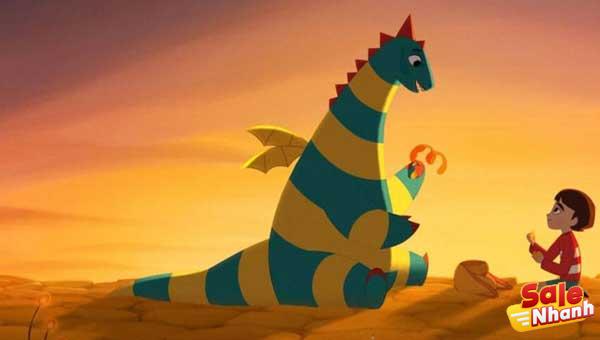 Decades later, Cartoon Saloon made the long-awaited book adaptation in their signature style. The Ireland-based studio is known for its innovative animation style, Celtic influences, and more emotional pieces.
The book version of 'My Father's Dragon' has a rather short plot as parents often read it to coax their children to sleep, so for the movie adaptation, Cartoon Saloon had to expand some things, such as the characters. . The movie version still tells the story of a boy named Elmer Elevator and his adventure to the Deserted Island to save the dragon Boris, but how Elmer got to the island and what happened there is different from the book and still interesting. least.
Courage overcomes fear
One of the best parts of 'My Father's Dragon' is that this movie teaches a lesson in the importance of accepting and acknowledging your own fears. Animation also shows that fear can be a barrier or even encourage us to overcome this fear. The animals fear losing their home, Dela (Elmer's mother) loses her temper in the face of uncertain situations and Elmer's fear as a child feels she has no power to live with her mother. Depending on how they deal with it, fear can be a vehicle for self-development.
'My Father's Dragon' also has a brave theme. When Boris is afraid to lift the island even though he knows he has to and Elemer is afraid to take a risk on the Deserted Island, both dare to do what has to be done, face what has to be faced. Through hard work and mutual support, Elmer and Boris take the risks necessary to overcome anything with the strength they have. This is a great message for everyone to remember, regardless of their age.
Like two different movies
From the outset, this animated series had the potential to tell complex children's stories like previous Cartoon Saloon productions. Elmer's life journey, which has to see his mother struggle to support herself and do everything to ensure her life's needs are met. The depiction of a mother protecting her child in various ways and trying to keep her frustration to herself is well done. However, this was quickly forgotten when Elmer embarked on an adventure on the Deserted Island.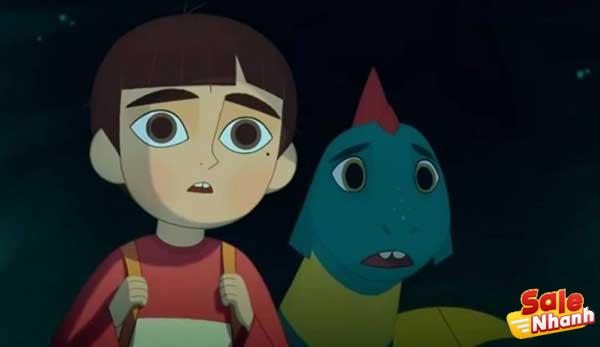 As if in another world, the emotional bond between mother and child emphasized in the film from the beginning really feels like a different movie from the journey of Elemer and Boris after that. When the story of Elmer's hard work and struggle with his mother to open a shop is at the height of the conflict, it is interrupted by Elmer's adventure to save a dragon and the Wasteland. Even by the end of the movie, the conflict actually disappears without any resolution. Also, taking Elmer on a new journey rather than resolving the conflict, suggests that escaping can help one ignore it until the problem goes away.
Lots of unnecessary conflicts
Like other adventures, 'My Father's Dragon' also develops a meaningful relationship between the two main characters. However, towards the end of Elmer and Boris's journey to save the island and make Boris the dragon hero, the film tries to bring about another conflict as Elmer suddenly turns into a bad boy while hurting Boris through his words. they fight, Elmer leaves Boris alone there.
However, it didn't take long for the two to reconcile and save the sinking island.
Unsatisfactory ending
After all the chaos that ensued, the ending of 'My Father's Dragon' had no impact on the story's initial conflict after Elmer saved Boris and the Wasteland. Miraculously, all the problems that Elmer and his mother had had resolved on their own. Whereas earlier, when Elmer was asked how to help his mother through their difficult situation, the boy only said he would find out.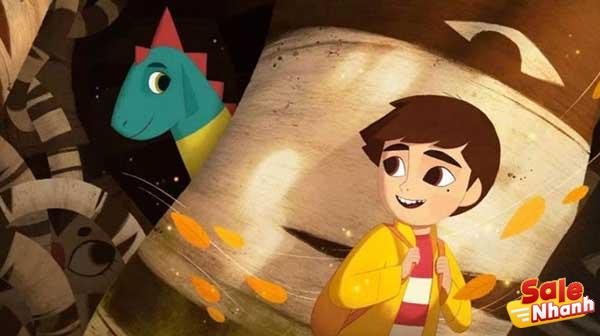 Until the end of the story, Elmer still has no answer to this question even though the two have become closer than before. Even so, 'My Father's Dragon' managed to deliver a very touching plot through tense adventures and predictable endings.
Conclusion of the movie My Father's Dragon
The animated movie 'My Father's Dragon' is derived from a children's book of the same name by Ruth Stiles Gannett in 1948. The movie version continues the story of a boy named Elmer Elevator and his adventure to the Wild Island to save Boris, but Elmer's way to the island and what happened there is described differently from what is in the books. Still, the story is equally interesting.
Despite a great premise, suggesting that the animals of Wild Island are on the verge of extinction, as well as local legends that tell them how to survive a deadly flood, this film is not realistic. showing the urgency of saving an island that will sink once every 100 years. Throughout the film, the audience will only hear the characters say that the island is about to sink.
Salenhanh – Product review blog
Address: 115 Nguyen Van Qua, Tan Hung Thuan Ward, District 12, Ho Chi Minh City
Website: https://salenhanh.com/en
Mail: Salenhanh.com@gmail.com
#salenhanh #Reviewsalenhanh