Hunter and Kevin are fanatical heavy metal fans. Try to prove yourself in the Battle of the Bands competition.
But there was a problem, they had trouble finding a bass player. Coupled with the nature and problems of the teenagers who are different between them, it almost destroys their dreams of becoming a big band in the future.
Metal Lords is a teen comedy film by Peter Sollett released as a Netflix original on April 8, 2022. Featuring a narrative about a band's preparations for a music festival. , this film tries to be different through the appearance of the characters.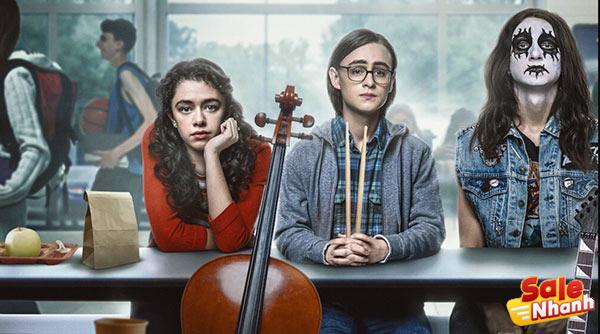 Embodying the burning spirit of heavy metal music , this film will feature a number of personnel from famous heavy metal bands . Can this movie excite heavy metal fans? Check out the following review of the film shot in Portland.
Embodying the burning spirit of heavy metal music , this film will feature a number of personnel from famous heavy metal bands . Can this movie excite heavy metal fans? Check out Salenhanh Movie's following review of the film shot in Portland.
Trailer for the movie Metal Lords (2022)
Synopsis Metal Lords (2022)
Release year : 2022

Genre: Comedy, Music

Produce : Bighead Littlehead, Kingsgate Productions

Directed by: Peter Sollett

Actors: Jaeden Martell, Adrian Greensmith, Isis Hainsworth
Kevin Schlieb and Hunter Sylvester were friends who formed a heavy metal band called Skullfucker.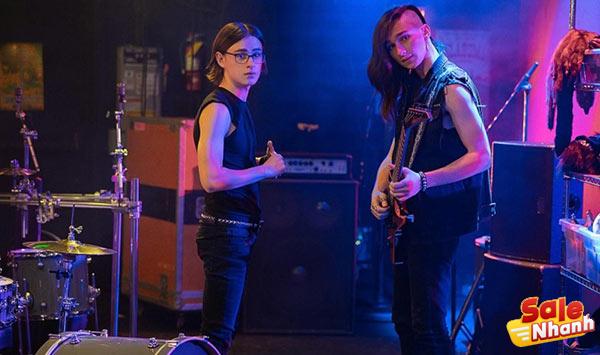 Kevin was actually a drummer in the school's marching band and had only recently learned the instrument he would use through Hunter. They have different personalities. Hunter tends to be rebellious and Kevin is more shy.
At a party, Kevin chats with Kendall, while Hunter argues with the famous school bully, Skip.
Hunter was thrown onto the stage and broke the keyboard of the performing band. Hunter with his strange attitude actually offended the vocalist of the band, who challenged him to appear in Battle of the Bands.
Feeling that the first step to achieving his dream was within sight, Hunter registered his band with the principal.
Hunter gave Kevin a list of songs Kevin had to learn and bought him a drum kit with two pedals. Kevin played the drums at school and started practicing. He meets Emily, who is practicing on the cello.
Kevin gave a playlist from Hunter to Emily, who was surprised when she tried to listen to the song from the internet. Meanwhile, Kevin and Hunter open an audition to find a bass player.
Unfortunately until the afternoon none of the school friends were interested, until one arrived. But they also rejected single participants because they were too brutal in their actions.
Kevin proposed the idea of ​​including Emily in the band, but Hunter rejected it and made harsh remarks that hurt Emily. Was about to apologize to Emily but Kevin really fell in love with her and they agreed to make love.
Hunter disagrees with Kevin and Emily's love relationship, which he believes will undermine his commitment to the band.
Mollycoddle's lead singer, Clay, finds Kevin rehearsing at school and offers him a spot in her band for his brother's wedding.
Kevin didn't accept it right away. But when told Hunter who was angry with him, Kevin decided to leave the band.
Kevin performed with Mollycoddle and successfully demonstrated his abilities as a drummer. Clay is very grateful to him and asks him to appear with them in the Battle of the Bands.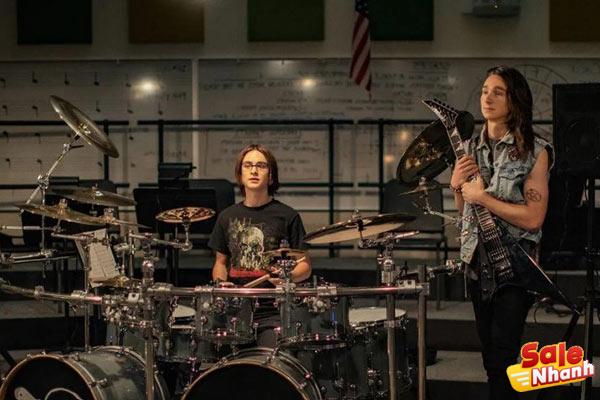 Kevin says he will look into it. Kendall invites Kevin to take a dip in the pool with her and seduces him. But Kevin realizes his love for Emily and rejects her.
While with Emily, Kevin realizes that Hunter is his only friend. And when Kevin realizes that Hunter is in rehab for trying to force his way to Clay's sister's wedding, Kevin decides to set him free.
Pretending to be asking for a flyer, Kevin walks in and takes Hunter and the real drummer Mollycoddle out of the place.
Meet Dr. Nix in the parking lot, Hunter was picked while he was still playing the music first. Hunter apologizes to Emily and asks her to join the band, but Emily says she's not ready.
Just the two of them, will they be able to perform at the festival? Watch until the end of this more entertaining and engaging movie, yes!
Reviews of the movie Metal Lords (2022)
Click on stories with good character
Metal Lords really has a cliché story, especially in the first half hour. The plot can be guessed at once with the characters' backgrounds and their dreams often spelled out in other music-themed movies.
Two characters with opposite personalities will certainly be the source of their conflict becoming an obstacle on the road to success.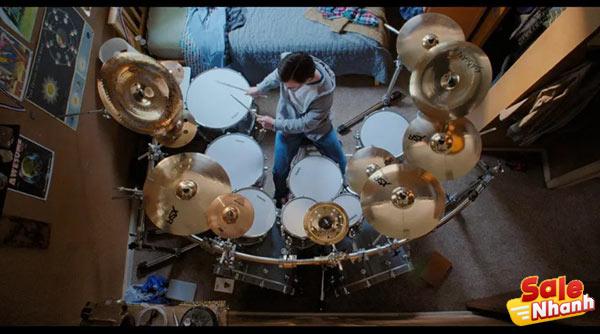 But things started to change when the movie entered the second half hour. This 1 hour 37 minute drama begins to prove the quality of a script written by DB Weiss, creator of the Game of Thrones series.
The hype at the beginning of the film softens a bit as Kevin struggles emotionally between his commitment to the band and Emily. At this point, the characters start to develop well for Hunter and Kevin.
Each is given a balance to battle with their own thoughts colliding with their surroundings.
While it is easy to guess that these conflicts and separations lead them along different paths, one of which is brighter than the other, the uniqueness of the characters makes it feel different.
Kevin's path is brighter with successful performances with a new band, which has caused his popularity to increase. Moreover, plus a person who loves him very dearly.
But it turned out that he found a void in his heart without the Hunters who always sincerely encouraged him.
Opposite. Hunter, who was getting worse while being admitted to the rehabilitation center, actually met his idol who gave him the motivation to do better.
Furthermore, Hunter is a musician who is clean from the bad behavior of rockstars in general, prompting the doctor who treated him to free him to appear in Battle of the Bands.
Natural performance of the cast
This generic story and formula wouldn't have done well if it weren't for the talented acting of the cast.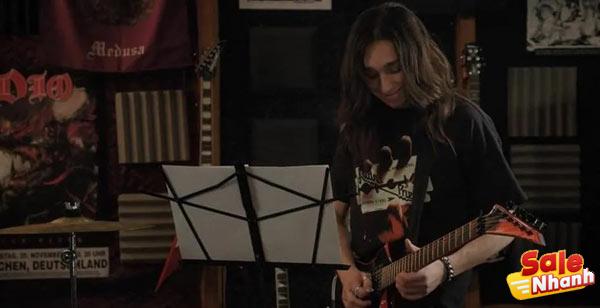 We certainly know Jaeden Martell, who always looks good in every movie he's starred in, but who is the cast of Hunter and Emily?
Adrian Greensmith and Isis Hainsworth are two newcomers. In fact, this film is Greensmith's first acting, looking so natural and overall to appear convincing as a true heavy metal fan.
While Hainsworth has appeared in a number of films, in Metal Lords he has a larger role. The development of these three characters in the story is done quite well.
Kevin went through a change in appearance from being a shy and unloved kid, then starting to absorb heavy metal music, to looking cool performing with Mollycoddle.
His love for Emily makes his thoughts mature and unselfish. Meanwhile, Hunter, from a rebellious spirit and never respectful of others, has turned into a forgiving person.
And Emily from a quiet girl, always worried and easily angered, has finally become someone who dares to be different from herself. Everything happens because of the life experiences that they have, even if they only get to play one scene that makes them change their mind.
The Presence of the Gods of Heavy Metal
As connoisseurs of heavy metal music , we are presented with the best compilation albums from a range of top heavy metal bands . While not all single hits, the essence of the music is to match the mood of the scene presented.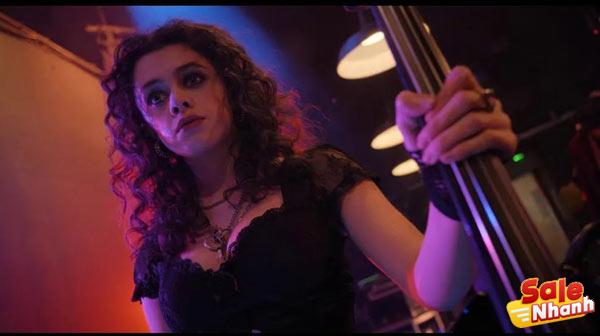 An example is the song "Since I Don't Have You" by Guns N' Roses at a time when Kevin feels he has lost Hunter.
And the appearance of four heavy metal gods in the pool scene is sure to make us smile, maybe even jump for joy.
Scott Ian (Anthrax guitarist), Kirk Hammett (Metallica guitar), Rob Halford (vocals of Judas Priest), and Tom Morello (guitarist Rage Against the Machine) appeared to talk about the band's children. Their words made Kevin loyal.
While their appearance as guests is quite interesting and determines the direction of the story, of course as a drummer, Kevin definitely idolizes the drums of heavy metal bands. Not a guitarist.
Perhaps if Lars Ulrich (Metallica drummer) was present, the scene would stand out and be more realistic. But it's true that drummers' popularity isn't as sparkly as that of guitarists and vocalists.
Metal Lords really has a standard plot, but with a slick script and all-around acting by the cast, it makes this movie worth watching.
We will be entertained by a selection of heavy metal songs and great stage performances. In addition, this film also carries a positive message about the image of the band's children, which are often viewed negatively.
Prepare your instrument and put headphones in your ears. Enjoy the adventure story of Skullfucker turning Skullflower on Netflix now. Speak to your heart's content when your favorite songs are played.
Salenhanh – Product review blog
Address: 115 Nguyen Van Qua, Tan Hung Thuan Ward, District 12, Ho Chi Minh City
Website: https://salenhanh.com/en
Mail: Salenhanh.com@gmail.com
#salenhanh #Reviewsalenhanh