Lovers of the Red Sky (2021) is the latest sageuk drama set during the reign of King Seongjo. It tells the story of two human children whose fates were swapped by Samsin to avoid chaos due to the influence of the devil. This romantic fantasy genre drama stars Kim Yoo Jung, Ahn Hyo Seop, Gong Myung, and Kwak Si Yang.
Lover of the Red Sky (2021) is directed by director Jang Tae Yoo, who previously had great success directing My Love From the Star (2014). The idea for the story itself was adapted from Jung Eun Gwol's novel about a female painter and a blind officer. To avoid controversy, Jang Tae Yoo made some adjustments. What is the development of this 16-episode drama?
Summary
| | |
| --- | --- |
| Release year | Year 2021 |
| Category | Drama , Fantasy , History , Romance , Saeguk |
| Manufacturing | Rakuten Viki , Studio S (SBS) , Studio Taeyou , VIU |
| Manager | Jang Tae Yoo |
| Cast | Kim Yoo Jung Ahn Hyo Seop Gong Myung Kwak Shi Yang |
Cheon Gi is the blind daughter of lunatic painter Eun Ho. Eun Ho's lunacy is related to the demonic powers that once lived in King Yeongjong's body.
One day, he accidentally meets a boy named Ha Ram, who has the much-needed water energy of a kingdom that has been in drought for 9 years. During the rain summoning ritual, their fates were changed by Samsin. What will happen to both of them?
Episode 1-2
In Samsin's body there are three gods. Each is a god of Birth, Death and Balance. One day, Death hunted the God of Balance. As a result, the world is filled with fear and anxiety. Death also managed to get out of Samsin's body and live off of human greed.
King Yeongjong wanted to release the demon inside of him for fear of more bloodshed. He gave the throne to his son, King Seongjo, and wanted to wrap the demon inside of him into a painting. Rituals are also performed.
Hong Eun Ho was assigned as a portrait painter for the king. The wife was struggling to give birth when her husband finished the painting. Fortunately, the baby was born safely and was saved by Samsin from the threat of a pack of wolves. The baby, named Cheon Gi, was later carried by Samsin.
At the same time, Eun Ho finished the painting. The ritual of locking the demon in the mountain gate begins. The demon was so powerful that it gave the ceremonial leader a lot of trouble. At the same time, Eun Ho is possessed by Hwacha, a demon that lives by painting energy, and then disappears.
Then Samsin came to help the leader of the ritual imprison the demon into the painting. Before fully entering the picture, the demon cursed them with drought and famine. In addition, they cursed their children not to draw anymore.
Samsin, who was still holding Cheon Gi, was unable to lift the curse. However, he will meet Cheon Gi with someone who will protect him from the curse. Elsewhere, the eldest son of the noble Ha family was reborn in the world. His mother gave him the name Ram.
Unfortunately, the head of the clan, Ha Sung Jin (Han Sang Jin), who led the ritual, is forced to resign and is killed. Nine years later, the Dan family is completely dry and hungry. The kingdom's chief priest and shaman, Mi Soo (Chae Gook Hee) seeks help.
That's when he saw a boy with the energy of water who helped the villagers find the water spot. The child is Ha Ram (Choi Seung Hoon), the son of Ha Sung Jin. Mi Soo secretly finds out that Ha Sung Jin is still alive. The shameless woman asked Ha Sung Jin to hand over Ha Ram to help perform the rain summoning ritual.
In another development, Cheon Gi (Lee Nam Gyeong) was staying with her father who was bullied by some young children. The girl turns out to be blind while Eun Ho is insane.
At the same time, Mi Soo's group who took Ha Ram and his father passed by. Ha Sung Jin felt a surge of demonic energy as Eun Ho approached. He then pushed Eun Ho to the ground and accidentally released demonic energy.
Cheon Gi protects her father, but Ha Sung Jin sees a strange energy in the girl. When Eun Ho regains his sanity, he recognizes his daughter. Turns out Eun Ho and Ha Sung Jin also know each other. Cheon Gi asks his father's permission to visit the Baekyu Painters Community. Ha Ram followed after him.
While the two were walking in the market, an old woman called out to them and handed Ha Ram a butterfly-shaped object, which instantly disappeared from her hand. Grandmother is Samsin (Moon Sook). He was glad that they finally met.
Mi Soo's decision to sacrifice herself in a ritual is opposed by King Seongjo (Cho Seong Ha). However, Mi Soo plans to disobey and will continue to perform the ritual.
Elsewhere, Cheon Gi and Ha Ram grow closer. When Cheon Gi was injured, Ha Ram helped him with the handkerchief his mother gave him. Ha Ram will return for the handkerchief after the rain summoning ceremony. They then arranged to meet again the next day.
Despite the king's objections, a ceremonial event was held. At the event were the king's three sons, Lee Kang, Lee Hoo and Lee Yul. Lee Hoo was really disappointed to meet Crown Prince Lee Kang, as well as his brother, but Lee Yul tried to cheer him up by taking him to the Gyeongwon Pavilion, which houses a painting of the late king.
Two teenagers snuck in there. Lee Hoo opened a room previously filled with charms. Lee Hoo was recklessly opening a painting of King Yeongjong that contained a demon.
He was hooked and couldn't stop staring into the painting's eyes. At the same time, the ritual of summoning rain began. After a while, Lee Hoo burned the painting. Immediately the demon that had been locked up for many years came back to life.
At the ceremony site, Ha Sung Jin realizes that his son will be sacrificed. He rushed in to stop but Mi Soo immediately held back. Meanwhile, the demon had entered Lee Hoo's body. The demon also appeared and aimed at Ha Ram. Ha Ram fell into the water, and so did Cheon Gi. Both sunk in separate places. Chaos in the palace was inevitable.
Immediately it started to rain. Everyone cheered for Ha Sung Jin's sadness. Under water, Ha Ram was visited by Samsin. The god took over his vision because there was a demon residing in his body.
The demon in Ha Ram's body couldn't use its power until his eyes recovered. On the other hand, Samsin gives Cheon Gi vision for a while, until they meet again.
In episode 2, King Seongjo ordered the king's painting restored so it could be used again to trap the demon. The artist was never found until 19 years had passed. Cheon Gi (Kim Yoo Jung) grew up as a teenage girl.
He has an extraordinary talent for painting. Ha Ram (Ahn Hyo Seop) herself becomes the king's favorite scholar. His handsomeness and kindness mask the fact that he is blind.
Wolseongdang's owner, Ilwolseong, is famous for being the richest man in their area. In front of Wolseongdang was a mailbox where people could enter questions.
Ilwolseong will answer but it also has to pay. Ilwolseong was like a know-it-all informant. Ilwolseong, who kept his identity a secret turns out to be Ha Ram.
Cheon Gi visited Wolseongdang to sell his paintings. As an artist skilled in imitating other people's paintings, he benefits Wolseongdang. When Cheon Gi decided to quit his job because the money for his father's treatment was enough, the people of Wolseongdang were furious. While arguing, Ha Ram quietly heard them from another room.
After completing the ritual a few years ago, King Seongjo expelled Mi Soo for daring to sacrifice people. Now, she and prince Joo Hyang (Kwak Si Yang), who is obsessed with becoming king, seem to be in a relationship.
Elsewhere, Ha Ram recounts her father's death by Investigator Kim Gong Rae on the orders of the late King Yeongjong. Ha Ram holds a grudge because he knows his father died because of betrayal.
Cheon Gi is very sad because the expensive medicine he bought did not react to his father. Apparently because Cheon Gi was tricked by a drug dealer who was threatened by Jung Shwen Nae (Yang Hyun Min) from Wolseongdang. After a while, Cheon Gi found out about the incident and was extremely angry.
He chased one of his scammers all the way to the entertainment house. It happened so that Prince Yang Myung (Gong Myung) was there and saw and heard Cheon Gi's anger.
Soon after, Prince Joo Hyang came to make an appointment with Ilwolseong. Joo Hyang went to Ilwolseong because he wanted to know who attacked the Crown Prince. Ilwolseong suddenly said that Joo Hyang was behind the attack.
As Ilwolseong was about to leave the room, he was surprised by Cheon Gi, who was still trying to catch up with the impostor. The scammer then said that Jung from Wolseongdang placed the order. This attracts Ha Ram's attention and asks his men to investigate.
Cheon Gi threw Jung in jail. The chaos that occurred in Wolseongdang today caused Ha Ram to close the place. In addition, he also wants to meet Cheon Gi as a reporter.
Previously, Ha Ram met with King Seongjo about the attack on the Crown Prince. The king asked him to secretly and specifically keep an eye on his second and third children, Prince Joon Hyang and Prince Yang Myung.
Cheon Gi escaped from Jung's pursuit when he was just released from prison. He hid in Ha Ram's stretcher. Without looking, Ha Ram could sense something special about him. Ha Ram then helps Cheon Gi hide. When the two accidentally bumped into each other, Ha Ram's body reacted.
He then asked Cheon Gi to get off the stretcher. Ha Ram looked painfully. The butterfly image on his body slowly disappeared, and he immediately turned into a youkai. Ha Ram found her eyes again, in Cheon Gi's eyes.
Chap 3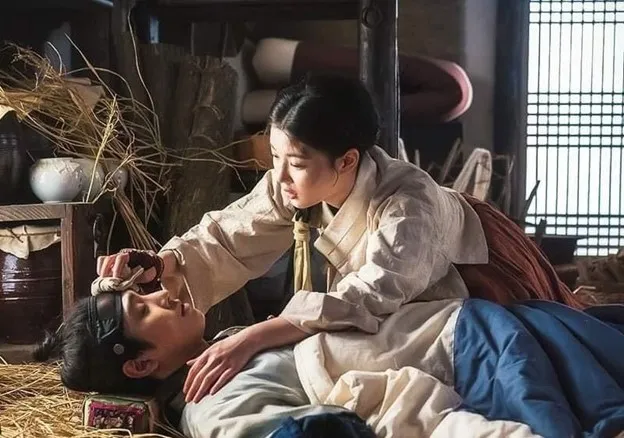 The demon inside Ha Ram's body rose up. His resurrection caused the atmosphere of the kingdom to become more tense until King Seongjo and several other royal officials looked into the night atmosphere around the kingdom.
Raja sees owls lined up and takes it as bad news. Because the owl is a symbol for the souls of the dead who were persecuted in the palace. Every time they sing, death and illness will strike.
Due to the strangeness of that night, King Seongjo ordered Kasim to hold an odd ritual the next morning. The "Rite" is a ceremony held when strange phenomena occur. Man Soo (Kim Hyun Mok), Ha Ram's worker, reports their employer's disappearance due to an incident at Inwang Mountain. Man Soo recounted the incident in detail while shaking with fear.
Cheon Gi, who was walking alone in the forest, met Samsin. Using his powers, Samsin put Cheon Gi to sleep. Soon after, the demon Ha Ram arrives but Samsin takes care of Cheon Gi so that the girl becomes invisible to him.
He goes back to look for Cheon Gi but on the way he meets an officer on patrol after receiving a report from Man Soo. In an instant the demon killed them.
Cheon Gi got up and dashed away despite being held back by Samsin. The Demon Ha Ram realized that and immediately rushed to find him. A second before he catches Cheon Gi's eye, Tiger Spirit, the guardian of Mount Inwang (Jo Ye Rin) appears to stop him. He expelled the demon Ha Ram from his territory.
Tiger Spirit, having greater strength, easily paralyzes the demon Ha Ram. Just as he was about to finish him off, Samsin rushed to stop him. After all, the devil never dies, if Ha Ram dies, the soul will be free.
Samsin wants to take the soul in Ha Ram's body and then confine him to an immortal vessel that Cheon Gi will create when the time comes. It was done because he was a child of destiny. Until then, Samsin had asked Tiger Spirit to take care of them.
After the conversation, Samsin and Tiger Spirit left. Cheon Gi and Ha Ram, who had returned to their human form, had regained their senses. Cheon Gi takes the unconscious Ha Ram to a safer place and takes care of her.
The death of the patrol officers was heard as far as King Seongjo. The king also had not heard of Scholar Ha's whereabouts, so he is presumed dead.
The king then ordered the eunuch to meet Crown Prince Yang Myung because he might already know his friend's whereabouts. The public is buzzing about Ilwolseong's disappearance while the kingdom is also searching for their scholar's whereabouts.
Prince Yang Myung, who is upset because he was deceived by a fake painting he bought from Wolseongdang, receives the king's order to find Ha Ram. This terrible news also reached the ears of Mi Soo and Crown Prince Joo Hyang. In another development, Cheon Gi woke up and hugged Ha Ram. The girl was shocked, scared, and embarrassed for her impolite behavior.
Ha Ram finally wakes up but doesn't remember what happened that night. His body remained weak until he fainted again. Cheon Gi rushes to find a healer and meets Bu Gyeonju from the Baekyu Painting Community.
Cheon Gi is scolded by Master Choi (Kim Kwang Kyu) for not coming home all night and injured his right hand. Instead of getting help, Cheon Gi is locked up as punishment.
Prince Yang Myung and Man Soo, Ha Ram's workers, who saw the strange happenings, started searching for the scholar. In another development, Mi Soo and Crown Prince Joo Hyang secretly approached the officers who were investigating the case. Mi Soo immediately concludes that the strange event is the work of the devil.
Moo Young (Song Won Seok) as worker Ha Ram and So Ma's horse are also looking for their owner. Fortunately, he heard the whistling signal that Ha Ram sent from afar. Ha Ram himself couldn't stop thinking about Cheon Gi because the girl reminded him of the little girl he met before.
Cheon Gi managed to bring Bu Gyeonju and a healer to cure Ha Ram. As they rush, they are surprised by Moo Young and his horse is equally fast. Meanwhile, the hunting dog that Prince Yang Myung was carrying was smelling something.
Moo Young finally finds Ha Ram. Not long after, Cheon Gi also arrived. After hearing her name, Ha Ram became even more convinced that the woman who helped him was the girl from his childhood.
Episode 4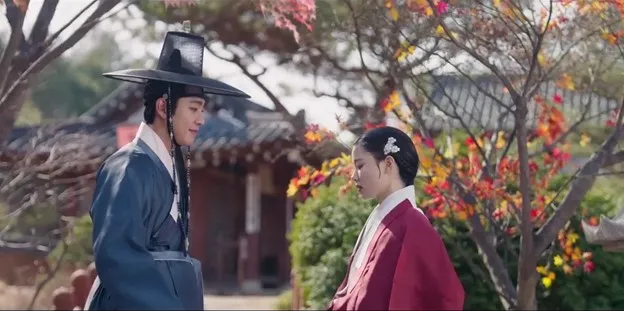 Ha Ram begins to recognize Cheon Gi as the girl he met before, but is still uncertain and completely certain. When Cheon Gi took him in for treatment, Prince Joo Hyang and Mi Soo watched them from afar.
That's when Mi Soo discovers that the scholar Ha being searched for is the son of Ha Sung Jin, a special child. The palace shaman also remembered that during the rain summoning ritual, the devil entered Ha Ram's body.
Not long after, prince Yang Myung arrives and is immediately blown away by Cheon Gi the first time he sees him. When he introduced himself as a prince, Cheon Gi laughed at him. After hearing Ha Ram call Prince Yang Myung, Cheon Gi believed and ran away, peeking from afar.
On the other hand, Crown Prince Joo Hyang and Mi Soo are suspicious of Ha Ram. Joo Hyang suffered a wound caused by the devil and could only be healed by the devil. So you have to find it.
Arriving at the palace, Crown Prince Yang Myung announced that the soldiers died did not seem to be caused by humans. The king secretly suspected this was the work of the devil.
Meanwhile, the preparatory work for the Maejuhôn Painting Competition is going as planned. The king requested something special and important regarding the contest. Ha Ram goes to see King Seongjo.
At the meeting, the king intended to resign after completing negotiations with Yu Shi Yong, the emperor's younger brother. The king then ordered Ha Ram to choose an auspicious date for the abdication.
The fact that King Seongjo decided to hand over the throne to the Crown Prince made Ha Ram worried. It would be better if the throne was given to Crown Prince Joo Hyang or Crown Prince Yang Myung. The king refused because if he did not pass the throne to his firstborn, he could cause trouble.
Information about the painting contest organized by King Yang Myung reached the Baekyu artist community, where Cheon Gi worked as an artist. By his teacher, Choi Won Ho, Cheon Gi was allowed to enter the contest after completing his homework for a week; impossible thing to do.
Cheon Gi, who was annoyed that his name was not on the list of artists participating in the contest, wrote his own name before Kang Chun Bok (Jung Young Ki) submitted the list to Maejuhôn. Chun Bok didn't want to take the risk, so he asked Cheon Gi to hand over the list himself. This means that the girl will probably meet Prince Yang Myung again.
However, who would have thought that Cheon Gi would actually meet Ha Ram there, whom he had been thinking about since that incident. Ha Ram immediately recognized the girl by her voice. Cheon Gi was really embarrassed when he went there to see what happened between him and Prince Yang Myung.
Ha Ram laughed at the girl after learning the truth. The fact that Cheon Gi silently distrusts Prince Yang Myung and even claims to be his wife sounds funny to Ha Ram.
When he was about to leave the list with him, Prince Yang Myung arrived. Cheon Gi was immediately embarrassed and ran away. Then Yang Myung chased until the list of artists was torn by the two of them.
The three then talk to clear up any misunderstandings. Ha Ram felt it was all his fault, so he apologized to Crown Prince Yang Myung on behalf of Cheon Gi, but the girl also had to officially apologize.
Yang Myung forgives because how 'husband' doesn't forgive 'wife'. Hearing this, Ha Ram was so embarrassed that he spilled his drink.
Yang Myung was busy preparing for a drawing competition to begin. When he meets Ahn Gyeon (Jang Hyun Sung), the prince asks for the latest information about the imitation artist he is looking for.
In addition, Ahn Gyeon also asked Yang Myung to find an artist with mystical powers to paint a corrupt picture of King Yeongjong. The artist must have stepped in.
At the market, Cheon Gi is shocked to learn that his father has passed away. According to the healer's words, his father will die with the exception of Chungsimwon, the best medicine for mental illness. However, only the royal family got it.
The only way to get it is to win a painting contest and use the prize money to buy it. In addition, according to Choi Jung, Crown Prince Yang Myung will also meet the winner's request. With extremely strong motivation, Cheon Gi still recklessly entered the contest despite Mr. Choi's objection.
In Simcheonggak Mae Hyang (Ha Yul Ri) gives a high-ranking officer the prediction book that Ha Ram requested. Mae Hyang then left because Crown Prince Joo Hyang had arrived.
Ha Ram plans to take revenge on King Seongjo that night. He also received a report from Moo Young about Cheon Gi's background. From that information, Ha Ram increasingly believes that Cheon Gi is really the little girl.
In another room, along with several others, Prince Joo Hyang was planning his eldest brother, who would soon inherit the throne. But first they must win the heart of Crown Prince Yang Myung. Soon Mae Hyang came and tried to seduce Joo Yang.
Jung from Wolseingdang learns of Ilwolseong's plan to reopen this place and deports himself. He has a grudge against Cheon Gi.
Meanwhile, on the eve of the competition, Cheon Gi was locked away by Master Choi for recklessly participating in the competition. The next morning the contest was held. All the participants were present, including Prince Joo Hyang, who immediately met Yang Myung.
Just when Kang Chun Bok was secretly defeating Cheon Gi, a customer with strange powers suddenly came and took away the painting that the girl was working on.
Cheon Gi finally got out and headed straight for the contest venue. Unfortunately, Jung, who had been chasing him all this time, was waiting for him there. When Jung pulled the girl by force, Ha Ram stopped her and saved her.
Episode 5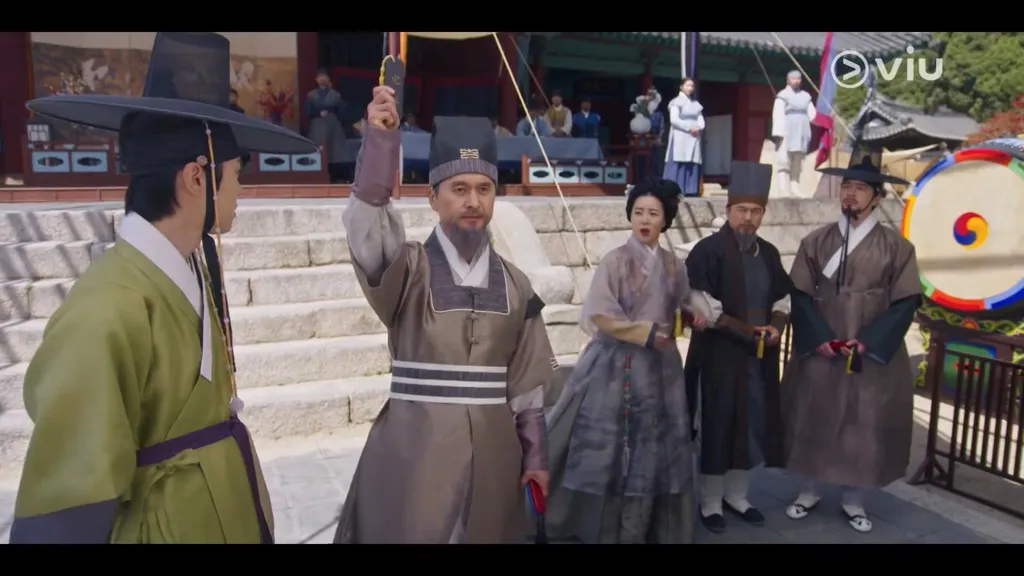 Cheon Gi and his two colleagues from Baekyu, Young Wook and Choi Jung took up the space provided to get ready to draw. Meanwhile, Ha Ram's participation in the Maejukhon painting contest at the invitation of Prince Yang Myung attracted the attention of many present. Crown Prince Yung Myung commended scholars from Seomungwan or the office in charge of astronomy, weather and calendar, heaven and earth.
While the others greeted him warmly, Prince Joo Hyang and some of his subordinates looked at Ha Ram mockingly. Ha Ram greets them but when he leaves, Joo Hyang and the others, including Investigator Kim Gong Rae, Crown Prince Joo Hyang's bodyguard, and father killer laugh at him.
Prince Yang Myung opens a painting contest. He introduced the judges who will evaluate the work of all the participants, including the head of Cheon Gi at Baekyu, Master Choi, Crown Prince Joo Hyang and Prince Yung Myung himself. The contest will last for two days with three screenings.
On the first day, the participants had to make two paintings for two screenings. The final screening will take place on Monday. The assessment process will be conducted without regard to the participant's rank or status. There are 3 formidable opponents that Cheon Gi has to face. The first was Monk Manyoo, a master painter from Jeolla who surprised everyone because the paintings of Vimalakirti on the temple walls he made could emit light.
The second artist is known as Magic Touch because in the process of painting, he is assisted by Hwacha, a painting demon. The third artist is Kang Hee Yoon. He is known as the Inspiration of God, so the artist is very favored and predicted to win this painting contest.
The subject of the first painting of the day was given. Cheon Gi started scratching the pen on the paper. In the middle of the painting, Magic Touch peeks at Cheon Gi's work and praises him. He didn't believe in himself and then tore his paper and started a new picture. The evaluation process for the first topic has begun. Painting is judged not by the artist, but by his work.
Some painters began to decline. Young Wook and Choi Jung passed. Cheon Gi's painting also received a lot of praise. However, Prince Yang Myung, who is searching for the fake artist who cheated on him, recognizes Cheon Gi's work as the work of a clone. When he was about to be declared a failure, Cheon Gi said.
The girl asked why his well-praised work was declared a failure? He accepts defeat but wants to know the reason behind Prince Yang Myung's decision to improve the painting. Yang Myung explained, but Cheon Gi still tried to defend himself.
Finally, when Cheon Gi decided to leave, Ahn Gyeon from Gohwawon or the agency in charge of painting in the kingdom, as well as Yang Myung's confidant in this competition, stopped him.
Two yellow butterflies magically landed on Cheon Gi's painting. That surprised many people. Ahn Gyeon ended up using his privilege as a judge to save Cheon Gi. Before the contest started, Master Choi told Ahn Gyeon that Eun Ho's daughter was participating in the contest. He was asked to stop it. However, after seeing Cheon Gi with his own eyes, Ahn Gyeon made a different decision.
While all the contestants were resting and washing their brushes, the two participants could hear small talk about Cheon Gi and Ha Ram. They assume that Cheon Gi used his inner strength or that Ha Ram used his magic to invite butterflies. The eyes of those who thought that Ha Ram was strange entered Cheon Gi's ears. To satisfy her curiosity, the girl asked Choi Jung more.
From there, Cheon Gi eventually discovered that Ha Ram was once included in the rain summoning ritual. Since the ritual, his eyes become red and blind. The contest that day continued to take place in the second round and there were only 20 artists left. The challenge was made even more difficult because the participants were only given a piece of paper and a large brush.
As for the topic for the second round, Yang Myung asked Ha Ram to decide. When listening to Ha Ram talk about the chosen topic, Cheon Gi's memories seem to be pulled back to the past. Her concentration was distracted because the girl seemed to have a lot of questions and was yearning for Ha Ram.
Episode 6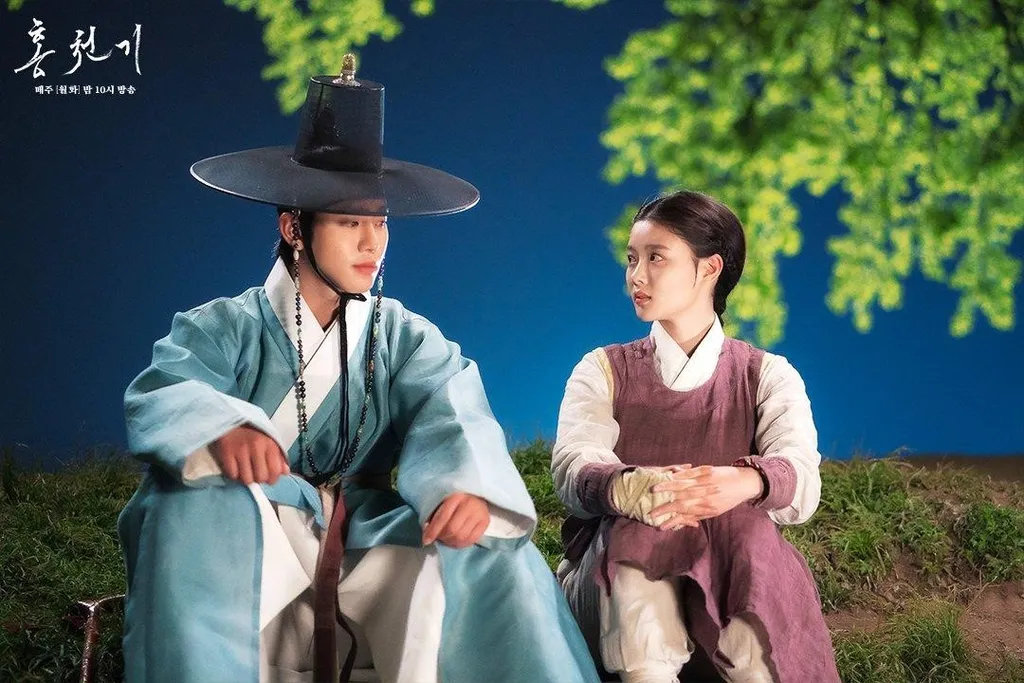 To determine the winner of the contest, Prince Yang Myung will ask the two artists who own the remaining two paintings to have an equal score. Cheon Gi took so long to answer Crown Prince Yang Myung's question, to the point where Master Choi got angry and urged him on.
Cheon Gi said that when he was young, he was blind. He perceives form and color only through sound. When it rained on the first day after a long dry spell, he suddenly saw a miracle. In front of him was the black Inwang mountain. He continued that his painting was a form of longing for a boy picking peaches with him as a child. Cheon Gi doesn't remember his face but misses him very much.
At the time of publication, the two artists drew again. They were finally allowed through to the next screening tomorrow as first place holders. Ahn Gyeon told Prince Yang Myung that Cheon Gi's father was a great painter who competed with him as a Gohwawon expert. It was also Cheon Gi's father who painted the burned image of King Yeongjong 19 years ago.
Ahn Gyeon assures that Cheon Gi is a lucky painter that Prince Yang Myung is looking for to fix his grandfather's painting. At the party, Crown Prince Yang Myung met and drank with the rest of the participants. After the party, Prince Yang Myung invited Cheon Gi to speak privately. He asked about the fake painting that Cheon Gi had made.
Yang Myung said that if Cheon Gi becomes the champion and the forgery spreads in the community, the reputation of the Maejuhôn Painting Festival will be damaged. After that, Yang Myung attended another party specially organized to entertain Crown Prince Joo Hyang.
Master Choi once again reminded Cheon Gi to give up because he was worried his condition would be like his father's. It turned out that until adulthood, Cheon Gi still did not know how his father could become like this. His already bad mood after talking with Yang Myung got worse.
Crown Prince Yang Myung was angry when he learned that Joo Hyang had ambitions to replace the Crown Prince. Joo Hyang was equally angry because Yang Myung didn't want to support her. Investigator Kim Gong Rae eavesdrops on their conversation and sends a secret messenger pigeon to King Seongjo. However, Moo Young shoots him and reads the hidden message there. He then informed Ha Ram the news.
Ha Ram ordered Moo Young to send a message to Joo Hyang secretly. Moments later, after reading the letter, Joo Hyang felt that someone had betrayed her. Cheon Gi is alone in the barn after two sad events. Not long after, Ha Ram came to support him when Cheon Gi decided to give up.
After that, Ha Ram invited Cheon Gi to ride a horse together to a location. He didn't know, the two of them visited this place when they were kids. For Cheon Gi, where there are memories. Cheon Gi recounted what was discussed with Ha Ram in the past.
Ha Ram herself was still trying to pretend that she didn't remember the incident until Cheon Gi took her hand and placed it on Ha Ram's face. Immediately, Ha Ram kissed the girl. However, he then realized there was something strange on his body. At the same time, the image of the butterfly on the back of his neck blurred and Ha Ram had a severe headache.
After a while he felt as if he had plunged into the water. His body shook violently because he saw the red-eyed demon there. When he wakes up in a panic, Ha Ram says he is not the boy Cheon Gi is looking for.
He asks Cheon Gi to forget it because the boy has forgotten those memories. It's the only way to keep him from getting hurt. Ha Ram didn't want to waver because he had let go of that feeling.
The second day of the next contest or screening begins. Each artist will pair up and play against each other. While the contest was going on, Ha Ram pretended to leave the contest venue and ran into Kim Gong Rae until the blank sheet of paper used to write last night's secret letter fell out of her clothes. Joo Hyang looked on and held back her anger when she learned that Kim Gong Rae betrayed her.
It's time to evaluate the picture. So far Magic Touch outperforms the others. When it was Cheon Gi's turn to be judged by the judges, they were confused, but Prince Yang Myung managed to translate the meaning and intent of Cheon Gi's painting and eventually won over the girl.
The paintings by the winners of the screening were then auctioned off to the judges present. Cheon Gi's painting was offered competitively by Prince Yang Myung and Ha Ram. Three times the value of other winners. Ha Ram won the auction of Cheon Gi's painting. Ha Ram did it on purpose because he wanted to honor the promise he made. It was how he chose to let go of the promise he wanted to keep.
Prince Yang Myung crowned Cheon Gi as the winner of the contest. After receiving such a huge gift, Cheon Gi asked for something. He asks Prince Yang Myung to find a medicine called Chungsimwon, a medicine that cures his father's illness. Yang Myung is ready to find him. Cheon Gi was so happy that she cried.
After the contest disbanded, Eun Ho, Cheon Gi's father, was suddenly there. He walked through the crowd with a brush. When he saw Crown Prince Joo Hyang, Eun Ho saw a flash of evil. He then shouted at Ha Ram and called him Ha Sung Jin.
Eun Ho gets caught but he throws the brush at Joo Hyang. As soon as Cheon Gi saw it, he immediately ran to his father. Meanwhile, Eun Ho continued to scream the devil at Joo Hyang. Cheon Gi apologizes for this incident.
Episode 7
Crown Prince Joo Hyang was very angry at the treatment of Cheon Gi's father. Although Crown Prince Yang Myung apologized, his decision to cut off the artist's hand remained unchanged. Ha Ram protects Cheon Gi by willingly giving up everything at Joo Hyang's request. Cheon Gi is released. Behind Ilwolseong's mask, Ha Ram gives Jung some silver so he won't bother Cheon Gi anymore.
Ha Ram begins her revenge by successfully eliminating Investigator Kim Gong Rae at the hands of Crown Prince Joo Hyang. Some of the big names left include King Seongjo, Prince Joo Hyang and Prince Yang Myung. Ha Ram's next target is Mi Soo, the head priest.
King Seongjo ordered the kingdom to send Cheon Gi to work in Gohwawon for three months. The girl is considered special and is expected to become an artist who can improve King Yeongjong's paintings. Crown Prince Yoo Hyang and Mi Soo plan to find out why King Seongjo accepted Cheon Gi in Gohwawon.
Cheon Gi himself also turned down the offer because he couldn't leave his ailing father. Prince Yang Myung went to Cheon Gi to convince him by saying that he was willing to take care of the girl's father. After feeling confident that Prince Yang Myung can help cure his father's illness and becoming curious about the cause of his father's illness, Cheon Gi willingly joins Gohwawon.
On the way to meet Prince Yang Myung, Cheon Gi meets Samsin again. Using her power, the grandmother cast a spell on the Cheon Gi painting given by her teacher Choi Won Ho. Choi Won Ho purposely donated the painting to protect Cheon Gi from evil influences. By the power of the previous Samsin, Cheon Gi was led to Ha Ram's whereabouts.
Finally, Cheon Gi met Ha Ram. The girl thanks and apologizes and will follow Ha Ram's decision to ask her to forget about her childhood friend. Cheon Gi will pretend not to know him, but he will always trust and wait for Ha Ram.
Returning from Ha Ram's house, Cheon Gi got dumped in the rain but suddenly Prince Yang Myung came and gave him an umbrella. The prince also carried him when he realized that Cheon Gi had a fever. Unexpectedly along the way, they meet Ha Ram, who seems to be waiting with his umbrella.
Episode 8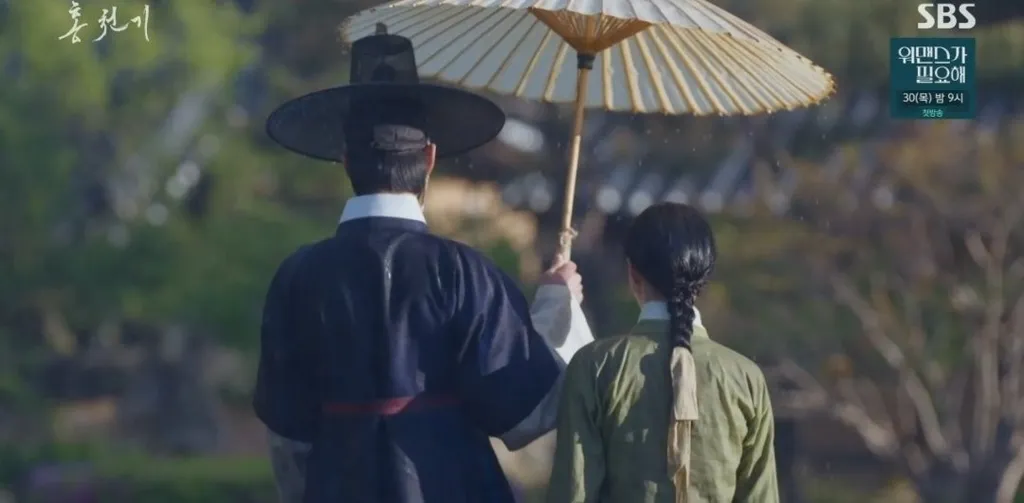 Ha Ram once again asks Cheon Gi to forget about him in the past, even though he misses him in his heart. Elsewhere, King Seongjo receives a secret letter from Investigator Kim Gong Rae asking him to stop Crown Prince Joo Hyang because the prince is looking for a demon hiding from the previous king's painting.
After giving two separate letters to Yang Myung and Joo Hyang, King Seongjo ordered Han Geon to find an artist and restore the king's damaged painting within a month. As an expert on Gohwawon, Han Geon was unlikely to have a painter capable of that, but the king firmly disagreed.
Prince Joo Hyang, who really wanted to find the devil, discovered Cheon Gi was Eun Ho's daughter. Mi Soo plans to take Ha Ram's blood to find out if there is a demon in the scholar's body. Ha Ram himself seems to have reacted as he prepares to hold the painting Cheon Gi left at his residence.
In the evening, Prince Yang Myung brings the medicine that Cheon Gi needs for his father to recover. For his kindness, Cheon Gi donated a painting. At the same time, Yang Myung's face showed a hint of disappointment, knowing that the girl he liked seemed to be in love with another man.
Ha Ram meets Prince Joo Hyang, who is bombarding her with questions about the devil and her past memories. Taking that opportunity, Mi Soo also obtained a drop of Ha Ram's blood. From there, Ha Ram ordered Moo Young to find the demon that Joo Hyang was referring to.
Prince Yang Myung begins to compete with Ha Ram for Cheon Gi. Neither of them wanted to let go of the girl. Elsewhere, Cheon Gi who was in Gohwawon met Han Geon. In addition to his daily work, he is also required to do special tasks that are still kept secret from him.
On his first day in Gohwawon, Cheon Gi was tasked with updating an old map that could be studied at Seomungwan; Ha Ram's workplace, will also be supervised by Ha Ram. The quest to restore the painting of the late king is a secret that no one knows. Therefore, Cheon Gi deliberately gave it to Seomungwan so that no one would suspect.
That night after touring Seomungwan with Ha Ram, Cheon Gi was escorted to the Gyeongwon Pavilion, where paintings of the late kings were kept, to meet Han Geon, who was waiting for him. Cheon Gi was surprised when Han Geon told him the secret task he had to do every night, which was to paint a portrait of the king.
Cheon Gi wants to see the portrait of the king painted by her father, but the girl is shocked because the painting was damaged by fire. Han Geon then explains that Cheon Gi's job is to restore it but the girl suddenly limps and screams. For this mission, Cheon Gi is assisted by Prince Yang Myung.
Cheon Gi returned to Gyeongwon Pavilion to retrieve the dropped items, but was not allowed in without identification. Soon Ha Ram comes and goes with him. Ha Ram felt a terrible headache like when she first met Cheon Gi. Elsewhere, prince Joo Hyang seemed happy to hear that the demon he was looking for was in Ha Ram's body.
Episode 9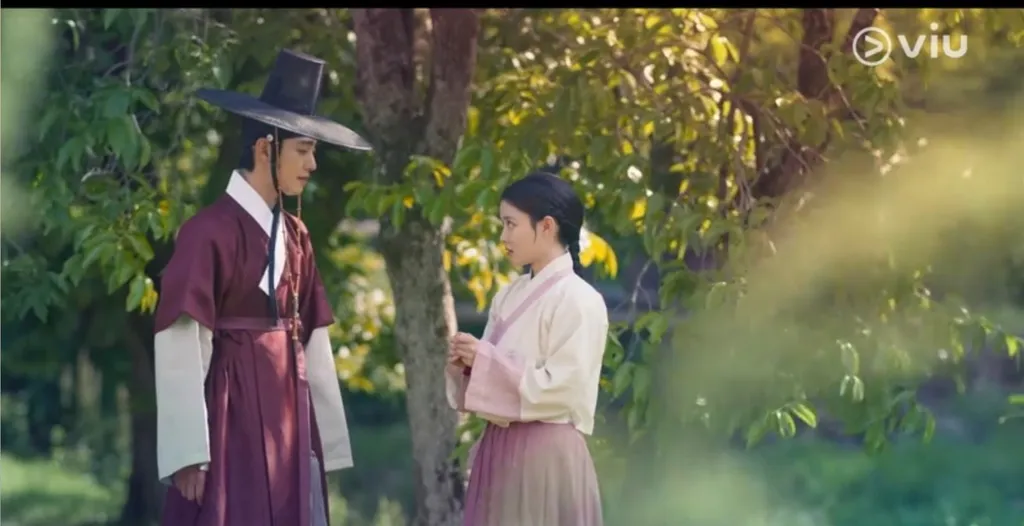 The Tiger God came to save Cheon Gi from the strangulation of Ha Ram, who was controlled by the devil. Ha Ram then passed out. Samsin comes to give Ha Ram an amulet that can keep the demons out of his body for a while.
According to Samsin, Cheon Gi must immediately open his inner eye to create a place where the devil can be imprisoned forever. Only the two of them can do that. Ha Ram doesn't remember what happened last night although Cheon Gi tries to tell her in detail. From Moo Young Ha Ram got information that the demon locking ceremony 19 years ago was related to the painting of King Yeongjong.
Elsewhere, Prince Joo Hyang learns of King Seongjo's plan to repair a painting to trap the demon. He ordered his subordinates to follow Prince Yang Myung and find out what happened at Gyeongwon Pavilion.
Prince Yang Myung meets Ha Ram and plans to investigate the scholar. Until the reason was known, Yang Myung forbade Ha Ram to approach Cheon Gi. That day, for the first time, Cheon Gi was able to see the incarnation of the Tiger God. When it disappeared again, Tiger Spirit said that Cheon Gi's magical eyes would be returned to their true owners.
When the incident happened at Gyeongwon Pavilion, Crown Prince Yang Myung met and reported the incident to King Seongjo. After a long time, Yang Myung finally found out the story of the demon from the body of King Yeongjong locked in the picture.
Yang Myung's job was to keep this plan a secret, while Cheon Gi's job was to paint a picture of King Yeongjong while still showing the king's aura. Not an easy task. Cheon Gi got into another problem when his father became hysterical and forbade him to paint portraits of the king. Master Choi also objected to Cheon Gi doing it.
Cheon Gi herself also complained about the difficulty of doing her job for Ha Ram. Then he was taken to see Im Chang Hyun, the best physiologist. On that occasion, Ha Ram said he would be questioned by Prince Yang Myung about the incident at Gyeongwon Pavilion. Ha Ram also gave Cheon Gi a jade ring that his father gave his mother as a declaration of love.
When Yang Myung talked to Cheon Gi about an artist with the divine powers needed to paint a portrait of a king, Ha Ram as Ilwolseong played the baduk with Crown Prince Joo Hyang. Joo Hyang is suspicious because the board is used exclusively for the blind. During the game, Ha Ram deliberately lured Joo Hyang to get rid of Yang Myung.
Joo Hyang needs a demon to smooth out his journey to becoming king, while in a separate place Cheon Gi finally finds out why his father and master Choi are against him painting portraits. of the king. While Yang Myung was explaining everything to Cheon Gi, King Seongjo suddenly appeared. It was Ha Ram who offered to help Joo Hyang.
Term 10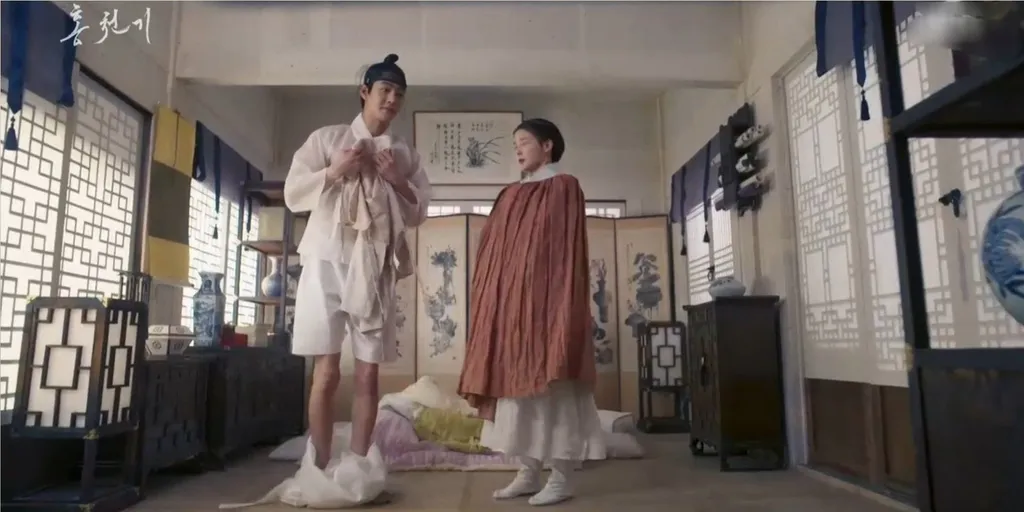 That night, Prince Yang Myung confessed his feelings to Cheon Gi, but seeing the reaction of his ideal girl, the prince corrected his words. When the two parted, the kingdom's first female shaman named Wol San told Prince Yang Myung that they would not have a romantic relationship.
Increasingly worried about the risk of painting the king's portrait, Cheon Gi decided to ask Ha Ram to look into it and come see him. As soon as he left, Hwacha, the painting demon came to find him. Master Choi and Cheon Gi's father are very scared and worried about Cheon Gi.
Cheon Gi himself is at Ha Ram's residence and tells of his anxiety regarding the task of painting the king's portrait. Meanwhile elsewhere, Prince Yang Myung receives an explanation from Wol San about Ha Ram's connection to a portrait of King Yeongjong; that the demon was inside Ha Ram's body.
Wol San also said that if Yang Myung, who was destined to become king, got involved with Cheon Gi, he would face a great calamity. Yang Myung ignored the warning. In another development, Mi Soo, the shaman of the four kingdoms, begins the ritual of communicating with the devil with prince Joo Hyang. The demon in Ha Ram's body reacted but was interrupted by a drawing of Cheon Gi that had been enchanted by Samsin.
The demon in Ha Ram's body then went to Cheon Gi's room to sleep. He strangled her but the power of the jade ring as well as the power of Hwacha stopped her. Hwacha even returned the curse to Mi Soo. The next morning, Ha Ram returned without remembering anything.
That morning, Ha Ram also received a report from Moo Young about the demon in the king's portrait. Cheon Gi himself told about his anxiety when accepting the assignment from the king to his two best friends, Young Wook and Choi Jung. Cheon Gi worries that he will suffer the same fate as his father. Their conversation was overheard by Master Choi and immediately angered him. Master Choi strictly forbade Cheon Gi from painting the king's portrait.
Prince Yang Myung thought about Wol San's words about the demon inside Ha Ram's body. The prince returned to the shaman and began to believe after having a 'vision'. According to Wol San, one of Ha Ram and Cheon Gi will die. Prince Yang Myung then met Ha Ram. Both of them knew the secret of the existence of evil in Ha Ram's body.
Prince Yang Myung and Ha Ram both realize that Ha Ram can harm Cheon Gi. So Yang Myung banned Ha Ram from coming near Cheon Gi until the portrait of the king was completed. Yang Myung will find a place to hide for Ha Ram until it's all over.
That day, despite receiving a painting assignment from Prince Yang Myung, Cheon Gi was still determined to meet Ha Ram according to the promise they had made before. Cheon Gi was asked to draw a portrait of Ha Ram. Done, Ha Ram gives a letter that can give father and son Cheon Gi to Yeon.
Ha Ram wants Cheon Gi and his father to leave their country. At that time, Ha Ram explained the truth to Cheon Gi that there was a demon in his body that could harm him. Not long ago, Crown Prince Yang Myung and some bodyguards came to arrest Ha Ram on the charge of murdering the palace guard on Inwang Mountain some time ago.
Episodes 11-12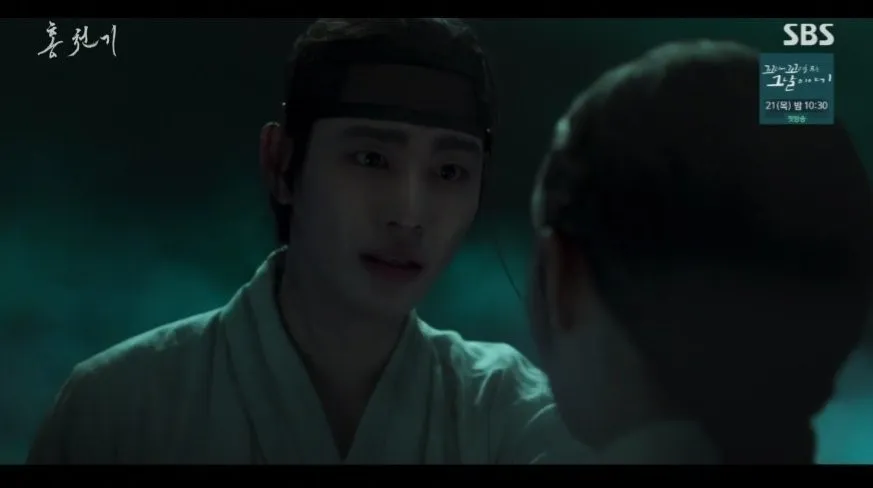 Ha Ram was officially arrested for causing the death of the palace guards on Mount Inwang some time ago. Crown Prince Yang Myung had no choice but to hold back until the portrait of the king was completed. As a result of the incident, Cheon Gi was very sad and fell ill. Cheon Gi is also determined to complete the picture, even though the risk is very heavy.
The next day, Prince Yang Myung questioned Ha Ram about the demon in her body. The prince asks him to participate in the sealing event because he wants to remove the demon from Ha Ram's body. However, Ha Ram says that Cheon Gi may be in danger because whoever paints a portrait of the king will be cursed.
Ha Ram asks if Yang Myung is still interested in Cheon Gi, it would be better if the repair of the king's portrait is cancelled. At night, while drawing the initial sketch for the king's portrait, Cheon Gi avoids Yang Myung. The girl is still angry with what happened yesterday. Seeing the initial sketch of the king's portrait, King Seongjo ordered Cheon Gi through Han Geon to begin the first sketch.
On the other hand, Prince Joo Hyang received a letter from Ha Ram containing instructions to obtain the 'first weapon' to begin progressing towards his goal; usurpation. That day, Cheon Gi accidentally met Tiger Spirit again. He was again reminded not to go near the devil as he could be killed.
From the soul of the palace guardian, Cheon Gi knows that the devil will always hunt him because he will be the one to paint the portrait of the king. It would be better if Cheon Gi focused and just finished drawing the king as quickly as possible. Meanwhile, Crown Prince Joo Hyang begins to inquire about the crown prince's health on the advice of Ha Ram as Ilwolseong. He influenced and pressured the royal physician to urge the king to make an immediate decision.
The first draft of the king's portrait was completed by Cheon Gi. However, when examined by Wol San, the first draft was not a divine painting, it was not divine. King Seongjo was very disappointed when he heard about it.
A mysterious prisoner speaks to Ha Ram, as if he could foretell something to come. He ordered Ha Ram to take the hand of the divine artist. While worried that his painting is not divine, along with his best friend, Cheon Gi broke through the guards to meet Ha Ram.
Cheon Gi's actions immediately became known to Yang Myung. Prince Yang Myung then took Cheon Gi to meet Ha Ram. Ha Ram then holds Cheon Gi's hand and immediately both of them are in the demon world. There Ha Ram could see. Just when the devil was about to take away Cheon Gi's eye, the jade ring saved the girl, but Ha Ram fell into the abyss and lost consciousness. His whole body was black.
The previous mysterious prisoner used his power to expel the demonic influence that disappeared from Ha Ram's body. According to him before the sealing ceremony, a jade ring with power was the only thing that could resist the devil. News of the incident reached Joo Hyang's ears. He then plans to free Ha Ram.
That night, Cheon Gi was determined to forget about Ha Ram for a while. He will focus on his painting. In the morning, Yang Myung meets King Seongjo and talks about the risks Cheon Gi will face after completing his painting. Then the king talked about replacing the crown prince. Prince Joo Hyang arrives later and secretly hears that the king will appoint Crown Prince Yang Myung as crown prince at the sealing ceremony.
Yang Myung refused because there was still Joo Hyang who had more power. According to the king, Joo Hyang was not wise. He also hunted demons after the mountain king's fire incident a few years ago. The king worries about the state of the country and the royal family if Joo Hyang takes the throne.
On the other hand, Cheon Gi overhears a conversation between Master Choi and Han Geon about the risks that the legendary portrait painter will face. Master Choi gets really angry thinking about Cheon Gi's fate having to deal with Hwacha and goes crazy after finishing his painting.
Joo Hyang met Ha Ram when Yang Myung was also there. While talking, Ha Ram asks Yang Myung to hide because he smells of blood. Soon Joo Hyang arrived. Just when he was about to take Ha Ram out of custody, Crown Prince Yang Myung stopped him. Tension between them ensued but then King Seongjo arrived.
The king then spoke privately with Joo Hyang and was furious with his greed. The king then decided to banish Joo Hyang to Jeju Island before finally falling. According to the healer's words, King Seongjo's age would not be long. In another development, Cheon Gi promises not to make a deal with Hwacha, to avoid being cursed with madness, like his father.
In prison, Ha Ram learns of the difficult conditions the kingdom will face after the king's fall. He plans to release the demon to Joo Hyang to save Cheon Gi. Joo Hyang is also adamant about getting Ha Ram out of prison, especially before the sealing ceremony.
The royal officials were divided into two factions, each supporting Yang Myung and Joo Hyang. Meanwhile, Cheon Gi finished the first draft quite quickly. On the other hand, Joo Hyang tries to get Ha Ram out and asks Yang Myung to speed up the sealing ceremony. Ha Ram herself didn't care about the demons or the chaos that would follow. He only thinks about his grudge against the royal family and Cheon Gi's safety.
Episodes 13-14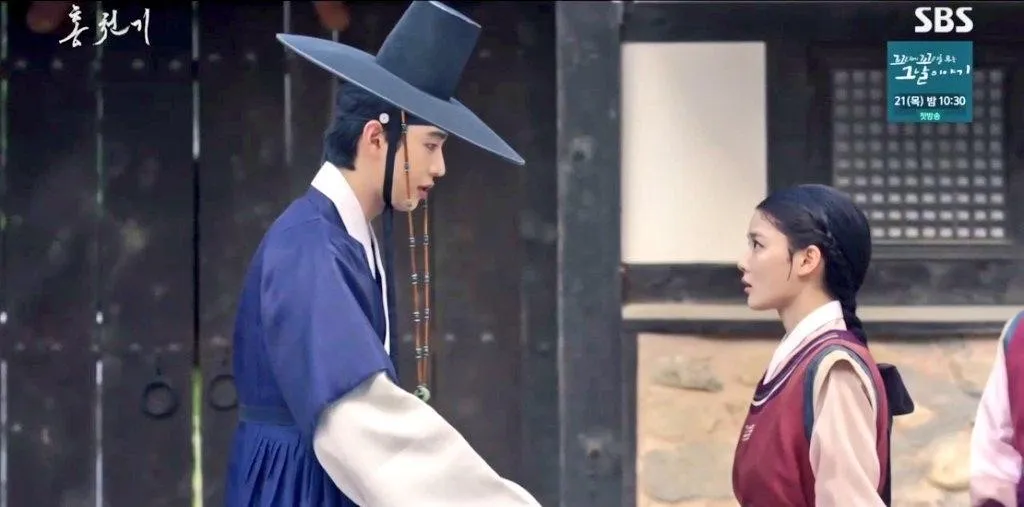 Crown Prince Joo Hyang is in charge of overseeing the Sealing Ceremony. Together with Ha Ram, they plan to put an evil spirit into Joo Hyang's body. This plan made Cheon Gi worry because Joo Hyang was a bad person, but Ha Ram decided. To make the procession go smoothly, Joo Hyang needed a sacred object in the form of a ring worn by King Yeongjong to ward off evil spirits.
The ring in question is clearly the jade ring that Ha Ram gave to Cheon Gi some time ago. Prince Yang Myung consulted about Joo Hyang's desire to control demons on Wol Sun. The royal magician said that if Joo Hyang can control the demon, the only way to defeat him is to kill him. After Cheon Gi's hard work, the painting of the king was finally completed.
Elsewhere, Prince Yang Myung receives a small ceremonial sword from Wol Sun, a magical sword that can wound any spirit or god. Can't kill demons but it can kill humans. The sword's power comes from the hatred of its wielder.
That night Yang Myung resolved, if the Sealing Ceremony failed, he would kill Joo Hyang and then commit suicide. It was Joo Hyang who planned to kill everyone who attended the ceremony if the transfer of the demon into his body was successful.
Ha Ram goes to Cheon Gi and explains that his plan is to protect the girl. Cheon Gi assures Ha Ram that he won't go crazy for not making a deal with Hwacha. He wants Ha Ram to change her mind for the safety of her and Prince Yang Myung.
Instead of changing his mind, Ha Ram asks Cheon Gi to hand over the jade ring he gave her. Before leaving, Ha Ram forbade Cheon Gi from going to the altar. Then, Ha Ram gave the ring she had exchanged earlier to Joo Hyang.
Ha Ram was tied up in the middle of the yard. Samsin and Tiger Spirit were looking down from above, looking worried because sacrificing their lives was inevitable. Samsin even forbade the Tiger Spirit from interfering with its use of power. Prince Yang Myung goes to Ha Ram and apologizes for the tragedy 19 years ago.
Soon after, Mi Soo also arrives, chasing Mi Sun who is about to start the ceremony on the orders of the king. Cheon Gi was asked by Yang Myung to stay in his room during the ceremony. Yang Myung also convinced Joo Hyang for the last time to change his mind which could harm many people.
The ceremony finally began. Mi Soo manages to revive the demon in Ha Ram's body. The jade ring that Ha Ram put under her shirt gave off a light that made Joo Hyang realize that the ring she was wearing was a fake. There was an uproar that made Cheon Gi no longer able to keep herself outside.
Mi Sun presided over the ceremony. The demon spirit seems to have begun to be absorbed by the portrait of the king but the painting is torn apart and the spirit is free again. The devil who saw Cheon Gi's gaze immediately attacked the girl but Yang Myung stabbed Ha Ram with the sword he got from Mi Sun.
The sword against demonic powers will hurt Cheon Gi but will only trap the demon back into Ha Ram's body. Joo Hyang was furious and ordered his troops to arrest Ha Ram and Cheon Gi. Meanwhile, the lovers manage to escape and hide.
The torn portrait of the king makes Mi Sun think that they need other powers than divine power. Mi Sun herself has lost her powers as a result of the ceremony. Meanwhile, Crown Prince Yang Myung was exiled by Joo Hyang because he could not perform the ceremony. On the other hand, Baekyu was closed and everyone there was arrested for selling fake paintings and sending imitation painters to Gohwawon.
Yang Myung was saved by Lee Hyun Mo when he was about to be exiled. He was able to return to the capital but couldn't show up so Yang Myung asked Hyun Mo for help to track Joo Hyang.
At the hideout, Cheon Gi and Ha Ram clash because they have different desires. Cheon Gi still wants the demon sealed in the king's portrait, which means he will repaint everything, while Ha Ram doesn't allow it.
Eun Ho's news was used as bait to lure Cheon, Ha Ram held her tight to prevent the girl from escaping but Mae Hyang told her instead. Without thinking, Cheon Gi hurried to find his father. Joo Hyang captured the two and ordered Cheon Gi to draw a portrait of the king. He won't let go of Eun Ho until the painting is complete.
Mi Soo comes to Cheon Gi, asking him to finish the painting as soon as possible, otherwise the devil will take over Ha Ram completely. With Moo Young's help, Ha Ram managed to escape with Cheon Gi and his father. As a result of the incident, Moo Young and Cheon Gi's father died. Joo Hyang wasn't clever enough to lure Cheon Gi out. He was restrained and ready to execute Baekyu's administrators.
Cheon Gi hears that he wants to save them, but Ha Ram promises to find another way. A while later Ha Ram received a letter asking him to meet someone. That person was King Seongjo, who had returned from his coma.
Episode 15-16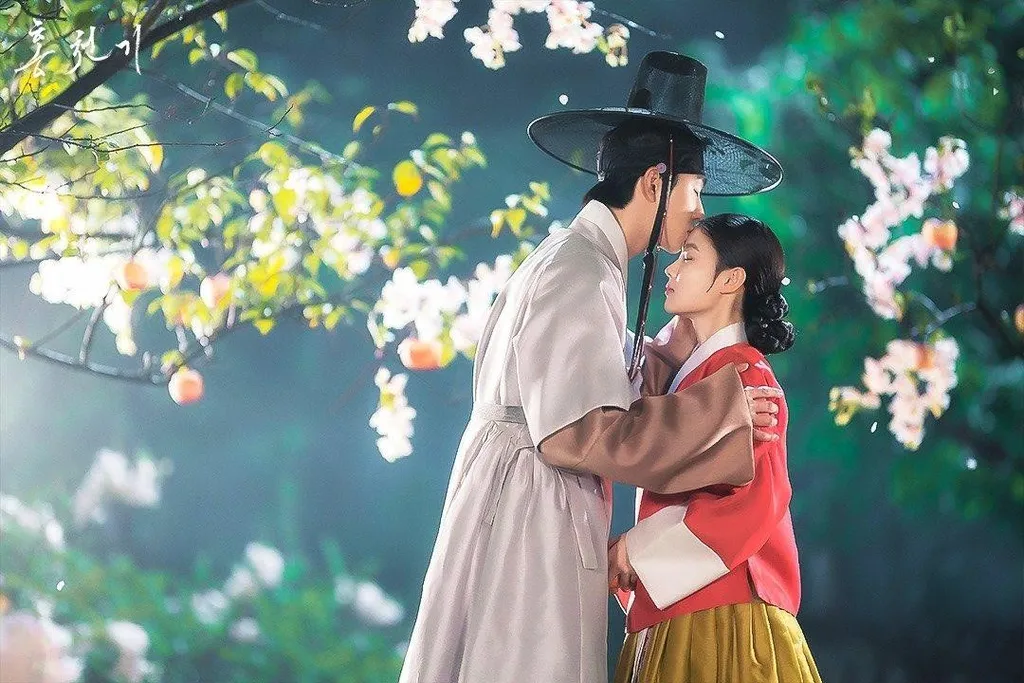 Ha Ram is surprised that King Seongjo has returned to health and discovers his dual identity as Ilwolseong. It turned out that King Seongjo had long known about Ha Ram's plan to take revenge on the kingdom. It was even more shocking when King Seongjo told him that his father's killer was a demon that had taken control of Ha Ram's body when she was a child.
Ha Ram, who couldn't believe it, slowly recalled the incident when his father passed away. His heart was broken. The story continues as King Seongjo tries to prevent the execution of Master Choi and the people of Baekyu by Crown Prince Joo Hyang. King Seongjo was very angry and punished Joo Hyang.
Joo Hyang then shows the growing burn caused by the demonic event that escaped from the portrait of the king a few years ago. He said if the devil did not possess him, he would perish. King Seongjo became worried but did not change his decision.
Ha Ram takes Cheon Gi to bury her late father by the sea; the same place when Ha Ram buried his biological father. At the same time, Ha Ram returned the jade ring he took from Cheon Gi. The night after Cheon Gi slept, the demon in Ha Ram's body arose again. Fortunately, the jade ring that Cheon Gi wore saved the girl.
King Seongjo personally asked Yang Myung to conceal the preparations for the sealing ceremony to be held again. That day while preparing to paint a portrait of the king, Hwacha came to Cheon Gi and asked him to make a deal because otherwise the painting would continue to tear.
On the other hand, Ha Ram's body is increasingly being controlled by the devil. Meanwhile Wol Sun is accompanied by Shim Dae Yu, who turns out to be the son of Kan Yoon Guk, the legendary painter who worked with his father Cheon Gi to paint portraits of the king in the past. Through Wol Sun, Hwacha ordered them to paint a portrait of the king together.
However, because Cheon Gi's injured hand still had a demon spirit left, he had to draw on the day of the ceremony and finish it immediately. Cheon Gi agreed because he made a deal with Hwacha, who promised not to take his life, but only for a painting. Prince Yang Myung was very worried about Cheon Gi's ability but decided to follow his decision.
Elsewhere, an old man dressed in white met Ha Ram. The man she met while in prison turned out to be her grandfather. The grandfather then asks Ha Ram to destroy the jade ring and go for the Sealing Ceremony because as long as Ha Ram has the ring, she will continue to live with the devil.
Mae Hyang, who feels betrayed by Ha Ram and Ilwolseong, offers to help Crown Prince Joo Hyang who is in prison. At the same time, Mi Soo, who was directly ordered by King Seongjo, led the ceremony and began to perform the ritual. In another development, after destroying the jade ring on the orders of his grandfather Ha Ram, his body was controlled by the devil.
Ha Ram has yet to appear at the Sealing Ceremony, causing many people to worry, including King Seongjo and Cheon Gi. That night the Sealing Ceremony must be successful or Ha Ram will forever be fused with the devil. Soon, the awaited Ha Ram arrived. It seems his demonic energy has disturbed the preparations for the ceremony.
The demon in Ha Ram's body destroyed the spell that Mi Soo placed on the door of the room where Cheon Gi drew. The demon regained his eye and Cheon Gi went blind. While nearly killing the girl, Samsin and Tiger Spirit arrive to try to stop the demon so Cheon Gi can finish his painting.
Samsin and the tiger's spirit seem to have a hard time repelling the devil because they have regained their sight. Meanwhile, with the help of his father's god and completed by his own hand, the portrait of the king was completed by Cheon Gi. Hwacha has completed the final brushstrokes for the portrait before sending it out.
This time it's Mi Soo's turn to do the task but the psychic has fallen. With no other choice, Samsin sacrificed himself to pull the demon into the picture. After the Sealing Ceremony was successful, Ha Ram was able to see again. Five years later Yang Myung who became the Crown Prince went somewhere. Joo Hyang herself is still in prison preparing for revenge.
Prince Yang Myung visits Ha Ram and Cheon Gi, who are now parents to a boy named Ha Joong. Cheon Gi also turned to look, right after the sealing ceremony ended. While gathering with Ha Ram, Cheon Gi and Master Choi as well as some people from Baekyu, Yang Myung received a report from the kingdom so he had to leave immediately.
In the palace, prince Joo Hyang, who is harboring revenge, plots against the king to take the throne and kill Yang Myung. Previously when Cheon Gi was worried about Yang Myung, Ha Ram said that he saw the second starlight dim, which means Yang Myung will be fine.
Fate swap between blind girl and water energy man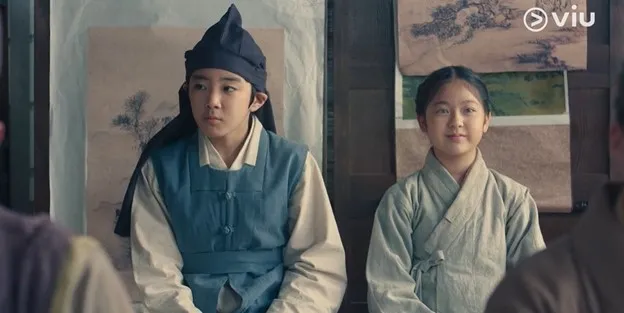 Episodes 1 and 2 of Lovers Of the Red Sky (2021) of course have an introduction to conflict, an introduction to one character's relationship with another. In episode 1, you will definitely be excited by the interactions between Cheon Gi and Ha Ram as children.
Played by two child actors Lee Nam Gyeong and Choi Seung Hoon, the chemistry of these two characters was built from the start through a neat storyline.
Their second birth occurred at a pivotal time, when Ha Ram's father led a ritual to imprison the demons in Cheon Gi's father Cheon Gi's painting of King Yeongjong. Since then, their fates seem to be tied. During a rain summoning, the blind Cheon Gi was able to see again because Samsin took Ha Ram's vision and gave it to him.
This movie is really a fantasy genre, so from the beginning it was filled with things that didn't make sense. Like the usual early episodes, the episodes of volume 1 and 2 are made very dense.
Each scene is related to the next. This movie is also very charming because it is surrounded by beautiful cinematography. For example, when they were in the peach garden. The pink of the flowers and the blue of the sky create a harmonious and, again, beautiful tone.
The King's Son's Curiosity Has Deadly Results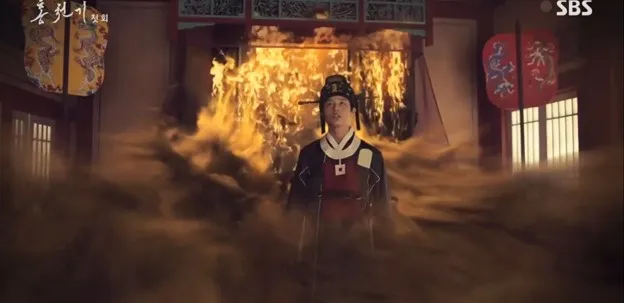 In episodes 1 and 2, you will also get to know the villain in this drama, which is King Seongjo's second son named Lee Hoo. With his curiosity, the demon who had been imprisoned for 9 years in the painting, he accidentally released.
Lee Hoo is a typical teenager who is both curious and jealous of his older brother. Watching this passage feels like a gem because his carelessness endangers the kingdom.
In episode 1, the character was portrayed very well by Park Sang Hoon, who often played the teenage version protagonist in a drama. Call it the TV series The Road: The Tragedy of One (2021), River Where the Moon Rises (2021) and Do You Like Brahms? (In 2020).
As an adult, his sleazy character was assigned to Kwak Si Yang, who had also previously played a successful role in Welcome 2 Life (2019) and Alice (2020).
Ghost visualization and Great Scoring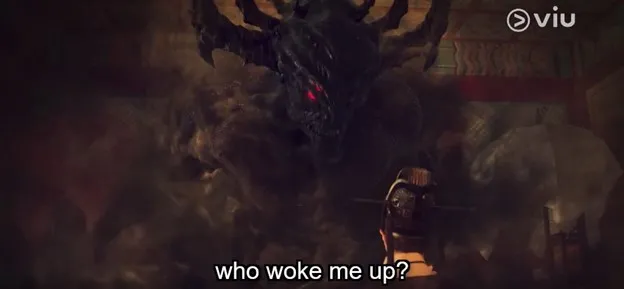 As a sci-fi film, in addition to the neat and solid plot, the visual effects are also important to note. Fortunately, Lovers Of the Red Sky (2021) did not disappoint.
The image of the devil in episodes 1 and 2 is done in a way that is not only scary but also threatening. A large, black demon with fiery red eyes and horns is depicted in a convincing and detailed manner.
Not to mention scoring when the demon appeared made the scene even more terrifying. There are several scenes of scary demons appearing in episodes 1 and 2, one of which is very convincing is the scene where Ha Ram suddenly transforms into a scary pale-faced demon full of vengeance.
Everyone is busy looking for Ha Ram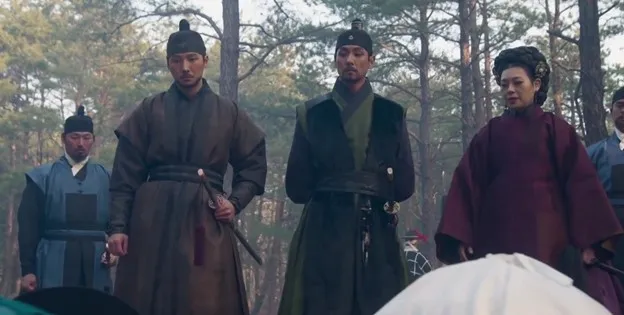 In episode 3 Lovers Of the Red Sky (2021), everyone is busy looking for Ha Ram. King Seongjo was so worried that he asked Crown Prince Yang Myung to help find him.
In the marketplace, the public also lost the shadow of Ilwolseong, they were equally excited. The plot in this volume explains Ha Ram's important position to King Seongjo to the point of touching everyone.
The strange appearance that caused several soldiers to die is sure to attract attention. Furthermore, a scholar is also missing. Mi Soo and Prince Joo Hyang also don't want to miss the news.
In this episode 3, Mi Soo begins to smell signs of the appearance of demons. Still with his deceitful personality, surely he and Crown Prince Joo Hyang will have something to plot in the upcoming episode.
The appearance of the tiger spirit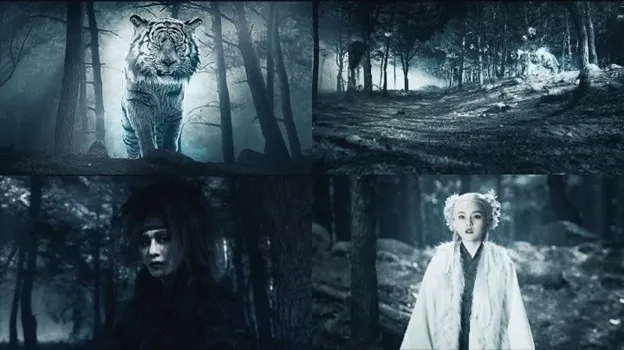 As a historical and fantasy drama, Lovers Of the Red Sky (2021) episode 3 also inserts a scene showing the power of visual effects. This time the appearance of the Tiger God guarding Mount Inwang will make you extremely surprised. A white tiger surrounded by blue light moves and roars like a real tiger, adding drama to the scene.
The interesting thing is that the character playing the role of God Tiger is a little girl. He's not a manly grown man or a tough woman, but a child in the right make-up. Platinum hair plus not too much makeup really make his look more special.
Who does Ha Ram recognize Cheon Gi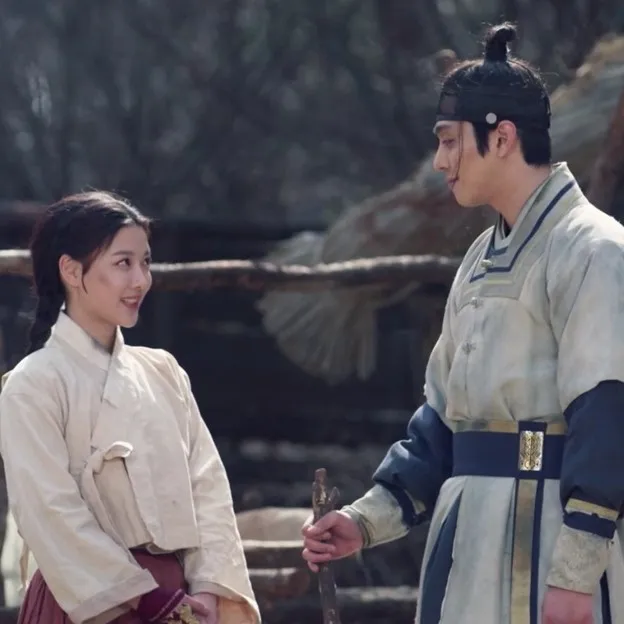 In episode 3 of Lovers Of the Red Sky (2021), the interaction between Ha Ram and Cheon Gi is still very awkward. The part where Cheon Gi wakes up in the arms of Ha Ram and the self-indulgent girl is pretty cute. Especially when he eagerly asks for Gyeonju's help to cure the man.
Here, Kim Yoo Jung's acting is unbeatable. She is able to bring to life the character of a careless, cheerful and caring girl. Although not a big surprise, at the end of episode 3, Ha Ram is able to remember and recognize Cheon Gi as a girl from her childhood.
Ha Ram's attitude towards Cheon Gi makes me even more curious to watch the next episode. Will Ha Ram come clean and try to remind the girl or leave it temporarily.
Prince Yang Myung is mesmerized by Cheon Gi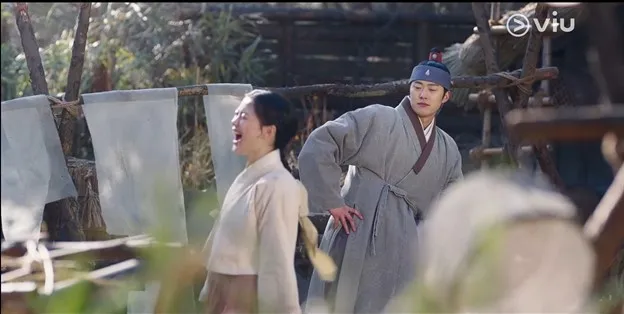 There is something new in episode 4 of Lovers Of the Red Sky, which is the first meeting between Crown Prince Yang Myung and Cheon Gi. Their meeting adds something new to this episode as the two of them show off hilarious interactions. The chemistry between Gong Myung and Kim Yoo Jung feels right: both are suitable for ridiculous roles.
Even more adorable and cute because Prince Yang Myung really fell in love at first sight. That part was very impressively packed, especially when Yang Myung couldn't stop staring at Cheon Gi when the two first met.
Unfortunately, a second later they were even noisy and mocking each other. Cheon Gi burst out laughing when he heard the man in front of him claiming to be a prince.
Ha Ram is jealous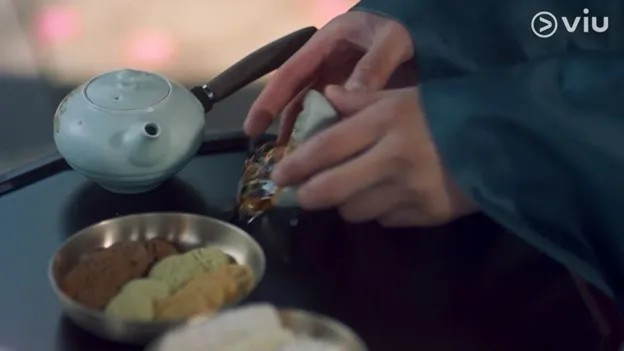 The meeting and interaction between Cheon Gi and Crown Prince Yang Myung in this episode really made Ha Ram jealous. Ha Ram, who is almost 100% sure that Cheon Gi is the girl from her childhood, indirectly shows her jealousy by spilling her drink.
Cheon Gi and Yang Myung are constantly teasing each other, moreover, Yang Myung is also discussing the so-called 'wife' issue that makes Ha Ram react. The rich and beloved scholar of the king, who was mostly silent in previous episodes, shows his other emotions in this volume.
Cheon Gi is determined to participate in the drawing contest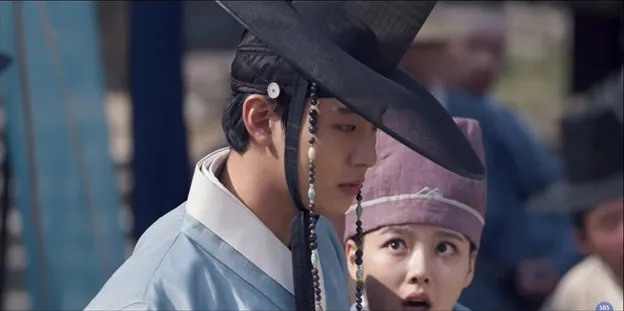 Until episode 4, Lovers Of the Red Sky (2021), the plot was still very solid. Each story is connected to the next. Like when Cheon Gi became more and more determined to participate in a painting contest because he needed money for medicine for his father. Although the plot is relatively general, it is textured in quite detail.
After successfully escaping Master Choi's cage, the girl immediately entered the competition. Unfortunately, he has to deal with Jung. Fortunately, Ha Ram came to save him. This scene closes episode 4 of Lovers of The Red Sky in a sweet way; Can't wait to see the next episodes!
Maejukhon Painting Competition Begins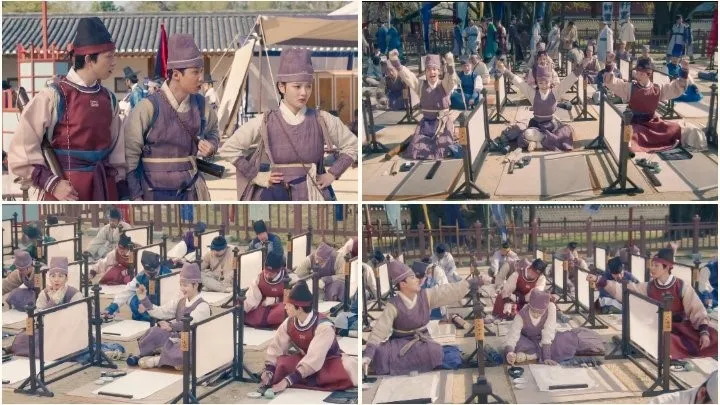 Taken with the correct camera angle, the Maekjuhôn painting competition that took place in episode 5 was very impressive. Participants line up neatly with their devices. The main plot in this volume is Cheon Gi's battle against other equally charismatic artists. Their work is even more famous than his.
In this volume some famous artists are introduced. Each has a nickname because of his strength. One of them was even predicted to win the contest. Another feature of the artists in this volume is the precise plot to add a strong impression to Cheon Gi's struggles. It will be more emotional if Cheon Gi wins the drawing contest. We'll just have to wait for the next episode!
Cheon Gi shows off her abilities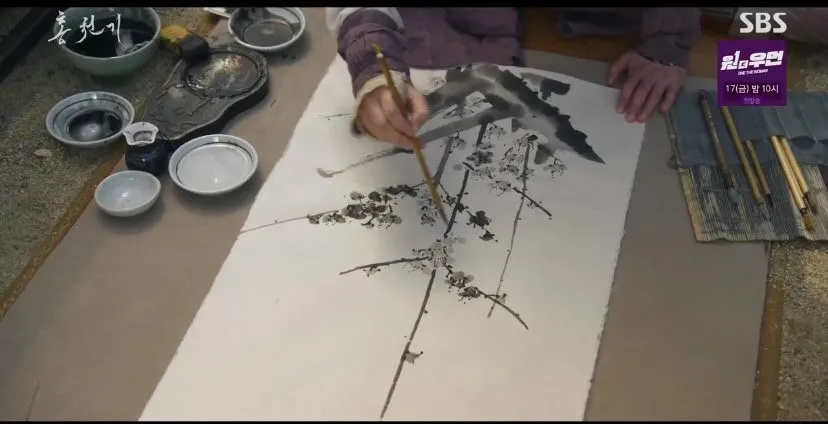 In this episode, you will see that Cheon Gi takes his painting skills very seriously. Before he worked hard on painting with a brush, he pictured his imagination in his head. When painting, a different aura radiates from his face. Cheon Gi, who had been hiding behind a fake painting the whole time, finally appeared as himself.
Also in this episode, some people start to recognize her as Eun Ho's daughter; a glorious past that transcends time. Interestingly, according to circulating information, the painting that Cheon Gi made in episode 5 of Lovers of The Red Sky (2021) was actually drawn by Kim Yoo Jung himself.
In addition, this part is also detailed with the correct angle so we can see Cheon Gi brushing his hair. Curious about the results?
Cheon Gi starts to realize who Ha Ram is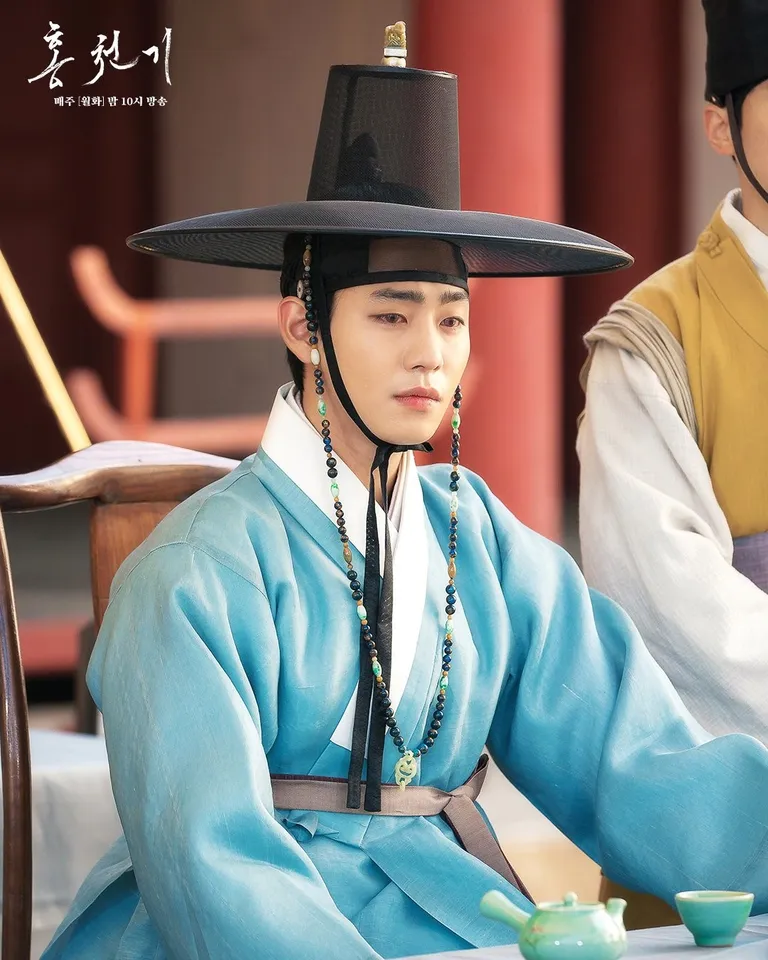 The interaction between Cheon Gi and Ha Ram is not too much in this episode 5. However, they stay connected because the camera fits. When Cheon Gi defended himself against Crown Prince Yang Myung, the camera caught Ha Ram's smiling expression many times. Therefore, even without talking, we can still feel the strong affection between the two of them.
In addition, episode 5 is also quite important because from here, Cheon Gi seems to start to realize that Ha Ram is his childhood friend. Although uncertain and still in need of confirmation, Cheon Gi seems distracted. The upcoming episode will bring a new chapter to their relationship.
Prince Yang Myung Found the Painter He Was Looking For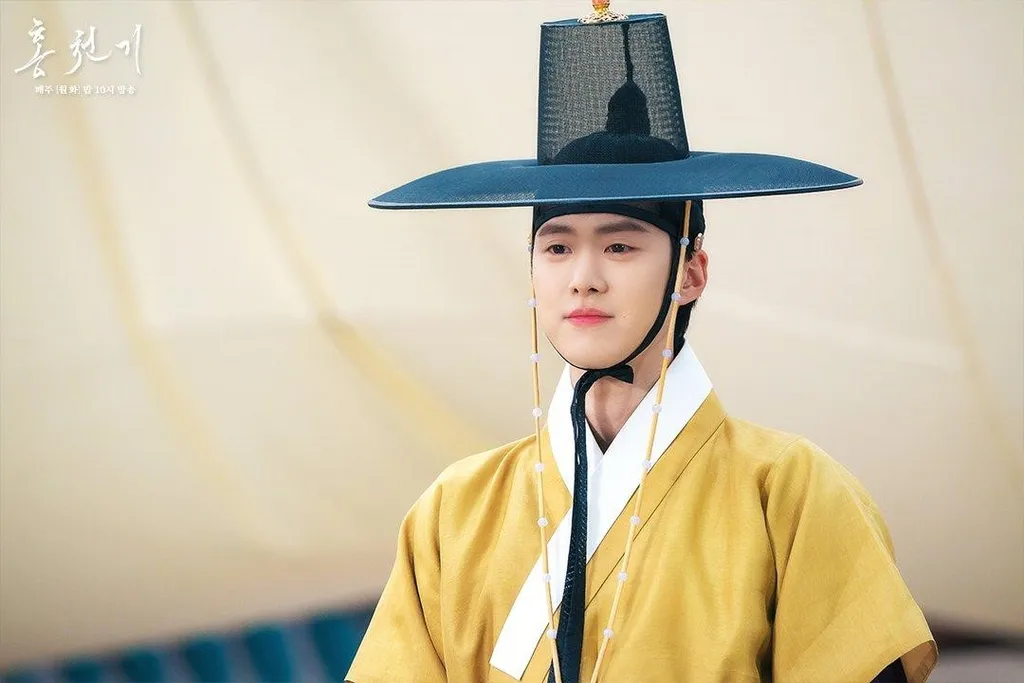 The plot of episode 6 Lover Of the Red Sky (2021) continues the exciting drawing contest organized by Crown Prince Yang Myung. There are at least 6 painters left, three from Baekyu and the other three being more famous professional painters. Competition is fierce as each of these artists is described as capable of drawing the same quality. Cheon Gi even entered the final round with a draw.
The plot is enough to illustrate how fierce the rivalry between them is. After the previous episode Yang Myung tried to stop Cheon Gi, in episode 6 Yang Myung's attitude changed dramatically, especially after he discovered that Cheon GI was the painter he needed, that he sought out. search all the time.
From the very beginning, Yang Myung's painting competition was supposed to find an imitation artist who was giving him trouble. In addition, he is also looking for an artist who can recreate his grandfather's paintings. It turned out that the two things Yang Myung was looking for were in Cheon Gi. The stories in this section are well organized and detailed. Even watching the plot feels fluid, not that ujug-ujug seems forced or just a patchwork.
Ha Ram asks Cheon Gi to forget him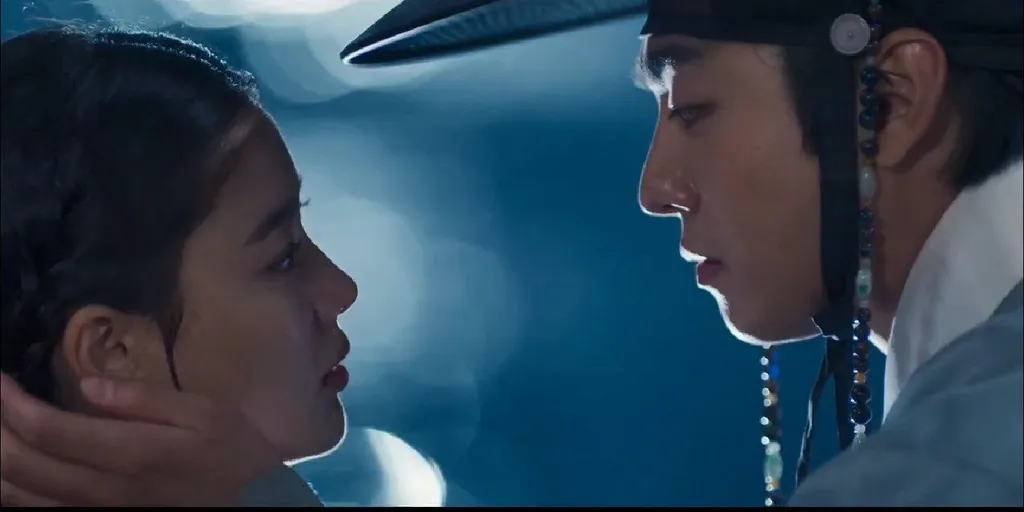 After in episode 5, Cheong Gi started to realize who Ha Ram is, in this episode, their relationship turned out quite unexpectedly. Ha Ram pretends not to know and notices Cheon Gi. Ha Ram's attitude like that is actually not too surprising, because at the first meeting, Ha Ram can turn into a demon if he is near Cheon Gi. From there, we can feel that it will be difficult for them to unite.
In this episode, Ha Ram surprised the audience as well as excited and happy by holding and kissing Cheon Gi. The scene of the two riding horses is also equipped with romantic visual effects. Unfortunately, Ha Ram broke the hearts of many viewers by then asking the girl to forget about him.
The interesting thing about this episode is that when kissing Cheon Gi, the devil in Ha Ram's body doesn't show up like in the first episode. The figure only met him in the water, but the visualization was still terrifying.
Cheon Gi Wins painting contest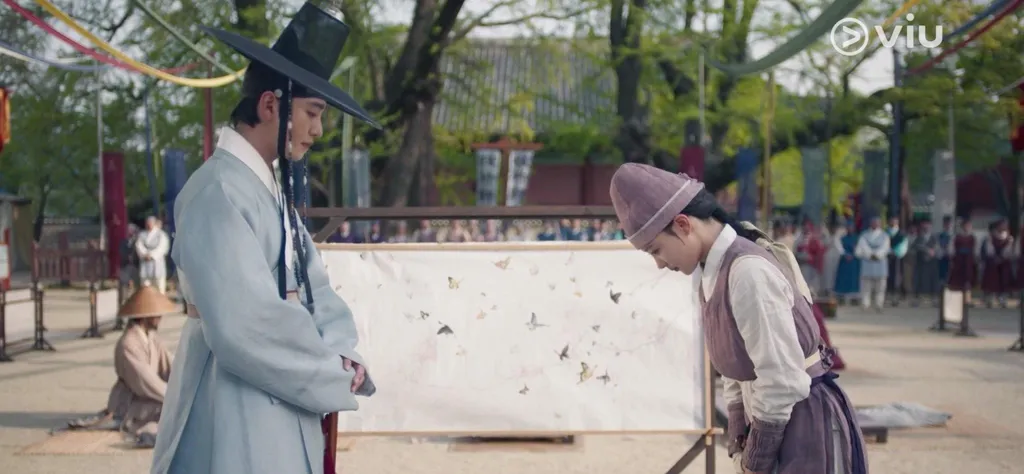 This part was, of course, predictable. However, seeing Cheon Gi win the contest still feels heartwarming. Cheon Gi's tearful expression especially when he said that he wanted to find medicine for his father, tried to touch. Kim Yoo Jung is really good!
Not only that, Yang Myung's interpretation of Cheon Gi's painting is done with a detailed and beautiful script. It's like he's writing poetry using assumptions that fit his picture. Yang Myung's figure became even more attractive when he said that.
Episode 6 closes with a horrifying episode that happened to Joo Hyang and Eun Ho. What will happen to Cheon Gi next? Will the gift be canceled because of the father?
Prince Yang Myung tries to get close to Cheon Gi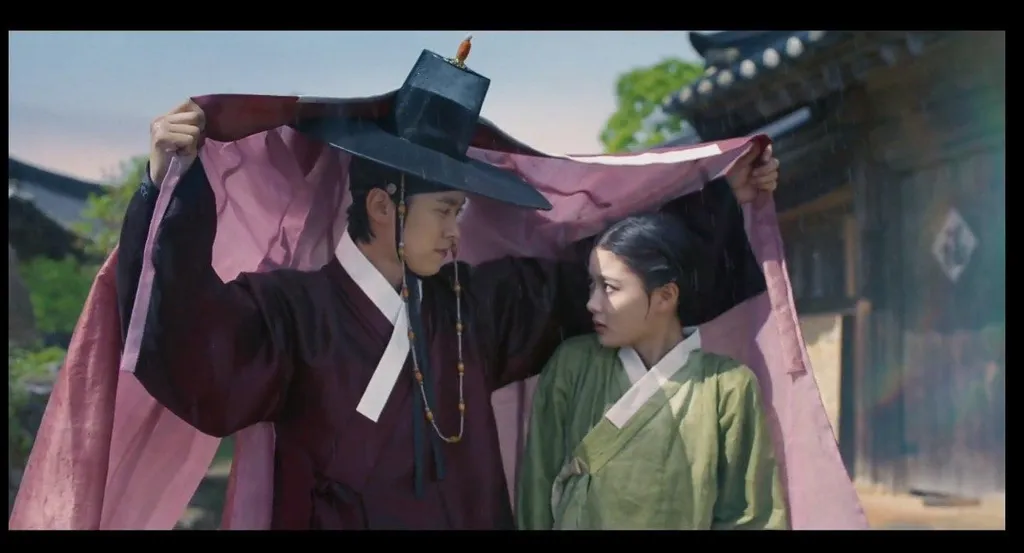 After being disappointed to find out that Cheon Gi was the forger, Prince Yang Myung changed his mind when he heard the truth about the girl. The character of Yang Myung, who was annoying for trying to obstruct Cheon Gi during a drawing contest, has become cute in this episode! Get ready to be mesmerized by his smile and demeanor as he lures Cheon Gi into Gohwawon.
In this episode, the smell of competition between Crown Prince Yang Myung and Ha Ram for Cheon Gi begins to be felt. When the girl decided she was ready to pretend she didn't remember Ha Ram as her childhood friend, Ha Ram changed her mind.
He doesn't seem to want to let other men approach him, including Prince Yang Myung. Ha Ram's demeanor and attitude stunned him, as well as intrigued him. How does Ha Ram really feel about Cheon Gi?
Ended with a horrible surprise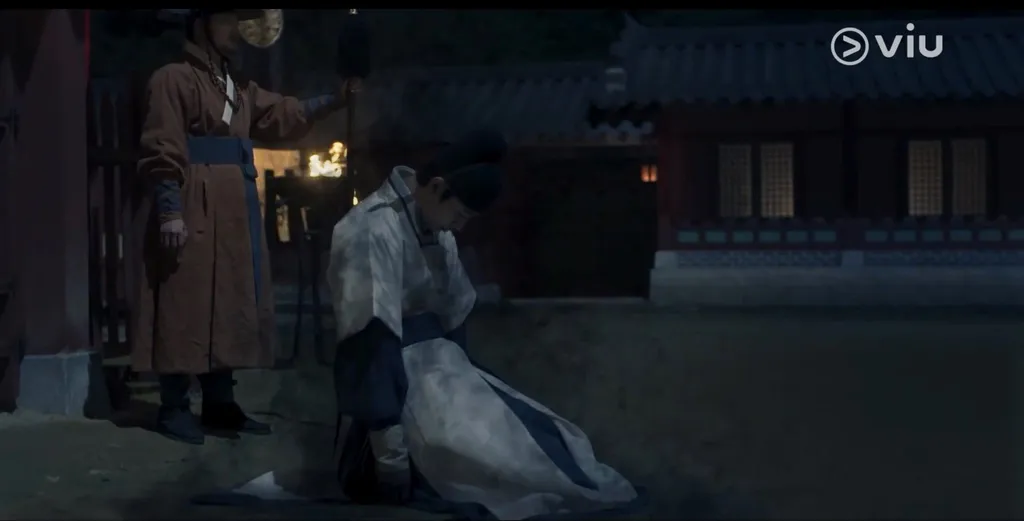 Episode 8 Lovers of The Red Sky (2021) is even more interesting because finally Cheon Gi is officially on duty in Gohwawon; where he gets closer to Ha Ram and at the same time receives a dangerous secret mission from the kingdom. Following Cheon Gi's life journey up to this episode, the feeling is different.
First, we are touched by Cheon Gi's struggle to get treatment and medication for her father, until the plot to bring the girl into Gohwawon. We also smile to ourselves when we see Cheon Gi being treated well and sweetly by Ha Ram and Prince Yang Myung.
On the other hand, we feel anxious and curious about what will happen to Cheon Gi if the time comes for him to start painting a portrait of the king. The reason is that it's okay, Cheon Gi's shock reaction was felt in this episode. The ending of episode 8 is equally surprising and terrible because the demon in Ha Ram's body has betrayed his master again.
This time it is more curious because the incident took place in front of Cheon Gi and Crown Prince Yang Myung. Will the devil really come out of his body like it did at Inwang Mountain? Upcoming episodes are even more exciting to watch.
Yang Myung and Ha Ram's Rivalry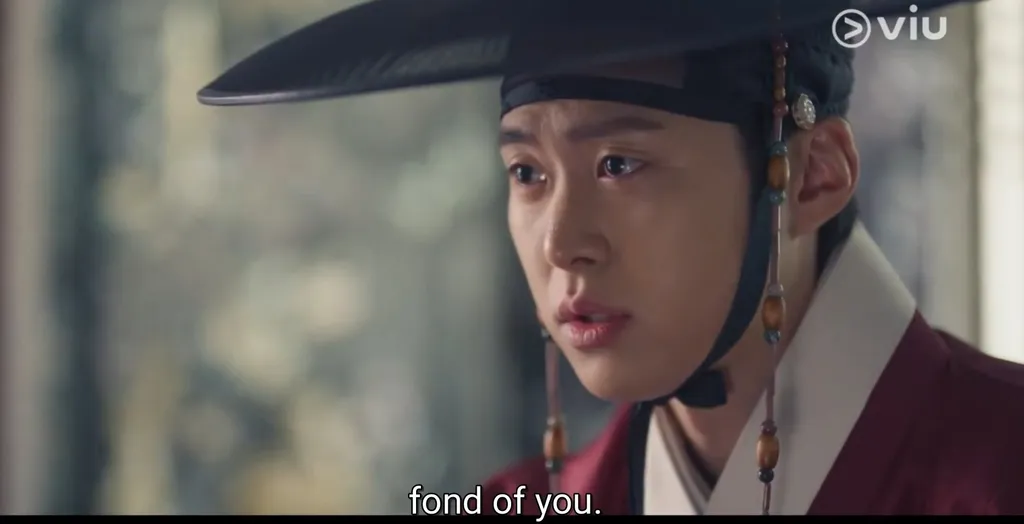 Episode 8 does not forget to add dramatic and sweet scenes that make you smile. Aside from the amusement of seeing Yang Myung's sweet attitude towards Cheon Gi, there was a feeling that he couldn't bear it because after all, Cheon Gi's heart went to Ha Ram. Both have been combined by Samsin.
In the plot, Yang Myung's rivalry with Ha Ram for Cheon Gi begins in this episode. Two grown men who are good friends don't want Cheon Gi to leave them. While you might end up guessing Cheon Gi's choice in the end, watching the interactions and chemistry of all three will provide its own entertainment.
Ha Ram shows emotion amid tension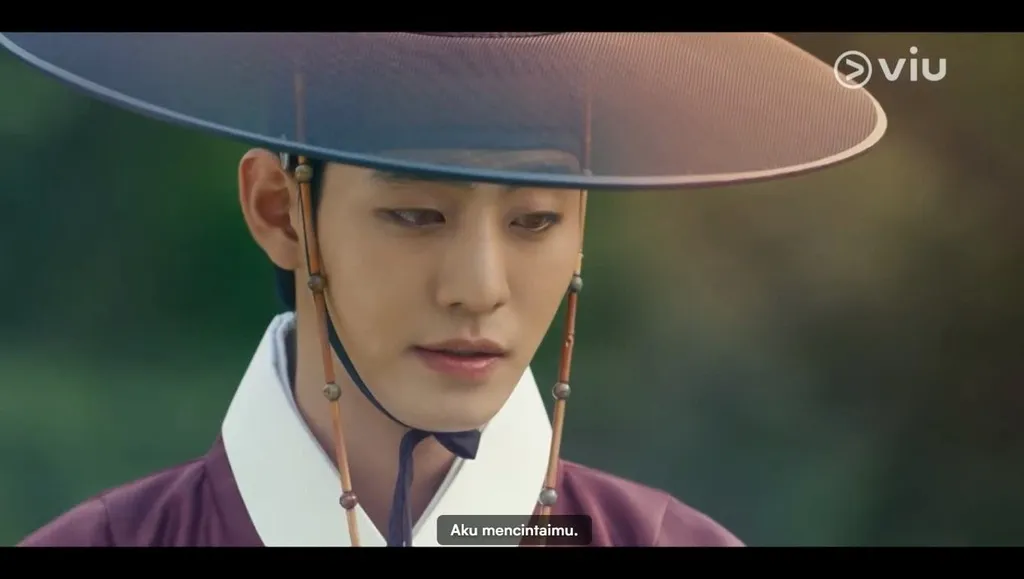 After Ha Ram was freed from the demon's influence, the atmosphere in the kingdom was still shrouded in question marks, especially the reason behind the incident at Gyeongwon Pavilion. Cheon Gi was equally curious because his father and teacher forbade him to draw a portrait of the king. In this episode 9, what King Seongjo has been keeping a secret was finally revealed to Crown Prince Yang Myung.
In such an unsettling situation, amid the tension and curiosity of Cheon Gi, Ha Ram, and Yang Myung, the episode in this episode slipped a sweet part. Ha Ram, who previously chose to stay away from Cheon Gi, even approached him by giving Cheon Gi a jade ring while declaring his love.
Aided by beautiful cinematography and soft color choices, the scene where Ha Ram expresses her feelings becomes even more emotional. Even though they were destined by Samsin, the development of their up and down relationship still keeps them curious, especially regarding the safety of the two. Can they protect each other?
Crowds protect Cheon Gi from evil's harassment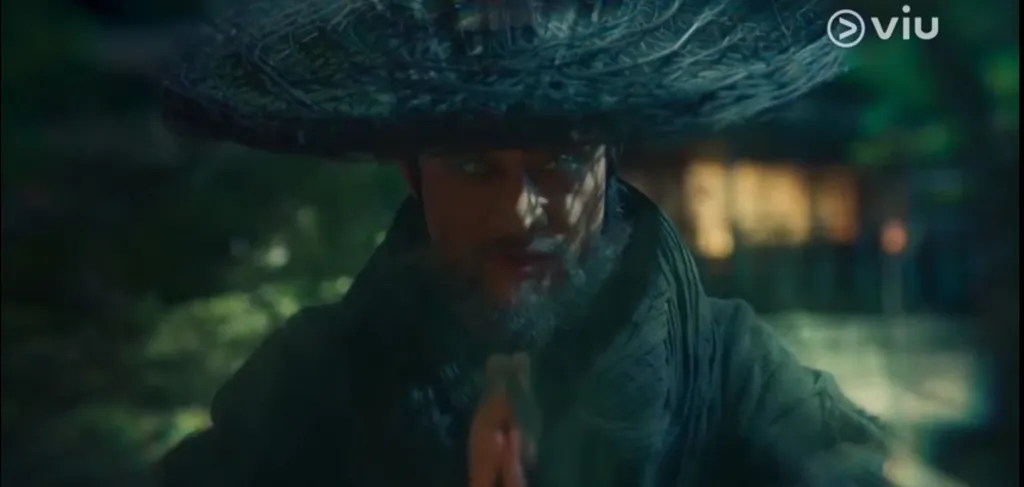 Being a Cheon Gi in episode 10 must have been confused. On the other hand, he is worried because he knows the risks when painting the king's portrait, but on the other hand, many parties try to protect him, including the painting demon Hwacha, who is unexpected in the previous episodes.
Hwacha's menacing and dangerous aura actually helps protect Cheon Gi from the demonic threat. The anxiety of Ha Ram and Prince Yang Myung is also another conflict that this episode presents. They have their own ways to protect Cheon Gi from demons that could endanger his life.
Yang Myung could not cancel the task assigned to Cheon Gi, while Ha Ram also did not have many ways to get rid of the demon residing in her body. The plot in this volume brings the three of them into an awkward conflict.
Ha Ram and Cheon Gi were arrested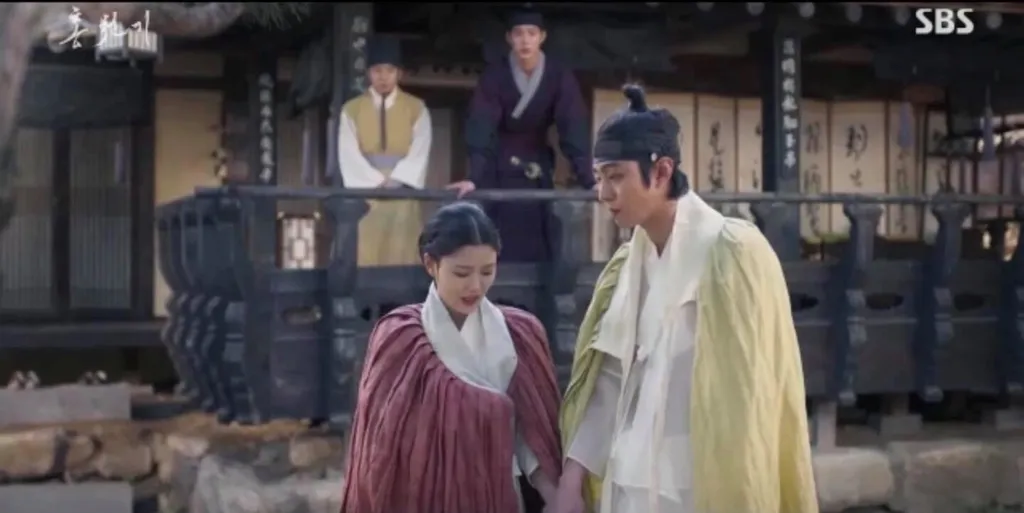 Up until yesterday's episode 9, not many comedy scenes were shown in the drama Lovers of The Red Sky (2021). Most of them contain serious and dangerous scenes involving demons or sweet scenes involving Ha Ram and Cheon Gi. Especially in this episode, the director let go of a ridiculously ridiculous scene.
The scene where Ha Ram and Cheon Gi were caught by two of Ha Ram's servants when they accidentally slept in the same room the night before was successful in causing laughter. Especially seeing the reactions of Ha Ram, Cheon Gi, Moo Young and Man Soo who are confused and shy with each other.
In the midst of serious conflicts and tension, the 'secretly caught red' scene is quite refreshing. It's rare to see an authoritative Ha Ram involved in something so ludicrous, isn't it?
Prince Joo Hyang begins his evil plan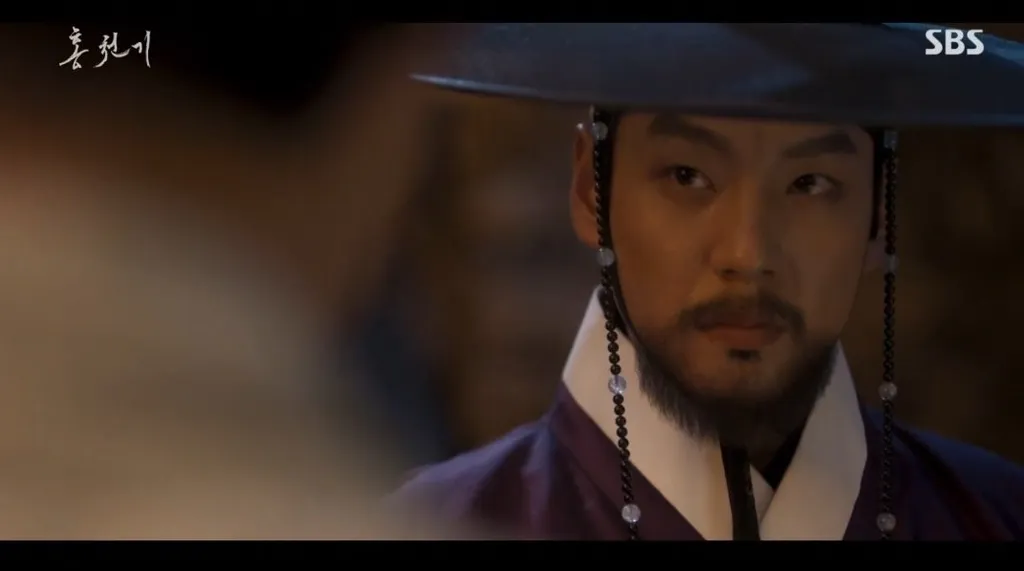 The conflict in the two episodes of Lovers of the Red Sky (2021) this week became even hotter because King Seongjo ordered Crown Prince Yang Myung to be the next crown prince. This raises another conflict as Joo Hyang of course does not accept it. The chaos in the kingdom was further aggravated because King Seongjo was said to be ill in episode 12.
Joo Hyang is desperate to get Ha Ram out of prison and decide to take the demon he is carrying. Ha Ram's character in these two episodes also feels different as he is starting to be controlled by his revenge. Ha Ram secretly controlled Joo Hyang's greed to avenge him.
In episodes 11 and 12, Cheon Gi also had conflicts with herself, but the girl made up her mind. His relationship with Ha Ram is described as more interesting and emotional as in episode 12 there is a scene where Ha Ram can see Cheon Gi's face even for a moment.
What is the continuation of this diabolical narrative? Will Yang Myung eventually succeed in trapping the demon in the picture or Joo Hyang, who has harnessed the demon's power into his own power? What about the story of Ha Ram and Cheon Gi? The upcoming episodes are highly anticipated!
Joo Hyang failed to master the devil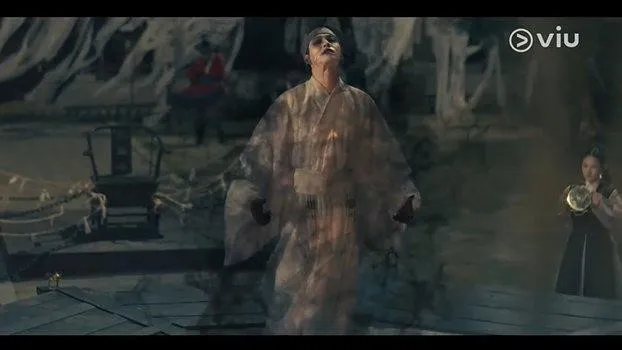 This week's disaster in Lovers of the Red Sky (2021) stems from Joo Hyang's relentless desire to control the demon in Ha Ram's body. The Sealing Ceremony was advanced so that there was nothing Samsin could do to stop it. In episode 13, during the Sealing Ceremony, you will enjoy the wonderful image when the demon rushes out of Ha Ram's body.
The effect is very subtle, the black smoke like the shape of an evil spirit looks very real. When Joo Hyang began to accept the demon in her body was equally convincing. The film's setting is interwoven with suspenseful scenes when Joo Hyang ends up being unable to control the devil because the devil is more interested in Cheon Gi's gaze. At the same time, Yang Myung also stabbed Ha Ram.
Cheon Gi lost his father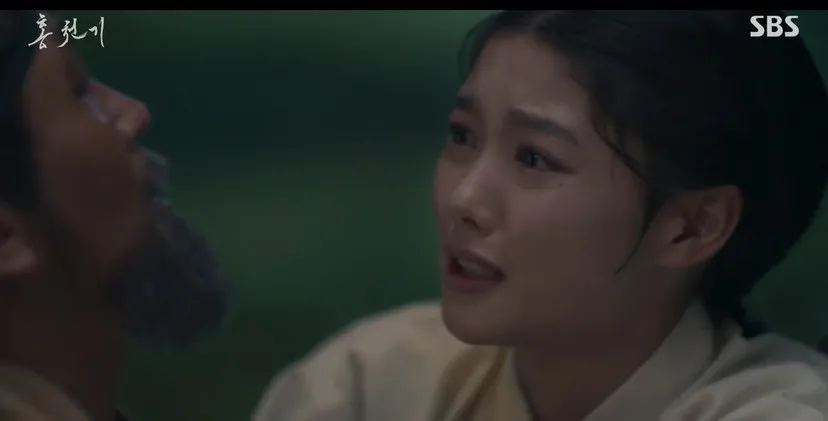 Entering episode 14, Cheon Gi who escaped never thought that the failure of the Sealing Ceremony could harm his father. Baekyu's father and carer were arrested on charges that tended to be fabricated. Joo Hyang's ambition not only threatens his life, but also threatens innocent people.
In this episode, Cheon Gi's sadness seems to have reached its peak as he had to lose his father who was killed by Joo Hyang's arrow while on the run with Ha Ram. Cheon Gi's emotions are the dominant factor in this episode as he is completely overwhelmed with sadness and confusion at the same time. So can the girl overcome them all?
The sealing ceremony, thrilling and heartwarming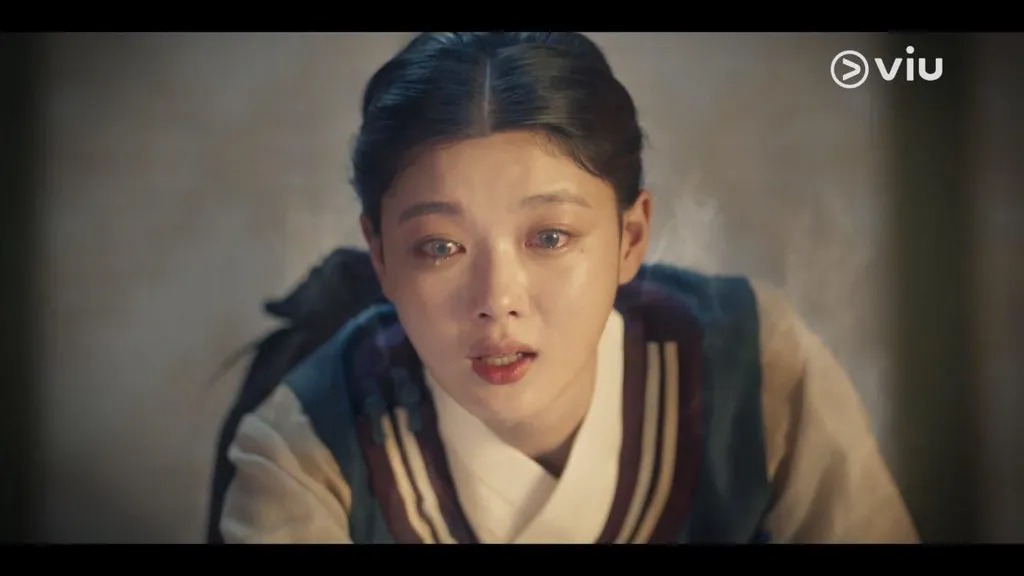 As a sageuk drama with a rather different theme, namely an evil spirit on the king's body, Lovers of The Red Sky (2021) opens the first episode with a tense scene when the devil included in the portrait of the king. At the time, the CGI displayed was quite impressive and the scoring also supported the atmosphere of intimidation. In the final episode of this drama, the epic scene is re-enacted once again.
The ceremony to seal the demon into Cheon Gi's painting has become the main theme in the last two episodes of the drama directed by Jang Tae Yoo. He performed in a more emotional and dramatic way because Cheon Gi had to complete the picture blind. The scene where Cheon Gi is helped by his father's spirit is quite tearful.
Kim Yoo Jung's performance as Cheon Gi, who is confused by suddenly going blind, as well as the desire to complete the picture so that Ha Ram gets rid of the devil, is strong and convincing. Not to mention dramatic because in the end Samsin sacrificed himself to bring the devil into trouble. Smooth CGI support, player acting and scoring are the deciding factors that make this important part of this movie so memorable and eye-catching.
Happy ending question mark and fishing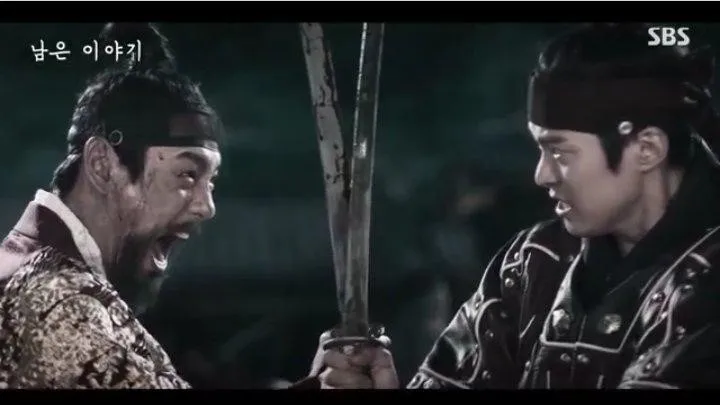 Lovers of The Red Sky (2021) not only ends the film with suspense, because you will see Cheon Gi and Ha Ram live happily as husband and wife. More or less something that was destined to be together, that will unite will eventually apply to this couple.
Only, in episode 16, there is an ending that features a fight between Yang Myung and Joo Hyang, which finally raises questions. Most considered it a bear and hanged because the winner of the fight was not shown.
However, some claim that Joo Hyang himself died because Ha Ram saw the second star fade. The clues included in the dialogue between Ha Ram and Cheon Gi suggest that this movie has a solid plot and is conceived in such a way that the implied answers will adorn the plot rather than the plot. clear answer.
Finally, if you are a fan of sageuk dramas but are tired of dense plots and betrayals, Lovers of The Red Sky (2021) might be another alternative. . It takes on another premise by including fantasy elements in it. Interested in watching it?
For the record, indeed until episode 2, Lovers Of the Red Sky (2021) described all the roots of the conflict in a good and detailed manner. You will not be confused by the dialogue between the characters in it. It's also not verbose or unimportant. The visual effects and cinematography are also of high quality. Curious to see?
Salenhanh – Product review blog
Address: 115 Nguyen Van Qua, Tan Hung Thuan Ward, District 12, Ho Chi Minh
Website:  https://salenhanh.com/en
Mail: Salenhanh.com@gmail.com
#salenhanh #Reviewsalenhanh