A research team led by paleontologist Travis Preston has been flown to China to track and capture an ancient animal. But they are not alone because besides them there is another team led by Harker, a hunter who used to be on the same team with Travis. Teams with different goals to find this ancient animal compete against each other.
Legendary: Tomb of the Dragon is a monster film by Eric Styles that was released on video format by Lionsgate on July 29, 2014. Bringing together international action stars Scott Adkins and Dolph Lundgren, the film works The B-list also featured mostly British and Chinese actors.
Carrying the familiar theme of an expedition in search of ancient animals that are still alive, does this film have a different quality than the same? Listen first check back below to find out the full review.
Trailer movie Tomb of the Dragon – Legendary: Tomb of the Dragon (2013)
Legendary: Tomb of the Dragon (2013) movie synopsis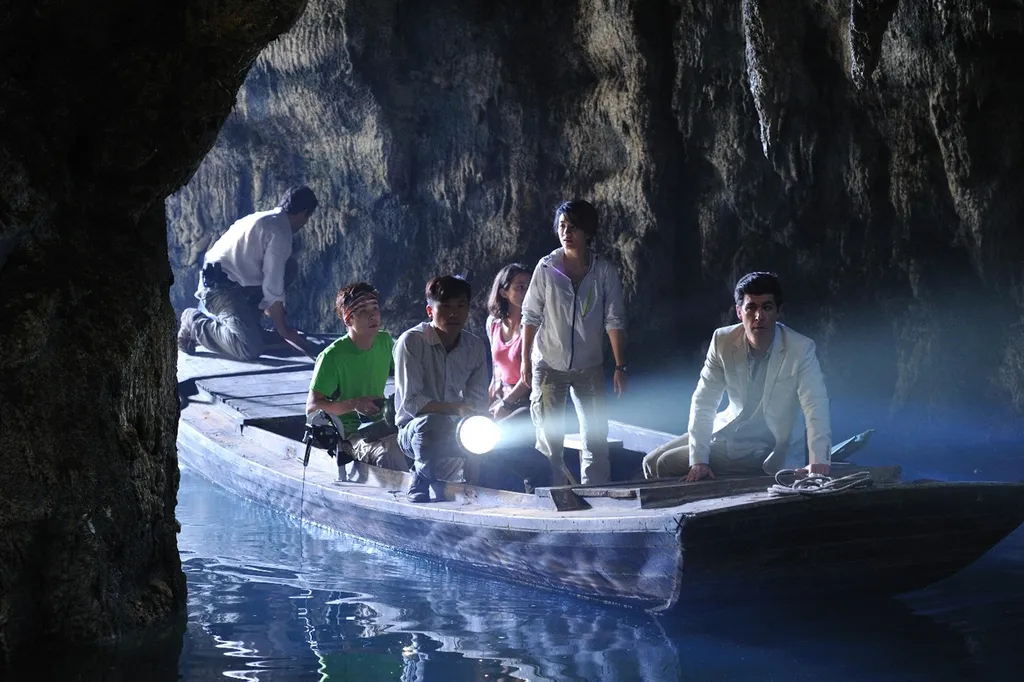 Release year
two thousand and thirteen
Category
Action, Adventure, Science Fiction
Manufacturing
China Film Group Corporation (CFGC), Midsummer Films, Ripken Productions, Zhongshida International Media
Manager
Eric Styles
Cast
Scott Adkins

Dolph Lundgren

Yi Huang

Nathan Lee

James Lance
He was approached by Doug McConnell, a lawyer who represented his client, to present evidence of the existence of an ancient animal. He convinced Travis to go on an expedition to China.
Travis and his team went to a lake that is suspected to be the site of ancient animals of this type of lizard.
Suddenly they met another team led by Harker, a hunter who had joined the expedition team to Russia in the past. The goal difference between them has begun to heat up the atmosphere.
Travis met the person who made a video about the existence of ancient animals. That person was a teacher named Jianyu, but he didn't want to help Travis.
Doug and the rest of the group are trying to examine the body of an ancient lizard attack victim at the hospital. They found the ancient lizard's broken tooth was still stuck in its body.
The next day, Jianyu visits the Travis team's camp and is ready to help after being visited by Harker's team earlier, who promised him a large sum of money.
Jianyu wants to help Travis because his brother is one of the lizard victims. While touring around the site, Travis almost managed to take a picture of the lizard, but failed because it was moving too fast.
Travis visited the site of the latest lizard attack around the construction site and met with Dr. Lan Zeng, a member of Team Harker.
It turns out that they both share a common desire with the ancient animal, which is to preserve this lizard species without harming humans. Later that night, another attack killed a construction worker.
Travis's team began the search using evidence and technology at their disposal. Harker's team did the same and met them in the middle of the lake.
They were attacked by the lizard and killed a member of Harker's team. Lan is rescued by Travis, while the rest of the Harker team escapes.
The next night, Travis and Lan sneak into Harker's base to get data on the lake's topography. But they were captured and detained by Harker. With Travis's dexterity and agility, the two managed to escape in the morning and return to the tent.
New equipment was brought in and the data they needed was successfully obtained by Doug from Harker. Using sonar technology, Travis's team found the cave where the lizard lived.
They met the ancient animal and managed to anesthetize it. And it turns out, Tim Harker is watching them from behind and ruining all their plans.
When they realize they're luring the ancient lizard's young, Travis and Harker are confronted by their twice-large mother.
Can Travis Move and Preserve Ancient Lizards? Or has Harker completed his mission to kill the animal? Stay tuned for the excitement of this movie until it's over, OK!
Meeting of two stars Activity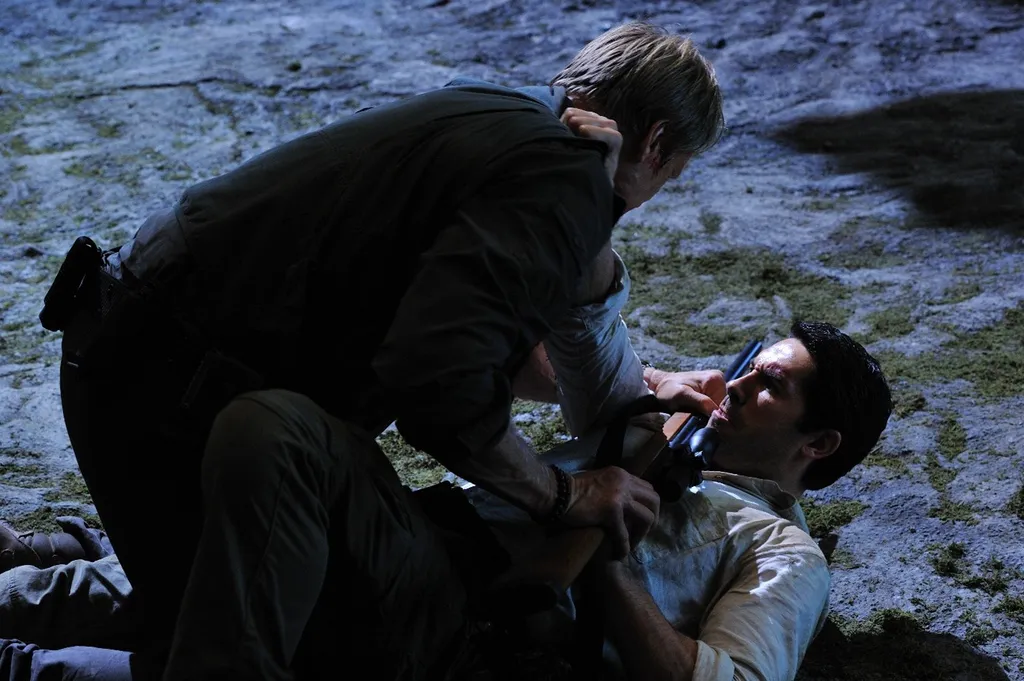 The main factor that attracted the attention of the film Legends: Tomb of the Dragon this was the meeting of two stars of international activism , Scott Adkins from England and Dolph Lundgren from Sweden.
But this is not the first time they have met. In a row, they have been involved in two popular activism franchises , The Expendables 2 (2012) and Universal Soldier: Day of Reckoning (2012).
Their meeting really felt like a cross between two generations, where Dolphn Lundgren's career only started to flourish again after being invited by Sylvester Stallone at the Expendables Franchise .
While Scott Adkins is constantly trying to make his name in the stardom by acting in many internationally produced films.
Of course what we expect is a fight scene between the two of them. But sadly, we won't find it here.
At a fairly advanced age, Dolph Lundgren is no longer agile, so he only shows aggression and cruelty in the role of a villain. While Scott Adkins plays the character of a doctor, not a martial arts expert.
So it looks like a war between them won't happen. In addition to character issues, Scott Adkins himself is recovering from a knee injury, so he can't do all the action scenes. He runs and dodges more than fights.
Also starring some Chinese movie stars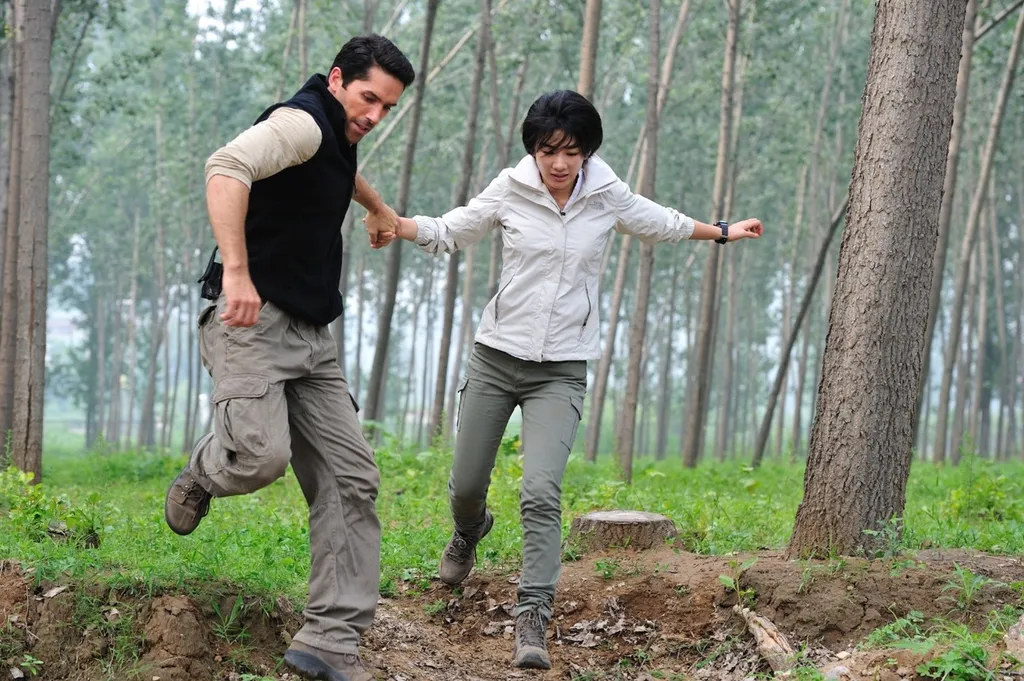 As a film also produced by a studio from China, especially since most of the shooting was done in China, the fact that some Chinese movie stars are present in the 1 hour 32 minute film this is natural. Huang Yi and Geng Le are two of them who are somewhat more dominant in the scene.
For those who have seen the movie The Legend Is Born: Ip Man (2010), this beautiful actress plays Ip Man's wife, Truong Ve Kien.
With short hair, Huang Yi's appearance is worthy of playing a cryptocurrency researcher. But unfortunately, acting tends to be stiff, as is when it comes to action scenes.
Meanwhile, Geng Le, who acted well in the films Spring Metro (2002) came with a better acting performance. It's just, his character of the teacher who recorded the appearance of the ancient lizard didn't get much development.
In fact, the Chinese actor who performs better than them is Li Shengye, who plays Han Wu, a local who helped out with the Travis expedition.
His natural acting is only used as manual labor without any role in the story. In fact, he's present in almost every scene, except for the climax because he wasn't invited by Travis.
Science fiction less intelligent in voice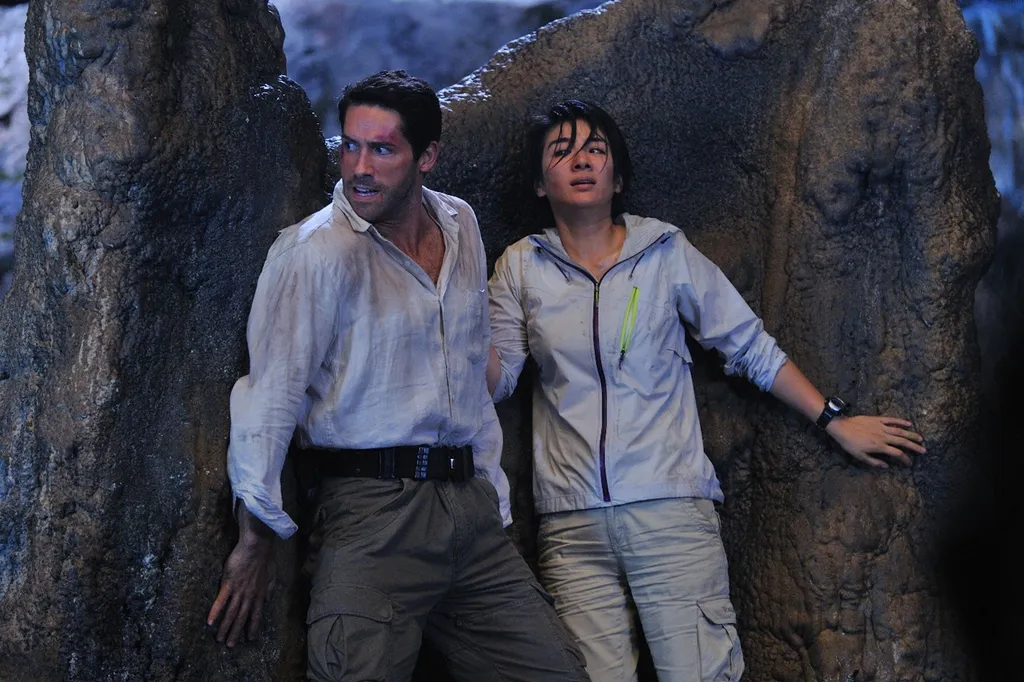 The plot presented by the film with this impromptu cinematography tends to be mundane without anything interesting in it.
Even the scientific impression of the appearance of ancient animals that killed many victims is not really well founded. If the animal had been in the lake for a long time, there would have been a lot of victims, not recent.
But it's still quite reasonable given that there are developments on the lake that could compromise the comfort of these animals in their habitat.
One thing that doesn't make sense is to depict the animal on an unusual scale. In one scene, he looks huge, especially with the size description mentioned by Travis and his team.
But in other scenes, the size looks smaller. This made sense when they found two lizards, one of which was still small.
If we take a closer look, the patterns on the parent's body are more than those on the child's. That way, we'll understand this scaling problem by reviewing it again. Of course if we please.
Legend: Tomb of the Dragon it is just a B-class action movie that relies only on the star cast of the two main characters without any good action. Taking on a monster theme in the form of ancient animals, the visual effects presented seem cheap and glitchy.
Also, the use of the title Dragon's Tomb seems unrelated to the story. The ancient animal shown in this movie is a giant lizard, it should be named " lizard ", not " dragon " . "
Using the word " grave " is also inappropriate, because the dwelling place of this ancient lizard was not a mausoleum, but a cave with a hot spring in it.
The title of this movie should be replaced with " Cave of the Lizard " which might be more appropriate. This reinforces the film's impression of opacity and cheapness.
But for those of you who like the action of Scott Adkins, although there is very little action here, Legends: Tomb of the Dragon is worth checking out. Have fun watching!
Salenhanh – Product review blog
Address: 115 Nguyen Van Qua, Tan Hung Thuan Ward, District 12, Ho Chi Minh
Website: https://salenhanh.com/en
Mail: Salenhanh.com@gmail.com
#salenhanh #Reviewsalenhanh