Laid-Back Camp Season 1 – Most people like to stay indoors when winter comes. Surrounding the body with plenty of warm clothes and snacks that can warm the body is often chosen this season over doing activities outside.
But, what if we decide to camp in a season like this? You'll find answers from the anime Laid-Back Camp or Yuru Camp, which tells the excitement of a group of young women performing winter camps in various places in Japan.
So how were Rin, Nadeshiko, Aoi, Chiaki and Ena happily camping that winter?
Laid-Back Camp Season 1 movie synopsis
Release year 2018
Genre Slices of Life
Director Yoshiaki Kyogoku
Cast Nao Toyama Yumiri Hanamori Aki Toyosaki Rie Takahashi Sayuri Hara
Unlike most other young girls, Rin Shima really enjoys spending her school holidays camping alone. He is willing to cycle a few kilometers to reach the camping site he wants to travel.
This time Rin decided to set up a tent by Lake Motosu. However, when he arrived at the location, he discovered a young woman sleeping in a nearby toilet. But because she didn't want to disturb her, Rin continued her camping activities.
That night when she went to the bathroom, Rin did not see the girl who fell asleep earlier. It was likely that he had returned home, although it turned out that Rin's suspicions were wrong. The girl was looking at him with teary eyes. Rin was taken by surprise and immediately ran away in fear.
The girl of course immediately chased after Rin while screaming for help. The girl named Nadeshiko Kagamihara was so scared that she rode her bicycle back home. As a result, he temporarily rested in Rin's tent.
A few days later, Rin is surprised to learn that Nadeshiko is the new transfer student to her school. And, not wanting to make a fuss, Rin chose to remain silent and avoid Nadeshiko, who still hadn't noticed her existence.
Nadeshiko herself immediately joined the outdoor activities club on the first day of Motosu High School. Thought the club would have many members, it turned out that only Aoi Inuyama and Chiaki Oogaki were active members.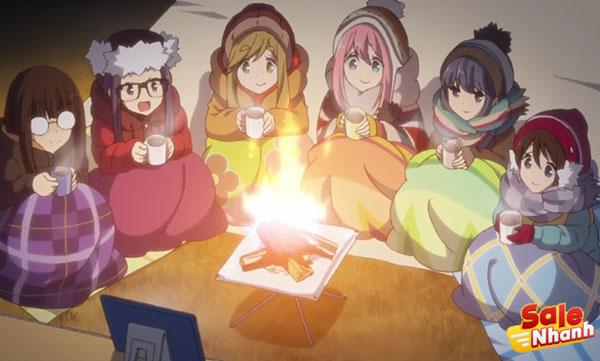 Nadeshiko's arrival made the club officially three members. Chiaki then invites his members to pitch a tent in the schoolyard as the club's first activity. Unfortunately, they had trouble setting up the tent.
Rin and her friend, Ena Saitou, monitor the club's activities from the library. Rin could really help the club deal with the problems they were having, however, he chose to stay silent because he didn't want to upset Nadeshiko when he saw her. Therefore, Ena volunteered to help.
Unlike what she imagined, Ena tells the room activities club that this help comes from Rin. Ena even pinpointed Rin's location in the library. This unexpectedly makes Nadeshiko excited as she is happy to see Rin again.
Rin returned to camp alone in some places. Now he has a driver's license and can ride his scooter. The outdoors club, on the other hand, has done a lot, including camping at Eastwood Campground.
Rin and Nadeshiko also went on several camping trips together, which brought them closer together, although Rin refused to join the outdoor club when asked by Nadeshiko. However, this did not stop Rin from sticking with all the members of the outdoor club.
On one occasion, Chiaki and Nadeshiko even guided Rin on her solo camping trip. Ena also helps Chiaki and Aoi prepare the vases that they will use for their next club activity.
Until one day, the club activities in the room decided to organize a Christmas Day camping with the club's new coach. Chiaki, Aoi, and Nadeshiko also invite Rin and Ena to join them. Will Rin and Ena accept their marriage proposal?
Review of Laid-Back Camp Season 1
A gift for connoisseurs of serenity
It is an undeniable fact that this anime is classified in the slice of life genre. The story is told not far from the activities and activities that Japanese teenagers often do every day. Starting school, working part-time, joining club activities, cooking and of course the highlight: camping.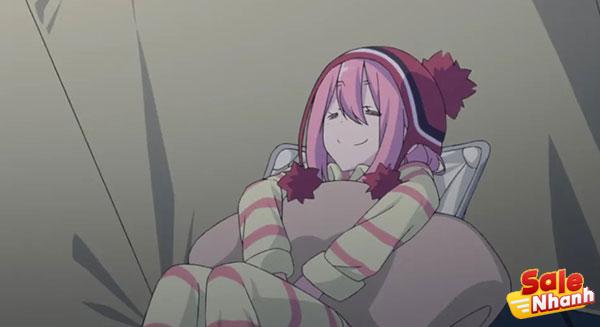 There are hardly any complicated conflicts in Laid-Back Camp. Therefore, one of the anime series Iyashikei (healing) is very suitable for those of you who are looking for entertainment recommendations that can provide peace of mind.
You don't have to strain your brain to watch, but just sit back and relax following the gentle storyline with a bit of comedy shown through each episode.
In addition to the premise, the right story pacing also reinforces the "quiet" of this anime. Along with the soundtrack and soundtrack performed by Akiyuki Tateyama, it seems to represent the serenity that Nadeshiko and his friends feel while camping in the winter.
All these concoctions will soothe the mind of viewers who are tired after a long day of work and activities.
More than just "Adorable Anime"
Although many anime fans classify Laid-Back Camp as one of the CGDCT (Cute Girls Do Cute Things) anime, there are different values ​​in my personal opinion in This anime makes it more than just a "cute anime".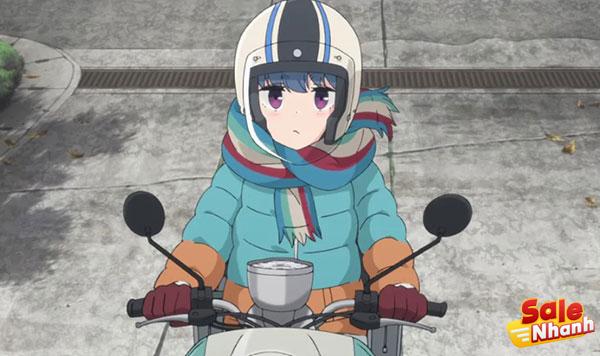 For example, Rin Shima's character values ​​introversion. It's not because Rin doesn't like to socialize, but because she can sense her surroundings better when alone.
Even Rin Shima simultaneously embodies the personality of an independent woman who can drive a motorbike for tens of kilometers to reach her destination.
Rin's introverted personality didn't stop Nadeshiko, Chiaki, Aoi, and Ena from continuing to be friends and asking her to go camping together. They can still work together and enjoy group camping activities well.
And, as the title suggests, this anime also provides camping knowledge that is very useful to practice, especially for beginners. In addition to how to make a campfire, we'll learn the important camping gear to bring, and how to cook camping gear that's both nutritious and easy to make.
Precise and amazing details
Another aspect worth appreciating from Laid-Back Camp is the very captivating art scene. Without using CGI, this anime can still delight audiences with beautiful background images of various locations in Sakura Country.
While it's not as sharp and heavy as Makoto Shinkai's backgourd a la anime art, the landscapes of Lake Motosu, Lake Shibileko, and Mount Fuji are depicted with great care and precision. All the campsites that Rin and his friends visit are detailed exactly like the original.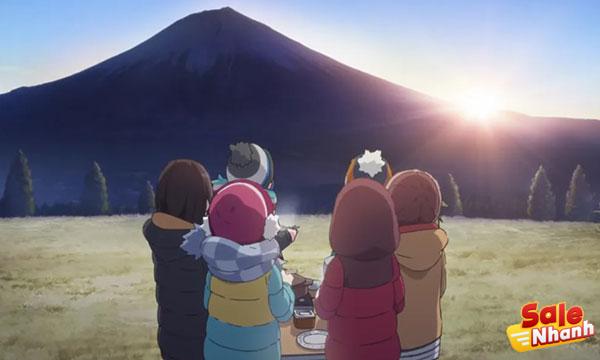 That's right, the places they visit are not fictitious. These places are real in Japan. This is proof that the creation of Laid-Back Camp, which combines elements of fantasy and real tourist attractions, can attract the attention of tourists, especially fans of this anime series. .
Despite ending with an obvious ending, it turns out this anime continues the story in a second season. In Japan itself, the live action series was broadcast as well as Laid-Back Camp The Movie which achieved success not inferior to the anime series.
This proves that its existence is not limited to women. This anime may even increase the popularity of winter camps in Japan in 2018.
Laid-Back Camp is a perfect choice for those of you who are tired of fast-paced anime, full of puzzles or action scenes. Even for me personally, it is one of the best Iyashikei anime ever. If you're curious, don't forget to watch it, okay?
Salenhanh – Product review blog
Address: 115 Nguyen Van Qua, Tan Hung Thuan Ward, District 12, Ho Chi Minh City
Website:  https://salenhanh.com/en
Mail: Salenhanh.com@gmail.com
#salenhanh #Reviewsalenhanh