After a long time circulating globally, finally the brand that many people consider close to Vivo, namely iQOO, is officially present in Southeast Asia. Neither mid-range nor low-end, the iQOO 11 is here to deliver a rather positive surprise to the flagship smartphone segment.
Outstanding performance, yet comes in a very stylish design. Not only about design, even cooperate with famous global auto brands. On the other hand, this iQOO flagship smartphone is also quite affordable for a flagship smartphone or a premium gaming smartphone.
Present in the transition period from 2022 to 2023, iQOO 11 is a very attractive choice, when there are still many smartphone brands that are constantly updating the latest offers. Is this smartphone also suitable for Salenhanh friends who are not gamers? Check out the full iQOO 11 review below.
iQOO 11 . Specifications
| | |
| --- | --- |
| Chipset | Qualcomm SM8550 Snapdragon 8 Gen 2 (4nm) |
| CPU | Octa-core (1×3.2 GHz Cortex-X3 & 2×2.8 GHz Cortex-A715 & 2×2.8 GHz Cortex-A710 & 3×2.0 GHz Cortex-A510) |
| GPU | Adreno 740 |
| RAM (Memory) | 4GB RAM (+4GB "extended") |
| Warehouse | 256GB |
| Operating system | Android 13 |
| User interface | Exciting 13 . Touch OS |
Review of iQOO 11
Design
The impression that iQOO 11 presents itself as a gaming smartphone is very subtle in terms of design. As the friends of Salenhanh can see, the design of the iQOO 11 looks like a typical high-end flagship smartphone. Stylish, slim, without particularly eccentric accents. At least in the Alpha color option we reviewed.
This color option uses an anti-fingerprint rear glass, which makes the device look clean but a bit slippery. The camera module is made large but also stylish, making the iQOO 11 look like it has a superior camera setup. If you want to be more stylish and out of the ordinary, you can opt for the white option with BMW's signature tri-color stripes — yes, the brand has an official partnership with this major auto brand.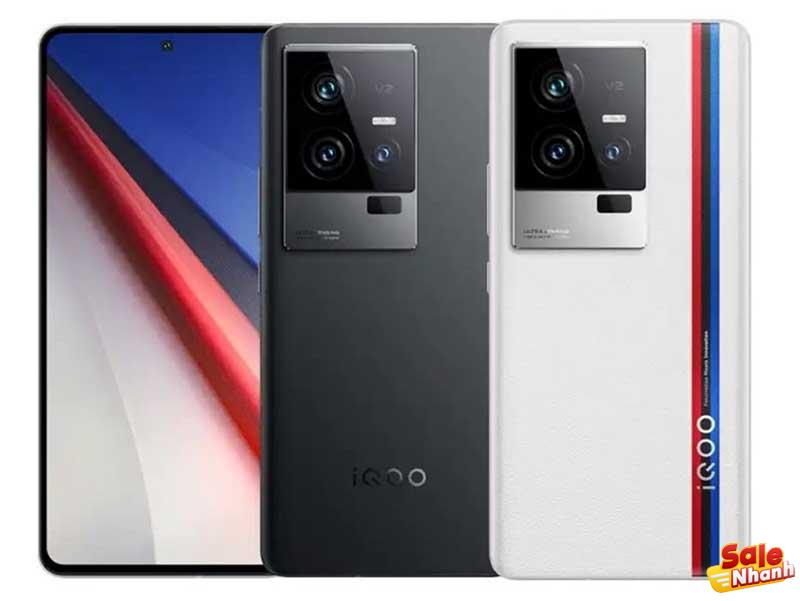 The white option uses vegan leather. With a thickness of about 8.5m and a weight of about 205 grams, it is a bit bulky but not as big as the ASUS ROG Phone. The edges are slightly curved, so it feels thinner when holding.
If it feels too slippery, there is a soft box included in the sales package. Overall, the design of the iQOO 11 is one of the most stylish for a device that emphasizes fast performance.
11 . iQOO screen
Given that the size is quite large, don't be surprised if the screen size is quite large. The iQOO 11 screen has a size of 6.78 inches, using an LTPO AMOLED type panel with a high refresh rate of up to 144Hz. This value applies adaptively, so there is no need to be afraid of consuming too much energy.
High refresh rate combined with 1 billion standard colors, HDR10+ support and maximum screen brightness, perfect for outdoor use. The flat screen feels comfortable when playing games. A small note is that only the white balance tends to be a bit bluish—can be adjusted via monitor settings if you want to be more neutral.
The screen of iQOO 11 is comfortable for gaming and watching movies thanks to its saturation and responsive colors as well as its wide size. Of course, there is an always-on display feature that can be enabled and you can change the screen resolution from the default full HD+ to WQHD+ 3200 x 1440 pixels. In our experience, changing screen resolution doesn't really have a big impact on power consumption.
Camera
The setup of the iQOO 11 camera sensor is pretty much done. The main sensor has a resolution of 50MP, belongs to the Samsung GN5 type with OIS and f/1.88 aperture. Accompanied by a 13MP telephoto sensor with 2x optical zoom and 8MP ultra-wide angle, this is indeed not the most versatile and high-resolution device. How about the quality?
When using the gaming "glasses" on smartphones, the camera of iQOO 11 is classified as high quality and above average, able to approach a flagship smartphone that really prioritizes camera quality. Optimal color reproduction and dynamic range, perhaps thanks to the Vivo V2 chip that specifically powers the camera (and gaming performance).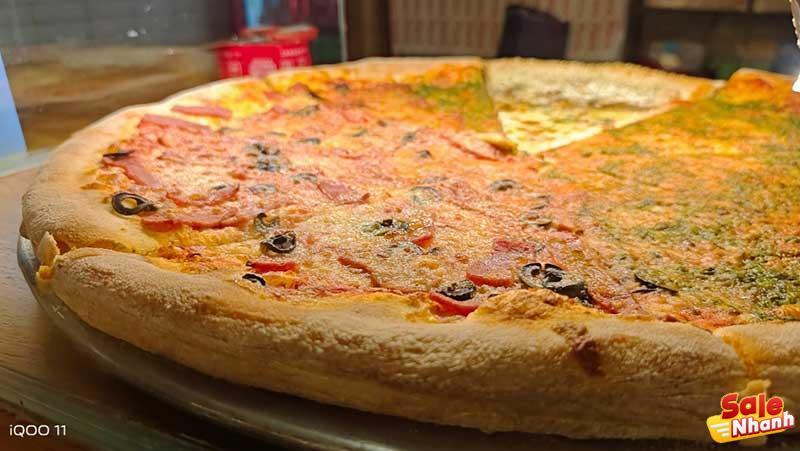 As for the 16MP selfie camera on the front is pretty standard. For more details, you on Salenhanh can access the following photo albums.
Video recording capabilities of iQOO 11 can produce the highest resolution up to 8K 30 fps or 4K 60 fps. However, these two resolutions (and 4K 30fps) can only be achieved with the main sensor, while the maximum telephoto and ultrawide sensors are only full HD. Stabilization (EIS, in addition to the default OIS from the main sensor) is also maxed out at only 4K on the main sensor and works quite optimally.
As long as the lighting conditions are sufficient, the quality is quite good, only the low light will lower the frame-rate to 24fps to make the scene look brighter. As for the video recordings, the salenhanh team tested it while watching the 2022 World Cup in Qatar. Just see the result as below.
Features of iQOO 11
Considering that OriginOS is only available on vivo/iQOO devices in China, iQOO 11 automatically comes with the FunTouch OS interface. It's based on Android 13, the menu screen and other things are pretty minimalistic and easy to use—though it's a bit boring when compared to One UI or MIUI. Depending on personal tastes, yes.
As for the extras, it really doesn't take much. Like the gesture feature that automatically picks up the phone when the screen is pressed to the ear, or the gesture when the screen is off. iQOO 11 also has an infrared sensor on the top edge of the body. Although the headset functions as a secondary speaker, it provides a stereo effect as well as an extra volume boost, which is classified as high quality.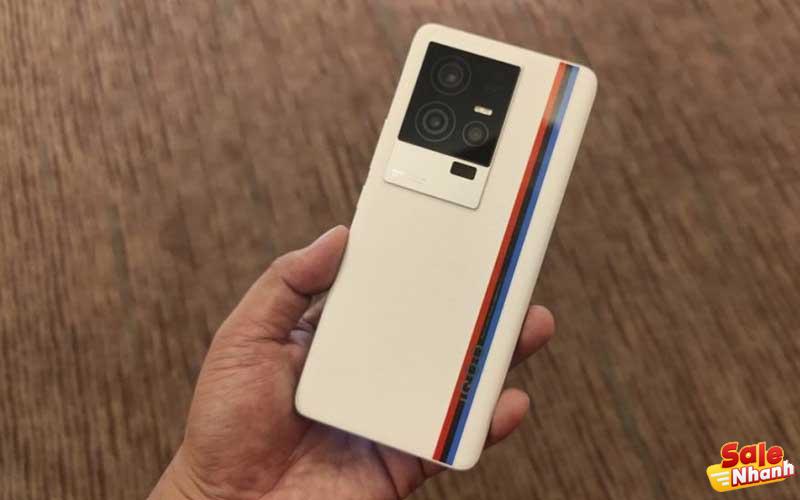 The iQOO 11's superb sound quality is not supported by the 3.5mm audio jack, but if needed, an adapter is included in the sales package. The in-display fingerprint sensor on the iQOO 11 also performs optimally, just like a flagship smartphone in its class.
iQOO 11 . Performance
Since Qualcomm released the second chipset for smartphones released in the second half of 2022, its performance impressions have become more positive, not only fast, but also power efficient and not hot. This impression continues with the Snapdragon 8 Gen 2, which is the first product to be officially available in Southeast Asia through iQOO 11. Yes, it has just arrived, immediately bringing with it the latest chipset and the best (of Qualcomm).
It's undeniable (and we forgot from the start thanks to its stylish design) that the iQOO 11 is a gaming smartphone, delivering the fastest performance in its class. In addition to the chipset, it is paired with 16 GB LPDDR5 ultra-wide RAM and 256 GB UFS 3.1 storage. In addition, the Vivo V2 chip also helps optimize gaming performance.
In our opinion, the iQOO is pretty amazing as it can show really good performance through the iQOO 11, even though it is one of the first smartphones to use the Snapdragon 8 Gen 2 chip. The body temperature is also maintained. Thanks to hardware-based cooling systems are said to be quite spacious, so can cover a wider area.
It's still possible that the performance of iQOO 11 will get even better through future software updates. So, if you guys are looking for a smartphone to play games or just run heavy apps smoothly and instantly, then this is the best smartphone available today.
The battery
This stylish, sleek design smartphone, in addition to bringing the maximum cooling system, is also equipped with a large capacity battery with equally maximum charging current. The battery of the iQOO 11 has a capacity of 5,000 mAh, and of course is plenty enough for daily use – also thanks to the chipset, which is good news for energy savings.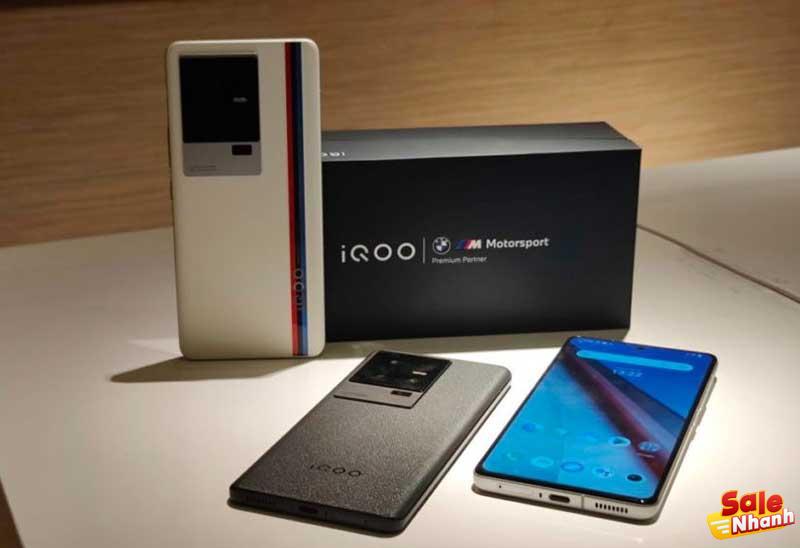 With high performance, indirectly the intensity of use during the test is higher than normal. And even so, there was never a time when we had to charge before bedtime until midnight. Need to charge? The 120W charger can add more than 80% power in less than 15 minutes.
If you want to be full, you need to wait another 10 minutes. The charger itself is quite inclusive, as it can also charge other devices with the 65W PD standard, such as smartphones to laptops. So you only need one charger to charge a lot of power, although the iQOO 11 has a specific amperage and voltage current.
So in this part, both are satisfied with their performance. The only downside is that wireless charging support is not included in iQOO 11.
Conclusion about iQOO 11
Appearing first as a smartphone with Snapdragon 8 Gen 2 chip, iQOO 11 made a very good impression in its first official presence in the country. Appeared to offer a stylish and exclusive design, wild performance, as well as an attractive price. Don't really ignore the quality of the camera.
Following the presence of iQOO 11, we can expect other options to be made available to the people of Southeast Asia. Will there be another smartphone line officially launched, and the flagship line promises so? We look forward to it together.
Salenhanh – Product review blog
Address: 115 Nguyen Van Qua, Tan Hung Thuan Ward, District 12, Ho Chi Minh City
Website:  https://salenhanh.com/en
Mail: Salenhanh.com@gmail.com
#salenhanh #Reviewsalenhanh