Wearables? Champion. Smartphone? A bit inconvenient because of application restrictions even though the camera is good. Well, what about Huawei tablets? To answer this curiosity, I tested the Huawei MatePad Pro 11 that was just launched for the Asian market at the Smart Office Summer 2022 Launch event this past July.
As the name suggests, Huawei's latest tablet is designed as a premium tablet that claims to be able to function as a computer, helping consumers' everyday productivity. Especially with the ability to seamlessly connect with other Huawei device ecosystems.
Unlike smartphones, the absence of Google services doesn't really affect usage scenarios, aka the MatePad Pro 11 is still quite enjoyable as a work-to-play device. Could it be a suitable iPad alternative for Gizmo friends? Here is the review.
Huawei MatePad Pro 11 review review
Design
With smart devices now featuring large screens, plus ultrabooks becoming ever lighter, vendors must be able to present tablets with the right combination of weight, thickness, and screen size. image to attract consumers. It's no wonder that Huawei is proud of the design of the MatePad Pro 11, currently the world's thinnest and lightest 11-inch screen tablet.
Yes, that's right, even when compared to the latest iPad Air & iPad Pro, MatePad Pro 11 is among the thinnest at 5.9mm, with a lighter weight of only 449 grams. Light weight provides two additional benefits; it's still comfortable to take anywhere even for one-handed use, and it's still lightweight with the addition of the keyboard cover.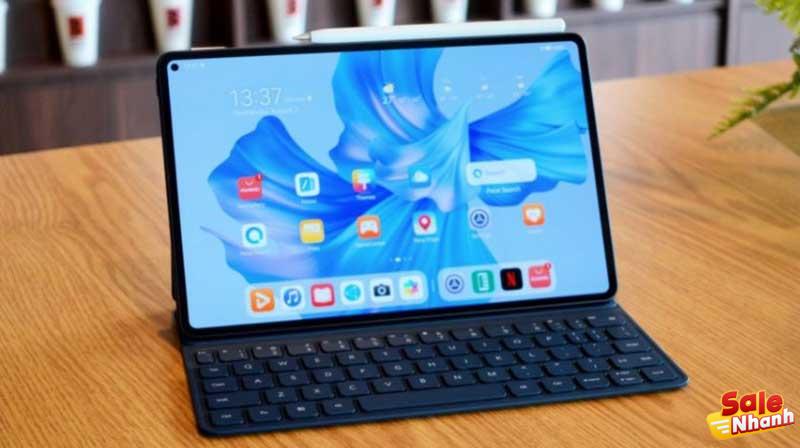 The finish of the MatePad Pro 11 body feels smooth, sturdy and premium, only it leaves fingerprints that are quite difficult to remove. The design of the rear camera module is quite striking, designed in a circular shape and reminds me of one of the previous Nokia Lumia series. Well, other flagship tablets also have their own convex cameras.
The combination of thin and light design makes the MatePad Pro 11 easy to take anywhere, even when leaving the laptop in a tote bag or backpack. This tablet can also fit into my small crossbody bag—so it's a nice alternative when you want to work anywhere without having to carry a laptop.
Huawei MatePad Pro 11″ screen
In fact, what surprised me the most about the MatePad Pro 11 was not its thin and light size. But the screen looks nice, along with four very thin bezels. Also, the placement of a punch-hole camera is classified as anti-orthodox on a tablet. Maybe a solution so that the border can be made thinner.
The panel used is an 11-inch high-resolution 1600p OLED, supporting 10-bit color, providing high accuracy for photo and video editing for professional users. This monitor can also display content seamlessly as it supports a maximum refresh rate of 120Hz. Plus 1440Hz high frequency PWM dimming can minimize eye strain.
The screen quality of the MatePad Pro 11 can be said to be on par with other high-end tablet competitors, and it even feels a bit more immersive thanks to the thin bezels. This large display can be used to run more than two apps with ease, plus it's paired with the multifunctional M Pencil, which can detect colors in images. on the screen with just one touch.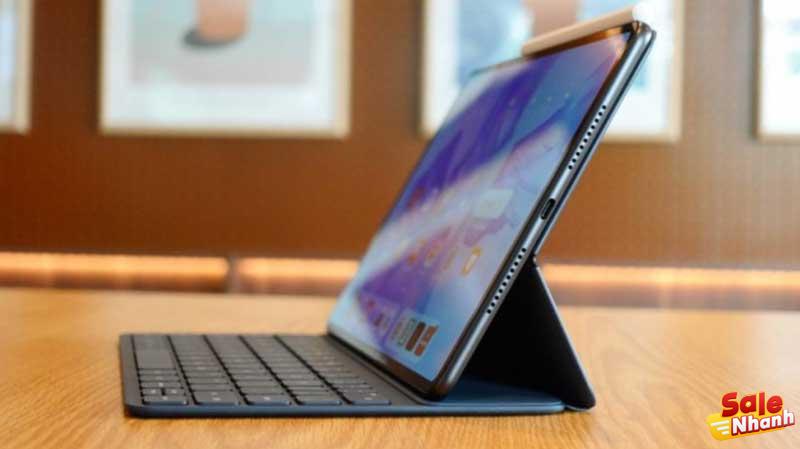 This superior display is paired with a six-speaker setup around the MatePad Pro 11 body, which includes separate tweeters and woofers. Make this new Huawei tablet more suitable as an entertainment device, not just for productivity. The presence of the keyboard cover itself can support both of these different operations.
This is because the back cover holder can be detached from the keyboard module, so it can be used without the keyboard to view operations. Or, you can type using the remote keyboard since you can connect to Bluetooth. Even the MatePad Pro 11's secondary keyboard is equipped with an antenna to enhance Wi-Fi signal capture. The buttons themselves are more comfortable than the iPad Pro.
Feature
The Huawei MatePad Pro 11 comes with HarmonyOS 3, aka a tailored version of Android completely free of Google services. All apps can be downloaded through Huawei AppGallery , which also helps you get desired apps through other third party app stores. Apps that I normally run on tablets like Spotify, Office, Microsoft Edge can run smoothly.
If it was on a smartphone, I would probably be quite confused by the number of applications that are not in the AppGallery. Since the MatePad Pro 11 is a tablet, accessing the website version through the browser shouldn't be a big deal. Like YouTube with Netflix, Google Docs and others. Since on my PC I use Edge, I can sync my account passwords with the MatePad Pro 11, because I can use Edge for autofill.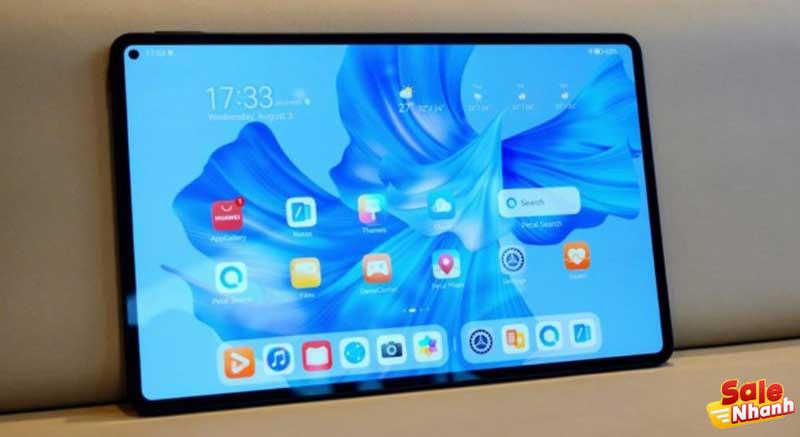 If Gizmo's friends only use Google, you might have a little trouble filling in usernames and passwords for apps outside of the browser, OK? Also, if you're willing to use other alternatives, many of the apps in AppGallery are really high quality. Start from video editing apps to sketching images. The potential of MatePad Pro 11 will also increase when connected with other Huawei devices such as wearables, smartphones and laptops.
When connected to a laptop, the MatePad Pro 11 can act as a secondary display. Or when with a smartphone, you can control everything on the device from the tablet screen to the drag and drop of files. For wearables, the pairing process will be made easier. It is possible to make up for all the shortcomings caused by the absence of Google services.
The front-facing camera of MatePad Pro 11 has a resolution of 16MP f/2.2 and has a wide viewing angle. Unfortunately, there is no auto-frame feature like high-end Apple & Samsung tablets. While the rear is a cluster of 2 cameras, respectively 13MP f / 1.8 & 8MP f / 2.2 super wide angle. Everything is at a pretty good level in terms of quality, combined with an effective noise-canceling microphone, enough for the needs of working almost anywhere.
Huawei MatePad Pro 11″ Performance
There is only one variant, consumers in Indonesia get the Huawei MatePad Pro 11 with Qualcomm Snapdragon 870 chipset and no SIM card slot, aka Wi-Fi only. The chipset, commonly used in affordable flagship smartphones, is known to have good performance and save power. Paired with 8GB of RAM and 256GB of internal storage.
During use, this tablet feels very rushed when running many different applications or when using multitasking. Huawei seems to have succeeded in optimizing HarmonyOS on MatePad Pro 11 so that it runs smoothly and optimally on this tablet, at least feeling faster than the Xiaomi Pad 5 that we tested a while ago. a little while.
With its thin and light dimensions, the MatePad Pro 11 can be used as a portable gaming device, as long as the game you want to run doesn't completely require Google services. Along with superior speakers and screen, it is sure to bring you an enjoyable experience. Plus the battery is also quite durable.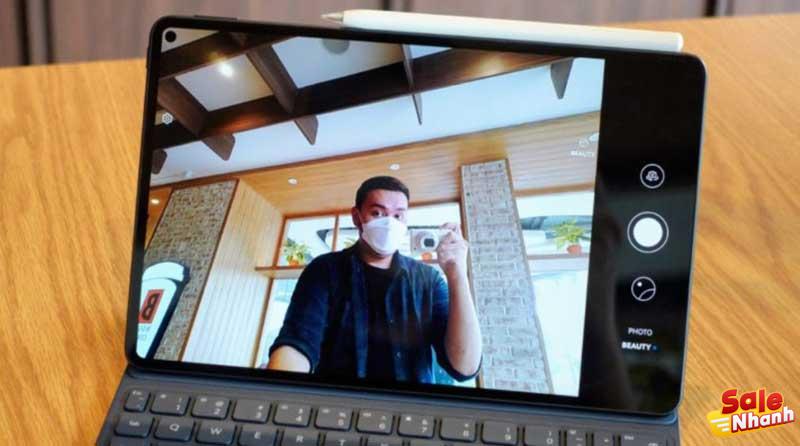 The battery
Despite its relatively compact size about the size of an 11-inch Android tablet, Huawei is able to embed a relatively large battery capacity in the MatePad Pro 11 body. With a capacity of 8,300 mAh, of course it will be difficult to get. wasteful spending. only one day, unless you actually use it continuously for more work hours.
If you lightly use it as a "add-on" to a laptop, it can last up to two days, until the battery starts to hit 5% and you have to recharge it. In the sales package, Huawei includes a 22.5W adapter, but in fact the MatePad Pro 11 already supports SuperCharge up to 44W. But Gizmo's friends had to buy it separately and with a different amperage system than USB-PD.
It is reported that charging with a 44W charger will take about 2 hours more and of course longer if you do not use the Huawei SuperCharge protocol. Of course, considering the size of the battery MatePad Pro 11 is really big. At least filling 60-90 minutes feels like it would be suitable for a day of use.
Conclusion Huawei MatePad Pro 11
For roughly the same price, Gizmo's friends can choose to buy the iPad Air M1 (64GB) without accessories or the Huawei MatePad Pro 11 (256GB) with accessories like the keyboard cover and stylus—both not cheap. In terms of value, the Huawei option is actually more appealing.
However, determining which is more suitable depends on the needs of the Gizmo friends. In my opinion, the deciding factor is the ecosystem and availability of the app. If you really have no problem with all the limitations of app titles and are fine with alternative app options, the MatePad Pro 11 will be the more suitable choice.
But if you haven't really invested in the Huawei product ecosystem and are tempted by iPad apps that are actually more optimized for the big screen than Android (or HarmonyOS), the rewards offered by Huawei will be feel useless. So, already know which one to choose?
Salenhanh – Product review blog
Address: 115 Nguyen Van Qua, Tan Hung Thuan Ward, District 12, Ho Chi Minh City
Website:  https://salenhanh.com/en
Mail: Salenhanh.com@gmail.com
#salenhanh #Reviewsalenhanh