In team sports, one of the challenges faced is forming a cohesive team so that they can excel. Team members come from people with different backgrounds, characteristics, and visions. All these differences need to be regulated to create harmony to form a strong collective.
Building a strong team is not just about the quality of the players. There is management involved and a very important position is the coach. In the Hoops series, the Lenwood Colts basketball team has a coach whose method of coaching his team is unusual. How is the method? Check out reviews and synopsis of the Hoops series here!
Hoops (2020) movie synopsis
Release year 2020
Genres Adult , Animation , Comedy , LGBTQ , Mature , Situation Comedy , Sports , Workplace
Director James Kim , Mollie Helms , Pablo Solis , Ron Rubio
Cast Jake Johnson Ron Funches King Cleo Natasha Leggero AD Miles
Lenwood Colts High School has a basketball team coached by Ben Hopkins. The team that Ben coaches does not include students who are good at basketball. Their height is not even the typical height of a basketball player. Some don't even know how to play basketball. But Ben did not give up, they participated in many different matches from friendly to competition.
After losing the game, Ben felt depressed. He felt he had failed to make the team he coached well, let alone win. New pressure comes from Opal, the principal of Lenwood Colts, who declares that if Ben's team loses again or makes no progress, Ben will be fired.
Ben tries to push his team to play better. His team members said that there was a student over two meters tall that should be recruited into the team, and that was Matty. Therefore, Ben tries in various ways to invite Matty to join the team he is training, one of which is to hire prostitutes.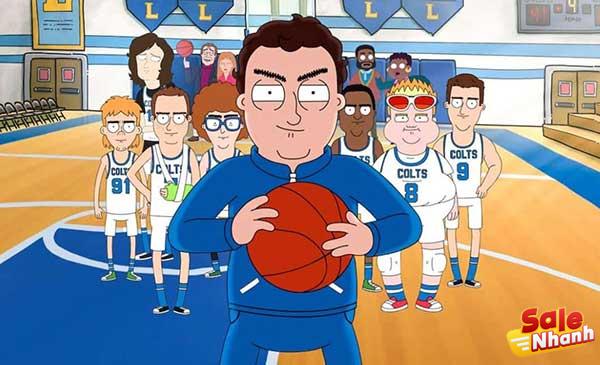 In carrying out his duties as a coach, Ben is supported by his best friend, Ron, who acts as the assistant coach. But he suspects Ron is secretly having an affair with his ex-wife, Shannon. Ben tries to investigate and instead discovers Shannon spending time with Ben's father, Barry.
Matty's presence on the team is thwarted. There was a class he couldn't pass so he wasn't allowed to play basketball. Matty tells Ben who is trying to trap Matty's teacher, Lonnie, as if the teacher had kidnapped the child. Lonnie finds out about Ben's efforts, but Matty says he's not involved. Lonnie made up for it by surpassing Matty in his class.
Ben's presence in Matty's life turns out to be a problem. Because of Ben, Matty broke up with his girlfriend, Wendy. Ben showed a video of the moment he proposed to Shannon. He was also inspired to bring Matty and Wendy back together. Unfortunately, he used another personality instead and destroyed Wendy's house.
Members of the Lenwood Colts basketball team are inspired to find a girlfriend. They rented a bus and drove around town. This action landed them in jail, including Ben and Matty. After being redeemed, they are all set free and Matty won Wendy's love back after the way Ben proposed to Shannon.
Ben's actions during a basketball game cost them their lives. His opponent's mascot fell down the stairs because of Ben. He was also asked to attend therapy so as not to get angry. Ben has gone through therapy and is behaving more calmly. Scott, one of Ben's students, was bullied for being gay. Ben is back to his old self, which is angry.
Ben prepares his team to face the team coached by Chapman, his arch-rival. The chances of the team that Ben coached were slim. On the other hand, he also has a wish to be able to get Shannon back. Meanwhile, his team started being invited to bigger competitions. What will Ben do?
Hoops (2020) movie review
Not your typical trainer
If you think that Ben will be like Coach Carter, who can inspire his team members to overcome difficulties to succeed, you are wrong. Ben Hopkins is the opposite of the typical coach. He likes to set a bad example for his students to see what not to do.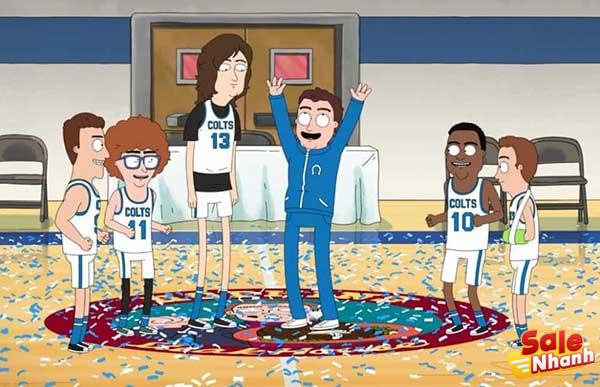 Ben will get angry, curse, find excuses when losing, oppose the referee excessively, use malicious tricks to trap others to achieve his goals. The series also sheds light on the past that shaped Ben's character. He was raised by his single father, Barry. But their relationship is not harmonious. Ben doesn't want to work with his father and chooses his own path.
Beneath all of Ben's crazy-looking traits, he has a good side, too. He cares about his adopted children, such as Matty, who is having a hard time getting through Lonnie's class. Or Scott is also a gay man who is bullied by gay kids for having sex with women. Ben becomes Scott's protector.
Part for supporting characters
In addition to Ben, in the Hoops series there are several supporting characters that play an important role in the plot. There's Matty, Shannon, Barry, Opal, and Scott. Of them, only Shannon can think of a side story with Ben trying to win back his love. The same goes for Matty, who had trouble passing a lesson and received a scholarship offer from another school.
Other characters don't get enough parts. Barry received only a minimal portion. There are only two episodes that really make the story more colorful, that is with Shannon and the bet with Ben. Scott only appeared to steal the show in one episode when he was being bullied.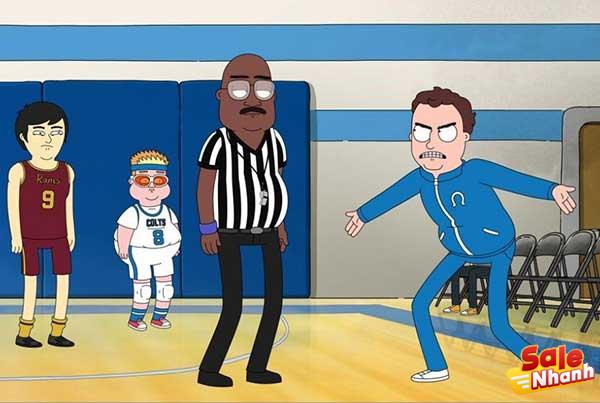 There's nothing wrong with focusing on Ben. Keeping the main plot with the character Ben is a must. But it seems the series is too focused and based on Ben for 10 episodes. There are hardly any episodes that make his role diminished. Any problems always involve Ben.
Dangerous joke
For an animated series with a sitcom genre, Hoops dares to stand out. The sitcom shown is not a popular comedy genre. The reason is, many scenes show typical dangerous jokes. Profanity jokes against people regarding sexual orientation are included in this series.
Only in the first episode, which is the door for the audience to watch other episodes, Ben revealed his madness. He motivated his team with the lure of giving out passwords and access to pornographic websites. Likewise when he convinces Matty to join the team by finding him a prostitute.
In the fifth episode, Ben's favorite student tries to find a girlfriend. Instead of using the usual way, they even drove the bus that often appeared in pornographic videos. The scene wasn't the typical comedy that many people like, especially when the character performing the scene is still a teenager and in high school.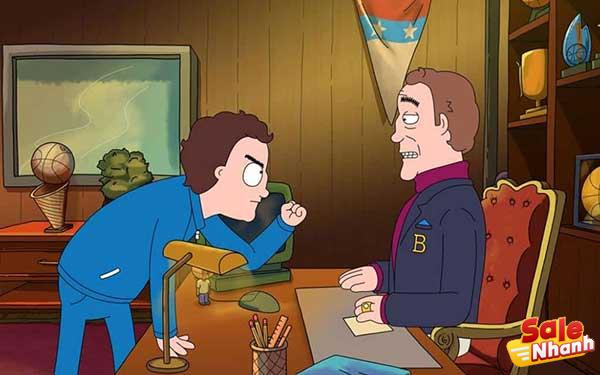 Hoops is not the kind of series that everyone can enjoy. For those who enjoy Jake Johnson's typical jokes in his movies, this series uses pretty much the same blueprint, only crazier. As an animated series, Hoops should be kept away from children and teenagers as it is aimed at adults.
In other words, if you want to watch it, make sure you're old enough. Likewise, when you want to invite someone to watch along, make sure that person is old enough and can accept the madness of Ben Hopkins. When do you want to see it? If so, try writing how crazy Ben Hopkins is for you in the comments column, guys!
Salenhanh – Product review blog
Address: 115 Nguyen Van Qua, Tan Hung Thuan Ward, District 12, Ho Chi Minh City
Website:   https://salenhanh.com/en
Mail: Salenhanh.com@gmail.com
#salenhanh #Reviewsalenhanh