Gudetama, a lazy egg reluctantly joins Shakipiyo on an adventure. Shakipiyo is a chick that has just hatched and is determined to find its mother. Gudetama: An Eggcellent Adventure is a series adapted from the manga manga. The film was created in a combination of live action movies and CGI animation.
Not only Gudetama is the main character in this series, there is also Shakipiyo, the chick looking for his mother. As a mixed-action live-action series, you can also see some actors like Akiyoshi Nakao, Sarutoki Minagawa, and Serena Motola join the series.
What about the adventures of Gudetama and Shakipiyo, who set out on an adventure to find their mother? This is the full review.
Gudetama: An Eggcellent Adventure movie synopsis
Release year 2022
Genre Adventure , Animation , Comedy
Director Motonori Sakakibara
Cast Shunsuke Takeuchi Seiran Fukushima
The story begins with a few eggs in the refrigerator. When an egg moves, it causes the affected egg to crack, known as Gudetama. Not long after, the moving egg broke, but the egg hatched into a chick that introduced itself as Shakipiyo.
Gudetama is a very lazy egg. Meanwhile, Shakipiyo or Piyo is an active chicken.
Piyo is very determined to find her mother. He also believes he is related to Gudetama because they come from the same egg carton. So Piyo enthusiastically invites Gudetama to find their mother.
Shakipiyo later found a container to take Gudetama on a journey to find their mother. Taking the opportunity to get out of the refrigerator, Piyo rushed in and pulled Gudetama out.
But when they stepped out of the refrigerator, Piyo realized that they had been in a sushi restaurant the whole time. Of course this is very dangerous for their lives, as they could be one of the ingredients in that dish. Piyo also feels lucky to have escaped from the refrigerator.
Unfortunately, not long after they got out of the fridge, Gudetama and Piyo were suddenly separated. Now, Gudetama sits on a rotating plate serving food that can be picked up by customers at any time.
During that round, Gudetama met several other eggs. Then they talked to each other.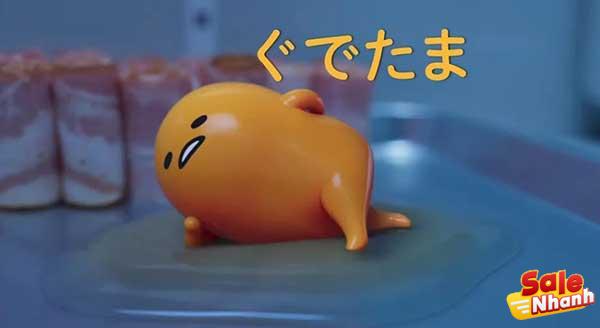 Suddenly a boy chooses Gudetama to eat. When he was about to be eaten, Gudetama brushed away the chopsticks that were pointed at him, causing the boy to cry.
Taking this opportunity, Piyo rushes in to save Gudetama. However, while trying to escape, a young man attempted to target the two of them. Piyo moves even faster to escape. However, the conditions outside the restaurant were even more dangerous.
Finally, after walking down the street, Piyo and Gudetama reached the Prime Minister's room. There, Piyo and Gudetama chat with the Prime Minister, who looks tired from his job.
Then suddenly Gudetama has a chance to become Prime Minister, replace the current Prime Minister even if only for a moment and go on with their adventure once again.
On the other hand, Piyo begins to realize Gudetama is a shellless egg that can rot at any moment. Piyo also tries to find a way to stop Gudetama from rotting.
As a result, they not only want to find their mother, but Piyo and Gudetama also have to race against the rot to get to Gudetama. Don't forget to chase those who are aiming for Gudetama.
Gudetama: An Eggcellent Adventure movie review
Adventure to find mom
Gudetama: An Eggcellent Adventure consists of 10 episodes with a duration of about 10 minutes each. As the title suggests, this series follows the adventures of Gudetama and Shakipiyo, who go in search of their mother.
Of course in an adventure there is an obstacle to face. The same goes for the challenges that Gudetama and Shakipiyo face. From the time they met until finally finding their mother, they were inseparable from different challenges.
Not only Gudetama and Shakipiyo, there are several other egg characters that also appear in this series. And all the egg characters that appear are also shown with their own characteristics. Although they are supporting characters, the other egg characters are also very lovable.
Even the voice acting for the 3D characters, in my opinion, is very suitable. But since I don't follow the anime series, I can't compare the difference in Gudetama's voice here and in the anime series.
Then, as noted above, this is a series that blends CGI animation and live-action. Therefore, there are several human characters that also animate this series.
In general, all the characters appearing in this series are very well portrayed. The combination of live-action and CGI animation feels lively and fun to watch.
Gentle Stories Suitable For All Ages
Gudetama: An Eggcellent Adventure is a very light series with a very easy to understand plot. In addition, this series is also a movie that can be watched by all ages. For those of you who don't even follow the manga, you can still follow the plot.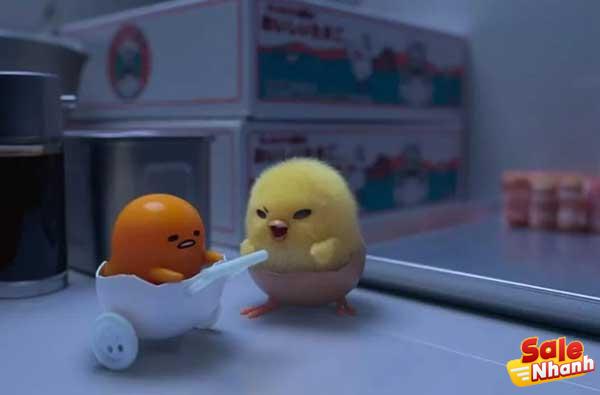 In 10 episodes, you will enjoy Gudetama's behavior, which is very lazy and sometimes sarcastic. Also, the energy of Shakipiyo, which is the exact opposite of Gudetama, makes the story of this series more interesting to watch. The interaction between the duo Gudetama – Shakipiyo is highly anticipated.
You will always be excited to see their interactions and their ridiculousness. Not to mention some humorous situations appear in the plot.
Good Movie Adaptation
Usually I'll be lazy enough to watch a comic book movie or series. Especially if it gets made into live-action, because usually starting from the story and visual perspective, it will feel different from the original.
However, for this series, I'm actually quite excited and would love to see it. Especially when viewing the trailer, from a visual standpoint, it looks very promising.
And certainly, in terms of visuals, despite being a hybrid between live-action and CGI Animation, this series has been done with good visuals. In fact, in my opinion the CGI animation appears to blend in with the real world.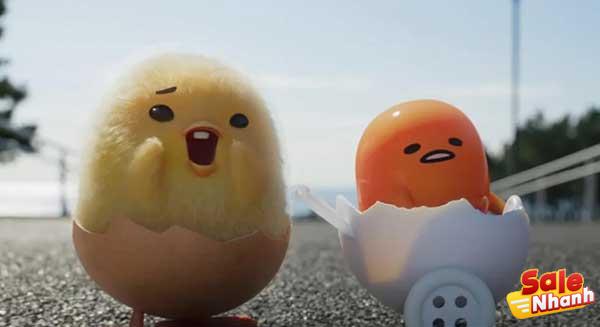 For me, in terms of visuals and cinematography, this series is a voyeuristic series. Especially when you know the animation studio, specifically OLM.
So from a visual point of view, there's no need to doubt it, because this studio has made some anime with good quality. Some of them are Pokemon, Komi can't communicate, Strange Taxi and many more.
And overall, I recommend this series to those of you who need an entertaining movie with a light plot. In fact, you can finish this series in just over 1.5 hours, so when you watch it, you don't really feel like you're in the final episode.
You can watch the series Gudetama: An Eggcellent Adventure on Netflix. And so far, since its premiere, this series has received positive feedback on a number of platforms, such as IMDb which has also rated this series as 8.2/10.
Salenhanh – Product review blog
Address: 115 Nguyen Van Qua, Tan Hung Thuan Ward, District 12, Ho Chi Minh City
Website:  https://salenhanh.com
Mail: Salenhanh.com@gmail.com
#salenhanh #Reviewsalenhanh