A banker falls in love and finds himself living in a video game. In order to be close to the woman he likes, he broke out of his usual routine and quickly accumulated points to become a phenomenon among gamers.
Free Guy is an action comedy film by Shawn Levy released by 20th Century Studios on August 13, 2021. Against the backdrop of the world of video games, we will be embarking on an adventure in there and complete a secret mission related to what happened in the real world. Entertaining and fun impressions are the main elements that will be shown in this Oscar-nominated film in the category of Best Visual Effects. Check out the following review to get the full review.
Free Guy movie synopsis
Release year: August 13, 2021
Genre: Action, Comedy, Adventure, Fantasy, Science Fiction
Producer: Berlanti Productions, Twenty One Laps, Maximum Effort, Lit Entertainment Group
Director : Shawn Levy
Actors: Ryan Reynolds, Jodie Comer, Lil Rel Howery
Guy wakes up every morning to do his routine, wears the same clothes, buys the same coffee and works as a teller at a bank. Together with his best friend, a bank security guard named Buddy, they live an apartment life and are the same every day.
Until one day Guy ran into the woman of his dreams, who then changed his entire life.
Bravely facing a bank robber and stealing his glasses, Guy discovers a different and startling perspective on his life now, that he is a non-player character (NPC). ) in an online video game called Free City.
Guy then chases after the woman, nicknamed Molotov Girl, who in the real world is a woman named Millie. Millie plays video games to find evidence that her development company stole her job, and her partner, Walter "Keys" McKey, now works for the company.
While attempting to infiltrate a storage area belonging to another player, where the source code is believed to be stored, Guy approached Millie for action.
Thinking that Guy is a new player, since he still has 1 point left, Millie tells Guy to collect up to 100 points and then they talk again.
Guy then levels up and earns points rapidly through various quests in the context of doing good, as opposed to his in-game players, which makes him a phenomenon with the moniker. "The boy in the blue shirt".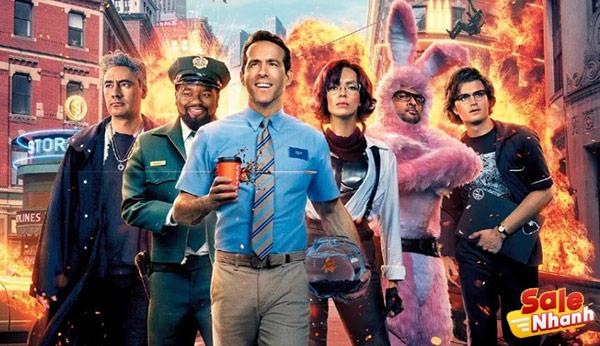 Guy helps Millie in the next stunt but still fails. Then they talk to each other and pass the time. Keys informs Millie that Guy is a self-developed NPC, not another player's avatar.
All of this is an evolution of the Life Itself video game created by Keys and Millie that was stolen by Antwan, CEO of Soonami Studio.
Keys again told Millie that Antwan would release a new video game, Free City 2, which would wipe all data from the old video games.
Guy and Buddy break into the archive, where the player who owns it is a huge fan of Guy, and immediately provides the data Guy is looking for.
Antwan grows increasingly annoyed with Guy's existence and orders Mouser to restart the video game and restore Guy's memory back to normal. Millie has trouble convincing Guy to remember the mission they're on and a kiss is key.
With the help of Keys, Guy and Millie organize a mutiny in which NPCs gather in a place so they don't appear in the game, while they travel to the coast to find an island where there is evidence. on Life Itself's video game data. hide.
Antwan's anger ran high and he ordered the players to be disconnected and sent Dude. Guy must confront the big Dude while Antwan tries to destroy the server to shut down the video game altogether.
How will Guy defeat Dude? Can he set foot on the hidden island? The boys' adventures are getting more and more interesting, aren't they? Watch the movie until it's over, friends!
Free Guy movie review
Clever concept in packaging Multiple references
For true gamers, the movie Free Guy will make you scream with joy at what director Shawn Levy shows in this 1 hour 55 minute film.
We felt that we were really in the game world complete with knick-knacks in it, such as a health box to heal physical conditions, a great variety of weapons, and many more. others.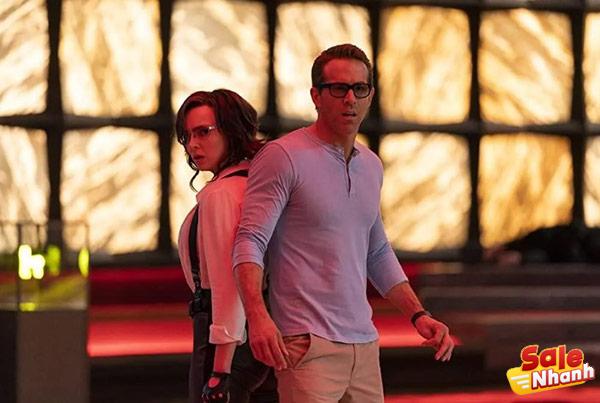 The online video game called Fortnite is the main reference to the appearance of the game world in this movie, which was later added with other elements from several other popular games, such as The Sims, Sim City, to Grand Theft Auto.
Then, the presence of famous gamers and YouTubers like Ninja and Pokimane further enhance the video game atmosphere in this movie. The visual effects done by Dan Sudick and his colleagues look very neat, detailed and convincing.
We will be amazed by how effective they are at rendering the horrors of explosions, car chases, and various video game elements brought to the screen. Naturally, the visual effects team later joined as an Oscar nominee.
A sweet story with humor about self-awareness
Not only does the stunning visual effects and cinematography make the atmosphere of the video game look great, this Free Guy movie also features a fluid storyline written by Matt Lieberman and Zak Penn.
The concept of the game world is almost identical to that shown in the movie Ready Player One (2018), the screenplay was also written by Zak Penn.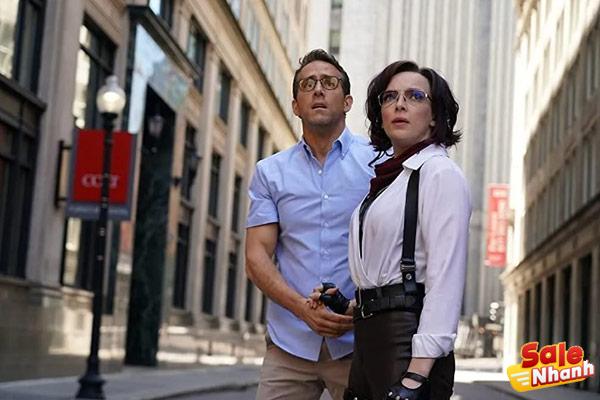 Guy's everyday scenes briefly resemble those of The Truman Show (1998), then Guy and Millie's love story closely resembles Neo and Trinity's love story in The Matrix series.
That unoriginal impression is actually not offensive thanks to their scripting skills with touching lines about self-awareness, complemented by humor around the topic.
In fact, we will get carried away with Guy's feelings about love, getting out of habit, what it means to be self, and the role it plays in other people and their world.
Attractive acting of the cast
Everything shown in this movie is convincing thanks to the smooth acting of the cast, especially Ryan Reynolds and Jodie Comer.
I don't think there's an actor who can play a hero with comedic talk and clumsy manners when he realizes his strength and charm other than Ryan Reynolds. As if he was born to play a character like Guy.
Meanwhile, Jodie Comer as Millie makes a surprise appearance with her charms, either as the real-world Millie or as Molotov Girl, her avatar in a video game.
Comer is tough in every action scene, but can blush when he realizes he's fallen in love with an NPC character. Look how embarrassed he looked when he found out that fact from Keys.
And the combination of the two of them is very solid. Looking snappy and dapper in action, as well as romantic while walking alone off duty, Ryan Reynolds and Jodie Comer can spark a chemistry throughout the film.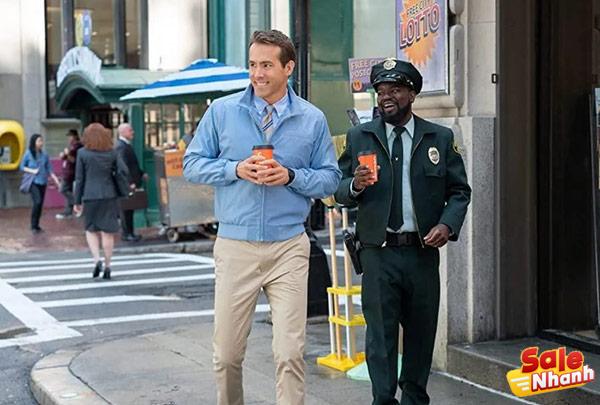 Free Guy is a movie that can entertain us to the fullest thanks to a slick game world concept and combined with a script that makes the story flow plus a sense of humor and great chemistry. Great from the two main characters.
Critically acclaimed, one of the highest-grossing films of 2021 and nominated for an Academy Award, this film ranks as a must-see movie.
Sure, you'll be pleasantly surprised at the variety of weapons used by Guy that we've certainly known about, especially since there are so many famous cameos in them. What are you waiting for, watch the movie now!
Salenhanh – Product review blog
Address: 115 Nguyen Van Qua, Tan Hung Thuan Ward, District 12, Ho Chi Minh City
Website: https://salenhanh.com/en
Mail: Salenhanh.com@gmail.com
#salenhanh #Reviewsalenhanh